Review of Skeletons Lair Scream Park Haunted Attraction
Review of Skeletons Lair Scream Park Haunted Attraction
Review of Skeletons Lair Scream Park Haunted Attraction
Skeletons Lair Scream Park
Skeletons Lair Scream Park is a Haunted Attraction located in Scottsville, KY.
48 Locketts Dream, Scottsville, KY 42164View All Details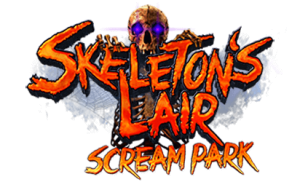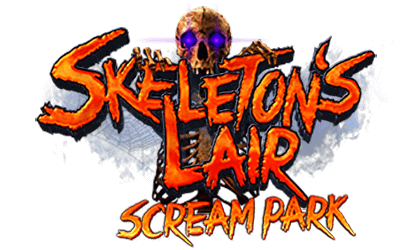 Features:
Free Parking, Food/Concessions, Gift Shop/Souvenirs, Optional Games/Midway, "Hi-Tech" Attraction, You will NOT be touched, Movie Characters, Original Characters, Celebrity Appearances, Uncovered Outdoor Waiting Line, Indoor/Outdoor Attraction
Team Zombillies reviewed this attraction on September 30, 2017.
Final Score:

8.28
Summary:
Skeleton's Lair Scream Park becomes an adult this year (it's their 18th season)! Offering guests 5 unique attractions at one massive location, these guys (or gals, actually) never cease to amaze us at the quality of sets and scenery they can provide in their outdoor location.
The Haunted Woods is one of the only trails we know of that includes MULTIPLE two-story buildings, including the House of Wax and the Grover Smith Sanitarium. Ironically, Skeleton's Lair isn't far from the town of Smith's Grove (for you John Carpenter fanatics).
Skeletal Visions 3D is probably what you think it is… a 3D-painted funhouse filled with frightening fools and demonic depictions that seem to pop out at you as you walk by. But beware; some of them just might actually reach out and get you!
The Haunted Hayride includes a wide variety of "larger-than-life" scenes and even characters as you ride a tractor-drawn wagon. This year's theme is "Big Top Terror" and some VERY elaborate sets have been added to give you a one-of-a-kind hayride experience.
If you don't like dolls, then the Doomsday Doll Factory will haunt your nightmares forever! Take a tour of this malicious mannequin manufacturing building… that is, if you dare!
Lastly, you can try your hand at the Lair's 3-minute, mini escape room. Although we passed on it this year, we've attempted it in the past and can tell you that it's a lot of fun to try with your friends. You might even get a cool prize if you're quick enough to complete it successfully before time runs out!
We always look forward to visiting Skeleton's Lair and seeing all of their cool sets and latest changes. With classic horror movie villains, their own original monsters and lots of ways to experience them, a trip to South-Central Kentucky should be on your list of places to visit this Halloween haunt season!
---
Cast:

7.29
We started seeing cast members as early as when we approached the first haunt. Lair Wolf (The Lair's iconic werewolf mascot) was peeking out at us from behind some bushes, patiently waiting to strike as soon as we got close enough. But, despite his intimidating attack stance, we couldn't help but notice Beetlejuice on the opposite side of the trail. Now, to fully appreciate this requires some history on our acquaintance with "the ghost with the most…"
We first met Beetlejuice a couple of years ago out on the Haunted Trail. Hiding behind a small tree that couldn't have been more than an inch in diameter, this stocky fellow stood motionless… obviously convinced that he was perfectly hidden behind this struggling sapling. By the time we got next to him, both of us were grinning from ear to ear in lieu of what was bound to be a comical confrontation. He then leapt out from behind his cover and exclaimed, "Boo! Hugh… Scared ya, didn't I?" in true Beetlejuice fashion. The rest of our encounter was filled with comical comebacks and witty words of wisdom as we continued on our way.
Now returning as, still, one of the most believable and interactive characters we've met to date, Beetlejuice was once again disguised behind his new hand-held hiding spot and rustling a nearby tree branch, as if something much scarier than a wolf was waiting for us in the bushes. As it turned out, it proved to be an excellent distraction for Lair Wolf's actual attack coming from the other side of the trail. Well played, Beetlejuice.
Our first haunt of the night was Skeletal Visions 3D. Unfortunately, there isn't much for us to say about the cast in this one, as there was only one clown in there. Though, he did come out and nail us with a loud horn a couple of times.
However, there were lots more actors in the Trail, Hayride and Doll Factory. We did still find a few dead spots where an extra actor or two would be beneficial, but each of the movie villains, their victims and the other characters were easy to recognize – both with looks and dialogue – and most of them gave our group some good performances.
Of course, with a haunt this big, there's always going to be some variances with acting quality and we did find a few that didn't seem to have much of a role, but those were few and far between and didn't detract much from the overall experience. In fact, a few select characters, such as the clowns and pirates on the Hayride, gave us some of the best performances we've seen at Skeleton's Lair to date! Other stand-outs include those in the Grover Smith Sanitarium and Pennywise on the Trail and the doll maker who was "stuffing the pretties" in the Doll Factory.
---
Costuming:

8.63
Skeleton's Lair does a great job of getting their characters to look their respective parts. The clown in Skeletal Visions 3D was equally as fluorescent as his surroundings and the harlequins on the Hayride wore some of the most detailed and realistic outfits at the park; one of whom looked like he had a severe case of brain freeze (you'll know when you see him). The mateys in the pirate ship were also as realistic as their elaborate surroundings. One of the most memorable duos of the night, however, was the stilted clown and his relatively short-statured counterpart.
As mentioned, you'll see movie villains, victims and some original characters out on the trail. One of the things we look for when a haunt uses movie monsters is authenticity and how appropriately-sized the actor is. Jason and Michael were detailed and tall enough to trigger plenty of intimidation and each were wielding their own iconic weapons. The Creeper was another unique treat that we don't get to see very often and, though we didn't see him for very long, he seemed to be a bit shorter than we remember from the movies. The victims and crazies scattered throughout the haunt looked nice and grungy as well, but especially the ones in the Grover Smith Sanitarium. The only real oddball we found was near the UFO area. Granted, it was dark, but we were able to make out some strips of fluorescent color that made this character look very similar to a clown. Maybe we missed some sort of connection between aliens and clowns, and maybe this was just a temporary fill-in or the haunt making use of their "Big Top Terror" theme, but it just struck us as being a little "out of place" when we saw them compared to the other characters.
The Doomsday Doll Factory mostly manifests a mix of factory workers and the sinister statues that they create. Each of these costumes were also well done…even the chained-up victim in the "Saw" scene. Several of the costumes in the factory were so realistic we were doing double takes when we realized they were moving.
---
Customer Service:

9.06
In years past, we've been known to drive past the parking lot, not knowing we'd arrived until after passing the entrance. That was definitely NOT the case this year. There were all kinds of lights (including flashing police-style ones) and flagged bunting along the road, which made the parking lot easy to spot from quite a ways away. A small sign showed us the way to a flagger, who quickly directed us to a spot in their large, grassy, well-lit lot. The "Skeletons Lair" gateway at the bottom of the hill confirmed that we'd successfully arrived.
A short walk through the woods led us past more signs that informed us on what we could experience at the park, along with some portable restrooms for your convenience. Friendly staff members can be found in the ticket booth, the adjacent gift shop and at the entrance to each attraction if you need help with anything and each of them were an absolute pleasure to speak with. On our way to the first haunt, we crossed paths with Lair Wolf and Beetlejuice. The latter startled us after jumping out from behind his hand-held tree sapling (nice hiding spot, you rascal) and the former got us by slamming his chain on a nearby piece of sheet metal! Be on the lookout for those two, for sure.
Most of the haunts take place outdoors, except for Skeletal Visions 3D, the structures in the Haunted Woods and the Doomsday Doll Factory. Be prepared to navigate some dimly-lit trails with some occasional tree roots. Also, each of the indoor areas have some sort of stairs, ramps or uneven flooring, so be mindful of your footing and the occasional head knocker.
After exiting the last haunt, be sure to stop by their gift shop. They have a lot of cool things inside as well as drinks and snacks. This is also where you can get autographs from their celebrity appearances when those are taking place.
---
Atmosphere:

9.17
An exciting journey starts to begin at Skeleton's Lair once you leave the parking lot and start making your way to the ticket booth. A lighted stretch of woods welcomes visitors and had us looking over our shoulders making sure they weren't going to try and sneak a quick one in on us! Once in the park, a giant creature guarding a "Skeleton's Lair" sign is among one of the first things you will see (and makes for a great photo opportunity).
Overall, there was just the right amount of dim lighting to provide a spooky, yet safe atmosphere. The haunting music we heard as we waited to get into several of the attractions only added to the overall spookiness. Additional Halloween-related decor and Halloween party-style music enhanced the fact that this is a family-friendly attraction.
Be sure to always keep your guard up. You just never know when a werewolf or a Beetlejuice may sneak up on you! These two were working quite well together to scare guests during our visit, which got us even more ready to go in some haunted houses!
---
Special Effects:

8.28
With such a wide range of attractions, you can expect to see quite a variety of special effects. Some of them have been purchased from various manufacturers, while others have been custom made by Skeleton's Lair's crew of professional designers.
Skeletal Visions 3D is filled with artwork that some may recognize from Stuartizm Designs. If you aren't familiar with Stewart, he has an uncanny knack for airbrushing some of the most horrific 3D artwork in the industry. all of the walls and even the floor are covered with his work and the 3D glasses give it all an extra dimension of realism. But be careful; some of what you'll see might actually be real! This haunt also has a unique vortex tunnel with something else that spins besides just the tunnel itself. Carnival-style music was heard the whole time and we also noticed a few "explosive" effects during our tour.
One of the first things you'll see on the Trail is the impressive facade to the wax museum and a ghostly apparition in one of the windows. This helped set the tone for the rest of the Trail and the exterior was so well decorated that it actually looked like a real house (not to mention, there are some pretty cool, life-sized, wax figures inside, including a zombie Elvis and two well-known characters from The Walking Dead)! Two other full-sized, two-story houses like this can be found along the way. One of which is the Grover Smith Sanitarium and is filled with all sorts of patient cells, a rec room, exam rooms and medical equipment. The other is decorated more like a generic house that can be used by different characters as the haunt's theme changes from year to year (last year it was Freddy Krueger and, this year, it's Pennywise, the Dancing Clown). You also get to take a trip through Camp Crystal Lake and the Creeper's underground lair. Other effects you may notice include poppers, a car sticking out of the ground, a bumpy field trip, REAL flames and a floating UFO. Realistic sound effects were also heard during our tour and some of them matched the movie villains they were paired with. One particular jingle even got some cheers from our other group members when it started playing.
One of the things that Skeleton's Lair is really good at is creating highly-immersive scenes on their hayride. Things started off kind of slow for us this year, but once we got to The Sawmill, they kicked it up a notch and started bombarding the wagon with everything from moving saw blades to a chilling blast of CO2! Another unique effect was the real railroad crossing bell as we approached the train station.Two new scenes have been added to the Hayride this year: their theme's namesake Big Top and a massive, drive-thru pirate ship! One of the coolest effects of our visit was the large target that the ringleader's victim was tied to. One minute, it was just the victim, then when the ringleader threw a handful of knives at her, there were suddenly four of them stuck to the target all around her! We'll let you decide if he actually threw knives at her or not. Lastly, the pirate ship was just plain cool. Seemingly made of real wood, complete with cannon barrels protruding from the starboard side, the interior was even more immaculate and also included a very angry shark near the exit. The only complaint we have is that portions of the hayride were very quiet in some spots.
The Doomsday Doll Factory is similar to the Trail in that the exterior is also highly-decorated and actually looks like a crumbling, old factory building. Inside, you'll find everything from a moving tricycle with a riding jigsaw puppet, toppling barrels, giant gears, a surprising shelf, an impaled music box ballerina, and even sewing machines! Oh yeah, did we mention dolls? Everything from the tiniest of figurines to full-sized (and very lifelike) models can be found within the walls of this eerie establishment. Scene detail is just as good if not better than the houses on the Trail and everything seemed to match the "doll factory" theme very well.
---
Theme:

8
Although each attraction does have it's own respective theme, Skeleton's Lair also usually adds a "blanket" theme throughout the entire park that gets changed every so often. This year, this overall theme is "Big Top Terror" and, although it was much more apparent on the Hayride (and naturally in the 3D attraction), we did run into a few cracked-out clowns in other places as well.
Skeletal Visions 3D is pretty much what it sounds like: a fluorescent-painted, three-dimensional walkthrough. Everything in here will pop out at you, including the walls and floors in a very bright fashion!
Skeleton's Lair Haunted Woods will take you through a large plethora of buildings, a two-story wax museum and even some familiar places, such as the Grover Smith Sanitarium and Camp Crystal Lake. Although we don't believe there's an actual storyline followed here, each of the characters we came across matched their respective scenes. It was also nice to immediately spot these structures and immediately know what they are from.
The Gold City Ghost Ride Haunted Hayride consists of many large creatures and structures and is host to their new centerpiece, "Big Top Terror." We can assure you, it's pretty darn big! There is a variety of theming along the course and you never really know what you might ride up to next. As we rode through each structure, the characters near them matched their scenes too. We must warn you, if you're afraid of clowns, this might be your favorite attraction of them all (or maybe not)!
The Doomsday Doll Factory is, of course, a doll factory. After entering this building, we weren't sure if we'd ever seen as many dolls anywhere else; they were literally everywhere! We came across scenes where they were sewing, making clothes and even stuffing the dolls! Some of the dolls "may" come to life in here and we truly feel sorry for you if you are afraid of them. After all, they're watching you… and they can sense your fear!
---
Fright Effect:

7.33
Not only do the attractions at Skeleton's Lair offer different characters and theming, but each of them also had their own style of fright techniques. From loud noises, intimidating actors and attacks from above to sudden bursts of flames and nearly getting run over (on several occasions), it goes without saying that some of the scares here can be pretty hard to predict.
Our group consisted of 6 total when we went through the Trail and it seemed like they actually went for the back of the line pretty often. Enough that the front of the line completely missed out on some of them. Despite that, scares often came in the form of sudden surprises, intimidating stares, cries for help, screams of insanity and creepy stalking by some of the villains.
The scares were a little more evenly spread throughout the Hayride. Aggressors could often be found walking close to the wagon, giving nearly everyone some quality "one-on-one" time and the giant, man-eating props were placed on both sides of the ride at times. Oh yeah, if you have friends who are afraid of clowns, BRING THEM HERE! And don't forget to come prepared to sacrifice a volunteer.
Several of the attractions really zoned in on the fear of clowns, as well as other common fears. A growling chainsaw, a ghostly power tool, flying apparitions, dolls, mannequins, ear-piercing screams, fiery eruptions and more can be found throughout the complex.
---
Value:

8.51
General admission to gain access to all 4 haunted attractions will cost you $30.00 per person. If you are strapped for time or refuse to face your fear of dolls, general admission tickets including all haunts BUT the Doll Factory can be purchased for $25.00. Either way, each ticket is a good value. Our group went all in and tried out all 4 of the haunts. The approximate time it took us to go through each of them is as follows:
Skeletal Visions 3D: 2 minutes
Skeleton's Lair Haunted Woods: 16 minutes
Gold City Ghostride Haunted Hayride: 10 minutes
Doomsday Doll Factory 7.5 minutes
That brings our total tour time to 35 ½ minutes. For the ticket price of $30.00, that brings their MPD (minutes of entertainment per dollar spent) score to 1.18. Although this is a bit below the average of 1.5, the variety of frights and attractions offered here are still well worth the ticket price!
For those who like challenges they do have a 3 minute escape room where you can test your problem solving skills for an additional $5.00 per person. The short time frame goes by quickly, but being a fast-paced race against the clock is still very exciting and highly recommended! They also have VIP Fast Pass tickets for an additional $15.00 on top of the normal ticket pricing. Finally, don't forget that Skeleton's Lair will have several horror movie stars (including the REAL Creeper ("Jeepers Creepers") and Michael Myers (Halloween II) making appearances throughout the season, so be sure to visit their website for more information about those dates.
If you are looking for a unique variety of scares, buildings, characters and scenes, then Skeleton's Lair Haunted Scream Park has you covered! They even have a wax museum. A wax museum, people!!! If you choose to go through all of them, just remember… "Everybody's watching those who enter the doll factory!"
---
Photos from Review Trip:
Click to Enlarge
Promo Images:
Click to Enlarge