Soul Reapers Haunted House – Full Review
Soul Reapers Haunted House is a Haunted Attraction located in Wilmot, WI.
30820 111th Street, Wilmot, WI 53192View All Details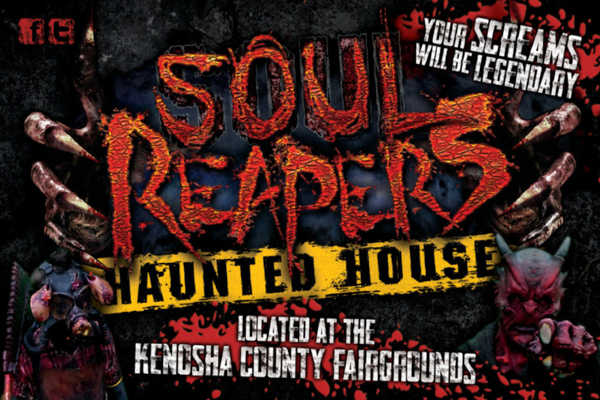 Features:

Free Parking, Restrooms/Porta Potties On-Site, Gift Shop/Souvenirs, "Old-School" (Low Tech), Original Characters, Uncovered Outdoor Waiting Line, Indoor/Outdoor Attraction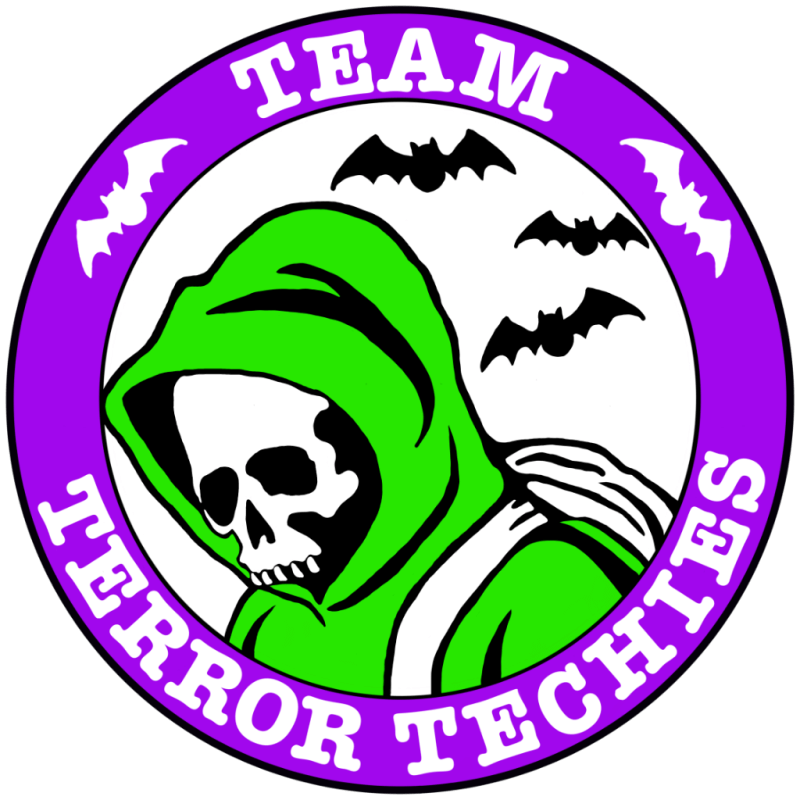 This attraction was reviewed on October 7, 2023 by Team Terror Techies.
---
About Our Reviews and Rating System
---
Final Score: 7.23
Final Scores – By Category

Final Scores – By Attraction

Summary:
In the Kenosha County Fairgrounds, Soul Reapers Haunted House rises to haunt the bravest souls for the 2023 Halloween season. What started as a local haunt has now blossomed into a sprawling path of four distinct buildings, each housing its own spine-chilling tale.
The haunted house is divided into four distinct and unforgettable themes. Venture into the decaying grandeur of Madame Mizery's mansion, where secrets and horrors await behind every corner. Feel the madness in the Lost Souls Asylum as you navigate a sinister clash between Soul Surgeons and hapless patients. Discover the otherworldly Swap of Souls, where Lady LaStrange concocts mysterious spells amidst the overgrown swamp vegetation. Lastly, tread carefully into the Underworld, a realm where soul reapers openly display their past victims, a haunting glimpse of what lies ahead. Continue reading about our visit to the Soul Reapers Haunted House.
---
Cast Score: 7.45
Cast Scores – By Question

Cast Review:
At Soul Reapers Haunted House, the entire cast is composed of original characters. Two memorable encounters for us were with the queue line actors, a stilt walker, and a chatty crochet clown. The stilt walker, a towering, gory figure, delighted in posing for photos and sneakily delivering spine-tingling scares as they weaved through the queue line. The clown was exceptionally engaging, cracking jokes, and engaging in lively banter with the waiting guests. They even went the extra mile to lift the spirits of a fellow guest, ultimately offering them some candy.
Once inside the haunted house, our interactions with characters tended to be brief, often leaving us yearning for more. Overall, our early season visit might have revealed a few scenes that could benefit from additional actors to heighten the energy.
In Madame Mizery's mansion, a card dealer invited us to try our luck at blackjack. Though tempted, the condition of the table made us think twice about sticking around. In the Lost Souls Asylum, some characters displayed impeccable timing for jump scares, being able to cause us to get jumpy while we snaked through the rooms.
One highlight was our encounter with Lady LaStrange in a swampy shack. They implored us to stay while concocting a mysterious spell, leaving us curious about what was brewing as we moved through the room.
---
Costuming Score: 8.18
Costuming Scores – By Question

Costuming Review:
During our visit to Soul Reapers Haunted House, we were treated to a fascinating parade of monsters as the attraction opened for the night. This gave us an excellent opportunity to scrutinize the costumes worn by the actors. In general, the majority of the costumes were detailed and appropriately distressed. There were very few characters in masks. However, the masks that we saw were well done. Most actors had well applied makeup to bring their characters to life. It's worth noting, though, that there wasn't much use of prosthetics or other elements to make the characters appear non-human, with one exception of the stilt walker.
There were a few costumes that truly stood out among the eerie crowd. One of the line entertainers, the crochet clown, made a lasting impression with a fusion of post-apocalyptic elements, a gas mask, armor-like attire, and a splatter of disheveled, vibrant clown colors. What made this costume particularly intriguing was the fact that it was entirely covered in crocheted yarn, including the gas mask and shoes, as if it had been attacked by guerrilla knit artists. This twist on the clown archetype was refreshingly unique.
The stilt walker, the other line entertainer, wore a costume featuring layered bloody burlap and flesh-like panels. While the mask had a primitive appearance, it was clearly crafted to suit the character. The costume was complete with small details such as leather wrist cuffs and a belt made of twine and bones, enhancing the overall effect.
Within the haunt, Madam Mizery's costume, a more formal Victorian dress with a glowing green skirt, radiated an ethereal charm that perfectly complemented her ghostly character. Also, her sister, Lady LaStrange, who was banished to the swamp, sported a feral, tattered witch costume adorned with baubles dangling all over, adding to the mystical atmosphere of the scene.
---
Customer Service Score: 9.88
Customer Service Scores – By Question

Customer Service Review:
Our drive to Soul Reapers Haunted House began with Google Maps leading us to the wrong entrance on the fairgrounds. Thankfully, it was easy for us to retrace our steps and find the proper parking area. It's worth noting that during wet weather, the fairgrounds can get a bit muddy, so be prepared.
Approaching the ticket booth, there were large, well-placed signs that guided us. The only hiccup we encountered was when we needed to locate the restrooms – a quick question to a friendly staff member resolved that. What truly stood out was the outstanding service from every staff member we encountered. They were not only helpful but also exceptionally friendly, which added to the positive experience.
Before arriving, we had checked out their website, with an easily navigable layout and a helpful FAQ section. The website even warned about Google Maps directing you to the South entrance vs the main entrance. However, the mobile layout could use some improvement as it made finding some information a bit challenging.
---
Immersion Score: 6.93
Immersion Scores – By Question

Immersion Review:
The atmosphere at Soul Reapers Haunted House had its highs and lows. While there was a DJ spinning lively Halloween tracks to set the mood, the pre haunt vibe could have used a bit more oomph. It was primarily on the line actors to keep up the energy, engaging and entertaining the customers awaiting their turn to enter the haunt.
The haunt has a compelling storyline, but regrettably, we didn't fully pick it up as we went through the attraction. Our understanding of the narrative came later, from the website and conversations with the staff. One recurring issue that disrupted the immersion was the considerable distance between the buildings, resulting in dead zones. While this issue is due to the location and space available, it did detract from our overall experience.
---
Special FX Score: 6.5
Special FX Scores – By Question

Special FX Review:
Soul Reapers Haunted House kicked off this year with an impressive new facade. The haunted house presented itself as a decaying, weather-worn gray wooden structure with peeling paint. Illuminated windows exuded an eerie orange glow, and a light fog hung around the entrance, setting a foreboding tone from the very start.
Beyond the facade, the haunt unfolded into four distinct themes, each occupying a separate building along our journey:
1. In Madame Mizery's mansion, once a grand Victorian residence, the grandeur had given way to decay after Madame Mizery and her staff faced a fiery demise.
2. The Lost Souls Asylum immersed us in a chilling confrontation between the sinister Soul Surgeons and their hapless patients, creating an intense and gruesome scene.
3. Our journey through the Swamp of Souls led us to Lady LaStrange's shack, cleverly hidden amidst the overgrown swamp vegetation, evoking an atmosphere of otherworldly enchantment.
4. Finally, we ventured into the Underworld, a bone-chilling realm where the soul reapers openly displayed their past victims, offering a terrifying glimpse of what awaited us.
Soul Reapers minimized the use of animatronics and sensory effects such as scents and elaborate lighting. Instead, they relied on piped-in music and actors to set the mood in each building. While some scenes felt somewhat sparse, the haunt clearly invested significant effort in a few stand out areas.
Madam Mizery's seance scene, for instance, was littered with detail, boasting rich red walls, bookcases filled with macabre books and bones, all while Madam Mizery herself concentrated on an Ouija board. Another scene that grabbed our attention was the bar and poker hall within the mansion, a perfect blend of dingy and chaotic, as if a high-stakes game had been abruptly interrupted before we entered.
However, the stark contrast between the meticulously crafted scenes and the empty spaces between them did occasionally disrupt the overall experience, pulling us out of our haunted journey.
---
Scare Factor Score: 6.28
Scare Factor Scores – By Question

Scare Factor Review:
Soul Reapers Haunted House delivered a mix of scares, although some appeared a touch predictable, they still managed to get the more easily startled team member jumping. One thing we observed was that the actors had a knack for zeroing in on the most jumpy person in our group, leaving the rest of us somewhat excluded from the frightful festivities.
Throughout the attraction, we encountered a multitude of eerie sights, with corpsified skeletons and gruesome, flayed bodies lurking around every corner. The actors demonstrated their skill in finding clever hiding spots and executing well-timed jump scares, ensuring that patrons got their fair share of spine-tingling moments.
---
Entertainment & Value Score: 6.75
E&V Scores – By Question

E&V Review:
Soul Reapers Haunted House offers two ticket options: General Admission at $27.99 and Fast Pass at $39.99. Our group navigated the haunt in approximately 22 minutes, but keep in mind that your experience may vary depending on your group size and pacing. When we crunch the numbers, we received roughly 0.79 minutes of spine-tingling entertainment for each dollar spent; this falls slightly below the national average of 1 minute per dollar. As a note, be sure to buy your tickets before you arrive since they are cheaper than if you buy them from the ticket booth.
Soul Reapers Haunted House has grown impressively over the past few years, and it's clear that they are committed to providing a thrilling experience. We're already looking forward to our future visits and the new surprises they have in store.
---
View Full Score Sheet
---
Promo Images:
Click to Enlarge
---
Have you visited this attraction?
Join ourspookyadventures!
We visit Halloween haunted attractions year-round! Follow us for haunted house walkthrough videos, behind the scenes footage, and more!