Spook Hollow – Full Review
Spook Hollow is a Haunted Attraction located in Marquette Heights, IL.
613 LaSalle Blvd, Marquette Heights, IL 61554View All Details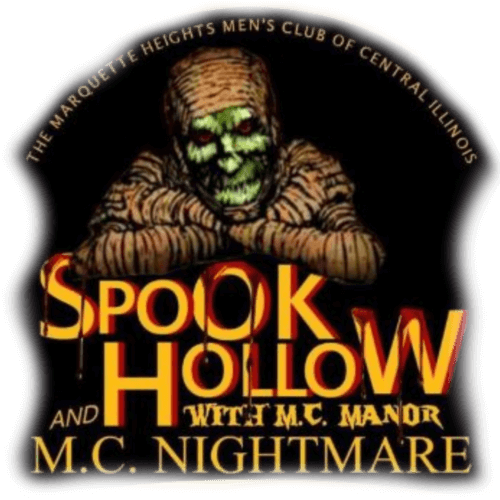 Features:

Free Parking, Restrooms/Porta Potties On-Site, Gift Shop/Souvenirs, "Old-School" (Low Tech), "Hi-Tech" Attraction, You will NOT be touched, Uncovered Outdoor Waiting Line, Indoor/Outdoor Attraction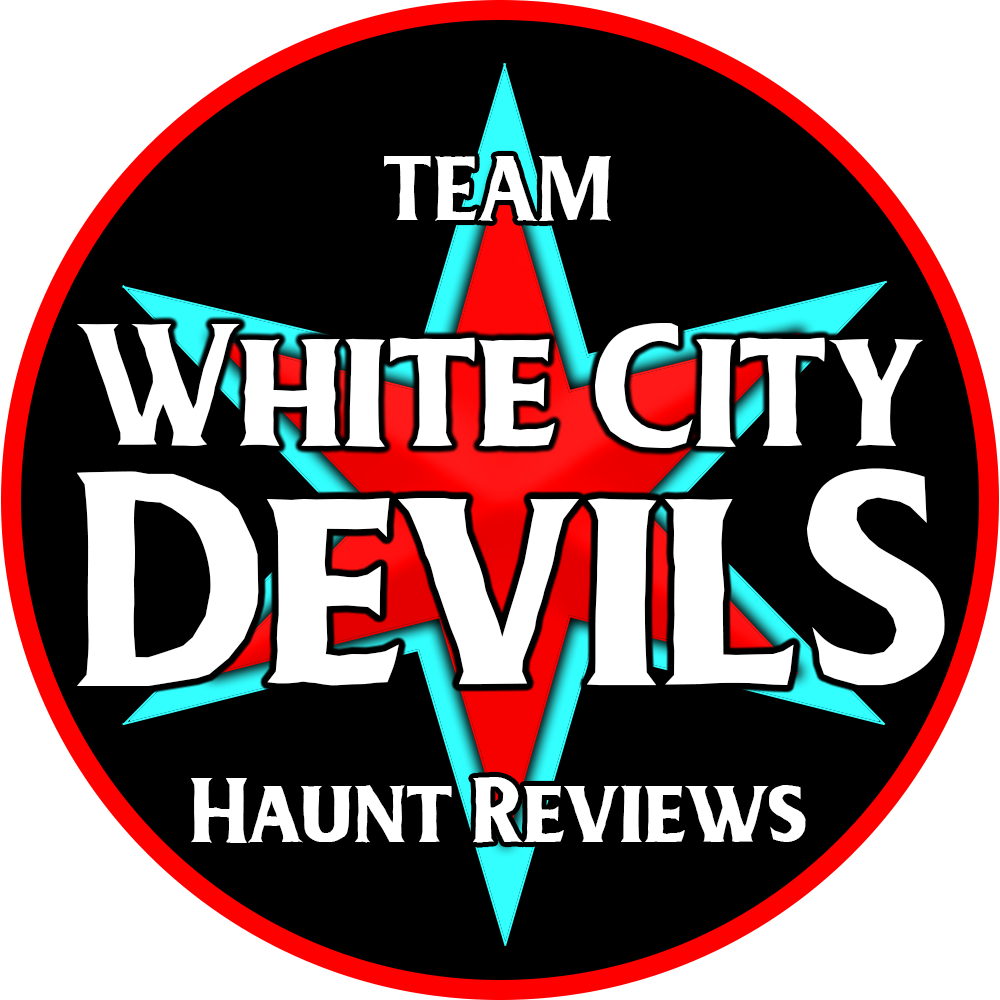 This attraction was reviewed on October 22, 2022 by Team White City Devils.
---
About Our Reviews and Rating System
---
Final Score: 8.35
Final Scores – By Category

Final Scores – By Attraction

Summary:
Our central Illinois trip led us back to some amazing haunts, both new and return visits. Spook Hollow happens to be the longest-running outdoor haunted attraction in Illinois and it wouldn't feel like a complete season without seeing what the team there had in store for 2022. The Marquette Heights Men's Club of Central IL volunteers their time and efforts into acting, building, setting up props, scenes, makeup, and every other aspect of running a successful attraction every year of which 100% of the money that is made through the season is given back to the local communities. There is no doubt why this haunt has such a cult following every year with lines that wrap around the park during its short season.
---
Cast Score: 7.97
Cast Scores – By Question

Cast Scores – By Attraction

Cast Review:
As mentioned, this is a volunteer attraction, and we received a certain level of performance that varied from character to character. The majority of the actors here let their presence be known by creeping into a scene and staring until we exited to the next scene. We occasionally had some interactions depending on the area with some seasoned actors, but this is something I wish took a majority as opposed to the few we were given. Those that did provide dialogue proved to be quirky in their approach, which led to some great interactions.
One of the miners in the Spook Hollow trail gave a loud chuckle and said, "You are gonna have a great time in there, buddy" when we approached his scene. He was correct, to say the least, as the clearance had to be four and a half feet at most and I did not enjoy this one bit. Other great interactions would include the same trial with the Sideshow performers. This fantastic scene takes guests back to the old carny days with an outside sideshow walkthrough. The Ring Master performed as expected with a typical "step right up to see…" and introduced all of the sideshow people such as a fortune teller and the spider boy.
Overall, the interactions we did have with a few actors were great but rather limited with a majority of actors growling or not saying anything at all.
---
Costuming Score: 8.38
Costuming Scores – By Question

Costuming Scores – By Attraction

Costuming Review:
Spook Hollow has some quality looks throughout all of its different attractions that show great creativity. What works here is knowing that the different scenes will have some unique makeup and costumes for a majority of the haunt.
M.C. Manor is the first attraction. The costuming here is appropriate, with the setting being a manor. The characters are meant to look as though they are lost souls within the halls and linger to frighten anyone passing through. The attire is classic clothes from the 40's era, think button shirt and a vest but tattered and beaten. With the creaky halls and dusty look, the costumes are very fitting to tell a story of how old and beat up the mansion is and just how tired ghosts are that haunt it.
Spook Hollow trail takes up most of the walkthrough time, so most of the cast is seen here. There are a wide variety of costumes that cover many great scenes. One of the many scenes walking through is a creepy cemetery, and throughout this, the actors are dressed as weeping angels that fit in with the environment well.
Another great example of appropriate costuming is found throughout the Sideshow! With all of the different attractions shown throughout this scene (spider-boy, fortune teller, ringmaster), there are many different costumes provided to bring the characters to life. These are just a few great examples of many of the varieties found in the Spook Hollow trail.
M.C. Nightmare is an industrial-like setting where the costumes are made to look like hard labor workers. These include rough-looking overall pants and dirt-like makeup. This, of course, makes sense given the overall setting of this particular attraction.
---
Customer Service Score: 9.38
Customer Service Scores – By Question

Customer Service Scores – By Attraction

Customer Service Review:
Spook Hollow is located in a part of Independence Park. It sits at the far end of the park inside a residential neighborhood. There are traffic signs that help guide guests to the haunt from the main road of Radio City Drive, as well as giant spotlights that can be seen from a distance. When inside the neighborhood the traffic sort of is a good indication that you made it.
There is some staff on sight to help direct traffic and off-duty officers for crowd control. The staff makes this haunt as safe as possible to break up any issues, not that we have ever seen any of that from the hundreds of people on any given night.
The website provides all information as far as location, ticket prices, and even a great back story on the haunt from its 43-year run.
---
Immersion Score: 8.73
Immersion Scores – By Question

Immersion Scores – By Attraction

Immersion Review:
Spook Hollow is broken into 3 attractions, each with moments of immersion, including each façade. Each attraction is followed immediately by the next, which all provide different styles. M.C. Manor (the first attraction) has a tremendous façade that sets the tone. With a thunderous sound every so often, it is a classic haunted house look that makes for a fantastic introduction. Spook Hollow trail façade are these giant cemetery-like gates that look amazing. During the night of our visit, the sky helped highlight this trail during its dark moments. M.C. Nightmare is industrial-themed, and the façade here looks like a factory. It's safe to say the flow between all of these works out as they are one after another.
Inside each attraction is no different regarding the flow. It is easy to get lost within each act as there is plenty to look at that looks amazing. M.C. Manor looks like a creepy old mansion on the inside. Taxidermy is hanging in many areas to show the owner was a traveler of the world and we were finding many different artifacts throughout.
Inside the Spook Hollow trail, some of the scenes show great details to give an immersed experience. The cemetery does give off a feel as though we did just cross over into a cemetery by mistake somehow. One of the newer scenes is a junkyard with all sorts of tires and scrap to make the vibe as though we are looking for car parts. Inside M.C. Nightmare, the scenes inside were all meant to feel as though we were walking through a factory of sorts. There was tons to look at given the great details throughout Nightmare. For example, it is hard not to notice this huge beam in a particular room that looks like the same beams used for bridges. There are also plenty of 55-gallon oil drums around to help continue to suggest a factory-like setting.
---
Special FX Score: 8.98
Special FX Scores – By Question

Special FX Scores – By Attraction

Special FX Review:
One of the interesting facts about Spook Hollow is their time to build/ set up for a season. Given that they are in a public park, they need to abide by a certain window to work within the parameters of their park district. It's crazy to think about, considering not only is there a small window of time to complete the setup, but they also need to take things down by the first week of November (if my memory serves correctly). The point of all this? We are, even more, appreciatiative of the efforts and hard work put into creating, setting up, fixing issues on the fly, and taking down all so the volunteers to give back to their community.
The effects throughout all 3 attractions stood out in their ways and helped to tell a story each time. M.C. Manor told the story of a wealthy man who departed long ago yet still resides within the halls as an apparition alongside people throughout his life. The overall feel of the Manor is sort of "forgotten." What I mean by this is everything seems to have a layer of dust on it and cobwebs everywhere that are highlighted by the lighting. We can tell what kind of person the owner was based on his artifacts and collections throughout the rooms. Tons of Taxidermy pieces throughout the show are trophy mounts. Another example of collections lies within the wine cellar. Here we have walls full of bottles that show this person had a pricey taste for the finer things in life.
Some of the more appreciated effects in Spook Hollow trail would be the hand-built scenes and props that are clear standouts. There are some moments where items and props are the store-bought items one could find at a Home Depot or Spirit Halloween, and these are fine given the need for a quick break down, however, there are great examples of some cool effects sprinkled throughout the trail that would be great to mention. On the cemetery trail, there is a church at some point with lighted windows and a faint sound of organ music inside. We were thrown off as it made us believe we needed to go through the church to proceed, yet this wasn't the case as it is just a distraction.
M.C. Nightmare has a more old-school approach where they use any resources to be able to create a great attraction. Here is where we would find things like an old printing press that looks sophisticated and difficult to use but is a part of the industrial feel given it is old cast iron. The effects here are more of a loud noise ringing throughout and lots of banging and bashing of things. Overall, there are 3 different approaches here that result in 3 different unique attractions.
---
Scare Factor Score: 8
Scare Factor Scores – By Question

Scare Factor Scores – By Attraction

Scare Factor Review:
In many ways, the actor scares were a bit limited. There were a few that made some great attempts and hit the mark all day, but the same opportunities for improvement we mentioned in the Cast section are also relevant here as well. The idea behind actors walking up, staring, and fading back is supposed to convey the idea they are impending our doom. I would much rather appreciate some dialogue, let one of them tell me I'm going to hell or put a curse on our non-existing children, or something along those lines.
The same can be said for more inside M.C. Nightmare regarding actor-driven scares. Spook Hollow trail was the standout in terms of actor scares. This is in part to being able to hide better in the dark woods and having a good pop-out. There are some prop scares as well here but we mostly had dark mazes spread out that had hidden actors to provide scares.
---
Entertainment & Value Score: 7.75
E&V Scores – By Question

E&V Scores – By Attraction

E&V Review:
Spook Hollow has one of the best Minute Per Dollar values we have on our tour. The combined runtime for all 3 attractions was 36 minutes, again, most of which was from the Spook Hollow trail. With a 30-dollar general admission price, the MPD value comes to 1.6. With all of the upgrades and new scenes throughout the Spook Hollow trail, the overall experience as a guest is fantastic.
One of the better feelings of being here is remembering that Spook Hollow is a non-profit and gives back to its local communities with each ticket sale. It almost feels as though one is contributing to the community by visiting! This haunt is worth checking out as it does have a great following, and it is easy to see why given the quality as well as its status being Illinois' oldest trail attraction since 1979.
---
View Full Score Sheet
---
Pics We Took From Our Visit:
---
Promo Images:
Click to Enlarge
---
Guest ReviewsGuest Average: 7.86 out of 10
Brittany – 10/10 – October 18, 2019This was my first time at this haunted house, but definitely NOT my last. The wait time was very …show more minimal, even without the skip the line pass. They had people walking around scaring you, snacks, and things to watch and look at. Got more than my money's worth between the three attractions for the price of one and how long the haunt lasted. It was actually very scary, and I was cowering in my boyfriends back the entire time. Awesome job, and happy 40th birthday!
Joshua – 10/10 – October 13, 2018THE BEST BANG FOR YOUR BUCK IT IS SOOOO HIGH CLASS FOR AROUND 2000 DOLLARS A SET!!
Emily – 10/10 – October 21, 2017The best haunt in the area by far. There are so many great things to say about this place. Yes the …show more wait was long but well worth it. The old creepy house had my group screaming in fear. The trail is crazy scary too. There is just to much to talk about. If you get the opportunity to check it out you definitely have to.