Spookshow Haunted ScreamPark – Full Review
Spookshow Haunted ScreamPark is a Haunted Attraction located in Price, UT.
510 E River Side Drive, Price, UT 84501View All Details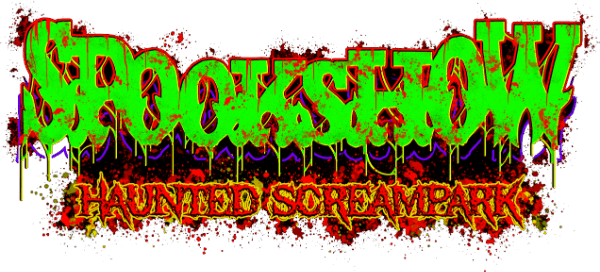 Features:

Free Parking, Restrooms/Porta Potties On-Site, Food/Concessions, Gift Shop/Souvenirs, Optional Games/Midway, "Extreme" Attraction, You may be touched, Original Characters, Uncovered Outdoor Waiting Line, All-Outdoor Attraction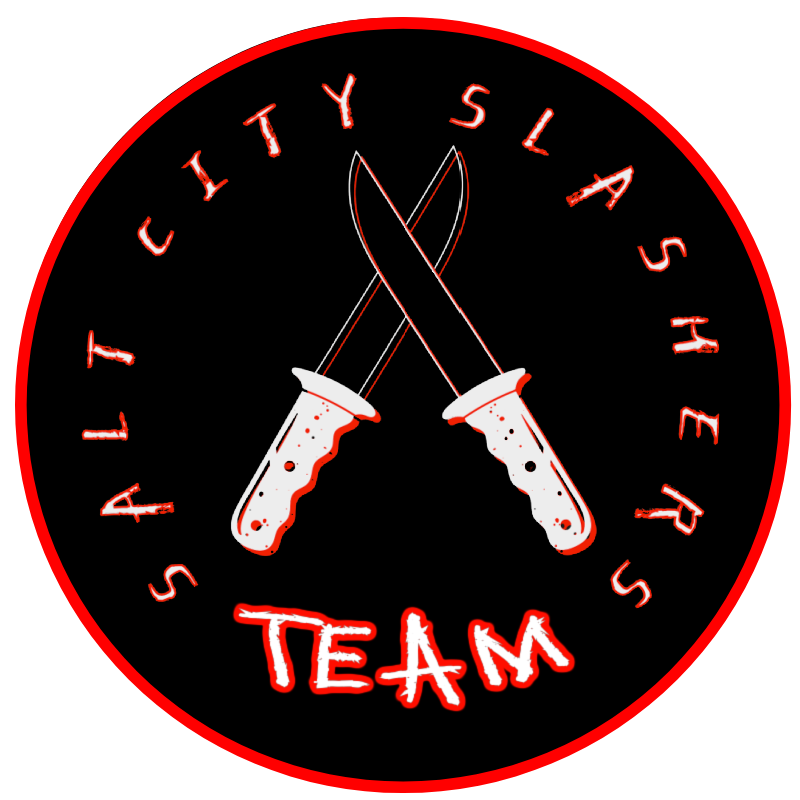 This attraction was reviewed on October 21, 2022 by Team Salt City Slashers.
---
About Our Reviews and Rating System
---
Final Score: 8.26
Final Scores – By Category

Final Scores – By Attraction

Summary:
The Spookshow Haunted ScreamPark is a dream created by a giant family of people from the surrounding area. The two owners spoke of an all-volunteer staff and family dinner before opening. This new Haunt based in Price, Utah, is a mere two years old and the entire staff from last year returned again this year. 100% of them. It was built over the summer of last year and will continue to grow with each year to come.
Within the scream park this year is the main haunted house and a punk rock axe-throwing garage. We recommend axes first to really get that blood pumping before entering the haunt. Don't worry there is nothing scary that will jump out at you in this room.
Mutants of all kinds overrun the desert wasteland that is home to this haunt. With disappearances from the neighboring towns, locals speak of cursed earth underneath the full-size chapel that resides in the center of the haunt. The isolated location is perfect to enhance this storyline they lay before you. So take a deep breath because you'll need it when they throw a bag over your head and escort you to the brutal Spookshow Haunted ScreamPark.
This review is based on their full contact RedBand experience, where guests could be put in a trap, isolated, and maybe even… covered in blood.
---
Cast Score: 8.55
Cast Scores – By Question

Cast Scores – By Attraction

Cast Review:
The first character you meet wandering the gravel yard was also the only pop culture reference that we came across in the entire haunt. He is also one of a few who may throw a bag over your head and escort you to the haunt down the hill.
The cast is extremely attentive in this haunt. You will spend more time in each room rather than being moved along quickly. They have long conversations with you as they cover your clothes and head/face in blood (if you choose Redband, which we highly recommend). They are not only well-skilled at distracting you but also at pretending to be distracted themselves which allows you to sneak away and on to the next section. The preacher in the chapel was a great example of this as he drew us near to the pulpit with waves and kind words, we were looking only ahead. Out of seemingly nowhere jumps a female church person or nun maybe. It was hard to see when being shoved to the ground on our knees in repentance for what we did not know. There are very big pig men that tower over you menacingly. Later on in the haunt, you will come across a voodoo woman with quick feet and a shrill voice. Watch out for her.
Each character is picked on a first-come, first-serve basis. Allowing different actors to play different roles and really see where they excel. Within one of the RVs is a husband and wife duo that will take hands-on to a whole new level. Again, take a deep breath as you might have your windpipe temporarily obscured with Redband. The cast members that grabbed me and stuffed me in a stand-alone freezer were scary but also ensured I climbed out safely. Even offering a hand to hold, an extremely wet and bloody hand. But a hand nonetheless.
---
Costuming Score: 7.95
Costuming Scores – By Question

Costuming Scores – By Attraction

Costuming Review:
The costumes inside Spookshow were familiar in a way. They looked just like your friends and neighbors dressed. Some were in respective uniforms to their surroundings. But most look like everyday clothes gone bad.
When the mutations started, they had to adapt everyday clothing to fit around their possibly misshapen figures. They were dirty, and we mean dirty. Desert life will definitely take it out of you. The pig men, butcher characters, and of course, chainsaw men had layers upon layers and some even giant aprons on top of that. The voodoo woman with all the babies looked like she was straight out of the back room of a New Orleans curiosities shop.
---
Customer Service Score: 9
Customer Service Scores – By Question

Customer Service Scores – By Attraction

Customer Service Review:
The drive from Salt Lake to Price is almost two hours depending on what time you head down, and it is well worth it. The Screampark is isolated away from the city lights so it has stars for days. Be sure to look up when going through the haunt or even when you are laying in a coffin.
All of the staff that we encountered were polite and helpful. The guy who runs the axe-throwing area answers all questions and even taught us first-timers how to throw. The owners actually mingle about near the exit speaking to guests as they come running out the end of the haunt and by running we mean walking briskly as running is never allowed 😉 They offer multiple ticket options that can be purchased online or in person. If you need help deciding which ticket package is best for you, they will most certainly help explain the packages and get you going.
---
Immersion Score: 7.1
Immersion Scores – By Question

Immersion Scores – By Attraction

Immersion Review:
While in each room, you are most definitely immersed in what scene is laid out before you. There is plenty of maze and walking paths in between the screams to really catch your breath and process what actually just happened to you in the previous section. The conversations and interactions you have in each section pull you in quickly and efficiently. You may even be caged long enough to hear others scream and converse. If you are lucky enough to get invited to dinner while inside the haunt, they will actually place you at their dinner table as they try and feed you a variety of body parts. The tall pallet walls that surround some areas leave only the sky and the stars visible and give you that true abandoned in the desert feeling.
In the middle of the haunt, they built the exterior of a full-sized chapel that you get through by walking through a graveyard full of iron fencing and tombstones. Being dragged to the pulpit and forced to kneel and receive an inverted cross in blood on the forehead can make you forget the real world that lies just outside those wooden walls. While in the couple RVs, the conversion is extensive and distracting all at the same time to again allow you to forget what is outside, not just the RV but the very room you are in… Which can be dangerous depending on who lies in wait in the next room.
---
Special FX Score: 8.25
Special FX Scores – By Question

Special FX Scores – By Attraction

Special FX Review:
Throughout the haunt, you had your light tricks and view manipulation. But we want to talk about the dolls. Not little dolls that can be played with on the floor. But full-size human dolls. Throughout the entire length of the haunt, each body or body part you come across is of such high quality. They move realistically and you can see the incredible detail all the way down to the hairs and pores. You can see where they have budgeted more in this area and it will pay back tenfold, we are sure of it. Now, this doesn't mean they didn't also have the small childhood dolls we have all seen a million times. But what we haven't seen is their 30+ heads hanging in the voodoo shack section that are lubed up every night to ensure proper slippage as you make your way through it. There is no other way. Don't waste time looking for one or you may run into that shrill voice again.
They had various animatronics all throughout the haunt as well, but there was one about halfway through that was split in two and possibly sprays directly at those brave enough to pass by closely. Towards the end of the haunt, there is an impalement garden that would make Vlad himself blush.
---
Scare Factor Score: 7.9
Scare Factor Scores – By Question

Scare Factor Scores – By Attraction

Scare Factor Review:
While Spookshow Haunted ScreamPark is most definitely intense from the beginning to the very end, we did find ourselves giggling quite a bit from the enjoyment of the entire show that was being put on before our blood-covered eyes. We did however pass a few girls that were so closely huddled they almost were inside of each other's skin. We also had some guys towards the end use our team as bait in order to sneak past unnoticed by the actors dealing with us.
There were moments of pure horror, ie, the freezer and cage scenarios discussed earlier. While inside the freezer, they will beat the outside of it with a chainsaw; sounds and sparks go everywhere. While in the RV, you will scream and scream until you are held up against the wall by the throat. They will scream so close to your face that spit may even be something you take home on you along with all the dirt and blood. Notice we hadn't mentioned the chainsaws much? We are leaving ALL of them up to you to find.
We cannot recommend the Redband enough. If you are looking for a brutal, bloody, and still enjoyable hands-on experience then this is the haunt for you for sure!
---
Entertainment & Value Score: 8.88
E&V Scores – By Question

E&V Scores – By Attraction

E&V Review:
We spent about 45 minutes within the haunt itself (not including axe throwing). There are three different tickets available. The first price is the ticket by itself, and the second price is with the addition of axe throwing.
General admission: $20/$28. Deathtouch hands-on: $22/$29. Redband extreme hands-on: $24/$30.
The tickets are on the lower end when it comes to haunts here in Utah which will make the drive there that much easier as the extra you would spend can be spent on travel.
We do want to make some things very very clear. First, just because you get general admission does not mean there isn't a chance blood can get on you. Although it is all washable, don't wear your favorite clothes just to be on the safe side. And Secondly, this place is absolutely NOT for families. It may be built by one but you should not bring one. This is for next-level haunt-goers who are looking for a screamin' deal.
---
View Full Score Sheet
---
Pics We Took From Our Visit:
---
---
Have you visited this attraction?
Join ourspookyadventures!
We visit Halloween haunted attractions year-round! Follow us for haunted house walkthrough videos, behind the scenes footage, and more!