Spookshow Haunted ScreamPark – Full Review
Spookshow Haunted ScreamPark is a Haunted Attraction located in Price, UT.
510 E River Side Drive, Price, UT 84501View All Details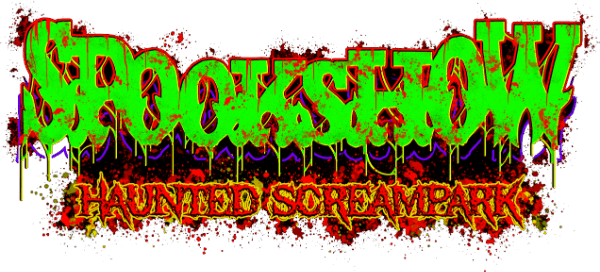 Features:

Free Parking, Restrooms/Porta Potties On-Site, Food/Concessions, Gift Shop/Souvenirs, Optional Games/Midway, "Extreme" Attraction, You may be touched, Original Characters, Uncovered Outdoor Waiting Line, All-Outdoor Attraction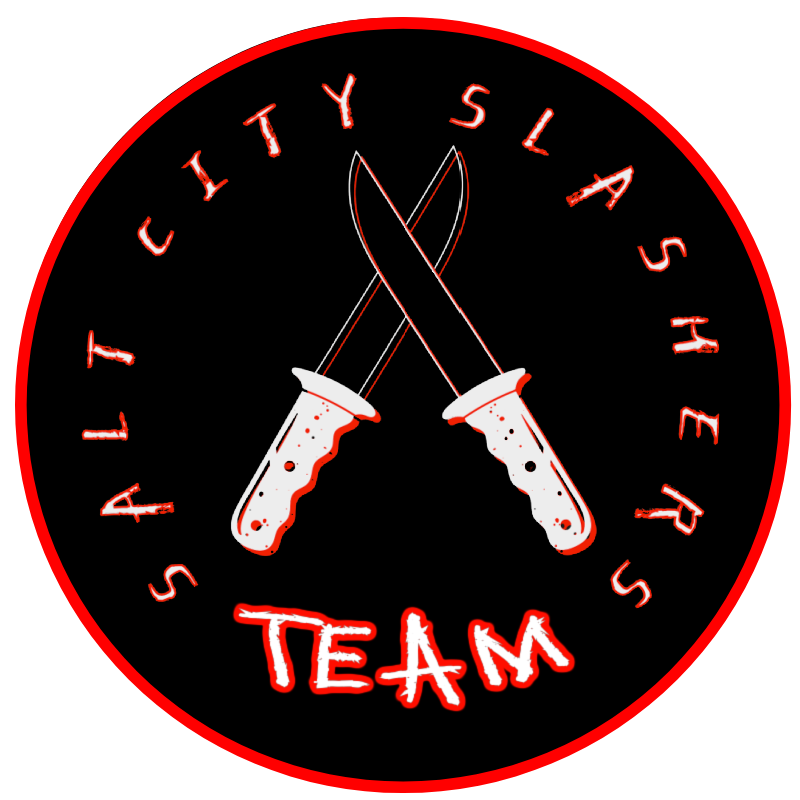 This attraction was reviewed on October 27, 2023 by Team Salt City Slashers.
---
About Our Reviews and Rating System
---
Final Score: 8.71
Final Scores – By Category

Final Scores – By Attraction

Summary:
In the third season of this rural haunt, we have seen the dream of true scream park grow even more this year. Based in the small town of Price, Utah, the Spookshow Haunted Screampark is an outdoor gorefest! Portrayed as a deranged, damaged, deserted wasteland beyond repair. Even the locals won't whisper about it. No one can hear your pleas for help, and these hills definitely have eyes.
---
Cast Score: 8.55
Cast Scores – By Question

Cast Scores – By Attraction

Cast Review:
The training process for these actors begins in the Spring of that season and continues until they open their doors in the fall. The quality of characters you meet while taking this brutal walk is unending. You will spend more time in each themed room than most haunts as the creatures interact with you and might even smear blood on you. But if you have the red band, they won't stop with a single smear across your cheek, oh no. They will have you smelling it and eating it and having it pouring from your head. They may even share with you their favorite and goriest of games. It's a childhood treasure they've twisted to fit their story.
True safety is never in jeopardy while in the hands-on. For example, the laughing lunatic during the RV scene hoisted up one of the team members and proceeded to toss her around like a rag doll right before our very eyes. It was terrifying to both watch and experience.
The priest in the church will have you so scared you will do whatever he commands, even if that's kneeling in the dirt bloody and possibly bruised. The classic ending characters, we won't tell you how many, are loud and expected but nevertheless will have you "totally not running" through a claustrophobic tire maze to an end you hope is near.
---
Costuming Score: 8.93
Costuming Scores – By Question

Costuming Scores – By Attraction

Costuming Review:
From the rags on their backs to the blood teeming from their teeth, every inch of their hair to their toes is as fluent as the character rendered. Each one was as unique as the next; every character had an idiosyncratic portrayal of the scene they encompassed. Their costumes complimented the landscape of a desert prison, and the gore they wore beheld the madness in perfect unity. A priest so profoundly illustrated that it'll bring you to your knees to pray, a mutant with such a well-dicted melted face that you can feel the tingle of an acidic burn, there is not a single character that lacked imagery.
---
Customer Service Score: 9.3
Customer Service Scores – By Question

Customer Service Scores – By Attraction

Customer Service Review:
Before you even leave Salt Lake, the customer service of the Screampark is most helpful. You can find any and all directional information on their website, and if you have any questions, there are many ways to reach out to them. While at the park, the staff answered all of our questions, which there were a lot of, showed us merch, and helped us pick the best ticket for how brutal we wanted the experience to be.
---
Immersion Score: 7.38
Immersion Scores – By Question

Immersion Scores – By Attraction

Immersion Review:
Astutely coined the most brutal haunt in Utah for a reason, *hands down* Spookshow Haunted Scream Park is to the hilt, not for the faint of heart. If the sight of blood leaves you queasy in the slightest, you may want to come prepared. Don't fret about the seats of the car afterwards, the quality of blood will not stain your skin and will dry quickly. Shaving cream (it really works!) is also provided by staff to help remove any remaining blood for those who don't want to frighten the general public.
Wildly riddled with clever separating tactics, there will be no grasp of where your group might be, where you'll be going, and where they're coming from. Their theme was creatively crafted by weaving in and out of cleverly construed pallet mazes, monstrous tire entanglements, and tactfully placed RV prisons. We can't tell you the exact time we spent in coffins and secret stow away compartments, but we can tell you that it was long enough that we heard numerous groups pass by. Make sure the walls in shadows aren't fluffy because it may be a Lurch-like figure waiting for his next meal. The disorientation IS REAL. Three rules to abide by, and we say this out of genuine concern, are as follows; Don't get too close to the walls. Be careful of closets. Don't ever, ever, ever let your guard down!
---
Special FX Score: 8.95
Special FX Scores – By Question

Special FX Scores – By Attraction

Special FX Review:
There seem to be no limits when supplying animatronics and props to the new haunt. The bodies littered throughout were exquisite; if one can say that of rotting corpses. Each theme was built with time and care so that no detail was left untouched. The fog tunnel that takes places towards what you think is the middle of the haunt is dense, bright, and dark all at the same time. You will get lost. I guarantee it. When we entered the church, it truly felt like a church with that looming sense of big brother throughout the whole thing. The medical ward was elaborate and smelled like a medical ward. The dining room, where you are offered an array of delectable body parts, looks like grandma's house, just covered in blood, of course.
---
Scare Factor Score: 8.83
Scare Factor Scores – By Question

Scare Factor Scores – By Attraction

Scare Factor Review:
Room after room and RV after RV of nothing but blood and screams fill this cold desert haunt. Starting off strong with a bag over the head, you begin your journey through a a high pallet maze. Then you come upon your first set of abandoned RVs. Inside the ruins are jump scares and places to be locked inside, just waiting for you. Then comes a tires maze so tight you will have to squirm and bounce your way through.
You are never a complete group again once you enter this haunt. We were separated from one another most of the time, with only briefs to reunite and scream together. One such occasion took place in a cage, a chaotic mutant filled cage inside the second set of RVs. We were held there for quite some time while other groups moved past us and were covered in even more blood than before. The childhood game I spoke of earlier is played in this cage. With hands full of blood, the mutant slaps and splashes theirs to yours in a violent rendition of patty cake unseen until now. We discovered the weight limit on this cage and that's two mutants and three reviewers and we know this due to wooden floor actually splitting beneath us as utter chaos ensued around us. It was a bloody good time.
The cages aren't the only place you might find yourself locked in, but I can assure you just when you think you are alone in the broom closest—you're not.
The ending had us screaming till we were horse. We were chased by not just one weapon-wielding assailant but multiple. Diving through walls to get at you just one last time before your true exit. We highly suggest the use of the porta potties before entering this haunt.
---
Entertainment & Value Score: 8.88
E&V Scores – By Question

E&V Scores – By Attraction

E&V Review:
The quality of scares was so passionately exhibited that its incontrovertible that they value fear over practicality. There are no limits to the price THEY will pay to leave you spooked to the core. But while simplifying their ticket options this year helped us determine the most screams for OUR buck and that's the Redband Extreme Hands-On pass for $35. If you are looking for a less intense experience, they offer Death Touch Hands-On for $30 or General Admission with no hands-on for $25. All are great deals depending on the level of brutality you are looking to experience.
---
View Full Score Sheet
---
Pics We Took From Our Visit:
---
---
Have you visited this attraction?
Join ourspookyadventures!
We visit Halloween haunted attractions year-round! Follow us for haunted house walkthrough videos, behind the scenes footage, and more!