Stage Fright – Full Review
Stage Fright is a Haunted Attraction located in Leesburg, FL.
311 N 13th Street, Leesburg, FL 34748View All Details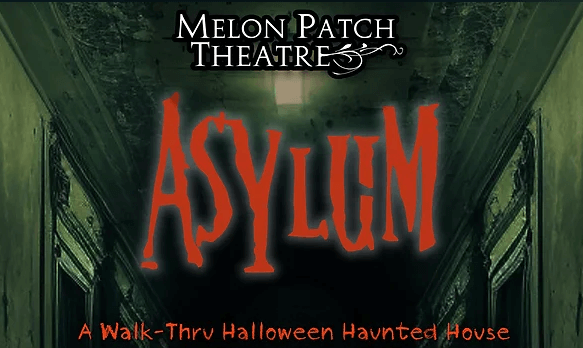 Features:

Free Parking, Restrooms/Porta Potties On-Site, Food/Concessions, You will NOT be touched, Original Characters, Indoor/Outdoor Waiting Line, All-Indoor Attraction, Family Friendly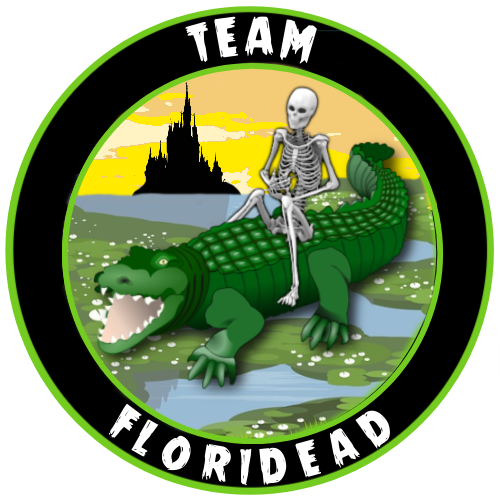 This attraction was reviewed on October 14, 2023 by Team Floridead.
---
About Our Reviews and Rating System
---
Final Score: 9.35
Final Scores – By Category

Final Scores – By Attraction

Summary:
The curtains have risen on Stage Fright's next incarnation of their haunt experience. Last year, Melon Patch Theatre was transformed into Manor of Madness, and, this year, the theatre has been transformed into Asylum. The storylines couldn't be more drastically opposite of each other and it's truly what sets this haunt apart considering the space and time constraints surrounding the event.
Stage Fright: Asylum is part of Melon Patch Theatre's theatrical season as a special event and the ticket sales go right back into supporting the venue. This haunt is built from the stage up every year and is bookended by their opening production in August and holiday production in December.
The story of Asylum revolves around Dr. Matthew Toboggan who is "driven mad by the gruesome murder of his wife and daughter at the hands of one of his own patients" and "now toils endlessly in the basement of this home for the criminally insane. An area known only as unit 81. Many of his treatments are so gruesome that his victims are barely human any longer. Those who work at The Kim Institute live in fear that one day, one of Dr. Toboggan's victims will escape. Today is that day!"
Stage Fright has stepped up its game with Asylum by introducing additional special effects, animatronics, detailed costumes, and if you can believe it, a whopping crew of 26 actors. Considering it's a single-attraction haunt that takes anywhere from 5 – 8 minutes to walk through, there's not a hiding space left unturned from the patients of Unit 81. This is a haunt that will have you screaming from ear to ear and Team Floridead is already anxious to find out what's in store for the 2024 season.
---
Cast Score: 9.57
Cast Scores – By Question

Cast Scores – By Attraction

Cast Review:
As you approach the entrance, the character interactions begin before you even step foot inside the theatre. Patients of Unit 81 stalk the queue and interact with each guest, adding an unsettling atmosphere to your wait or visit to the midway. After entering the building, you wait in the lobby where you'll come face to face with the infamous Dr. Matthew Toboggan, one group at a time. We were so impressed by Dr. Toboggan's greetings, which were uniquely crafted for each group, ensuring each guest's experience was a distinct one. For instance, we witnessed him asking one guest to dance with him and waltzed with her into the next room.
After a brief elevator ride, you enter Unit 81 through the security entrance and watch a scene play out where an inmate breaks free, kills the security guard, and frees the other patients. It was a full-on performance that set the story for the rest of the haunted attraction. From this point forward, you're constantly surrounded by various residents of Unit 81 for the remainder of the haunt, even at the exit as a patient excitedly awaits to chase you back to the parking lot. The scares came from every direction by a variety of patients and Dr. Toboggan who at one point is operating on a patient and asking you for organs to help assist him, and at another point emerges behind a gate utilizing shock/spark effects. Of all the patients of Unit 81, the most committed and impressive of these characters was the Bunny, who fearlessly crawled along the netting in the ceiling directly above us. Each actor played a unique role in bringing Asylum to life and kept us on our toes throughout the entire experience – Great work!
---
Costuming Score: 9.41
Costuming Scores – By Question

Costuming Scores – By Attraction

Costuming Review:
Stage Fright also stepped up their costume game from last year's Manor of Madness. From start to finish, the costumes were detailed and consistent with the storyline. Donning Unit 81 outfits and inhuman masks, the queue cast set the tone that something is not quite right in the basement of The Kim Institute. Inside, Dr. Toboggan's bloody lab coat and props immediately established his role in the haunt. While there are not many different types of characters (Doctors/staff, patients, or security guards) the costumes, masks, and makeup are creative and establish each character as their own unique and often twisted resident of Unit 81. One patient looked mostly human except for their eerie button eyes, another was in a straitjacket with a spiked face mask that covered their nose and mouth, and another sat in a patient's outfit but had a giant cage around their head. We have to give another shoutout to The Bunny, who wore a distinctive bunny mask, a breathing apparatus, a fluorescent-colored dress, and shoes.
---
Customer Service Score: 9.95
Customer Service Scores – By Question

Customer Service Scores – By Attraction

Customer Service Review:
The team at Stage Fright is truly second to none. From the moment we pulled into the parking lot to the moment we checked into the Asylum, we were greeted with smiles and welcomed back to the haunt as if we never left. Each staff member we spoke with was well informed and able to explain the check-in procedures and safety rules of the haunt.
There is free, ample parking across the street from the theater in a grassy lot. One little note for suggestion in 2023 would be the addition of pop-up lights in the lot to help guests navigate some uneven terrain and, if permitted, some lights on either side of the road where guests cross the street to let drivers know there is heavier pedestrian traffic.
As we were leaving for the night, the host at the haunt entrance let everyone standing in line know that there would be a brief 10-minute delay to give the actors a quick rest break. It was a moment that struck us and goes to show how much the creative team of Stage Fright values its actors, who definitely work on overdrive through the haunt.
A little midway is set up outside of the haunt with local vendors, who get to keep 100% of the proceeds they make throughout the evening. It's another nice little touch and community giveback that we didn't get to see at the Media Preview in 2022 and were happy to experience this year.
---
Immersion Score: 9.33
Immersion Scores – By Question

Immersion Scores – By Attraction

Immersion Review:
Immersion is one of the things Stage Fright does best and we're happy to say they did it again by fully transforming Melon Patch Theatre into The Kim Institute. The story was immediately set by Dr. Toboggan himself as soon as we entered the lobby. After a somewhat unsettling conversation, he brought us to an elevator for the descent down to the basement of the Kim Institute for the Criminally Insane to visit Unit 81. It was such a clever touch and a brand-new effect that we didn't see in Manor of Madness in 2022. Stage Fright took things one step further and let you walk right into the moment the inmates kill the security guards and break loose. With 26 actors, there is no point throughout the haunt that feels empty and if an actor isn't filling a gap, then an animatronic or large set piece is. Between the actors, sound and light effects, and an intricate winding set design, Asylum is a fully immersive haunt that utilizes its location to its advantage.
---
Special FX Score: 8.59
Special FX Scores – By Question

Special FX Scores – By Attraction

Special FX Review:
Stage Fright clearly invested in their special effects for 2023. Even though it's been mentioned several times throughout the review, it needs to be mentioned again that the inclusion of the elevator at the start of the haunt is a fantastic addition. Complete with a vibrating floor, monitors on both sides of the elevator walls, and an actor inside, the elevator is a special effect that enhances the storyline and gives you the true feeling of descending down to Unit 81. The effects didn't stop there. Once we entered the winding halls, we were greeted with a variety of things: animatronic bodies, collapsing walls, and a fog and laser effect to give you the feeling you were walking down through a sewer. If Stage Fright showed this much growth from 2022 to 2023, we can't wait to see what's in store for 2024.
---
Scare Factor Score: 8.87
Scare Factor Scores – By Question

Scare Factor Scores – By Attraction

Scare Factor Review:
Stage Fright upped the scare factor in Asylum by casting 26 actors in the haunt. The result is a thrilling experience with actors strategically placed in every nook and cranny, ready to surprise you from above, below, behind cages and walls, and around corners. They somehow knew our names walking through and proceeded to taunt us with their voices from the darkness. Hearing someone say "I'm coming to get you (Insert name here)" or "Welcome back (Insert name here)" definitely throws you off (in a scary good way) and it's that added touch that elevates the scare factor throughout Asylum. Actors were also strategically positioned at the exit to continue the scares, causing groups to sprint all the way to the parking lot. In fact, we stood near the exit for a period of time and observed more groups running for their lives than walking from the exit. Since the haunt is built throughout the entire theatre, the multi-level design adds an extra layer of suspense, forcing you to navigate steps and ramps between scenes, making the transition into unexpected settings, such as a sewer tunnel, even more heart-pounding.
---
Entertainment & Value Score: 10
E&V Scores – By Question

E&V Scores – By Attraction

E&V Review:
Tickets to Stage Fright: Asylum costs $10 for one walkthrough, $15 for one walkthrough with express access, and $25 for two walkthroughs with express access and a commemorative shirt to celebrate your escape from the Asylum. It's a fantastic deal for the money and, as mentioned, the ticket proceeds go back to Melon Patch Theatre and parking is complimentary. Our recommendation: Spring for the $25 tickets and take in the experience twice. You'll want to experience the personalized interactions with all of the actors a second time and, if you're brave enough to really look around, marvel at how they crammed such a fright-filled haunt on the stage and in the backstage areas of Melon Patch Theatre.
---
View Full Score Sheet
---
Pics We Took From Our Visit:
---
---
Guest ReviewsGuest Average: 10 out of 10
Kelby – 10/10 – October 22, 2022Great actors, great set up, lots of detail and scare points. Was too much for my 5yr old but I …show more absolutely loved it
Brian – 10/10 – October 25, 2019Alex invests his time all year to make the best Haunted House in Central Florida! If you're looking …show more for a safe haunted house for the whole family, this is it.
Join ourspookyadventures!
We visit Halloween haunted attractions year-round! Follow us for haunted house walkthrough videos, behind the scenes footage, and more!