Strangling Brothers Haunted Circus – Full Review
Strangling Brothers Haunted Circus is a Haunted Attraction located in American Fork, UT.
632 E 1500 S, American Fork, UT 84003View All Details
Features:

Free Parking, Restrooms/Porta Potties On-Site, Food/Concessions, Gift Shop/Souvenirs, Original Characters, Indoor Waiting Line, Indoor/Outdoor Attraction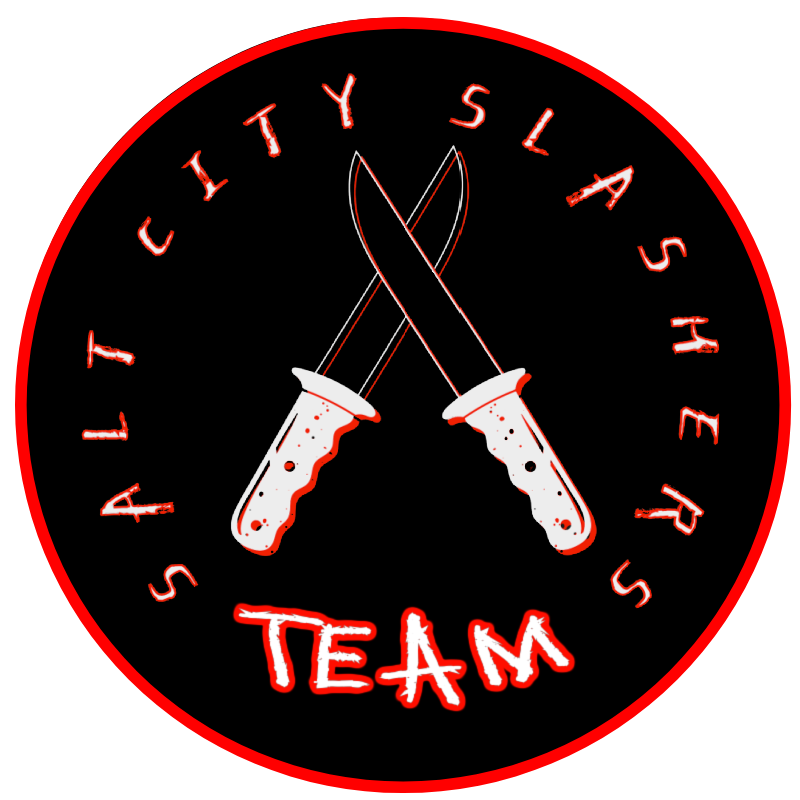 This attraction was reviewed on October 8, 2022 by Team Salt City Slashers.
---
About Our Reviews and Rating System
---
Final Score: 6.58
Final Scores – By Category

Final Scores – By Attraction

Summary:
Since the early 1900s, there have been traveling circuses' or freakshows, as they were also called. Strangling Brothers lore spins stories of missing children and a despised and torturous ring leader that was eventually mutinied by his own collection. Rebranding as the Strangling Brothers Haunted Circus, this creepy crew went on traveling in search of new victims.
This American Fork based haunted is trailer after trailer of vivid colors, creepy clowns, and screams galore. With a tagline reminiscent of the P. T. Barnum days of "The scariest haunted house on earth," Strangling Bros has packed as many scares as possible into their circus train.
---
Cast Score: 6.1
Cast Scores – By Question

Cast Scores – By Attraction

Cast Review:
This cast of bloodied-up clowns fill the entire length of the haunt well. There are verbal clowns that taunt and giggle then there are non-verbal clowns that crookedly stare at you as they stall your group or pass by you slowly. Early on in the haunt, you will come across a pair of clowns that only grunt and point as they tempt you to ride a child's tricycle that is between them. You decide if it's a trap or not. When screaming or laughing, be careful of arm movements as some clowns will begin to mimic your behavior and poke fun where they can.
A recurring character you will see throughout the circus is the Ringleader. He appears behind you. He appears in front of you. He pushes you into the next room where you come across him again. How he moves quicker than you is a mystery.
There is a very helpful redneck character that will help you through her disgusting house if you cannot find your way through on your own. You may be greeted by very friendly clowns that only want to shake your hand, just don't shake too hard. Some verbal characters stick very closely to their script even when answering demands in unconventional ways. Some quote classic clown films we have all seen, like "We all float down here."
---
Costuming Score: 6.95
Costuming Scores – By Question

Costuming Scores – By Attraction

Costuming Review:
The costuming department can definitely order in bulk and a majority of the costumes are scarier variations of your classic clown suit. The colors are vibrant, and some are even black-lit. That is if you can see through all the blood and dirt.
Although we never got close enough to him you could see that the Ringleader, although dead, was in a maroon velvet jacket with tails to match and a top hat to complete the look. You may also run into some mothers that have apparently been living in the abandoned bus you find them in for a very long time it seems. Their bodies and clothes were muddied with dirt and grime. By the time you leave here your clothes and shoes may be a bit muddied too.
---
Customer Service Score: 6.8
Customer Service Scores – By Question

Customer Service Scores – By Attraction

Customer Service Review:
The entirety of the circus is visible clearly from the road but be careful when navigating the parking as there is no staff to assist with where to park, and it can be just as crazy outside the circus as it is on the inside.
There is an actor just inside the entrance to take a photo of you with their Strangling background on your own phone so you have it right away. The small merch and snack stand is staffed by a few very helpful individuals that will get you hydrated and ready to go in. After tickets are purchased, you enter a large open area while you wait to enter the haunt. Just line up right behind the closest people you see as the staff is all at the front of the lines. Security was visible and clearly marked with similar clothing and stern faces. They will definitely ensure all the rules are followed.
---
Immersion Score: 5.3
Immersion Scores – By Question

Immersion Scores – By Attraction

Immersion Review:
We recommend reading the whole "twisted tale" they have posted on their website so you can fully experience just what the Haunted Circus is offering. After a pre-show and video montage projected on the wall, you enter the hallway that leads you to the main haunt . You will make your way up and down and in and out of multiple trailers as the haunt continues. There is a brief moment of fresh air in between most trailers where you can see through the grated floor to the ground below. Which is much farther away than you think.
After brief breaks in between trailersscenes you are pulled right back into whatever 'freak' or clown is waiting next. Remember you are also constantly looking behind you because at any moment the Ringleader will appear out of nowhere to check in on your adventure. Whether you want him to or not. There is a part where you will travel through a clothes closet that you may get stopped in. The smell of clothes around you is authentic and old. You really feel as if this closet around is a monster of its own.
---
Special FX Score: 6
Special FX Scores – By Question

Special FX Scores – By Attraction

Special FX Review:
When you first see the big top there are old-school carnival flyers advertising the showing of Big Bertha and big doesn't begin to describe this animatronic. She is laying on or rather encompassing what appears to be a full-size mattress. Her giant stomach and chest move up and down to give the impression of breathing. She is disgusting and the paint job shows that. The detail of the pores and veins and coloration on her stretched-out skin is executed so well that it kinda makes me throw up a little in my mouth. Speaking of mouth, there is also audio that matches the level of gross that she is.
They use air puff scares throughout, but there is one that blew our hats off, literally. It was perfectly timed to get the best screams and sent our hands flailing in the air trying to catch our beanies. They had all varieties of terrain from soft to hard and even gravel on some of the outdoor sections. The floors slant and move so watch your ankles.
Strangling Bros also put in a green light fog room which is almost required if you have a haunt. But they did it much higher. The fog was eye-to-shoulder level which gave a more exposed feeling to the body left underneath. Good thing the circus is not hands-on because one grab under that layer of fog would have done us in.
The 'people' smell that hung warmly in the air of the enclosed trailer sections, whether intentional or natural on busy nights, put a crinkle on the nose for sure.
---
Scare Factor Score: 7.88
Scare Factor Scores – By Question

Scare Factor Scores – By Attraction

Scare Factor Review:
I cannot stress this enough–If you have even the teeny, tiniest fear of circuses or clowns, this may not be the haunt for you. They are bloody, they are loud, and they are very scary. You will jump and scream and even giggle your way through The circus that Strangling Bros has created.
The screams this place provides carry high over the fields that surround it. Revisiting the air puff incident from before, what a scare that was. The duo of clowns you encounter right around that area does a terrifyingly awesome job of using distraction to get you to turn right into it at the perfect moment. The recurrence of the Ringleader gets scarier and scarier the farther into the haunt you get. The clowns themselves get scarier as it goes on as well. If you think you can only get scared by a clown jumping out once you are mistaken. Each jump from a clown resulted in a jump from us.
The final scare will send you bolting into the lobby you started at and possibly ducking behind the closest wall because you didn't even realize it was over and thought they were still after you. I'm speaking from experience. The hairs on the back of your neck immediately stand up when you enter and they don't go back down till you are safe in your car again.
---
Entertainment & Value Score: 6.5
E&V Scores – By Question

E&V Scores – By Attraction

E&V Review:
The ticket prices vary depending on which night you attend the haunt. Weekdays are less expensive than the weekends, of course ranging from $28 to $31. They also offer the option of adding a fast pass if you are just dying to get in there. It took us 24 minutes to traverse the show. At the $31 price point, that brings the MPD (minutes of entertainment received per dollar spent) to 0.77.
But Strangling Bros didn't stop there they took it one step further. If you are a die-hard clown or circus enthusiast, this ticket will be right up your alley. For only $79 bucks you can get the "Bros VIP Pass" which includes all of the following: an independent walkthrough of the entire haunt, double spacing before AND after your group, and finally…. A personal escort to the front of the line by one of the Strangling Bros themselves.
So step right up and be the next to brave the Strangling Bros Haunted Circus.
---
View Full Score Sheet
---
Pics We Took From Our Visit:
---
---
Guest ReviewsGuest Average: 10 out of 10
kimberly – 10/10 – October 21, 2017never went in. got scared too many times before i could even walk in so i could only imagine. i went …show more to the one in arlington. i was younger ,,, the staff was so sweet. since i didnt want to go in i got to walk around with a man on stilts dressed as a devil and i got to meet everyone there. even the zombie dancers who danced on stage to thriller. it was most definitely the most fun i had ever had. i would recommend this