Strangling Brothers Haunted Circus – Full Review
Strangling Brothers Haunted Circus is a Haunted Attraction located in American Fork, UT.
632 E 1500 S, American Fork, UT 84003View All Details
Features:

Free Parking, Restrooms/Porta Potties On-Site, Food/Concessions, Gift Shop/Souvenirs, Original Characters, Indoor Waiting Line, Indoor/Outdoor Attraction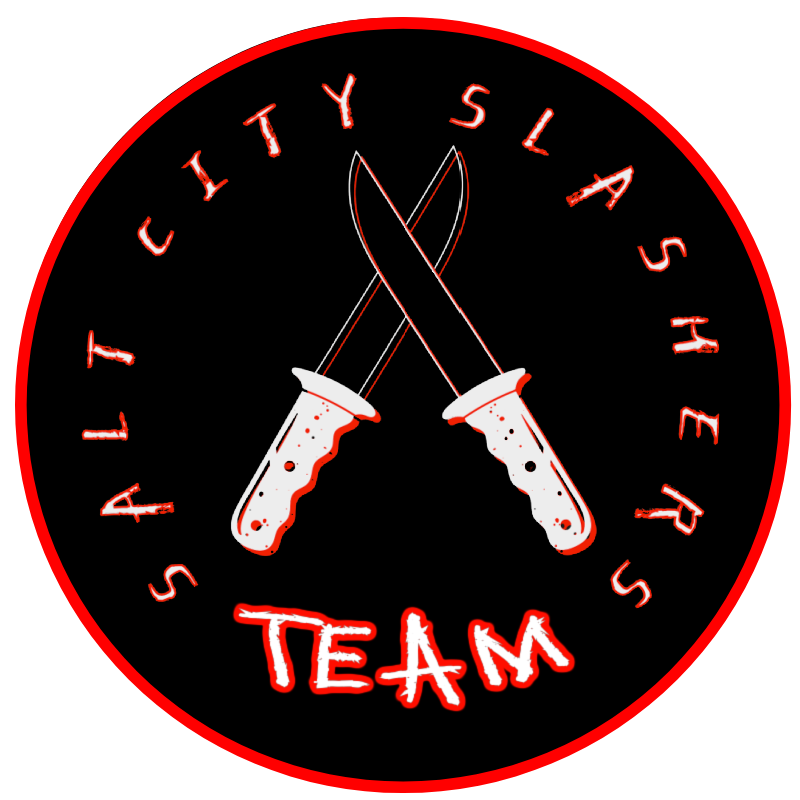 This attraction was reviewed on October 13, 2023 by Team Salt City Slashers.
---
About Our Reviews and Rating System
---
Final Score: 7.88
Final Scores – By Category

Final Scores – By Attraction

Summary:
This year brought some new and exciting things to Strangling Brothers Haunted Circus; we are here for it! After partnering up with another local haunt, this American Fork-based haunt has clearly stepped up their game from years previous. Carrying over from last year is the same great storyline of the Ringleader from hell that tortured his crew of missing children, so much so that they turned on him. Every last one of them. They returned with a new name sprawled across their canvas walls but with the same prey. So hold tight to the little ones as you make your way through the evil under the big top.
---
Cast Score: 8.15
Cast Scores – By Question

Cast Scores – By Attraction

Cast Review:
The clowns were upon us before we even got out of the car! Whether on stilts or riding a motorcycle into the tent, these clowns were painted and ready to creep. Inside, you meet more clowns, living and dead. With rock music blasting as they scare their way through the general admission lines and onto a giant stage. With shows and contests, there is never a quiet moment while waiting in line for this circus-themed haunt. Once at the front of the line, you will meet one final clown before entering. They will yell the rules loud enough for all to hear, and then it's on!
From the moment you enter, you are bombarded with clowns as vibrant as the walls around them. While you look one way, they will come at you from the other. They are up. They are down. They are literally all around. And not just clowns either; you may even encounter a life-sized version of a stuffed toy from your childhood. Be careful, though; he may not be as friendly as you remember.
Towards the middle of the haunt, you will meet an original trio that will scare and entertain. Fish, Chip, and Bon Bon were some of our favorite characters of the season so far. You will also see some classic horror characters that you already know and fear. Finishing off the haunt are some darker characters mixed in with the circus clowns that we will leave to the imagination.
---
Costuming Score: 7.23
Costuming Scores – By Question

Costuming Scores – By Attraction

Costuming Review:
Strangling Brothers definitely put more love into some of their costumes this year. Adding a wider variety of circus characters this haunt season gave them a chance to really stretch their legs and stilts. Vibrant and bloody, these clowns definitely stood out. There were even pieces that would glow in the black lights around them. Even the costuming of the clowns of the undead variety was on point, some even sporting authentic cobwebs where brains should be. It wasn't just clowns either; there were also haunted characters mixed in. Both humans and animals had costumes fitting to the scenes around them. We don't want to give away too much, but be sure to watch out for the furry ones.
---
Customer Service Score: 8.2
Customer Service Scores – By Question

Customer Service Scores – By Attraction

Customer Service Review:
The drive there is just fine up until that last stretch. It is narrow, dark, and rough on the tires. Which, in a way, starts the vibe for the haunt itself. While worth the drive, the circus is just that—a circus. There isn't anyone directing the parking lot, so you are on your own, and with no real sense of direction. Once you navigate your way to a spot, the real adventure begins.
Deep inside the tent, after a maze of skeleton clowns and abandoned carnival snack equipment, you will find a ticket counter with staff almost as painted as the clowns they work with. Seeing the staff get this involved was a great start to our night. They were helpful and patient as we always have all the questions. We found equally helpful staff throughout the lines and at the merch/concessions booth.
---
Immersion Score: 7.45
Immersion Scores – By Question

Immersion Scores – By Attraction

Immersion Review:
We stand by what we stated last year, and that is to be sure to get online and read the "twisted tale" that gave birth to what is today's Strangling Brothers haunted Circus. Not that you can't enjoy it without it; it just really amps it up. The theme is consistent from beginning to end, which is obviously a circus.
With a variety of characters throughout, it was a non-stop rainbow of colors and screams. There was only one time when we were pulled out or felt a huge energy dip, and that was while we were on the bus. We saw it long before we entered it and couldn't 'wait to see what it had in store. But alas, once on the bus, the actors were unenthusiastically standing about—no interaction, nothing. After that small pause in energy, they kick right back off to the spiral down the creepy, cooky rabbit hole that lies just under the big top.
---
Special FX Score: 8.15
Special FX Scores – By Question

Special FX Scores – By Attraction

Special FX Review:
Before we maneuvered our way into a parking spot, we could hear the music booming through the still-closed car windows, and it only got louder as we entered the giant circus tent. It was the perfect start to a haunt of this kind. On the sides of the tent are posters of the creatures you might encounter while under the big top. "The Collector," "Frankenswine," and my personal and disgusting favorite, "Big Bertha," and she lives up to her name for sure! This animatronic is unlike anything we have seen. She is a HUGE breathing mass of a person poured over a mattress, and you have no choice but to get up close and personal with Bertha herself as you slink past her to the next room.
Throughout the long hallways, with a clown usually waiting menacingly at the end, are these beautiful black light clown murals that span the entire length. They have optical illusion hallways that get smaller as you approach the door at the end. The use of compressed air is fantastic! There was even some victim playing with a gun that got fumbled and appeared to go off, shooting air in all directions. One giant burst of air in the beginning took my hat clean off. Their green light fog room was set up so that it was almost eye level in some places and actually sideways in others, creating the sensation of walking through a wall (Most haunts set this up at waist height). Another room that really stuck out to us as far as attention to detail was a room-sized cabinet of curiosities.
With each changing room comes a new set of props and sets for our eyes to feast on—and feast we did. A medical room, a mine shaft, a closet, and a military camp are just a few of the realms you will walk through when going up and down from trailer to trailer in this clown playground. There may be a sewer scene that is out of this world; don't say we didn't warn you.
---
Scare Factor Score: 7.98
Scare Factor Scores – By Question

Scare Factor Scores – By Attraction

Scare Factor Review:
Each trailer has some fresh new horror to send tingles down even the strongest spines. Between clowns, both living and breathing, the scares were around every corner or waiting at the bottom of each staircase.
First up on the jump scare train would have to be the camper, and you will know it when you see it. This kicked off a parade of scares that lasted until the last trailer. Frightening and loud do not always go hand in hand either. Whispers and quiet giggles can be just as effective. For instance, we got some home decorating tips from our good friend Bon-Bon, "Body-stuffed mattresses are very comfortable." When you think it can't get any louder, the finale at this haunt will prove you very wrong. Just remember… no running.
---
Entertainment & Value Score: 7.63
E&V Scores – By Question

E&V Scores – By Attraction

E&V Review:
This year, the ticket prices are the same across the board. There is no increase on certain days, and there are also a few bonuses with another local haunt they have partnered up with. Your baseline ticket price is 35 dollars for general admission. After that, you can jump to $45 and also jump the line, as this gets you moved into the fast lane.
But if that isn't enough for you, there is one more level for the true circus enthusiasts out there who wants the most clown for their coin. It is called the Bros VIP Pass, and it rings in at a whopping $79! Included in this pass, though, is a whole different haunt experience. Not only do you get an independent walkthrough with double spacing around you AND your group, but it starts off with a personal escort to the very front of the line by one of the Strangling Brothers themselves! Be sure to get tickets before you go, if you are brave enough for this one-of-a-kind circus extravaganza!
---
View Full Score Sheet
---
Pics We Took From Our Visit:
---
---
Guest ReviewsGuest Average: 10 out of 10
kimberly – 10/10 – October 21, 2017never went in. got scared too many times before i could even walk in so i could only imagine. i went …show more to the one in arlington. i was younger ,,, the staff was so sweet. since i didnt want to go in i got to walk around with a man on stilts dressed as a devil and i got to meet everyone there. even the zombie dancers who danced on stage to thriller. it was most definitely the most fun i had ever had. i would recommend this
Join ourspookyadventures!
We visit Halloween haunted attractions year-round! Follow us for haunted house walkthrough videos, behind the scenes footage, and more!