Review of Subway Escape at Escape Room Pittsburgh Homestead Escape Room
Review of Subway Escape at Escape Room Pittsburgh Homestead Escape Room
Review of Subway Escape at Escape Room Pittsburgh Homestead Escape Room
Subway Escape at Escape Room Pittsburgh Homestead
Subway Escape at Escape Room Pittsburgh Homestead is a Escape Room located in , .
145 E 8th Avenue, Homestead, PA 15120View All Details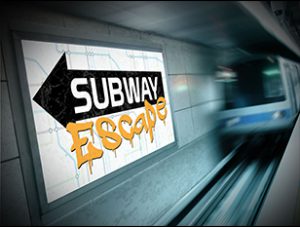 Team Houdini reviewed this Escape Room on August 5, 2018.
Final Score:

9.83
Summary:
This weekend Team Houdini concluded our journey with Escape Room Pittsburgh. It was a great adventure getting to experience all five rooms offered at Escape Room Pittsburgh's two locations. (All of which can be found here.) The finale brought us back to their Homestead location to face their two most advanced rooms The Subway (which was our 1st experience, and will be the focus of this review) and Carnegies Millions. I honestly thought, "What could you do to make a subway an interesting escape room?" Well, Escape Room Pittsburgh shattered any and all expectations and provides the best illusion we have experienced.
Escape Room Pittsburgh offers 1st generation escape rooms (basic locks and puzzles) in Greenfield and 2nd gen escape rooms (advanced puzzles involving computers and advanced technology) in Homestead.
I had the opportunity to speak with the owner and what really makes Escape Room Pittsburgh unique is that they create all their themes, puzzles, electronics and computer programs, themselves. Everything is unique to Escape Room Pittsburgh.
---
Atmosphere & Customer Service:

9.86
Escape room Pittsburgh was easy to find using Google maps and GPS. However, when you arrive at the building there is a small sidewalk sign, and a sign on the corner that could possibly be missed. When you book online they inform you to park at the Aldis across the street which is convenient. You do not have to park on the street and parking is free.
Once you enter the lobby you can feel that the building has some history. The lobby is spacious and the front desk has tablets for you to sign waivers on. There were steps to enter the lobby, but there was no wheelchair-accessible entry from the front (from what we could see). However, they claim to be ADA accessible on their website, so there may be a ramp at an alternate entrance. The lobby was very clean as well as the restrooms. The lobby had chairs, a couch and café tables with stools.
We were met almost immediately upon entry with a very enthusiastic team member. Since we were early, he directed us to have a seat or embark in some mini puzzles that they had available to help get our brains warmed up.
---
Immersion:

9.75
The Subway Escape is set in an average 80's subway station; however, this is a far from average escape room. Before entering the room, Eric went over the rules and provided some comedic side notes of things he has seen people do that we should not do. We then watched a video explaining the theme, history and story of the room. The story and setting is reminiscent of The Warriors (also set in the 80's). We were once again provided a walkie talkie. As with the other rooms here, the 2-way radio was used to receive clues and ask for hints. If we were stuck on a puzzle for too long, we would receive a clue to help solve the puzzle. Not as fitting here as it was with Tomb Explorer, but still an effective means of communication. Perhaps a subway speaker system similar to the time updates could be implemented in the future to provide clues to add more realism.
Once we entered the subway station, the door shut and we were now in the dim, cold, gritty graffiti-covered walls of a 1980 subway in Pittsburgh. The 80's hip hop breakdance music playing in the background adds to the immersion of the room. Other sound effects added to the situations as the story and puzzles needed. Lighting effects added to the realism of the theme while aiding visibility and adding dimension to the puzzles and clues.
What we were stunned by was how interactive and unique this room was. One element had us completely flabbergasted and thrilled. It was the most unique and ingenious effect we have come across in a room yet (but, of course, you'll need to experience it for yourself to know what it is).
---
Gameplay:

9.72
The puzzles were definitely one of a kind. I do not recall a puzzle in this room that I have seen in any other locations we have attempted. The puzzles were challenging as they were so distinctive to this theme. Some puzzles were a mix of non-linear and linear puzzles. You could work on multiple puzzles at one time, however they did have to be completed in a certain order to advance to the end.
The puzzles had our team communicating, working together and drawing on each of our individual skills. There were some puzzles that I was stumped on that another team member was able to figure out. Some puzzles took all of us working together to accomplish. All were logical and fit the theme. One of the great things with escape rooms is that it promotes team building. Eric, our game master, did a great job of guiding us when we were stuck. If we needed a hint, we were allowed to ask for two. Eric did a good job of providing guidance without providing too much information and not being so vague that the clues did not help.
There were no countdown clocks, but they utilized a system that would announce 15-minute check points. Some people may or may like this. On one hand you do not have a countdown clock looming over you. On the other some may feel uneasy not knowing the exact time.
---
Entertainment & Value:

10
Even though it has a mediocre sounding title "Subway Escape" it completely blew us away. This 2nd-gen room with impressive puzzles, creative story, immersive design, and the most impressive set pieces we have experienced, cannot be beat.
The cost is $27 a person, up to 8 people, which is average for escape rooms in the area.
This is definitely a challenge at a success rate of 30%, but a challenge that everyone should accept.
---
How Did We Get These Scores