Tagsylvania – Full Review
Tagsylvania is a Haunted Attraction located in Big Flats, NY.
3037 NY-352, Big Flats, NY 14814View All Details

Features:

Free Parking, Restrooms/Porta Potties On-Site, Food/Concessions, Gift Shop/Souvenirs, Optional Games/Midway, Special Events, You will NOT be touched, Original Characters, Uncovered Outdoor Waiting Line, Indoor/Outdoor Attraction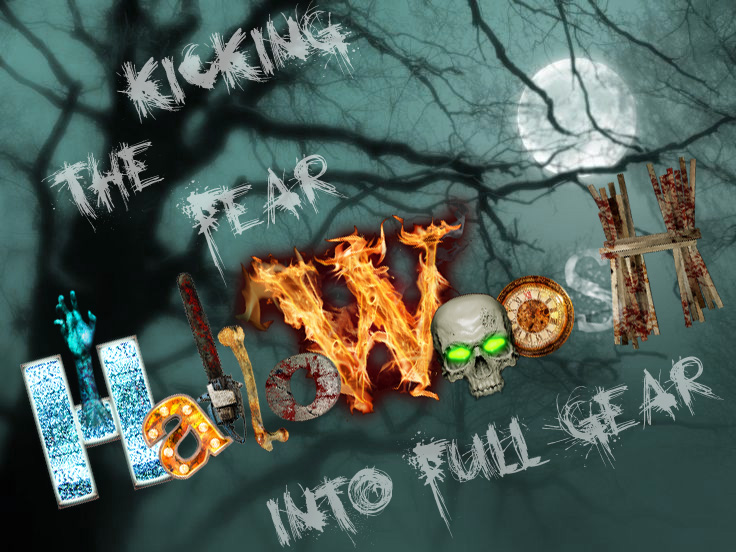 This attraction was reviewed on October 27, 2018 by Team Hallowoosh.
How Do We Get These Scores?

Final Score:

8.3
How Did We Get This Score?

Summary:
It was a cold and wet day when we packed our bags, eager to find out if this haunt would be canceled for the night.
What was suppose to be my very first haunted attraction stop of 2018 had been rained out in September, and I had to do some quick rescheduling. Miraculously I found a way to make this destination one of my last stops of the season… only to find out later that the event might get canceled once again on the night we planned to see them. In fact, almost the entire northeast from Ohio to Maine was bombarded by heavy rain for almost two days straight.
We stressfully waited for some good news from the management all morning. then the announcement came: 'That's right, we are STILL OPEN! Tag your friend who thinks that we aren't,' followed by cute Halloween emojis and some very nice guide graphics reminding people how to dress for the weather and the wet terrain, stay hydrated, stay warm, watch where you step, etc.
Instantly, we rushed out the door and headed over to the one and only Tagsylvania.
We had visited this awesome attraction below the finger lakes back in 2015 and we enjoyed it so much it's been one of my biggest haunt adventure regrets not coming back sooner. Happy to finally return, we met the new Tagsylvania with a few new surprises.
This outdoor concert venue, 'Tags,' becomes one of the better haunted attractions we've come across for the Halloween season. They now have three indoor attractions including their 'Jerkus Circus' clown house, 'Lecter's Lair' haunted house, and the 'Motel 666' haunted motel. As always, they also have their outdoor haunted trail, the 'Psycho Swamp' that was well worth the muddy pants I would be taking home at the end of the night, along with all the other great things to see and do, and eat!
At this haunted attraction, all I can say is read on and find out what you are missing at the fear of the southern tier!
Jerkus Circus = 8.42
Psycho Swamp = 8.32
Motel 666 = 8.3
Lecter's Lair = 8.16
---
Cast: 8.13
How Did We Get This Score?

For a cold and rainy night, I've come to expect a handful of actors to call out or, at the very least, put in half the effort they are used to putting in. Although, on that night, we met a group of passionate actors that didn't seem to mind or even notice the saturated conditions surrounding them. Granted, three of the attractions are indoors or covered, and the outdoor one is literally called a "swamp." But, just walking to the areas on a night like that was a challenge that made people miserable. Not the actors though, they knew that people came and paid money to see some frightening creatures and crazy killers, so that's what they gave us!
We made our way over to the "Jerkus Circus" first since it was the closest. Jerkus the clown himself was in charge of punching our tickets that night. We knew he was providing some great trashy-style clown humor and entertainment to the group that went in before we did, but we couldn't make out exactly what he was saying while we were still walking.
Jerkus was about to start talking about how amazing his clown house was compared to all the other places. A group came right up behind us as we entered the waiting line and rudely interrupted him to ask where the fried dough stand was because, you know, nothing is more important. He told them where to go and, by the time he was done, enough time had passed to let us go into the attraction.
We knew he was doing a good job entertaining the crowds when they showed up. Unfortunately, we didn't get to hear it at that point. But fortunately, we bumped into him again at the Motel where he was arguing with the front desk manager about how much better his clown house was than all the other attractions again. It was actually really funny just knowing this guy walks around the whole place telling everyone how much better he is. In a weird way, it made Tagsylvania feel more like a family.
We really enjoyed the actors in "Jerkus Circus." Not one of them was a simple pop-out-and-scream-type scare. We could tell they wanted to be characters. They all had some level of custom interactivity with us, whether it was acknowledging what we said or how we looked or moved, they wanted to make us feel like we weren't walking through the same movie scene that everyone else had before.
The "Psycho Swamp" was primarily a group of characters that all lived in the same dirty psychotic town out in the woods. Not so much hillbilly, as they were more just a rag-tag group of mean-spirited people. Almost the whole time we were in the trail, we could hear the different characters yelling at each other through the trees from different sets.
One of their favorite things to do was yell one of the patrons' name back and forth. Someone in the group ahead of us named Abigail was constantly shaking the whole night because all she could hear was "Abby!" screamed over and over by multiple crazy people. The majority of the cast in the swamp did have their own scenes and, much like the circus tent, they all wanted to be their characters and have unique experiences with the guests.
Our favorites were the school teacher, the executioner, and who I'm only assuming is named "Samuel Mudd" only because there was a small sign on the side of his shed that read the same name. The teacher slapped a ruler on the desks around us demanding to know where our homework was. She also asked us what 2 + 2 equals, we shouted out a few different numbers with no luck. Someone in our group screamed out "Fish!" and I guess that's what 2 + 2 equals today because she let us go with a, "Very good! You are dismissed."
The executioner worked the jail scene and had to put someone in every group in the electric chair. He asked each of us what we are guilty of before deciding who had the worse sin. I think the girl he chose said something about being guilty of not trusting little children or something. But, he then strapped her down into the chair and screamed, "You are guilty of being seen in public with these bunch of people," and then she got electrocuted.
This Samuel Mudd character shot out at us from behind a wall screaming, 'Y'all Gonna Stay For Dinner!?' The startle was right in my face and timed very nicely. I replied to him 'What are you making?' and, in a very casual tone, he answered, 'People,' and my night was made.
The Motel had a few actors that we won't soon forget. I really enjoyed the two screaming sisters that kept arguing with each other over which one kills more people. Even after we were clearly a few rooms ahead of their scene, we could hear them still bickering back and forth and we knew there was no group of guests behind us. We were treated to a drunk bartender who seemed to use his drunkenness to be oblivious to the satanic sacrifice we would soon become. It was nice to have a character thrown into the mix that wasn't constantly trying to scare us.
Lecter's Lair had almost as wide of a variety of characters as the swamp, even though it took us less than half the time to walk through the attraction. We were greeted by an old-fashioned caretaker along with some kind of half-goat half-skull warrior demon. Inside, there were a few characters that had a great presence, but just seemed random. One of them was a big dark bunny who spoke through a speaker located at the mouth of his mask. It was hard to make out what he was saying, but nice to see that new concepts were being utilized.
Lecter's Lair was the first attraction Tagsylvania ever made and its design is very 'actor hiding spot' -friendly. Therefore, drop panels are a very common thing in the Lair and the majority of the actors in those spots are one-second screamers. That is not to say we didn't encounter a few solid cast members in this attraction, they all did their jobs at least as well as could be expected.
Jerkus Circus = 8.4
Psycho Swamp = 8.39
Motel 666 = 8.05
Lecter's Lair = 7.68
---
Costuming: 8.4
How Did We Get This Score?

As a whole, the costumes were complete and represented the characters very well. Some characters have been at Tagsylvania for years and the time has given them the opportunity to expand and elaborate their designs, like the front desk man at the hotel who wore a high-quality silicone mask with a battered brown shirt. I remember seeing him from years ago. Still the same mask and shirt, but now with a necklace of fingers and ears, and even some bloody ripped up gloves to go with it.
The clowns and showmen and women in the circus attraction wore great chromadepth makeup that really popped in the black light. Their outfits were all over the spectrum of the circus theme with some jumpsuits and sequin vests; one was even a dramatic diva in a fur coat.
Psycho swamp primarily had dirty, mechanic-style clothing unless the character's occupation called for something else. Somewhere in the trail, we spotted a Winnie the Pooh. It has been hard for me to tell if that was a necessary costume or not because it had nothing to do with the theme, but all the same, it just made the whole place feel dangerous. What kind of crazy people dress up in childrens' character costumes to go out and attack other people? In a weird way, I guess it worked.
The Motel and the Lair had nothing specific to their attractions all that much. They still dressed from head to toe in complete costumes with no visible showings of sneakers or hoodies or anything that would destroy the image of the characters.
Jerkus Circus = 8.91
Psycho Swamp = 8.29
Motel 666 = 8.33
Lecter's Lair = 8.09
---
Customer Service: 7.87
How Did We Get This Score?

Tagsylvania is located at a good-sized outdoor concert venue called 'Tags.' They hold multiple concerts throughout the year. They also operate a decent restaurant and bar on the main road where you can easily see their big illuminated sign for 'Tags.' It was a very short drive right off the main highway, and plenty of onsite parking was available with multiple generator lights all over.
We appreciated the accommodations for the wet weather that evening while we sat by one of the many fire pits they had roaring. They even put out a lot of their chairs that they use for the concerts so we could sit down for a while and enjoy the heat.
The ground was insanely saturated from the rain and difficult to walk in. But, they put in their efforts and layed out a bunch of hay to help us not sink into the mud. There is a bridge that must be crossed in order to enter the trail and the motel. This bridge was very wet and potentially slippery. Tags had a gentleman who treated that bridge like a crossing guard at an elementary school, just trying to make sure everyone was safe and nobody would bump into each other and maybe slip into the stream.
We were greeted by very nice and enthusiastic ticket takers. They helped me find the people I needed to talk to right from the start. She even went as far to call them on her phone and handed the phone to me while she took care of other customers. I thank her for putting so much trust in me.
---
Atmosphere: 7.6
How Did We Get This Score?

In 2018 I was a little disappointed with most of the attractions I visited when it came to their choice of music. For the most part, it was very rare to hear much of anything other than a scary sound effects track or some pop music. So, I was very pleased to hear some familiar tunes from a very well-known horror music duo: the Midnight Syndicate. We would hear them almost everywhere we went a few years ago, but Tagsylvania decided to keep the tradition alive and it made our night even more enjoyable.
What is probably the most iconic feature of Tagsylvania is their main entrance. Every opening night, the gates open up to the public after a technician turns on the gas and ignites the iron cutout sign spelling 'Tagsylvania' in all its gothic font glory. This truly makes the event feel like you are entering a unique world that you may not escape. In addition, on either side of the flame-filled entrance are giant reaper statues overlooking the whole parking area. Their eyes glow a bright green and blue. If the fire wasn't enough to show you where to go and get you in the mood for some haunted good times, then these two gods of the underworld should do the trick.
The atmosphere can feel a bit more like a fun night under the stars. All of the food and games and bonfires available give the place more of a family fun fair setting. It is when you see those two reapers and the fire sign that you know this is a haunted attraction. Add the fact that we had to cross a bridge into the woods for two of the attractions far away from all the fun activity and it makes it all the creepier.
---
Special Effects:

8.61
How Did We Get This Score?

By far, the best effect that we saw at Tagsylvania was when the seemingly-typical, low-key haunted house suddenly transformed into the Jerkus Circus. It was a little confusing at first when we walked into the clearly-labeled, circus-themed attraction. The first thing we noticed was that we were in a hallway and, soon after, into a living room with no chroma paint or colors. We think that most people would assume they had walked into the wrong attraction. Suddenly, a clown jumps out of the furniture and the lights go fluorescent purple! There are patterns and markings that magically appear on the walls that weren't there before. It was as if the clown spirit was hiding until we crossed the point of no return.
We loved that the trail had a few vehicles that we rarely see at other attractions. We walked under the wing of a charter plane and in between two or three speed boats docked at a wharf in the swamp. Usually, we are lucky enough to see a few old rusty trucks and vans.
There's one feature of the Lair that I remembered from years ago and I was happy to see it again: a wall-crawling demon girl slides her way across the ceiling in such a way that no one would ever expect it their first time through. It's a great scare as it's one of the few in the whole attraction that approaches you from above.
---
Theme:

8.19
How Did We Get This Score?

Tagsylvania is an obvious play on words that might give some people the idea that vampires could be a common theme at this southern New York attraction. I don't believe we have ever seen fangs on the property, but that doesn't mean that Tagsylvania is without its own themes.
Jerkus Circus, oddly enough, has the better story of the four attractions to choose from. They were a traveling circus that was cursed by the devil after they refused his demands in exchange for more fortune. Now, they must travel from house to house to collect the souls of children. This makes sense with the attraction starting out with a somewhat normal-looking setup and suddenly changing.
Motel 666 has all the motel-themed scenes one could think of – front desk lobby, cleaning room, hallways, guest rooms, even a bar. The Motel was taken over by a demon or an evil spirit. The further and further we went into the Motel, the more we could feel that this wasn't just a scary place filled with creepy characters. It was more like this demon or spirit took over the Motel and now demands more victims!
As I mentioned before, the Swamp felt more like a small community out in the middle of the woods. Most of the scenes were named after the actual town that Tagsylvania resides in (Big Flats). Needless to say, we found a Big Flats Cemetery, Big Flats Jail, Big Flats Marina, etc., and they did a great job at making it feel like it was a functioning community when all the actors were yelling at each other from across the outskirts of the woods.
Lecter's Lair comes off as an intense haunted house. The theme is supposed to suggest that we had entered a house where a deranged sociopath keeps luring guests in just so his monsters can feast upon them. This certainly fits the bill when we walked past multiple characters that wanted to kill us in many different ways. The whole way through was like an escape from one scene to the next until we were finally free.
Jerkus Circus = 8.35
Psycho Swamp = 8.1
Motel 666 = 8.66
Lecter's Lair = 7.62
---
Scare Factor:

8.46
How Did We Get This Score?

Given the multitude of characters and their devotion to their roles, Tagsylvania is one of the better attractions in the area for a great scare. There were very few times we were met with simple screamers and nothing more. Plenty of the cast wanted to talk and interact with us and put us on edge, which left us constantly wondering what they would do next.
I would say that the thing that gives Tagsylvania it's 'scary mojo' is the sense of community. I spoke enough about it being in the Psycho Swamp, but really it was all around. Jerkus meeting the Front Desk man at the Motel was one of those moments. Actors setting up for someone else's scare was something we encountered a lot. It didn't take long to feel like we actually entered a small community of like-minded psychopaths that didn't always want us for themselves, but rather distribute us amongst all the creatures of the night.
---
Entertainment & Value:

8.68
How Did We Get This Score?

A Combo ticket for all four attractions costs $39.75. Tagsylvania also gives everyone the option of purchasing tickets for exactly what they want. If you only want to do one attraction, or two, or three, they have pricing for everything.
The time it took us to walk through all four attractions added up to 30 minutes:
Circus = 4 minutes
Swamp = 13 minutes
Motel = 7 minutes
Lair = 6 minutes
This gives Tagsylvania a total Minutes Per Dollar (MPD = minutes of entertainment per dollar spent) value of 0.75, which means, for about every dollar spent, you get 45 seconds of horrortainment. This is a little less than average for what we see at most places.
Tagsylvania offers plenty of other things to do for the night. They even have a few little games you can play to win tickets for a variety of prizes. I played a head toss game and won myself a cute little rubber purple zombie thingy! They also had darts and ring toss to name a few. A whole 10 tickets could have gotten me a brand new zombie doll.
New for 2018 is the Spirit Realm; a corner of the property is dedicated to this, which is described as a metaphysical museum with tarot readers, psychics, palm readers, zombie caricature drawings… all kinds of neat things.
Also new for 2018 is the all-new escape room: 'Escape the Reactor;' a 45-minute escape room experience. Tagsylvania had their old escape room, 'Escape the Precinct,' in the past, so if you've ever been and are thinking it's just the same escape room, then you are in for a big surprise. They tell me that the escape room will run in the off-season as well, so if you are out at Tags for a drink and bite and want to make it a night to remember, head out back and purchase some tickets for the 'Escape the Reactor' escape room.
---
How Did We Get These Scores

Join ourspookyadventures!
We visit Halloween haunted attractions year-round! Follow us for haunted house walkthrough videos, behind the scenes footage, and more!