Review of Terror Maze Haunted Attraction
Review of Terror Maze Haunted Attraction
Review of Terror Maze Haunted Attraction
Terror Maze
Terror Maze is a Haunted Attraction located in Springfield, OH.
6988 Springfield Jamestown Road, Springfield, OH 45502View All Details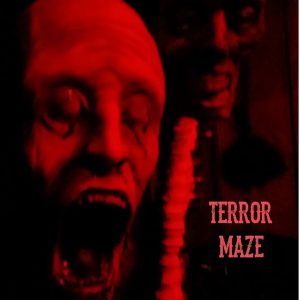 Features:
Free Parking, Special Events, "Old-School" (Low Tech), You will NOT be touched, Original Characters, Uncovered Outdoor Waiting Line, All-Outdoor Attraction
Team Mysterious Misery reviewed this attraction on October 13, 2017.
Final Score:

7.48
Summary:
Terror Maze is an amazing, family-operated haunted attraction. It is on its 24th haunt season and that is impressive. The community adores this haunt and you can clearly see why. The passion for doing what you love, which is scaring the Hell out of people, runs deep in this family and the friends that come back year after year. Terror Maze also holds some special events and one that the community rallies around is their "Pink Out night." Their passion for their home haunt keeps this haunt going.
Sitting on five acres of plain terror is a good place to be. They have an amazing cast that returns every year to make things bigger and better. They have a leader that is creative and talented enough to bring things to the table that you wouldn't see at other haunts. Some of our favorite things were pure entertainment, like doors that are not really doors. Do remember that this haunt is all outside so on days' mother nature is not happy, call first. Grab some friends and support a local backyard haunt.
---
Cast:

7.49
Terror Maze has a passionate crew that comes back year after year just to terrorize the Hell out of you. On average, they have anywhere between 35-40 cast members working on nights that they are open. Many of them have been a part of the haunt for many years and we can tell they have experience by their dialogue and ability to keep your attention by interacting with you. Each cast member plays key roles in their scenes and they execute this well. At times, there would be dead spaces where we would have loved to see another person. However, there would also be times when we would see the same person a few times and we were like, "Wow… that was fast! How did they do that?" One of our favorites was the cast member in the "door" area. He had to do multiple things to keep that scene alive and he was able to manage. My person favorite was Tipsy the Clown. He stood so still I thought he was a prop and then, when he moved, I was like a kid on Christmas with excitement that he was real.
---
Costuming:

7.33
Alison is the make up artist at Terror Maze. She has extensive training and her work is done at a staggering pace. Costumes are complete and help the actor because something un-human is there to complete scenes, which is a bonus for this haunt. This attraction is all outside, so they do employ masks because makeup wears off fast and they have to deal with the elements. Besides Tipsy the Clown, the monkey had a nice get up that caught our attention.
---
Customer Service:

7.81
Put in Terror Maze's address in your GPS and it should lead you right there. You will see a giant sign and someone at the entrance waving you in and showing you where to park. The staff could not be any more amazing and helpful. They are always willing to help out in case of an emergency. There is a midway game in the queue line and music going on while you wait. On the night we attended, we got there at opening time, so the line wasn't very long (score!). Remember, this is an outdoor haunt so dress accordingly. Be safe as the trail has dark areas.
---
Atmosphere:

7.61
When you first approach Terror Maze, you may think you might be at the wrong place. Once you get your tickets and go around the corner, then you have the moment where the panic sets in. As you wait in line, there is a midway game where everyone is a winner… lucky you. There is music and, sometimes, lost creatures will wander off the trail and join you in line. You will also hear the screeches of victims being taken off the trail. The atmosphere before going in the haunt is simple, but has all the fundamental elements to keep you from draining your phone battery while waiting.
---
Special Effects:

7.6
Paul is a master at special effects and takes great pride in his work. His ingenuity helps him create custom pieces for Terror Maze. These custom pieces quickly grab your attention. This haunt uses strobes, which are effective outside at keeping their prey disoriented. They use sound, but the majority comes from things they can bang, hit or create themselves and not soundtrack / background noise. Some of the highlights for us was the alien that pops out of the box and the meat grinder. A simple special effect that we thought was entertaining was the doors that weren't really doors, but it was fun to watch people actually try it.
---
Theme:

7.56
It is all in the name. It is not necessarily a maze. There will be areas where it may be confusing to get out, but it is more like a trail. The trail is made up of 5 acres and is a very decent-sized walk through. This trail is outside in the dark where your mind plays games with itself. Then they pile on all the terror that they can think of to send you running. With the theme being very vague, pretty much anything that you can be afraid of applies even the dark.
---
Fright Effect:

7.15
Terror Maze does an excellent job in filling up five acres of terror to keep you guessing. With distractions and lighting, you have no idea what is coming at you until it is too late. The special effects are a bonus to the haunt and will keep you off guard. Then there are things we love like mysterious doors and chainsaws to keep people guessing and running in circles over and over again. From nothing being there to gigantic props, there is a little bit of everything at Terror Maze. There is something especially satisfying about an outdoor trail that makes the sinister factor rise.
---
Value:

7.35
Terror Maze is exactly as it is stated. On the night we attended, it took our group 17 minutes to escape the 5 acres of self-guided horror. With the basic admission price, this haunt is providing you with 1.3 minutes for every dollar you spend. Terror Maze does an adequate job of making sure there is terror in all five acres. Some groups may spend longer, depending on how feisty the cast is that night, or it may be shorter, depending on how many runners you have in your group.
---
Promo Images:
Click to Enlarge
Guest ReviewsGuest Average: 0 out of 10
Sarah – 10/10Challenge Accepted was awesome! Me and my boyfriend were looking for escape rooms in our area, and …show more as poor college students, price was a big factor. Despite being only two small locations in the mall, they have multiple rooms, at 20, 40, and 60 minutes long, with the 20-minute rooms being only $10 each! We've been back multiple times, and loved every one! Staff is very helpful and enthusiastic about their job, and is thrilled to explain all the little secrets after you escape. Will be back every time they make a new room!
Lisa – 10/10Love the Haunted Forest
Austin – 10/10Organ trail has grown to a major community event! This is a scary hunted trail but they accommodate …show more the special needs and kids very very well!!! Most importantly this haunted trail is all based off a father seeking memory of his baby boy! This trail means a lot to people and it's only getting better as years pass!! Check think out if you want a good scare