The 715 Haunted House – Full Review
The 715 Haunted House is a Haunted Attraction located in Canton, MA.
95 Washington Street, Canton, MA 02021View All Details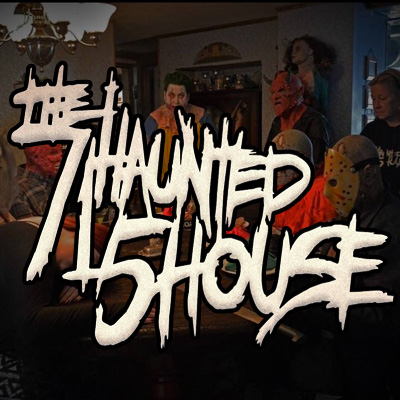 Features:

Free Parking, Handicap Accessible, "Old-School" (Low Tech), You will NOT be touched, Movie Characters, Original Characters, Covered Outdoor Waiting Line, All-Indoor Attraction

Team Hallowoosh reviewed this attraction on October 1, 2017.
Final Score:

8.34
Summary:
The boys are back in town! And by 'boys' I mean girls too, and by town I mean behind a Shaw's Supermarket in Canton, Massachusetts. Every single year these guys bring a joyful tear to my eye with the amount of work and passion they pour into their haunt. Still located at the creepy area behind the Shaw's Supermarket. The giant posters are back up on the lamp posts to welcome us back to one of the best haunts that Greater Boston has to offer. Every year, even in the little space that they are given to work with, someway somehow they manage to make it feel like I've never been through it before. But the biggest reason why I love this haunt so much is the sense of family and brotherhood that I feel every year when I walk through the distressed halls of The 7-1-5. It is a difficult thing to explain in words so I tell people all the time to check it out in October and you'll see what I mean.
---
Cast:

9.47
These guys are not one for breaking character, ever! I had arrived late in the night on a Sunday of their opening weekend so naturally there wasn't much traffic just yet. These actors never lose energy and are more excited than most to give me a show every year. As I stood in the front room watching an opening video all I could really hear was the screams and laughter of the clowns and demons all shouting my name waiting for me to come in so they could rip me apart. It was like being dangled over a pit of piranha. Once we were in, there was no way they were letting us turn back. The constant screams from all of the actors in the building truly made it feel like there was no escape. I'm always impressed by how physical they are too. Chainsaws didn't just buzz close to me, they tore into the sets inches away from me. The way these actors use their props and surroundings feels more like a horrifying dance rather than a scare tactic, and while beautiful in my twisted mind, it is also very scary. This year they have a new character I haven't seen before who made the best use of an airbag tunnel I've ever seen. She disappeared into the lower half of the tunnel so I didn't want to walk any further thinking she might pop up right in front of me or bite my legs off. I also can't forget the famous clown and his amazing laugh. It filled the entire haunt no matter where I walked. Everything they did inside this place was aimed to make me feel like there is no escaping.
---
Costuming:

8.33
While it seems as though the majority of the cast is decked out in clown attire, there were a few originals and classics. I can always count on finding Jason and Freddy. The best part about the Jason character is that unlike most Jasons I have seen, this one can actually remove his mask and expose a disgusting rotten face just like the real Jason. On top of that, the costume is the closest match to the real Jason Voorhees attire that I have ever scene and he isn't even at camp! Freddy was dressed up accurately too and gave us a good laugh and a fright with his metal claws. One of their original characters is always on stilts and he gets me every single year. Wearing a big red demon mask and a long cloak, he hovers over everyone as you come around the corner. He holds a real scythe too which always creeps me out a bit, one swipe and we're done. The clowns are a funny group though, no pun intended. The main clown wears an iconic onesie with face paint. Another clown wears a big mask with lots of hair and another clown wears a skin tight silicone mask. They aren't all the same kind of clown yet they all work off of each other to get the best scares. This is part of what makes this haunt one of the best around.
---
Customer Service:

8.63
There aren't many bad things I can say about this haunt but one thing is the particular location. To anyone unfamiliar with The 7-1-5 it might be a little confusing as it is not customary to drive behind a place of business. The Canton Village Shoppes has housed the 7-1-5 haunted house for five years now. They were fortunate to have spots in the main parking lot for the first two years but the space was never that great. So a space opened up in the lower level behind the super market and it has worked out great ever since, minus the fact that people have to find where to go. Last year they acquired a few character banners to hang from the street lights as a guide leading me toward the right place. This year the banners started closer to the main street in hopes that they will grab more attention. The ticket booth is actually a rustic wooden crate with a barred window. It is a nice piece that always helps get us in the mood for a great haunt despite the very corporate fashion of the building it sits in. The ticket takers are always very friendly and positive and never have any issues chatting with me about how the season is going so far. The venue is wheelchair accessible as it is all on one flat floor.
---
Atmosphere:

6.83
I was talking with one of the ticket takers and saying how the area itself doesn't shout out 'haunted house' but the unusual location of the haunt does make it feel like I'm not supposed to be there. Once in awhile the Jason character will come out and play with the waiting line, but for the most part it is very quiet. Sometimes one of the clowns will tap on the windows from the inside or open the front door just a crack to let out some of the sounds coming from inside. It is a whole different world when you walk into the first door. Hearing the music and screams come pouring out into the dead silence of the parking lot and then instantly gone again when the door closes is really disturbing. Also on the inside it is as if you fell into the chaotic pit of Hell itself. Usually I'm all against being able to hear what happens in other portions of the haunt before I get there but at the 7-1-5 it's like being warned you are about to go through the meat grinder and in order to get there, you have to go through several other meat grinders.
---
Special Effects:

8.71
The very first room always plays a little intro movie to get everyone up to speed on the theme. This year the room was bombarded by fog, but I think it was mainly there to look creepy when the front door opened and let out a little smoke cloud. The sounds that I heard inside the haunt are mainly from the crazy actors freaking out all over the place but I did hear faint creepy music in the background that reminded me even when no one was around that I was still trapped by the spirit of the 7-1-5. Hard to remember if they had a giant spider last year but this year in the middle of the haunt they had a really mean looking, seven foot tall spider prop that looked incredible. New for 2017 is their airbag tunnel, done to death I know but with the addition of the actress with long pointed fingers hiding inside of it the whole thing was given new life. My favorite effects are the fact that Jason's machete and one of the chainsaws sparked on the ground. Out in the parking lot I was treated to a fun light show where one chainsaw maniac dared to attack Jason and they engaged in a spark battle hitting and sawing the pavement.
---
Theme:

7.82
The theme of this year isn't much different from last year. We are still walking through the house of 'The Collector,' a mad man who became obsessed with finding and capturing monsters and creatures from around the world. He grew to appreciate their murderous tendencies and he started to lure people into his house to watch his collection do what they do best. When he started to die he made arrangements to have his funeral at his house so people would come in and pay their final respects. But, what they didn't know is that he let loose all of his collection right before he died just so he could hear the screams of people who entered his house as they were ripped apart and tortured by all of the monsters. Last year we were invited to the funeral and this year we seem to be just curious dumb people that want to check out what's in the house. The Collector's collection still roams the halls and rooms of the house killing and torturing anyone who comes in.
---
Fright Effect:

9.12
Although I don't usually support some of the scare tactics that the 7-1-5 haunt utilizes, I can say that in particular situations if used carefully they can work. The 7-1-5 uses these tactics very well. Filling up the room with chaos and making it feel like danger is around every corner is what these guys do best. The scariest part is always at the end when I open that back door and enter a regular hallway. The exit door is maybe a hundred feet away and Jason is standing right in front of it. I turn to go down the other way and I'm instantly being chased by every clown the haunt has to offer. Do I take my chances with Jason or do I get devoured by the crazy clown brigade? Only one choice I guess, so I run as fast as I can away from all the deranged clowns. All the while Jason starts slashing the ground and making it look like he's going to set it on fire. I try to plan it carefully looking for a spot where Jason won't chop my legs off, but it's hopeless. Miraculously I escaped Jason's wrath and bash through the metal door. Fearing the clowns will try and come through the door to chase me all night long I propped myself against the door and heard them all piling up on top of each other. In all the excitement and the adrenaline rush I completely forgot about my other half and I accidentally trapped her inside with all the clowns and Jason. Yes, an accident is what it was.
---
Value:

7.77
The entire attraction will take about 9 minutes. Tickets are still $18 and a $3 coupon can be found at most retailers around the area. This gives the 7-1-5 Haunt a minutes per dollar value of .5. This is a bit on the higher side compared to most haunts although the type of entertainment they are providing is unlike most haunts you'll see. Here you are not just paying for the length of the attraction, you are paying for the madhouse. Some people cannot even make it into the first door. I have been attending the 7-1-5 for six years now and every single year I come on a slow night. The one other customer that happens to come at the same time cannot bring themselves to get past the first room. I love what these guys do every year and I still know it in my heart that one day they will be more of a force to be reckoned with in the haunt industry.
---
Promo Images:
Click to Enlarge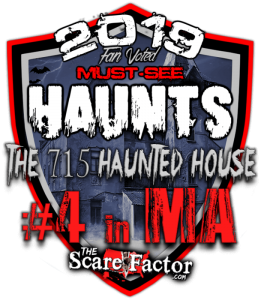 ---
Have you visited this attraction?
Join ourspookyadventures!
We visit Halloween haunted attractions year-round! Follow us for haunted house walkthrough videos, behind the scenes footage, and more!