The Experiment at Hoodwinked – Full Review
The Experiment at Hoodwinked is a Escape Room located in , .
151 W 116th Street, New York, NY 10026View All Details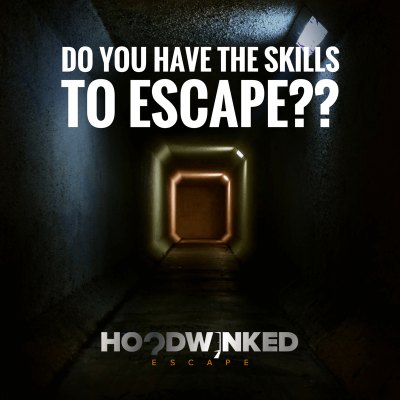 Team Scare Response Unit reviewed this attraction on May 11, 2017.
Final Score:

8.36
Summary:
Team Crypt Creepers journeyed into a dark, new realm recently. The sinister, unforgiving, diabolical world' of ESCAPE ROOMS! Okay, so maybe it's not so dark and sinister, but it definitely is interesting. With this new trend spreading like the Black Plague, we decided to find a room that suited our love of horror and the macabre. In doing so, we found Hoodwinked Escape and their room 'The Experiment' – a gloomy, dark room where you must find your way out before the doctor decides he has no need for test subjects who cannot provide results. We hate to admit it though, but we were hoodwinked. We were defeated by this perplexing room, but enjoyed ourselves every minute of the way.
---
Atmosphere:

7.85
When visiting an escape room, you want some mystery and surprises and, at first glance, the exterior of Hoodwinked Escapes looks like a normal Manhattan building. Once you enter, you are surrounded by oversized keyholes and locks hanging from the walls. Relaxing sofas and chairs surround a glass tabletop with laminated descriptions of the four rooms that await its eager participants. It's an easygoing and comfy place where teams can contemplate what awaits them inside the actual escape rooms. The lobby space is also sometimes utilized by companies and groups for team building exercises, though this is usually requested as special events and not part of every reservation.
---
Theme:

8.17
With four rooms to choose from, there is something for everyone here: a room dedicated to Harlem's history and culture, one to relive your college days of beer pong and wild parties, one for those aspiring to become an international spy and the one that we got to experience: a horror-themed tale of escape and experimentation.
Being such, it is aptly called 'The Experiment.' The gamemaster greets you and explains his intentions, then leads you to your challenge: solving different puzzles and tasks to ______ a certain _____ by ____-ing ______s. Oh come now, you didn't think we'd spoil the plot did you? What we can say is, though the story leaves a few questions, overall it is pretty solid. It is creative and original, not to mention fun. The theme is constant throughout the room and the dimly-lit lights and a few Halloween decorations remind you that something sinister lurks in the darkness… and it's best if you find your way out. The story itself is not too important to the actual gameplay, so you can still solve the puzzles and get out without really knowing the "why" of your actions.
---
Special Effects:

8.6
We at Team Crypt Creepers may be fairly new to Escape Rooms, but one thing we are very familiar with is horror. Dimly-lit rooms, eerie music playing just low enough to make you wonder if the cackling in the background is actually just background noise or something much, much closer and a timer counting down to what you can only assume is a grisly end; that's what you get in this room, along with a few fun extras. With the assistance of two portable lanterns, players can traverse the darkness easily enough to discover and decipher clues still with relative ease. Most of the items in the room were meant to be used, touched, turned, or interacted with in some way. The few items that were there just for show helped the aura and theme of the experience, and, since there were so few of these, it's not like they hindered a player too much in terms of using valuable time on unnecessary items. One particular prop caught our Team's attention for about 30 seconds, but more for entertainment value rather than 'I wonder if this has any meaning.'
---
Gameplay:

8.71
We were told afterwards that the room we experienced was the second hardest that they have and, we will be honest, we used two of our extra clues for help when we were completely stumped. We were apparently near the finish, but close isn't close enough and, in the end, we found ourselves out of time. So yes, we'd say it matched their description of its difficulty.
The clues were meant to be solved in a specific order, so there were times when you would see a symbol or something ominous, but have no way of interacting with it at that moment. You are given 5 extra clues to use by radioing in to the gamemaster. A hint would show up on the tv monitor, along with how many clues you have left and a constant timer on the screen reminded us that only so much time remained before our end arrived. Some puzzles were as simple as reading, while others involved much more "hands-on" means of figuring out. A mix of science and math brought us back to our high school days, racking our brains as we tried to remember how to work science tools. Mind you, we're not talking about Hadron Colliders or anything like that, we mean the most basic of science tools. So fear not, you don't need to be Sheldon from Big Bang Theory to handle this; maybe just brush up on basic math.
The host's interaction with the team is limited to the pre-entrance story and then posting the clues up on the monitor, but that is about it.
---
Customer Service:

8.83
The staff here are extremely friendly and helpful, willing to sit down with guests before and after their experience to talk about what to expect, what they thought and numerous other topics. They even go as far as to have chalkboards with the group's name on it when you enter.
After the room, they take your picture in their lobby with some props. They have lockers to store your jackets and bags, but mostly electronics since they do not allow any inside the actual escape rooms (and rightfully so). There are no real safety issues and, with the exception of their newest room, they are ADA compliant to the best of their abilities.
Reservations are HIGHLY recommended and, while walk-ins are welcome, there is a good chance that they will be sold out for the night, so be sure to call ahead of time and make a reservation.
Since it is on an NYC street corner, be prepared to either find a parking lot to store your vehicle in, or circle the blocks in hopes of a parking spot. Public transport has multiple options all within a few blocks though, so feel free to hop on a local train to get there.
---
Value:

8
The base ticket price for one person is $28. This gets you into one escape room for 1 hour. There are special promotions and discounts, such as group rates, team building exercises, even a 'Mothers and Mimosas' Deal for Mother's Day. So whether you want to bring the family in for a new type of game night, or bring your coworkers and try to teach Betsy what teamwork really means, or just try something new with a couple of your friends, you can find a reason to try this out.
---
---
Have you visited this attraction?
Join ourspookyadventures!
We visit Halloween haunted attractions year-round! Follow us for haunted house walkthrough videos, behind the scenes footage, and more!