The Forest of Fear – Full Review
The Forest of Fear is a Haunted Attraction located in Danbury, CT.
85 Great Plain Road, Danbury, CT 06811View All Details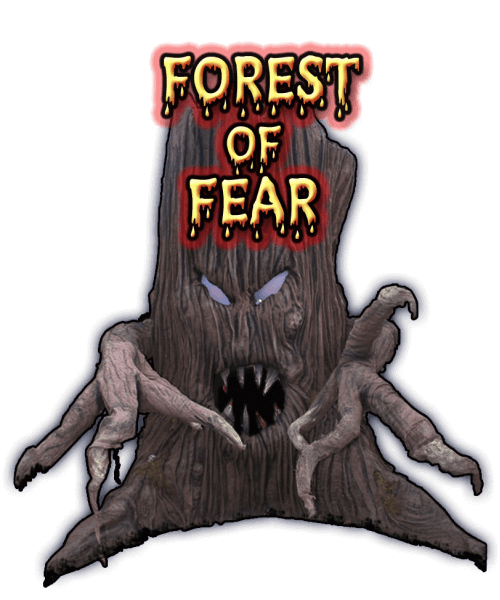 Features:

Free Parking, Food/Concessions, You will NOT be touched

Team Old Crow Hollow reviewed this attraction on October 6, 2017.
Final Score:

7.09
Summary:
The Forest of Fear is the Haunted Attraction evil step-sibling to the NY Renaissance Faire that is held across the street from their location. It is both a marketing and HR blessing for Forest of Fear. They can promote the haunt during August and September to the thousands of Ren Faire goers who literally have to pass by the exterior of the Slaughterhouse on the way to and from the Faire. As such, most people already know who they are and where they are located. They are also usually able to recruit Haunt Actors from their Ren Faire cast, which has just completed their run the week before.
But here is where the curse comes in. As the Forest of Fear is setup in the parking area of the Ren Faire they are severely limited in how soon they can setup the haunt part. I attended the Ren Faire 2 weeks before opening night of Forest of Fear, and at that point nothing was setup for this haunt, and the only area they could work on was the Slaughterhouse, which ironically is the one area that does not significantly change each year. The other issue for Forest of Fear is that the staff who would be working on the haunt are also occupied with running the Ren Faire until less than a week before opening Night of the Haunt. The Ren Faire in contrast has set buildings, pathways, actual wooded areas, and even a walk through castle made of concrete with a series of torture displays inside! All this being said, The Forest of Fear has expanded greatly from one main attraction five years ago to now being a series of different themed attractions that run consecutively with one initial queue line. This approach has significantly reduced wait times to enter from literally hours just a few years ago to maybe 20 minutes.
I mention all this because The Forest of Fear is one of the longest running Haunts in the Lower Hudson Valley of NY, if not the oldest running haunted attraction, and the folks that run it are great people who work extremely hard to get the event up and running every year in a ridiculously short amount of time. They are hamstrung in time, space, and budget especially when all of these things could clearly be available to them. In the past few years Forest of Fear has managed to overcome these enormous obstacles by creating one of the best Lights Out style haunts I've seen called Blind Panic, and by focusing heavily on their actors to carry the show, but I believe it is time for further, dramatic change.
This Haunt needs to be able to return to its namesake and actual wooded areas and buildings just across the road to be a Forest of Fear again. Imagine the potential of a Haunt Faire with terror trails, shows, food stands, and fortune tellers in their creepy thicket-like area.
---
Cast:

7.5
The haunt actors have always been the strong suit and the lifeblood of FoF. The quality of actors available to them who can actually present characters with lines and stories has been what has made this haunt work. They don't have the ability to have elaborate sets or the money for animatronics or high priced props. The downside here is that if the acting is poor or hit and miss then there's nothing else there to make up for it.
Acting is critical for this haunt, and this year with the exception of the actors who introduced each area before you go in, and some really strong cast members in the Dark Maze and the final haunt, most of the acting lacked enthusiasm, direction, and were mostly jump scares.
I would also like to point out and also apologize to the actress in the dark maze area who was in a hallway of plastic wrapped bodies where the bodies are so big they take up the entire space, and she legitimately scared the hell out of me to the point that I crashed into the hanging body next to me and I believe bounced back into her and possibly knocked her to the floor. Now I usually don't even get startled most of the time, and here I almost lost my feet even though I knew there would be someone in there. Hopefully she was okay because as I found out later that night that my teammate Pat who was behind us might have gotten her with his knee while she was hiding down low.
This would be a good point to mention a real criticism I have in that far too many of the actors would crouch down out of eyesight, and then spring up at you almost as though out of nowhere. This can be effective when setup properly, but mostly I felt it was more of a safety issue for both the actor and guests as either can easily lose their balance, and I'm strongly against putting actors heads where they can easily be kicked or kneed even accidentally.
Here would be my 2 cents to help regain the acting level of for the haunt, and help with recruitment: Open the slaughterhouse during the Ren Faire season only. It's the one thing that is already setup, and would allow time to make adjustments or improvements before the season. This would establish and train acting squad going into the season as well.
---
Costuming:

7.92
Costumes are the other great strength of this attraction with their Ren Faire connection and theatrical background. While everything this year looked realistic and authentic, nothing really jumped out at me as special. Although, I did like the costumes on the ringmaster at the front gate, and the greeter before you go into Blind Panic.
---
Customer Service:

8.25
The location is easy to find, it's right off 17A, which is not far from Route 17 and the NYS Thruway, just south of the Woodbury Commons outlets. There are signs directing you, including a road sign that warns of Zombies ahead, and plenty of parking in the lot just past the midway if you are coming from the East.
The staff here are very welcoming and friendly as they have been. Their Midway section is free and open for folks who are not going into the scare areas, which is nice for parents who bring a group of teens but don't want to go in themselves.
There is a food stand that has real food beyond just the usual quick service fare, and another that sells just treat type items. They also have photo booth opportunities, a couple vendors, and fortune teller/card readers, but less than they used too. They also have something I don't think any other place has, and that's where you can have a father son team of Stewart and Arnold throw ACTUAL knives at you as you stand against a wall and record it on your smartphone. I'm sure you can find POV clips on Youtube of the knives whizzing past the person recording.
When it comes to the inside of the attraction, there was the previously mentioned safety issue of actor placement, and given the tight constraints of the walkways in some of the houses there were times of near collisions with actors, and since the main scare elements used here are confusion and disorientation it would be good for the actors as well to have safe areas to avoid customers hitting them.
---
Atmosphere:

6.66
The first thing you encounter on your walk from the parking lot to the Midway area is a decrepit looking bridge over a small creek or pond. If you look down on either side you will see wrapped up bodies floating in the water, and it looked really cool. The atmosphere after that though is more like that of a carnival, with bright lighting in the midway area with tents and buildings circling it. In the past the carnival has been more of a dark sinister one with more scare actors roaming about outside, and the mood being more twisted.
Waiting to go in there was music playing, but it ranged from typical like a Halloween theme instrumental to death metal so it was kind of all over the place, but entertaining. If there was music in each area it must have blended in, or was drowned out by the loud death metal music in Blind Panic that is used to assault your hearing, and add urgency and threat to that house. It seemed louder last year, a driving, pounding barrage as you struggled to see in the dark maze.
One major compliant I had going through was that of repetitive warnings and instructions before going into each and every house. I get having someone go over the rules before you first go in, and since this is a rabbit run style of one house after another we really don't need to be reminded at each stop. I felt this would be better time used to tell the story and theme of the house you are going into through the character at the door and it worked very well for example with the deranged scientist guy in just a lab coat and underwear who seemed frantic and needed to check our hands before we went into the government testing facility.
---
Special Effects:

6.81
They had a cool noisemaker machine gun up on a tower as you went by, and I feel this will be incorporated more in the scare element of that area. They used a projection of zombies at the window that was cool, but otherwise it was simple and basic things.
---
Theme:

6
The theme is kind of all over the place from a Carnival area with a cool take on a hall of mirrors concept that was very effective to country hillbillies, a government testing facility, etc' and the Slaughterhouse which has now become a really cohesive theme throughout, and is more of an evil manor house now than slaughter.
I wouldn't mind the different themes as much if they were more distinctive.
---
Fright Effect:

6.58
The main trick up their sleeve here is to use confusion and disorientation starting right off the bat in the faux mirror maze circus tent, and then in the redneck pallet maze, and especially in Blind Panic by funneling guests down dead ends or into loops. These then return you to the main intersection where they finally point you the right way out. It's a bit of a surprise when you are expecting the usual a ' b straight pathways. The girl working in the loop part of the Blind Panic maze was especially effective in causing actual panic when part of our group went one way, and the rest the other, only to come face to face in the loop which generated a feeling of where do we go now? But other than that it was very uneven in the scares department.
The majority of the first parts were not very scary or overly interesting, but it did pick up in the last 2 or 3 houses. They did do a good job of spreading the scares around to different parts of the group, and coming from many different directions, but other than quick startles there wasn't much in the way of making you feel like you were in danger, or that something was going to come up that would be too much to handle, and I don't remember the final room, so it didn't have that much of an impact unfortunately.
What really got me was the two teenage girls who hid behind us most of the time coming out of the door of the last house, and once they realized we were done, looked at their watches and said that's it?
---
Value:

6.97
The entire walk through only took 28 to 30 minutes which felt very short considering the amount of advertised haunt areas, and maybe 5 minutes was spent on the instructions before entering the next area. While the price of tickets here are less than at some other haunts in the area, it just felt like it wasn't equal to the cost. You could supplement this time by hanging out in the Midway area, getting something to eat, checking out the other tents, or having knives thrown at your head.
Tickets are priced at $30.00 on Fridays and Saturdays and $25.00 on Sundays. Considering our total tour time (which can vary) that brings their MPD value (minutes of entertainment received per dollar spent) to a solid dollar per minute.
While they do a good job here of using as much available space as possible, it's still just a shame of how easily this place could have a bigger and better space that's only steps away. They could focus on witchcraft, Gothic vampires or medieval horrors, and really turn the Forest of Fear into something phenomenal if given the chance.
---
---
Guest ReviewsGuest Average: 9.27 out of 10
Sharon – 9.8/10 – October 24, 2015The Forest of Fear was a pretty scary haunt. They changed the format of the haunt for the better. …show more Now it's all connected. You wait in line once, then go thru the whole thing and a free zone for those folks that are too scared to go in.
DENISE – 9.5/10 – October 31, 2015This haunt has upped the game by adding 3 new haunts. Was very impressed with new additions and …show more characters. The ease to get in and thru was really good for adding new haunts. Differently are on the ball in managing, creating, entertaining the customers.
evan – 9.04/10 – October 24, 2015I had a great time i bought tickets online and it was a smooth process picking them up at 'will …show more call'. it took a little over an hour to go throygh the whole thing. and very few animatronics a huge LIVE cast of very good actors. the creep factor was high and i actually got scared which is not easy