The Frightmare Compound – Full Review
The Frightmare Compound is a Haunted Attraction located in Westminster, CO.
10798 Yukon Street, Westminster, CO 80021View All Details

Features:

Free Parking, Restrooms/Porta Potties On-Site, Food/Concessions, Gift Shop/Souvenirs, Optional Games/Midway, Special Events, "Hi-Tech" Attraction, You will NOT be touched, Original Characters, Uncovered Outdoor Waiting Line, Covered Outdoor Waiting Line, Indoor/Outdoor Attraction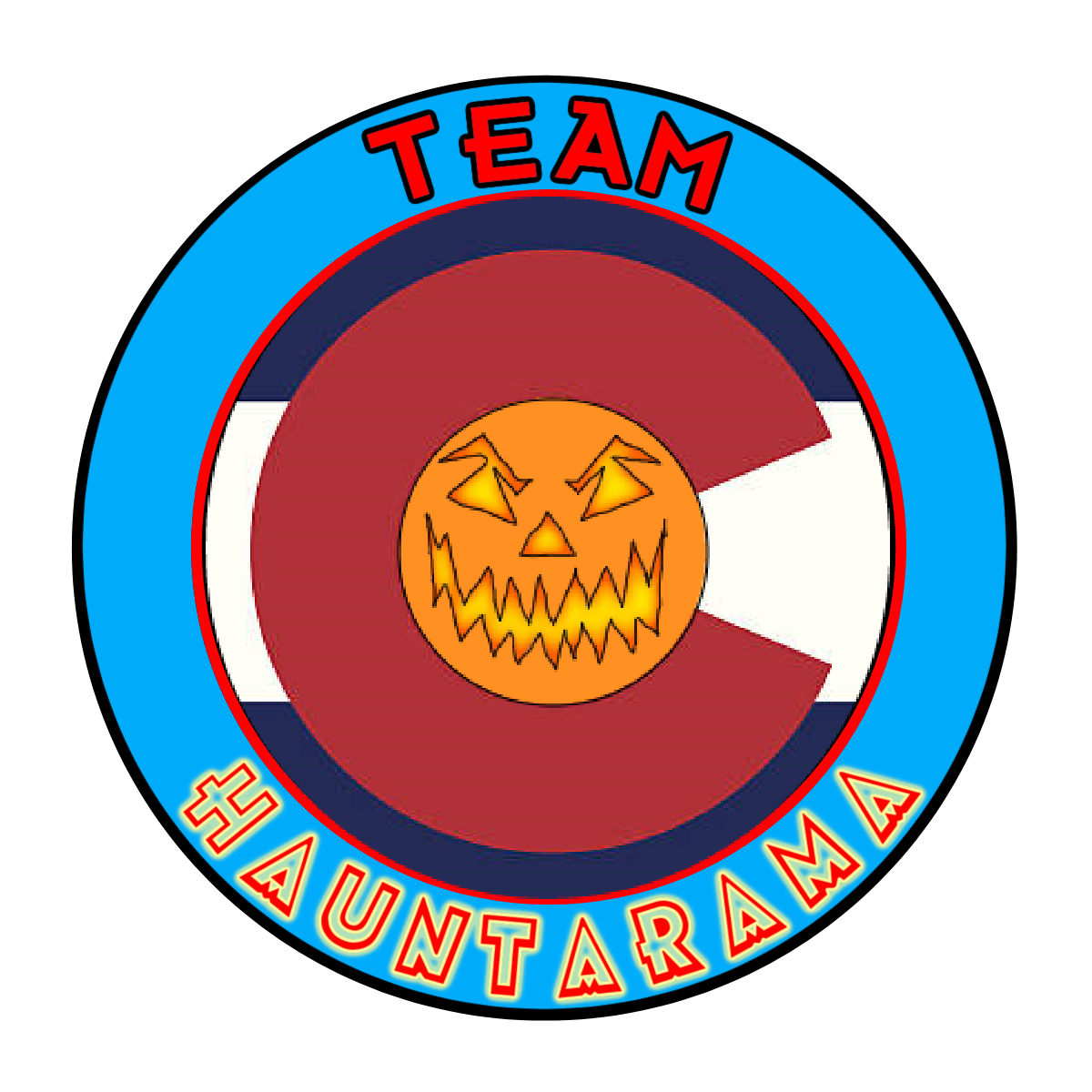 This attraction was reviewed on September 30, 2022 by Team Hauntarama.
---
About Our Reviews and Rating System
---
Final Score: 8.56
Final Scores – By Category

Final Scores – By Attraction

Summary:
Having opened their doors first in 1984, the Frightmare Compound has been scaring the metro Denver area ever since. Situated in an area of Broomfield where farms and open spaces once surrounded, the Frightmare Compound has watched the city grow up around them. Nevertheless, a quick turn down 108th and you're still able to find a bit of that rural ambiance that is a staple of many of Colorado's oldest attractions.
Nostalgia aside, the Frightmare Compound provides visitors with a truly frightful experience as only a haunt that has settled into itself for decades can do.
---
Cast Score: 8.38
Cast Scores – By Question

Cast Scores – By Attraction

Cast Review:
The acting crew at the Frightmare Compound provided a spectacular show! The cast was very interactive, and in unique ways. Some of the creatures crept from the shadows, some followed behind, some lurched at us from the grave, some waited until we were nearly out of sight before pouncing. The interaction didn't end there either, as some of the monstrosities offered jump scares while others offered more subtle spooks; some approached timidly, as if almost frightened of the newest visitors to their realm, while others aggressively approached, with clamoring metal clanking loudly along the way. The haunt would have benefitted from more actors, though. However, the cast that was there did a great job, providing a great and terrifying time!
---
Costuming Score: 8.63
Costuming Scores – By Question

Costuming Scores – By Attraction

Costuming Review:
The costuming at the Frightmare Compound was also executed spectacularly well. The costumes were uniformly complete. The Frightmare Compound boasts some truly impressive masks, with makeup and potentially other prosthetics rounding out their looks with a remarkable amount of detail and realism. Even the actor welcoming guests into the haunt itself, smeared with cream makeup, fit the bill well for his role, and boasted a complete look.
Some creatures had fun, though not necessarily scary costumes, and others were truly spine-tingling to even behold (and that was before they came toward us!). We only noted a single queue actor, however, his costume was also complete, despite its simplicity, as he wore a simple blue work suit à la Michael Meyers, but with a really good-looking humanoid creature mask. The costumes also generally fit their respective scenes terrifically well also (but who captured the rogue clown and why did he wander the wilderness between cemetery and farm?). Of course, there are some that leave a more haunting impression than others. The diabolical creature we will forever remember as "the feathered gollum" and the dead bride emerging slumped from the headstone with her bitter, dead gaze won't escape our memories anytime soon.
---
Customer Service Score: 9.45
Customer Service Scores – By Question

Customer Service Scores – By Attraction

Customer Service Review:
The customer service at the Frightmare Compound was stellar. All of the staff we met were friendly and helpful despite the slight drizzle that brought the feel of fall to the evening. The queue line is uncovered, so make sure you check the weather forecast and plan accordingly before heading out. That drizzle also made parts of our route through the haunt a bit slick and muddy but nothing was dangerous. In fact, it was obvious that steps were taken to make the pathway clear and passable. There's just not much you can do about mud as it's raining.
While you're checking the forecast, you can also find all the details you could want about the Frightmare Compound on its website, which provides clear and concise information on an almost understated website.
---
Immersion Score: 8.46
Immersion Scores – By Question

Immersion Scores – By Attraction

Immersion Review:
The light rain couldn't dampen the spirit at the Frightmare Compound! We arrived early in the night with other visitors queueing up in their lines, winding around a building facade, which was pumping out sound from the resident DJ to keep the excitement level cranked up. Guests can also see the attractions area, which features other sights and sounds that keep the vibe rocking, including a two-person coffin experience complete with cameras and a TV for those of us remaining "above ground." The haunt also kept us thoroughly immersed as we traversed the attraction but for a couple of spots where an additional actor or scare would have kept our minds from starting to wander. Those spots were few and far between, however, as we remained locked in for the vast majority of the walkthrough due to the superb acting and incredibly well-entrenched set design.
Guests completing the haunt are directed toward a human-sized hamster wheel and the Monster Museum. We started with the hamster wheel, of course, which proved more of a challenge than anticipated! The Monster Museum offered a much calmer experience though just as enjoyable. We were greeted by helpful workers, offering help with pictures and even demonstrations for some of the hands on displays. Some of the historic props from the last nearly forty years adorn the walls and exhibits, as well as movie memorabilia and an animatronic from the 1920s, Laffing Sal, who was known to sometimes (understandably) frighten small children. We couldn't pass up the last awesome photo op with a gigantic monster near the small gift shop area whose walls are adorned with additional memorabilia from the Frightmare Compound's history.
The immersion is completely broken upon leaving the Monster Museum and heading back to the parking lot, however, as visitors are left to walk along in the darkness near the road leading to the haunt, in front of a house that now seems to be an employee area. Although the walk wasn't unsafe, it would have benefited immensely from some simple lighting or other decor to keep the vibe flowing and avoid the walk down the unadorned, dark sidewalk.
---
Special FX Score: 8.6
Special FX Scores – By Question

Special FX Scores – By Attraction

Special FX Review:
The Frightmare Compound's sound effects were done well, between ambient sound and other area-specific audio such as the real flowing water and the flies. Generally speaking, the audioscape was designed perfectly well to fit the environment, being subtle when it needed to be while growing more intense when appropriate.
The real star of the show in this category was the set itself. Imagine combining this with any of the fiendish experiments of the Frightmare Compound (Sawdust Monster, we're looking at you!). At such a venerable institution, which has been painstakingly perfected over many years, the haunt path provides almost innumerable spots for actors to work the crowd, whether by hiding and popping out, obviously and ominously occupying an area, or any of the other umpteen ways that a well-trained cast can haunt a spot. In fact, that abundance of scare spots itself created anticipation, as there were just too many places to watch (even for seasoned hauntgoers such as ourselves). The path also featured a few physical effects that provide just enough instability to cause that jolt of fear.
That excellent path is further embellished with tremendous-looking props and other decor that hits all the high points without going overboard. Whether it's a well-placed animatronic, some subtle signage, real running farm equipment, a cramped camper, an old refrigerator, or even just a series of wooden frames that create a sense of claustrophobia despite being outside, all of the set pieces looked genuine and authentic, and lent a patina of credibility to the entire experience that can't be faked.
---
Scare Factor Score: 8.31
Scare Factor Scores – By Question

Scare Factor Scores – By Attraction

Scare Factor Review:
The Frightmare Compound brought scares of all varieties; from awesome visual and physical effects to great acting by its well-clad cast, there was plenty of fright in the air. That masterful pathway forces guests to travel unnatural routes, such as through a giant open pipe or up a set of stairs that causes you to wonder how you're getting back down. Even the creatures who seemed more curious than creepy brought with them a disquieting energy, prompting us to continue moving along.
The Frightmare Compound provided scares in multiple ways, appealing to multiple senses at a time, and targeting the entire group. Another impressive thing to note is that we didn't meet another group of guests until nearly the end of the haunt (and we're not exactly fast when we go through), which not only shows how well-timed and designed the haunt is in just about every way but also deepened the immersion, which, in turn, helped the scares land better. The finale was extremely entertaining and somewhat distressing, but not scary, at least on the night we were there. It seemed there was plenty of opportunity for a strong finale, so who knows what's in store for future Frightmare hauntgoers.
---
Entertainment & Value Score: 8.5
E&V Scores – By Question

E&V Scores – By Attraction

E&V Review:
The main attraction at the Frightmare Compound provided an excellent time. Although the experience would have benefitted from a few more actors sprinkled throughout, the expertly made path alone is well worth it for the cost of admission. Add to that the superb props, set design and costuming, and it's clear that this is a special haunt.
Finally, combine that all with a cast of hard-working actors putting their hearts into their roles, and you're left with no doubt as to why the Frightmare Compound has been giving the Denver metro area chills since 1984.
---
View Full Score Sheet
---
Pics We Took From Our Visit:
---
Promo Images:
Click to Enlarge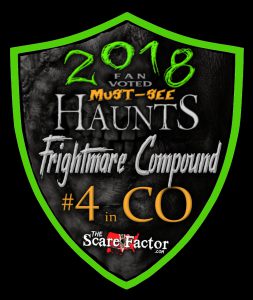 ---
Guest ReviewsGuest Average: 5.5 out of 10
Joe – 10/10 – October 15, 2020This place has an epic layout! I can see why they have been around for so long! Definitely the …show more coolest haunted house I've ever been too!
K Rosas – 1/10 – October 14, 2023BUYERS BEWARE !!!!!! Came down to Colorado to see the fam and go to The "Best haunted house" …show more there is. Paid for our tickets days before. It says to arrive early so we did. Got in line and they tell us it's a 4 and a half our wait with out tickets we already bought, and cannot receive a refund. They also said you can "Pay $10 to be moved to VIP which was a two hour wait line or to pay and extra $30 for immediate access. Which means the tickets would be $65 for one person. Was so disappointing, drove a good ways to get there around 9 when our ticket was for 9:30 just to find out it would be 2 in the morning till we would be able to get into the Haunted House if we're LUCKY. BUYERS BEWARE !!!!!!
Join ourspookyadventures!
We visit Halloween haunted attractions year-round! Follow us for haunted house walkthrough videos, behind the scenes footage, and more!