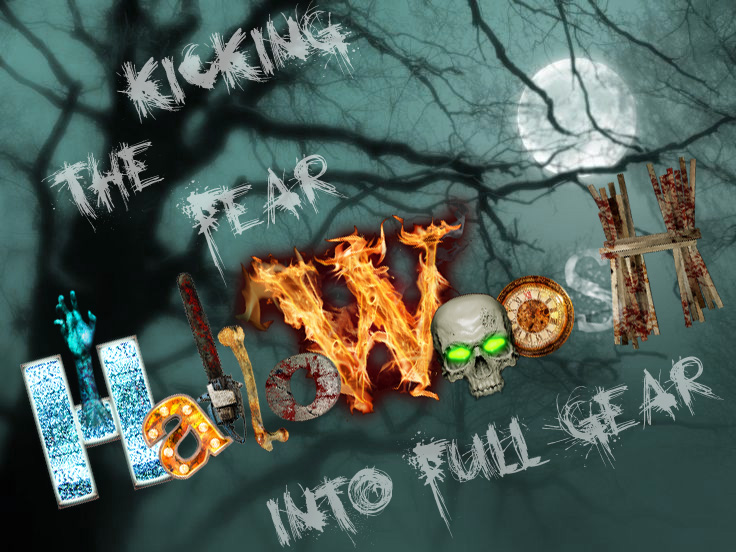 This attraction was reviewed on October 13, 2018 by Team Hallowoosh.
How Do We Get These Scores?

Final Score:

9.11
How Did We Get This Score?

Summary:
It's been twelve incredible years since The Ghoullog made its home at Cranmore Mountain in beautiful North Conway, New Hampshire. Every year I return expecting nothing less than the macabre that is who they are. I can almost capture the feeling of The Ghoullog by calling it a passionate love affair with the spirits of broken souls in the night. No one can only truly explain what it is like to venture through the forest and decomposing buildings of this incredible haunted attraction, but I'll try my best.
There are close to 40 haunted attractions in all six of the New England states. Of those 40, there are currently 8 that I know I have to see every year. I first saw The Ghoullog back in 2010 and I wasn't even halfway through the attraction before I knew it would be the first haunt I would ever put on that list. All of the haunts on that list strive to change things year in and year out and do everything they can with what they have to put on a great show.
This year, The Ghoullog has technically four attractions that move from one to the next. Starting outside with a crazy maze and then into the forest to eventually enter the first house, The Nearfair Inn, and making your way into the Hospital to end the night.
Grabbing the #2 spot on the Fan-Voted "Must-See Haunts" in New Hampshire, their devotion and passionate attention to detail will show you just why they deserve this award.
---
Cast: 9.04
How Did We Get This Score?

Great actors can come and go frequently in the haunted house business. It is a great surprise and a great show when I bump into a character that clearly has had multiple years of professional experience and seems to have made a career out of their craft. Even while being almost 2 hours away from the nearest city, The Ghoullog has had their fair share of these performers. We tend to be on the lookout for haunt actors. Crazy people who can work a fulltime job and then cover themselves in latex so they can run around till 2 in the morning. Then complain about it so they can do it all over again.
We always find a good core group of these psychos up at The Ghoullog every year and this year is no exception. Most of them arrive just as tired as they are when they leave, but when the makeup and masks get strapped on they become a tireless group of insane, demented, lunatics that kept us on our guard all night long.
The main thing that I love about the acting at The Ghoullog is that, unlike most haunts, we never saw an actor come out from around a corner or behind something for a quick scare. Quick scares don't seem to exist in this haunt. Every actor had much more purpose than popping out and waiting for the next group. If anything, they popped out and followed us and attacked the rest of the group at various points through the scene.
When the stare down and following acts don't seem to add anything to the scare, the movement sells the scare more than anything. Plenty of actors in this attraction are in love with the different way their character wants to twitch and bend and bobble to bring their character to life. We have been to many haunts all over the North East and we hardly ever see this kind of dedication.
We were told that this year had been the worst for the attendance of actors. The haunt is originally designed for a crew of about 50 to 60 actors. Unfortunately, they consider themselves lucky to have around 30 actors this year. I can understand the frustration and although there may have been a few spots I thought an actor really needed to be, for the most part, it really wasn't empty. The actors they had did such a great job at owning their whole area and leaving such a strong vibe lasting long enough until the next actors we came across.
---
Costuming: 9.45
How Did We Get This Score?

What we have always loved about the costumes and makeup at The Ghoullog is the dedication to authenticity. There isn't one store-bought costume that we saw. Every costume is a real and old piece of clothing or suit of some sort.
A big part of their story is the hospital and naturally, this brings straitjackets and lab coats and things of that nature. We can see the very real leather straps on the jackets. Briefly brushing by some of the actors in the jackets we could feel just how heavily tight knitted they were. The slight brown staining and yellowish hue of a lot of their costumes work insanely well for the show.
Where there was makeup, there was great makeup. Not many of the actors were in makeup as they tell me that a few of their main makeup artists could not make it to the show that night. But the few actors that were fortunate enough to have such a pretty face had bloody gashes and very real-looking bruises. We've always appreciated the fact that many of the actors at the Ghoullog embrace the colored contacts. As much as authentic costumes and crazy real makeup make a character, you can't deny the creepy appeal of white eyes.
Masks at The Ghoullog have always been unique or at the very least high quality. We noticed quite a few burlap masks in the maze and the woods. I don't see many places making their own masks but I know that I haven't seen these particular ones anywhere else. Although it does seem like a burlap mask would be nothing much more than wrapping a head cloth and cutting out some eye holes, these are a bit more than that and they work beautifully. They have a lot of gas masks and goggle-based masks. It almost feels like it's the trademark style of The Ghoullog. Somewhere in between post-apocalyptic, steampunk, and tortured, mutated soul is where you can find the style of what The Ghoullog tries to capture.
---
Customer Service: 8.94
How Did We Get This Score?

The Ghoullog is located inside the fitness center at the base of Cranmore Mountain Ski Resort. Getting into North Conway is one of the easiest drives in New England. You'll know you are there because you wouldn't have seen much civilization for the last two hours. Big signs are out on the main road guiding you to the mountain. Just in case that isn't enough for you, go to the famous old Conway Scenic Railroad Station and turn around to look at all the little shops on the main road. See that big giant mountain right in front of you? Go there.
Cranmore has more than enough parking for everyone. There are a few parking guides on duty that will make sure you are parked as close to the entrance as possible.
They had a big banner on the left side of the building that let people know where the line was for the ticket purchase. It was actually a very busy night and everyone seemed to be moving along smoothly. We did have to sign a waiver. Usually a waiver implies that your experience is going to be something more extreme, but in this case, it is more of a protection voucher for both the actors and the guests.
Tickets are timed to every half hour. The Ghoullog was one of the first attractions I've ever been to that implemented this way of ticketing. If you haven't bought your tickets online you can easily purchase at the door just so long as they have some available slots. Best case scenario, you could purchase a ticket right at the door and be the first one in. Worst case scenario, you could arrive 30 minutes to opening and get a ticket to go in at 11 pm. Either way, the maximum time you might actually be physically standing in a line is 30 minutes. It doesn't seem like that ever actually happens though, as they do a great job of moving people along without any issues. Plus, you can choose to hang out at the Broken Neck Pub or enjoy the Haunted Playground or even go back into town for a little while before it's time to go through.
---
Atmosphere: 8.78
How Did We Get This Score?

Even though each attraction is unique in its own way, they all seem to have a related essence to them. Sort of like how the inside and outside of your home are obviously different but its altogether your home. There is a certain essence about The Ghoullog that makes it feel like the working of a higher power are at play. Something embraces me while walking through the maze and the woods and makes it feel like I really have entered a demented realm of reality. Fully knowing that I am actually walking through the back end of a warehouse, always makes me feel completely lost in a dark and violent world not knowing if I'll get back to reality.
I would say that the true atmosphere of this attraction didn't really start until we passed through the giant jack-o-lantern pillars that welcomed us into the whole attraction. The ticket area shares a space with the gift shop and they are both themed well enough, but not so much to spoil the real feeling of the attraction itself. Even the Broken Neck Pub has some spider webs and skulls and black lights hanging around, which is great because at least it is something, but it isn't 'The Ghoullog.' I did arrive at the Pub early that day and noticed about 5 cutouts of Sam Adams with no marketing signs on it so naturally, I thought they were part of the attraction, but I was wrong.
Not to say there is anything negative about using music in a haunted attraction, but The Ghoullog has almost mastered the use of non-music. Walking through all four of the attractions I could barely make it out. Instead of music or sound effects, this eerie style of some subliminal brown noise scientifically designed to make me feel uncomfortable made the whole place come alive.
---
Special Effects:

9.38
How Did We Get This Score?

As far as special effects go in The Ghoullog, they do not rely heavily on animatronics. In fact, I can only recall one self-moving prop in the entire attraction that has remained from year to year and it gets me every time.
Most of the effects come from their dedication to lighting. Outside, they have incredible pin lights scattered all over the place to bring an exceptional creepy factor. The maze of corn stalks has all yellows and oranges and provides dark shadows for their actors to hide in. The carnival alley is all blues and purples making their carnies and clowns even more dark and twisted. Their lighting sets the theme for every scene throughout the haunt.
Most of their effects inside the two buildings are moveable props. A body in a wheelchair or a laundry bin full of body parts pushed into my way to keep me from escaping too soon. One of my favorites is a headless corpse on a sliding chain that comes crashing into a chain link fence as guests walk by.
---
Theme:

8.63
How Did We Get This Score?

The theme of The Ghoullog has always been more or less a town that is overrun by insane psychopaths. Whether they come from a prison or a hospital or the haunted forest is kind of up to you to decide. Last year we got a glimpse of the Cathcart Manor after escaping the forest. This year we were introduced to the Nearfare Inn. Apparently, this town has many lodging options much like the actual town of North Conway has to offer.
Last year we went through a small section of what seemed like a carnival in this little town. This year we were treated to a little more of that carnival. The woods are always acquiring more and more creatures from the breached halls of the hospital and the prison. The Inns and Hospital had plenty of sick and twisted maniacal basket cases that we could see perhaps at one point were the victims of terrible experiments.
---
Scare Factor:

9.23
How Did We Get This Score?

The layout of the haunt hasn't changed much since last year but they always have new surprises. The real scares come from the great actors that treat this haunt like a lifestyle and a second family. They quickly pick up on the true nature of what this place is supposed to be and let the other elements of The Ghoullog work where they may.
The effect that the sites and sounds have on me is enough to make me believe that I am far away from a safe environment. I can only imagine what goes through the minds of the actors that have to become part of it every weekend, all night long. The thought of this is creepy enough to make me think twice about stepping out of line even a little bit.
---
Entertainment & Value:

8.96
How Did We Get This Score?

Tickets to The Ghoullog are $33 per person. From start to finish the attraction took us a little over 35 minutes to get through. This gives The Ghoullog a minutes per dollar value of 1.06. For every dollar you spend you'll get a little over a minute of entertainment. Anything that is over a score of 1 is good in my book. This isn't taking into account any waiting area actors that can easily begin your fun right when you enter the building to get your tickets.
On top of the regular general admission ticket, Cranmore Mountain offers what they call the Haunted Playground. For an extra $12 a person, you can ride the mountain coaster that takes you up the side of the mountain and slide down a crazy, winding track back to the bottom. The Soaring Eagle Zip Line pulls you up the mountain in some kind of vessel that you lay down in. Soar through the cool night air all the way back down the mountain (it's actually really freaky). And there's the giant swing! Think of the pirate ship at any fair you've ever been to. You can go as many times as you like! If you're not up for The Ghoullog but think this playground sounds awesome, then you can purchase separate tickets for these rides.
A quick pass option is available but you have to purchase this pass online and it's only available on peak nights (Saturdays). This option will appear online after you click on how many tickets to book for your time window.
The Broken Neck Pub offers a few draft beers and Angry Orchard Cider along with a semi-full cocktail bar. They also have Nachos and Corndogs and even little personal-sized pizzas.
The Rotting Corpse Gift Shop is loaded with all the classic merch you can handle. Multiple styles of T-Shirts, Hoodies, Beanie's, Baseball Caps, Shot Glasses, Beer Glasses, Wine Glasses, Mugs, I think at one point they even had socks! They were selling out fast though when we went through.
The Ghoullog just knows how to make your night a special one. All of the activities and fun places to just chill out at while you are waiting for your time window make it feel like it might not be so bad. And inside the haunt, they turn that whole feeling upside down. Everyone was coming out of the exit excited and smiling ' or crying ' which made other people smile, you know how it goes.
---
How Did We Get These Scores