The Haunt – Full Review
The Haunt is a Haunted Attraction located in Wyoming, MI.
1256 28th Street SW, Wyoming, MI 49509View All Details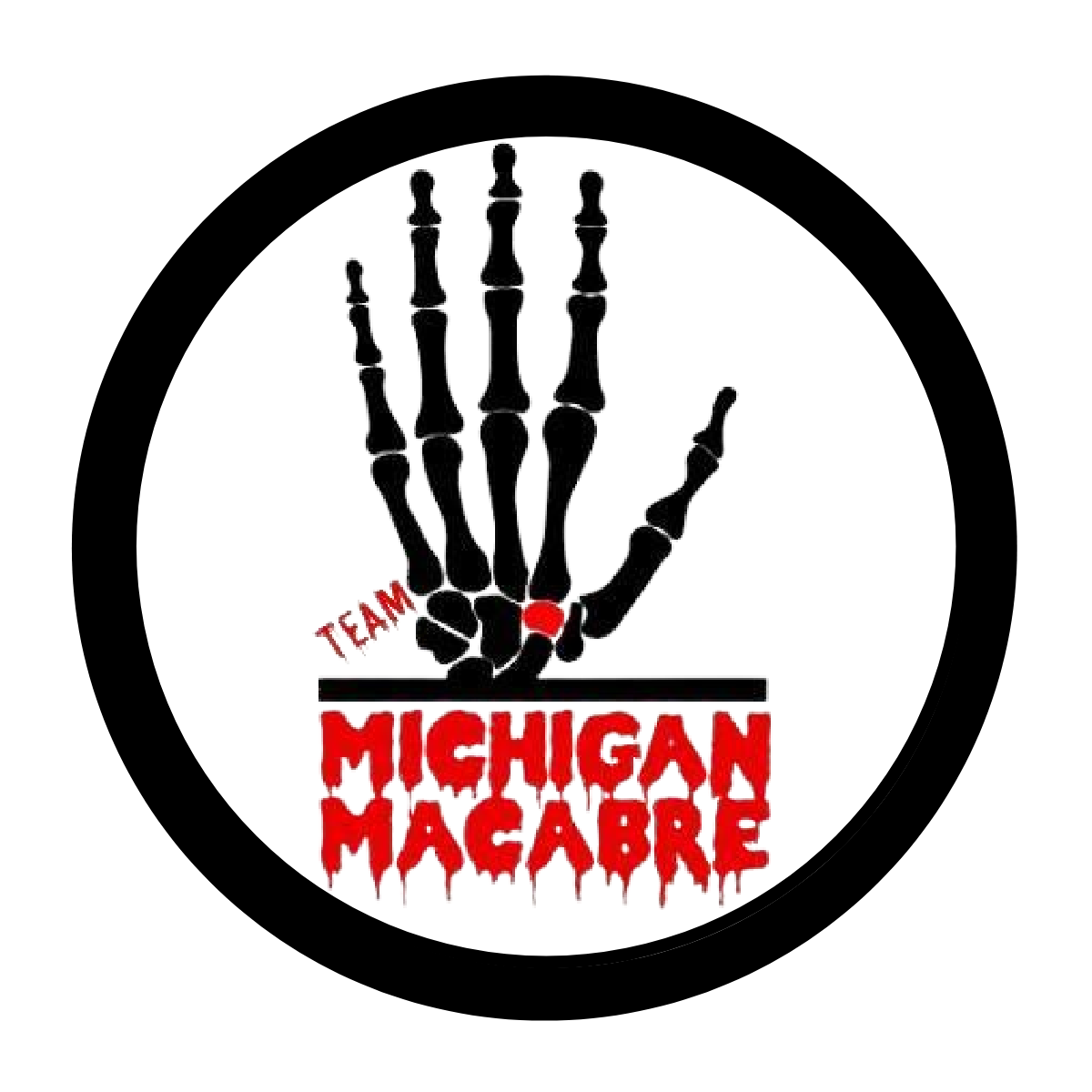 This attraction was reviewed on October 19, 2019 by Team Michigan Macabre.
How Do We Get These Scores?

Final Score:

8.82
How Did We Get This Score?

Summary:
The Haunt in Wyoming, MI, is a one-of-a-kind haunted treat for those willing to take a bite! One building, but five different stories, are portrayed to appeal to all of your dark and twisty's. The Haunt's stories are all following the life of a clown, Tinkles. First is Tinkles' childhood home, 'The Dark Manor,' next is 'The Vox Sanitarium,' where Tinkles spent most of his adolescence. 'Condemned' is an abandoned Manikin Factory where Tinkles' family now resides, 'Beasts' is in close proximity to the Manikin Factory wherein toxic sludge has been dumped and has created some menacing monsters as a result. Finally, 'Sinister Circus' is Tinkles' family circus!
This is an all indoor-haunt; however, it's popularity could result in an outdoor line waiting if the indoor queue line is full. Entertainment is provided for you while you wait to enter The Haunt, and trust us, get there early to avoid the long lines!
---
Cast: 8.76
How Did We Get This Score?

Roughly 100, yes, you read that right…100 actors were involved in The Haunt's performance the night we attended. (Honestly, we lost count… it is a lot to keep track of!)
The first person we met and probably the most engaging out of all of the actors, was the greeter as soon as you walk into The Haunt. He was a friendly enough fellow and was an excellent story-teller, possessing great delivery and overall professional ability to engage us in his role. Being involved in his story for several minutes made us anticipate a more theatrical type of performance from the actors to follow, which was not the case. This was a little bit of a let down when he was soooo enthralling to listen to, and he was the only one of his kind.
There was some average engagement from a handful of actors. Mostly, ad-libbing comments due to our team's utterances which would then lead to some initial banter. The actors' abilities to quickly show us some wit and provide off-the-cuff remarks is a great quality to have to ensure a more intimate and personal experience. No scripted dialogue is present and all of the actors are allowed to do as they wish with their roles.
We had some time with the queue line actor controlling the flow as you enter the Vox Sanitarium 'Charley' and his cohort. He was in his mind mumbling repetitive phrases and playing up his crazy mojo when we asked him about the Sanitarium. He seemed to thrive on the question and spiraled deep into his character. Whatever you do, do not touch Snugglebutt. I think I have already said too much.
Within the Sinister Circus were an abundance of mostly clown actors. It would be fun to see more variety within the circus. Original clowns, movie clowns, animatronic clowns the list goes on and on. Clowns galore is what you will find. If there were some sideshow freaks, or acrobats who suffered severe injuries during their performance, etc… it would bring a nice new touch to the same old circus routine. (Where are all my circus freak lovers at!?)
Shout out! 'Emma Mae' within the circus did bring a different feeling to the midway. We enjoyed her banter and use of the carnival tickets we were provided before entering. We wish more could have been done with those tickets; we hesitated to be given the option of partaking in a game or two, but, alas, we left without the chance to win a deadly prize.
Switching gears, a vast majority of the actors seemed to be used for drop wall and 'rawr' scares. Pop scares throughout of actors hidden in every hall, corner, hospital bed, cavern, and even a bathroom will set you wheeling. With the number of actors in this haunt and the various storylines, The Haunt does a very good job keeping you on your toes making you scan every room for the abundance of actors. As lengthy and involved as the haunt is, it can get repetitive near closing. If there were more individually engaged actors to keep you interested in what they had to say vs. shielding yourself from drop wall screams at every turn, it might assist with decreasing the repetitiveness.
---
Costuming: 9.61
How Did We Get This Score?

Costumes at The Haunt are all-encompassing, add to the experience, and are not distracting. Even the ones that are more subdued like the patients and personnel within the Sanitarium with sunken faces seemed professionally done.
High-quality costumes were spotted and appreciated. Most of the actors donned original costumes that you would not see elsewhere. A lot of the costumes themselves had a distinct deteriorated vibe, worn and decrepit looks were the most impactful to us. The use of face paint, blacklight paint, and additions like blacked-out teeth, warts, and stitches all add a little something extra to the actors' characters.
Some full-body costumes, including masks, were seen, all were appropriate, and no parts appeared missing or incomplete.
---
Customer Service: 9.65
How Did We Get This Score?

The Haunt is located within a strip mall on the backside away from the normal entrances. We were shocked when we arrived that the entire back parking lot was practically full from haunt-goers! We parked at the far end and were able to see a banner on the building identifying The Haunt. We were distracted by the mass amount of people though, filling up the lot overflowing from the inside.
Additionally, outside is a DJ booth with music playing, and a few queue line actors were roaming as well.
This haunt is wheelchair accessible, and security measures are present. The Haunt utilizes metal-detectors, and plenty of personnel identified as Security were seen. No safety issues were noted as we ventured through.
All of the staff that we encountered were welcoming and eager to please. They all seemed like they were excited for the night ahead of them and were fun to be around.
All the information about The Haunt is located on their website, including the stories you will experience, ticket prices, and the ability to purchase tickets (for cheaper than in person) online.
---
Atmosphere: 8.2
How Did We Get This Score?

The Haunt suffers from the unfortunate location issue, as some do. Unlike others who are not constrained by ordinances or rules to abide by within a plaza, The Haunt more than likely has restrictions they are following. Thus, there is a sign, queue lines, a DJ booth, but not very much detail on the outside of the building that screams 'Scary Stuff Inside Here!'
The Haunt's waiting area is located indoors but, as busy as they were the night we arrived, the lines seeped out much further than the walls of the building. While you wait indoors, there are unique photo opportunities to take advantage of, detailed walls and scenes and a surprise scare here or there. We particularly fancied the monstrous spider signaling the entrance to The Haunt.
The Haunt also utilizes a 'controlled line' strategy. Groups are positioned in stations and shifted as their turn approaches; this is done on more than one occasion. Doing so is an effort to help with the flow and spacing issues that tend to occur between groups.
Oh! I cannot fail to mention Tinkles roaming the queue lines. He seems to have nothing better to do than get in people's way and cause a disturbance wherever he goes. Make sure he believes you are laughing with him, not at him. Otherwise, bad things could happen to you!
---
Special Effects:

9.39
How Did We Get This Score?

Special Effects is a strong suit for The Haunt. Be prepared to be in awe most of the time as you walk (or run – no judgment) through. The Dark Manor was definitely that, dark, aged, and deteriorating. Skills were used to completely transform that space into such a true rendition of a neglected manor. The manor seemed like it went on forever, an extremely long ranch type manor. I mean, at one point, you find yourself in an attic, a very well-conceived attic (probably my favorite room!) but then realized we never went upstairs. How did we get to this attic? I digress…
The Beasts and Condemned areas had creative mechanical aspects built-in. The toxic water was a very intriguing and hypnotizing part. The Haunt does well at creating ceilings in areas without. We won't insert any spoilers here, simply keep an eye on the sky, and you will see what we mean!
The facades within The Haunt announcing the next adventure coming your way were impressive. Many details like the medical equipment strewn about transports you to too many scenes from horror movies to mention.
There is no shortage of animatronics (over 60!) large and small, and when I say large, I mean LARGE. There were too many to even comprehend, and we wish we would have had more time to see everything for what it was offering.
Lighting was appropriate for each set, low and producing shadows where needed and well-lit in others. Each of the stories had their independent look and feel, and the only way to explain it is for you to experience it for yourself!
Sounds were primarily the sounds of the actors, props, animatronics, etc. It was hard to discern any soundtracks as there was so much action going on in the forefront to consume your senses. Grumbling and growling made a mark from the Beasts area, that was a good enhancement. But again, I could be wrong, and that could have entirely been made by the grumbling and growling cast and animatronics!
---
Theme:

6.84
How Did We Get This Score?

The Theme for The Haunt is a story of Tinkles the Clown's life. They portray the Dark Manor as his childhood home, the Vox Sanitarium where he spent most of his early years, Condemned is where Tinkles' family now lives, Beasts is a little bit of an outlier as we missed the connection to this one. It is connected to Condemned as it is presumably the area behind the Manikin Factory, which is the location of Condemned and where toxic sludge was disposed of creating the beasts within. Finally, there is Sinister Circus, which is Tinkles' Family Circus, and we are assuming where he now is employed.
Additionally, the initial actor we spoke about above, portrays another story about a little girl who is a killer and we are shown one of her victims as well as invited to visit her grave.
The involvement of Tinkles is almost entirely lost once you get into The Haunt. We missed any connection to Tinkles' character as we took our trip through The Haunt. The information on the website is what is reiterated above. We would have liked to see Tinkles as the one whom you encounter when you first step into The Haunt. If he was there to explain to you what you were about to observe and experience that would help bridge the gap, but again, his story disappears quickly.
---
Scare Factor:

8.02
How Did We Get This Score?

Most scares are the animated prop and actor kind, including drop wall and startle scares. We believe there was also a puppet or two in there successfully making us believe it was a somewhat static prop, (luring us in because we like to gawk over props, how did they know!?) Then they suddenly come to life, and not just a quick jolt but as though it could truly see you and follow your movements… creepy.
Unfortunately, with the number of people The Haunt gets through their doors every night, they are forced to combine groups to make larger groups. This can have negative side effects as we experienced, wherein the group you joined are either road-runners, obviously completing a marathon or are slowpokes. We, of course, are the slowpokes attempting to take in every detail. We also of course, were paired with a group who wanted to break a speed record of some sort. The first half was us attempting to get the most out of it, all the while staying near our speedy companions to see the scares. It failed miserably. Almost all of the scares and automated props were missed by us during that part. Eventually, we made a comment, and we switched positions sufficiently forcing the other group to enjoy their haunted experience as long as humanly possible.
All in all, we did miss quite a large chunk, which is extremely disappointing, and we are hoping a solution to this problem will be discovered soon! The scares were again, repetitive, and there were not many stand out terrors. There are plenty of startles that surely will get every patron at least once. However, you get acclimated to The Haunt's flow and can anticipate some things as you go along. Also, the ending could use some work, as it could be amped up to make that lasting impression.
The Haunt has a lot of scary aspects that rolled all together make a satisfyingly spooky time.
---
Entertainment & Value:

8.85
How Did We Get This Score?

For about 35 minutes of awe-inspiring sets, more actors than we could count, animatronics around every corner, and plenty of non-stop frights The Haunt is well worth your money to attend.
General Admission Online: $25 / In-person: $30
Fast Pass Online: $40 / In-person: $45
We whole-heartedly encourage you to splurge and get the Fast Pass, if the rest of the season is anything like what we witnessed while being at The Haunt, your time is worth the few extra bucks, don't say we didn't warn you!
---
How Did We Get These Scores

---
Guest ReviewsGuest Average: 10 out of 10
Andy Towers – 10/10 – October 20, 2023I have been to haunts all over the state. Some of them really stand out above others. The haunt is …show more one of the most detailed and impressive one I have seen. Great actors, costumes are amazing and the sets are so impressive. Definitely going back again next year.
Amber – 10/10 – October 31, 2018It was a lot more fun this time around than last year honestly, bigger, scarier and overall creepy …show more as hell but loved it, we go every year around Halloween no kids as a group and lots of FUN.
Jeff Sullivan – 10/10 – October 27, 2018The new Haunt is amazing. Love the new look and scares
---
Past Awards
---
2019 Awards
Craziest Patients (Given by: Team Michigan Macabre)
---
2018 Awards
"Beauty is in the eye of the beholder" - Best Set Design (Given by: Team Scary Potter and the Hauntwarts Express)
---