The Haunted Forest – Full Review
The Haunted Forest is a Haunted Attraction located in American Fork, UT.
6000 West 6400 North, American Fork, UT 84003View All Details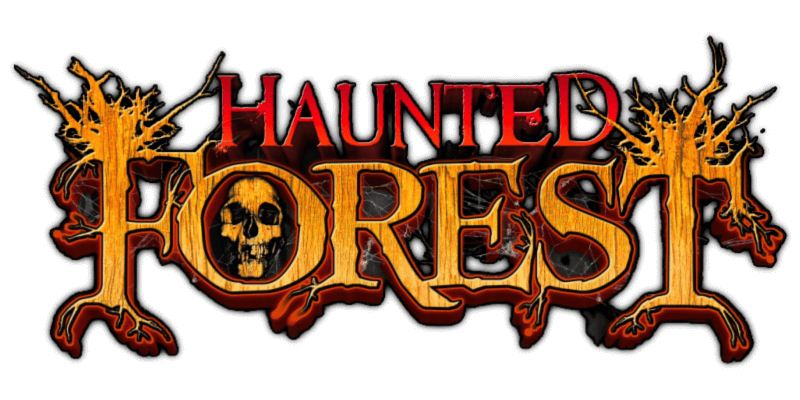 Features:

Free Parking, Restrooms/Porta Potties On-Site, Food/Concessions, Gift Shop/Souvenirs, Movie Characters, Original Characters, Indoor/Outdoor Waiting Line, Indoor/Outdoor Attraction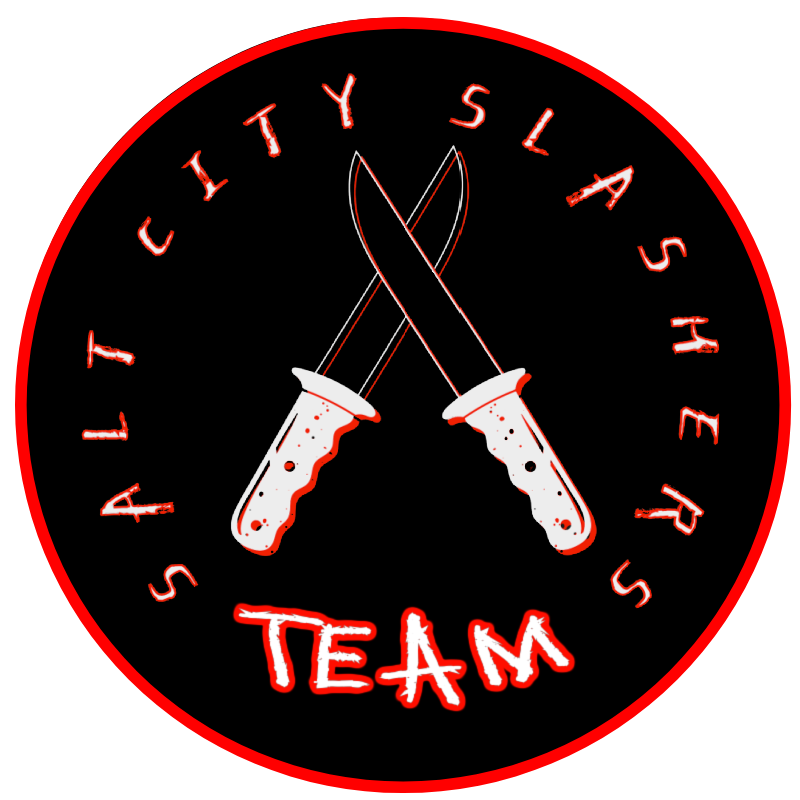 This attraction was reviewed on October 12, 2022 by Team Salt City Slashers.
---
About Our Reviews and Rating System
---
Final Score: 9.56
Final Scores – By Category

Final Scores – By Attraction

Summary:
The Haunted Forest in American Fork, Utah, was a dream that came about while riding horseback through the Utah mountains in the summer of 1990. This year, they celebrate 30 years of being open and celebrate they did.
With an all-new forest every year that spans over 1 million square feet, this is one of the longest haunts in the United States. With real swamps, mine shafts, and more trails than you can imagine, The Haunted Forest will not disappoint you or anyone brave enough to go with you.
---
Cast Score: 9.33
Cast Scores – By Question

Cast Scores – By Attraction

Cast Review:
Once in line, you have your first cast encounter. A veiled woman in all black explains the rules and expectations while in the forest and then sends your group on their way in. Non-verbal actors help you through the beginning scene, which is a dilapidated house with characters to match. Then into the forest, you go. Here, you will encounter an array of individuals, from bloody rednecks insistent on having your teeth to a short, stout man in the woodshed sending sparks and screams into the air from the cage that holds him back.
Then, you will run into some familiar movie characters as you continue through the forest and into what appears to be a boiler room. Samara and Freddy are truly terrifying, so much so that you forget they are actors. Others will appear out of nowhere behind you and play as if they are one of your own, following the group until you turn around and are met face-to-face with scarecrows, the undead, and maybe even a creature from the lagoon that is just on the other side.
The chainsaws heard in the distance may even signify what the end of the maze may hold in store for you.
---
Costuming Score: 9.55
Costuming Scores – By Question

Costuming Scores – By Attraction

Costuming Review:
Whether it's forest or swamp or anything in between the costumes made here at the Haunted Forest are top-notch. The layers and detail put into each actor's wears are visible even when moving past them as quickly as allowed by the rules. (Even though we all want to run at times.) The blood and gore of the Jigsaw rooms is not contained to the walls and props. The actors in this part, although strapped to a giant saw inching its way closer to the abdomen, are bloodied up as well.
The scary nuns in one of the two churches located in the forest are dressed in full habits. The children in the playground are in scary little dresses. Then while inside an old school bus you encounter the creepiest, face-painted young girl I think I have ever seen. Her dead eyes will stare so far into your soul that you may forget to keep moving. Or at least that's how it was for our group.
The MASH unit and asylums had patients of all shapes and sizes decked out in bloody white clothes that were covered in the dirt that surrounded them. The clowns were black-lit and terrifying as only clowns can be.
---
Customer Service Score: 9.7
Customer Service Scores – By Question

Customer Service Scores – By Attraction

Customer Service Review:
The drive there is about 30 minutes from Salt Lake and is worth the journey. Once off the freeway, you are navigated down some pretty dark and what appear to be abandoned roads. You can hear the deep drum beats from inside the forest before seeing its well-lit parking lot. Between the electric arrow signs and staff with light wands, there is no confusion about where you are to park before entering the haunt.
The staff presence is heavy in a place of this size. Just by glancing around, you are able to clearly spot who works there by giant lettering on their backs saying STAFF or SECURITY. Security is of the utmost importance here at the Forest between actual bodies and cameras, the entire ground is monitored to ensure no rules are being broken and that all haunt goers are safe. The ticket counter, which is also where you can purchase merch, is staffed by efficient and helpful people who are willing to answer any and all questions.
---
Immersion Score: 10
Immersion Scores – By Question

Immersion Scores – By Attraction

Immersion Review:
Before entering the haunt they have posted a back story of Cletus and his moonshine, which will be the continuing story throughout the haunt. The use of real burning fires in the queue area starts your haunted adventure off perfectly. While waiting in line, you are greeted by Zelda and The Gravediggers for entertainment as you wait for your turn. They are an animatronic band consisting of Dracula, Frankenstein, and someone I can only describe as the crypt keeper's wife with a walker and hair rollers to complete the look.
Throughout the entire Forest, whether it is haystacks, corn, tires, or the naturally growing trees themselves, the height of the walls fully encases you and only leaves brief openings to peer up at the star-filled night sky. There are water features everywhere! Rivers, ponds, and even a mini lake all reside within the haunt.
Each section is a different theme, and moving from one to the next is seamless. When you are below the ground in the old mine shaft, which has real metal tracks below your feet, it is cool and dark. When you pass over wooden bridges through swampy marshes, there is a wetness to the air and the sound of birds and bugs that may or may not be real. The red glow of the furnace room where you see Freddy gives the impression of being warmer and the blue-lit paths of the playground add a chill to the air. The sights and sounds continue at a quality level up until the very end when you are 'escorted' to the exit by chainsaw-wielding rednecks.
---
Special FX Score: 10
Special FX Scores – By Question

Special FX Scores – By Attraction

Special FX Review:
There is not enough space in this review to possibly cover each and every use of the special effects in this place, so I will do my best to cover all categories.
Animatronics: From small inch-long rats on the floor of the crazy cat lady's house to the (I am guessing) 20-foot demon at the end, this place has them all. On top of having props that spring out around you, they have character animatronics to fit each section. They jump. They chase. They rip off their own face. They move all sorts of playground equipment. They may even eat a friend or two if you aren't careful.
Sounds: Each area has its own unique sounds. There is banjo music in the swamp, cannon and gunfire in the distance, and even a disturbing chewing/buzzing sound that happens when you are in the underground insect nest. That doesn't even cover the screams and yells from the others you can't see, but you can certainly hear all around you. There were chanting children at one point that sounded so real that my group still isn't sure if that one was piped in or if there were a group of kids braving the forest trails behind us with only their voices to keep them sane.
Sets: There are multiple full-size buildings you weave in and out of as you go from cemetery to church to butcher shop and back again. There may even be a slide or two. The use of space is impressive. They have used the natural surroundings to build winding trails only lit by flickering lantern light. Where there are enough trees, they have built their own paths using bridges, pallets, and even full-sized cars.
---
Scare Factor Score: 9.03
Scare Factor Scores – By Question

Scare Factor Scores – By Attraction

Scare Factor Review:
This place boasts of adrenaline-pumping fear from beginning to end, and they do not disappoint. The first real scare of the night is right at the entrance with this girl at the end of a hallway. I'll let you decide if she is real or not when you go. The sparks flying in the wood shop are visually jarring and set the scary tone for what follows: a chainsaw man. Also, he isn't the only one. While going through the swampy area where you can see a white well in the distance which can only hold one person–the ring girl. She is always scary to me. This time, I walked past her while burying my face in the hoodie of my teammate who thought he was brave enough to go first. Boy was he wrong. Later on, he was quoted when talking about her and her movements in the strobe light as "genuinely terrifying." The Freddy we encountered was a loud banging scare that worked marvelously. So much so, that he actually laughed and said "Ah ha! Two for flinching" while putting his glove dangerously close to another teammate. The use of darkness when going through certain shafts and underground areas is terrifying all by itself but they add actors coming out of nowhere to pop in and scare you.
Spoiler Alert. While walking through the church, there is a painting of the movie character, The Nun. It is so beautifully painted and well-lit that you cannot help but draw close to it and admire it for a moment. But just a moment. Because suddenly the painting drops down with a loud crash and an actor dressed as the Nun lurches forward out of the wall causing you to fall to the floor screaming and potentially crawl to the next room. Potentially. Now, remember these are just a few of the scares that take place within the forest. We leave the rest for you to find out for yourselves.
---
Entertainment & Value Score: 9.75
E&V Scores – By Question

E&V Scores – By Attraction

E&V Review:
This place had a general admission line for days. While it was pretty entertaining and quick to move through it, there are three options for tickets depending on how long you wish to wait before screaming. The regular price is $30, but you can upgrade that for $7 dollars to get in the fast pass line. But, if you are really ready to scream and just can't wait, then you can pay $50 and skip the entire line, and be moved to the very front of the victim pool.
Once in, we spent almost a full hour walking and jumping through the Haunted Forest, and every second was worth the price of admission. As always, grab a pair of good shoes and maybe a jacket before you brave the trails of a forest that is unlike any other.
---
View Full Score Sheet
---
Pics We Took From Our Visit:
---
---
Guest ReviewsGuest Average: 7.1 out of 10
Bre – 8/10 – October 29, 2022Kate went above and beyond to help us out. She's a great employee. The only thing I would of …show more charged about the night was separating the groups better. I know it's hard when you have such a busy night but it would of made the attraction more enjoyable. Thanks again for helping us out kate!
Lindsey – 6.2/10 – October 15, 2022It was alright. The animatronics were WAY over done and you could hear the mechanics of them, which …show more took away from the scare. They should utilize more actors. The different story lines differed from mediocre to mildly scary. They also don't space groups out so you are constantly running into the team ahead of you and multiple teams behind you. Overall it was fun and different, but when I go to a haunted house attraction, I expect to be scared. It definitely wasn't worth the $37.
Join ourspookyadventures!
We visit Halloween haunted attractions year-round! Follow us for haunted house walkthrough videos, behind the scenes footage, and more!