The Realm of Darkness – Full Review
The Realm of Darkness is a Haunted Attraction located in Kaukauna, WI.
W2091 County Road JJ, Kaukauna, WI 54130View All Details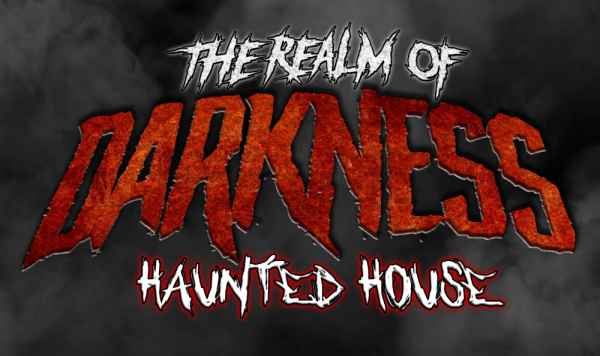 Features:

Free Parking, You will NOT be touched, Uncovered Outdoor Waiting Line, Indoor/Outdoor Attraction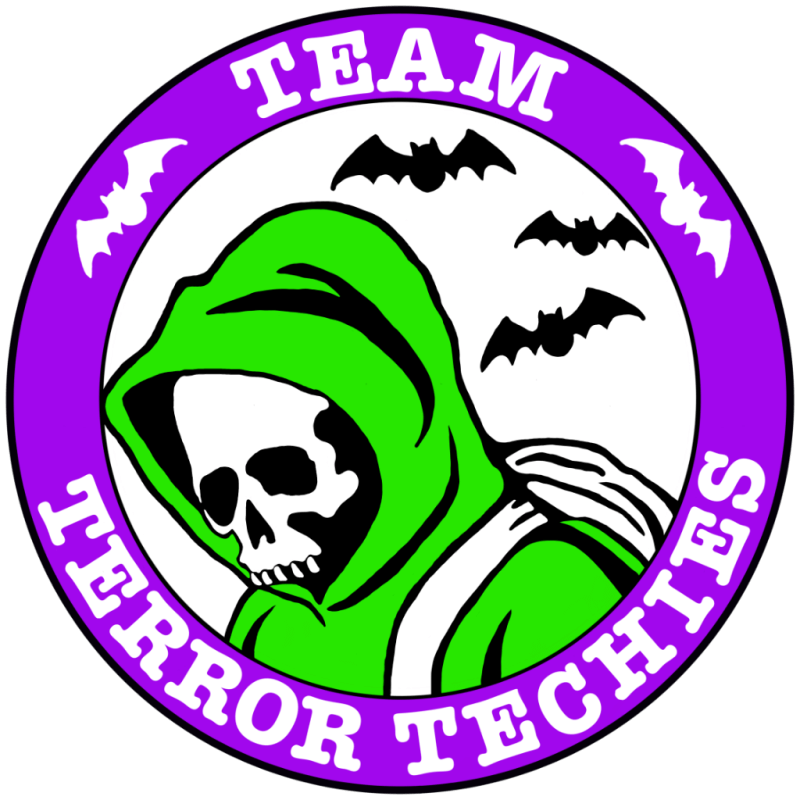 This attraction was reviewed on October 7, 2023 by Team Terror Techies.
---
About Our Reviews and Rating System
---
Final Score: 8.6
Final Scores – By Category

Final Scores – By Attraction

Summary:
The Realm of Darkness Haunted House, now housed in a larger location for 2023 in Kaukauna, Wisconsin, proved to be a memorable and suspenseful journey for our team. We did not know what dark adventures awaited us within this revamped haunt.
The immersive experience at The Realm of Darkness kept us on our toes throughout. The smartly designed layout of the haunt ensured that each scene offered its own unique impression. Whether it was a nun who appeared straight from an exorcism gone awry or a jester exuding the perfect blend of classic and neon, every character felt purposefully crafted.
As you embark on our chilling journey, you'll discover the thrill of navigating through this eerie and immersive haunt, where unexpected scares and meticulously designed scenes await at every turn. Join us in reliving our visit to The Realm of Darkness Haunted House.
---
Cast Score: 8.55
Cast Scores – By Question

Cast Review:
The cast at this haunted house was fun. What set them apart was the incredibly interactive nature of the haunt, and you'll find more details about that in the Special Effects section. Thanks to this unique setup, we had the chance to engage with many of the actors as we ventured through the haunt.
One standout performance came from a creepy clown with long hair in the queue area. They had a live beetle (or maybe it was a cockroach) in a cage, and they'd gleefully show it to people waiting in line. However, the real fun began when they decided to unleash the insect on a group next to us, causing quite the commotion.
Throughout our journey, we encountered a variety of entertaining characters. From a mischievous jester who guided us through the haunt to a sinister scientist eager to perform eerie experiments on unsuspecting visitors, the actors kept the thrills coming.
Inside the haunt, we stumbled upon a maze of mirrors. As we entered, a ghostly, doll like figure dressed in white with long, jet black hair was standing in a corner, as their image reflected in the mirrors. Just when we believed we had solved the maze, this actor, who was wearing the same clothing as the figure, dropped from above, leaving one of our teammates utterly frightened – catching them off guard.
---
Costuming Score: 8.5
Costuming Scores – By Question

Costuming Review:
We noticed that there was much attention to detail in the costumes and makeup of each character. One particularly striking character was the nun positioned at the front of the queue. Dressed in a distressed robe and habit, and featuring grotesque makeup, they looked as if they had just taken part in a botched exorcism.
Despite the queue actors having more elaborate attire than those inside the haunt, a few characters within the haunt managed to capture our attention. For instance, the jester was a captivating blend of classic harlequin style and vivid neon colors. What set this character apart was the flawless integration of their makeup with their costume. Each character was thoughtfully tailored to complement the scene they occupied. It was evident that every character was uniquely designed to suit their specific room.
---
Customer Service Score: 10
Customer Service Scores – By Question

Customer Service Review:
Navigating The Realm of Darkness was a breeze, thanks to the guidance of trusty Google Maps. The attraction offers a spacious, free parking lot, but do keep an eye out for the signs near the street to ensure you're on the correct side of the lot.
The flow of the experience followed a straightforward path. From the parking area, you make a pit stop at the ticket booth before entering the building that houses the haunt. Near the entrance, a helpful staff member awaits in the ticket window to assist with ticketing, and from there, you simply follow the well placed signs to the queue area.
The staff members were readily available, easily recognizable, and willing to assist, although we didn't have many interactions with them. Their presence provided reassurance that help was close at hand for anyone with questions or needs.
The Realm of Darkness website is both thoughtfully designed and user friendly. We easily found all the information we needed, thanks in part to a helpful FAQ section. Additionally, a couple of teaser videos on the site gave us a taste of what to expect, helping us prepare for our visit.
---
Immersion Score: 8.6
Immersion Scores – By Question

Immersion Review:
It was evident that we were at a haunted house right from the moment we arrived at The Realm of Darkness. Outside the building, a spooky decor set the stage, leaving no doubt that we were at the right place for some spooky fun.
As we joined the line to enter the haunt, we were pleasantly surprised to find ourselves in a completely indoor and heated environment. It resembled the parlor of an old mansion with cages on one side that separated the groups waiting to embark on their terrifying journey. Overhead, monitors played a variety of music videos and short clips, setting the mood for the night. On the particular evening of our visit, four queue actors roamed the area, seeking out their next victims… or rather, friends to engage with.
Once inside the haunt, the experience was more dynamic. It felt as if we were constantly stumbling into different, self-contained worlds, each one unique from the last. The absence of encounters with other customers added to the sense of immersion, keeping us fully engaged in the scares within each distinct scene.
---
Special FX Score: 8.7
Special FX Scores – By Question

Special FX Review:
The Realm of Darkness boasts an ingenious setup that ensures each scene holds you captive for just the right amount of time. This not only adds an element of control to the haunt but also guarantees that you won't cross paths with another group, making you feel like you're in your very own private show. The emphasis here leans towards high-tech wizardry rather than animatronics, allowing every scene to unfold at its own pace without the risk of visitors racing through.
This clever setup becomes apparent even before you step into the haunt. Groups waiting in line are sorted into three cages, and the doors remain locked until a nearby light switches to green, granting access to the next chamber. This method continues throughout the entire experience, ensuring that we were "locked in" until the door to the next room was ready to reveal its horrors.
A few scenes really left their mark on us. One of our favorites was the entomology room, complete with aquariums teeming with live insects. We found ourselves trapped at the back behind a locked door as a voice over the loudspeaker detailed a disturbing experiment. The disembodied voice droned on, eventually announcing the commencement of the experiment. Suddenly, the ceiling above us opened up, and rice (or rather, they insisted they were maggots) came cascading on top of us, leaving us with an unexpected souvenir – rice in our hair and a car that may never be the same again.
The shower scene was another standout, featuring multiple shower stalls lining either side of the room. Characters urged us to enter a stall and grab these overhead handles. Just when we thought we were safe, they gave us an electrifying surprise before escorting us out, leaving us with trust issues that lingered long after the haunt.
One of the most enjoyable scenes was the mirror maze room, featuring a life-sized child mannequin dressed in a white sheath dress with eerie, long black hair. The room was shrouded in thick fog, and intense white light, making it incredibly challenging to navigate. This cleverly disorienting setup allowed an actor to surprise us when our guard was down.
As a thrilling conclusion, we encountered a deceptively simple yet highly effective scene – a wooden maze radiating in an eerie red glow. Two actors led us through countless dead ends, only to vanish mysteriously in well hidden doors while directing us where we needed to go.
---
Scare Factor Score: 8.58
Scare Factor Scores – By Question

Scare Factor Review:
The experience at The Realm of Darkness was truly thrilling for everyone in our group, serving up a diverse array of spine tingling moments. The self-contained nature of each scene kept us in suspense about what awaited us in the next room. This unique setup gave the actors ample room to surprise and frighten us in ways that went beyond the typical startle scares.
Among the several times that we were (more than) startled, one stood out – the mirror maze. The timing of the scare was so well executed that none of us saw it coming, leaving us in a state of pure shock.
The final scene took a different but equally memorable approach. Instead of a loud bang or a sudden jolt, it was a more lingering conclusion that stuck with us. Trying to find a way out of the maze felt like an eternity, as if we were trapped in an endless loop of asking actors for help only to be led to another dead end. Just when we were on the verge of losing hope, we managed to find our way out of the haunt.
---
Entertainment & Value Score: 7.75
E&V Scores – By Question

E&V Review:
At The Realm of Darkness, you can snag a general admission ticket for $20. To put it into perspective, it took us around 21 minutes to journey from the jester to the red maze – this equates to approximately 1.05 minutes of spooky entertainment for every dollar spent. This value matches the national average for haunted attractions. Fast Pass tickets are also available for $30.
In our opinion, the ticket price was a fair match for the entertainment we encountered within the haunt, making it a worthy investment for a night of chills and thrills. Plus, if you're in the mood for a quick bite after your haunting experience, there's a conveniently located pub nearby where you can refuel and discuss your adventures.
---
View Full Score Sheet
---
Pics We Took From Our Visit:
---
Promo Images:
Click to Enlarge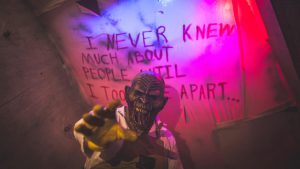 ---
Guest ReviewsGuest Average: 9.1 out of 10
Will – 9.1/10 – October 13, 2023As someone who has visited many haunted attractions, I have never experienced anything like The …show more Realm of Darkness. The scenes, actors, sound, and environment were top notch. They succeed at toying with you and making you uncomfortable.
Join ourspookyadventures!
We visit Halloween haunted attractions year-round! Follow us for haunted house walkthrough videos, behind the scenes footage, and more!