The Vault at Komnata Quests – Full Review
The Vault at Komnata Quests is a Escape Room located in , .
160 Pearl street, 202, New York, NY 10005View All Details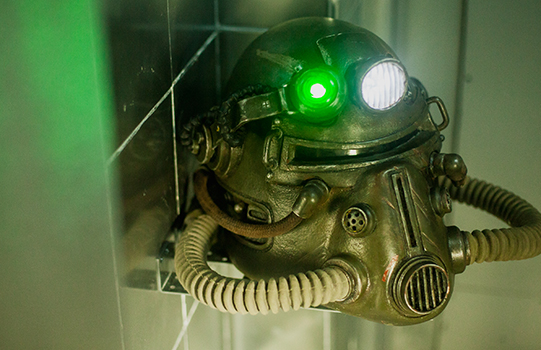 Features:

Restrooms/Porta Potties On-Site, Handicap Accessible, All-Indoor Attraction

This attraction was reviewed on March 24, 2018 by Team Scare Response Unit.
Final Score:

8.51
Summary:
Jump out of the Power Armor, put down that Wazer Wifle, and tell Preston to go help that damn settlement himself, as we take you deep inside of Komnata Quests' 'The Vault.' This Fallout themed escape room will make even the most inexperienced vault dweller as giddy as if they were hopped up on Jet. With unique tools and familiar props, this room immerses you in the world of Fallout with it's music, it's design, and it's post-apocalyptic feel. We barely escaped, with just over 5 minutes left and 6 of us working together to hack, decrypt, and solve our way out of there with what we needed.
---
Atmosphere & Customer Service: 7.85
Finding anything in the city can be a hassle, and it's no different for Komnata. A small sign sits next to an intercom, alongside a single door. That is the entrance, and if you are not paying attention you can walk right by it. But once inside and up a flight of stairs (or up the elevator), there are marquis style posters displaying the four rooms offered at this location, including one with a Power Armor helmet prominent front and center. That was our mission for the night, The Vault. The lobby is a dark room with seating for about 5 people, plenty of coat hooks, and music playing from an old style radio. It was a homely yet mysterious and slightly foreboding feel, perfect for one of their other rooms, Cursed, but still comfortable enough to relax before any of the other rooms. The staff was friendly and welcoming, having us sign our waivers and take a seat while talking about the job of the gamemaster. You can tell some of them really enjoy the job. There were no pregame puzzles or anything, but you get to see other teams come out and take their 'We're awesome/We stink' photos.
---
Immersion: 9.17
The name of the room that we did was 'The Vault.' Upon hearing the name your first assumption may be 'oh no, another 'get out of the bank vault' room, how original.' But nope, that is definitely not what Komnata has in mind. Instead, the vault they are talking about is hundreds of feet underground, some time after a nuke or 3 have been dropped, and now your best friends are Stimpaks and Radaways. That's right folks, it's a Vault-Tec vault, and you are in the world of Fallout! With props, tech, puzzles and factions straight from the games, there is plenty here to keep you immersed in the theme. The sounds are fitting and there are some unique lighting effects. The props are fun and reminiscent, and your Gamemaster'well he's interesting to say the least.
---
Gameplay: 8.5
Probably the coolest feature of this room was the use of a certain item to keep track of time, request hints, and other fun features. This handy gadget is a necessity for any Wasteland survivor, and it's incorporation was unique and pretty awesome. It did have some drawbacks though, such as a 'under ___ minutes remaining' timer, instead of an exact amount. The puzzles were logical and straightforward, and there weren't many red herrings to confuse the players. Hints were dished out quickly and with the push of a button when they were needed. The puzzles will test you in a variety of ways, from some simple math to some feats of physical aptitude. The players really do get to find out if they are S.P.E.C.I.A.L.
---
Entertainment & Value: 8.5
Komnata has locations all over the world, with three different locations in NY alone. They have one of the highest admission prices we have seen, but for a good reason. Not only are their rooms original, well-detailed and very well designed, but when you book a room you are booking a time slot. That leaves you open to having a private room, with no random strangers, and the ability to invite friends last minute to fill up any open slots remaining without fear of them not being able to join in. Prices range from $30-$50 per person, and most rooms accommodate between 6-8 players. After every room one of the hosts will tell you that if you put a deposit down before you leave, you will get 20% off your next room, with no need to pick a specific room/date at that moment. This is a great incentive to come back.
---
How Did We Get These Scores