Trail of Terror – Full Review
Trail of Terror is a Haunted Attraction located in Wallingford, CT.
60 North Plains Highway, Wallingford, CT 06492View All Details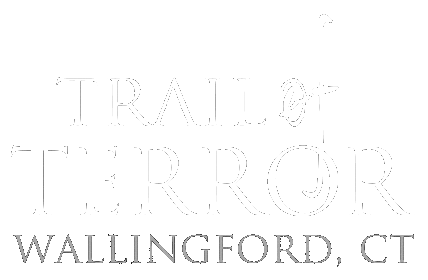 Features:

Paid Parking, All-Outdoor Attraction

Team Old Crow Hollow reviewed this attraction on October 7, 2017.
Final Score:

9.06
Summary:
Chaos, confusion, disorientation, confusion and more chaos is probably the best way to describe this haunt. It is intentionally designed to break the traditional structure of a haunt in a way. You still follow along a course, but it's not the typical point A to B to C type of thing where here's a path, then a house, then a path, it's not really structure at all. That is actually its greatest feature and strength in that from place to place you don't know what each structure holds. There is really no way to know what to expect or what is coming next, what is going on, how long each section is going to be as they vary in size. I felt totally disoriented, particularly in the front half.
There are two sections to this haunt. The first section takes approximately 25-30 minutes to go through once through the queue line. The queue line consists of music, varied characters, an enormous animatronic pumpkin, and gun shots being fired off randomly from somewhere unknown on the property. You have to walk through a wooded trail just to get to the front gate of the haunt. Trail of Terror is an enclosed area that basically utilizes the trees to the max. If there's a tree, you're going to go in it, around it, through it, or it will be part of a structure in some way shape or form.
Once you get through the queue line, you enter and get initial instruction on what to do. You start off in a smaller group. I feel like the groups were split and dispersed well. You never felt like you caught up to another group, nor did you feel that another group was catching up to you until you neared the end. It's hard to remember the areas individually because of the set up. They ranged in size and setup but one flowed into the next.
There was a full size school bus that was used as a long walk through to a building. Upon approach of this bus, my spidey senses started tingling. Typically a bus in a haunt means a feeling of confinement and usually nothing good ever happens.
The second section of the haunt takes around the same time to go through, however it feels shorter than the first. There were bigger walk troughs and bigger structures. There were also some more recognizable structures in this half. This includes the classic house from the first 'Halloween' movie, a nod to stranger things, as well as some other movie related connections. There was definitely a coolness factor of being able to walk through the set of the 'Halloween' house. The details were amazing, however the length of time it takes to walk through the house takes away from the intensity level and confusion that was felt on the first half of the haunt. The trail over all has been detailed incredibly. Each scene was well thought out and planned to feel real. You feel like you have been transported to another world. In speaking with the owner, I learned that each year they change out 65-75 percent of the scenes to keep things fresh. The sets looked like they were well worn in, as if they have been there for 10 years. It's like they only need to tweak things and change out the scenes. It's all set out in the middle of the woods, decorated well, extremely disorienting, and just awesome looking.
It was just an amazing experience where I just felt completely disjointed, and really didn't know what was coming next. The amount of work and effort that is put into this haunt was amplified when finding out that it's not-for-profit. This is truly a mix of the love of the haunt, and a love of the people. They have raised millions of dollars in the years that they have been in business, that all go to local charities. After the bills have been paid, everything else is given to charity. The value of the haunt is at least double what you pay. You never really know what's coming next, you may think you do, but you don't. With all of these things, it really explains why this haunt is so well attended.
---
Cast:

8.71
The actors were believable. They were very interactive as you walk through. They stayed in character well, and used the surrounding props and scenery to play into what they were doing. With so much to use, they are able to change things up and not do the same thing over and over. However, there seemed to be an excessive amount of startle scares. There wasn't much in the way of dialect. At times it felt like you could feel the transition of one actor to the next instead of it being more of a seamless flow. There were a few instances that there were two actors, but really only one of them was active. With that exception, overall the cast was very enthusiastic and energetic. I feel they performed their duties well.
---
Costuming:

8.58
The costuming was good. There wasn't anything great or exceptional. What was done, was done well. The harder part with this costuming is the fact that nothing is really 'traditional' with the characters in play. For example'. If it were an asylum you would have expectations, but because the scenes were all original, there were no expectations for the characters. One thing I will give them is the fact that they don't really use masks. With the approximate 180 actors they have, they all use mostly makeup. Although there's not a 'norm' for the character set, the makeup is very well done.
---
Customer Service:

8.38
Easy to find. It was off of a main road. There were two parking lots. One is a large field in front of the haunt for $8.00 or there is a business next to it that will park you for $5.00. You will be the same distance away from the entrance in both of these lots. The queue entertainment was above par. Although the staff seemed to be a little less than what I'm used to experiencing, it was not lacking. With all of the different transitions with sets, houses, locations, to trails, there are a lot of different level changes. The most noticeable difference was the gap between stepping off of the house into the trail. It seemed that it could be dangerous in the dark and I felt that I was giving directions, ie: watch your step, we're going up, we're going down'etc. I could just foresee there being opportunity for someone to easily twist an ankle or fall. This is really the only negative thing that I can say about this haunt. However it's also something that is easily fixed just by making people aware to watch their step before they start, or adding ramps, or making it more level.
---
Atmosphere:

9.67
Atmosphere was fantastic. The shotguns that were mentioned previously really added to this. Not only were they being done randomly, they were not always in the same place. The fact that they were moving really added to the adrenaline effect of them. When you pulled up, you definitely knew that you were at a haunt. There was no second guessing that fact. The fact that you had to walk through a trail in the woods to get to the main part of the haunt would quell any thoughts of not being sure you're at a haunt. Then, when you get to the main part, they only let you in if your ticket times are coinciding with that actual time (ie: If your ticket time is 10:00 pm and it's only 9:00pm, you will not be let in unless there is extra room). I believe this to be done to prevent overcrowding and keeping the proper flow of things. So even though that area was a little crowded, the benefits of the inside experience was well worth it. It's dark enough to set the atmosphere, but not dark enough where you can't see. You are surrounded by tall trees. The queue line wraps around the outside, but you can hear the screams all throughout.
---
Special Effects:

8.75
Sound effects were appropriate, creative, and effective especially when dealing with the sets. Scenes were so completely detailed to make it feel lived in without feeling over the top or cluttered. The animatronic pumpkin king was cool. For as many transitions they had, you didn't feel the transition. This I believe to be important to effects. You don't want to feel that you're moving from one thing to the next. Lighting was excellent.
---
Theme:

N/A
Trail of Terror advertises "Blood Line" this season but we weren't introduced to a storyline before entering. This specific haunt was set up in such a way that it seemed that it wasn't really meant to have an overall theme. Every scene was set up very well and details were excellent, but it's like each scene was a different theme. There was not one theme overall from what we could tell. It was almost like Alice in Wonderland meets Halloween, in the sense that Alice is falling down the rabbit hole and you just see all kinds of crazy scary stuff. The iconic parts of the haunt were cool, but at one point Pennywise showed up in a scene where he didn't really belong.
---
Fright Effect:

9.33
One word'. UNPREDICTABLE!!! There were frights coming from everywhere. They got the group as well as getting us individually. There was really no rhyme or reason for where or when the scare was coming. This is probably what made it most frightening. When you are an avid haunt seeker, sometimes it's easy to pick up on when basic scares are coming. Here'.I couldn't really do that. No person, no place, no location, was safe. Just be prepared to get frightened!!
---
Value:

9.97
The only reason this haunt did not get a perfect 10 on value is the fact that the walk through was just short of the hour mark at 55 minutes. You will have a hard time finding a better value for your money. It's only $20 (timed ticket option) for 55 minutes of entertainment. That's almost 3 minutes per dollar that you spend. Even with the paid parking added in, it's more than worth it. You won't feel like you have seen the things in this haunt before. You will definitely want to go back and bring more people. It's one of the most unique haunts I've ever visited. I can't wait to see what they come up with for next year!
The haunt also has $15.00 general admission tickets but these appear to only be available if there are tickets left after the timed tickets are sold. Additional information may be found on their website.
---
Promo Images:
Click to Enlarge
---
Guest ReviewsGuest Average: 8.63 out of 10
Ashley – 10/10 – October 12, 2018The Trail Of Terror Hass to be the best Hall I've ever been to because they are actually on theme …show more with everything, their make up does lack a little bit But they are always to the point and on character. When I first went there two years ago I was so amazed by the clown with the blue mohawk on top of the Porta potty hitting it with a hammer to scare the customers, or the clown with a very colorful hair into t but they are always to the point and on character. When I first went there two years ago I was so amazed by the clown with the blue mohawk on top of the Porta potty hitting it with a hammer to scare the customers, or the clown with a very colorful hair and too-too walking around. All of the trail is in our walk-through and decently priced for tickets I would 100% highly recommend this want to anybody because it is just that good
Tristan – 10/10 – October 14, 2016Best haunted house in the state! Hands down… Go online and get your tix bc you don't wanna miss …show more this place!
Phil Anderson – 9.52/10 – October 4, 2019I like this one more and rank it higher than Scare Factor. This haunt has been around for years, and …show more every year it's a little more refined. There are some really terrific people who go all out to put this one and it really shows. The atmosphere just leading into the event, the snaking line where you get glimpses and lots of sounds of the haunt, and are broken up in to stages, are a great set-up.
Once you're inside it's long, scary, fun and detailed. The scares can really get you, and the bits of humor you get out of some actors are often perfectly timed.
If you look elsewhere this haunt is frequently ranked as one of the best in the state, or even the northeast, and there's a reason for that. It may not be the very best, but every year they do a great job with a very well run, plenty scary haunt.