Twisted Trails – Full Review
Twisted Trails is a Haunted Attraction located in Wilmington, OH.
5719 W State Route 73, Wilmington, OH 45177View All Details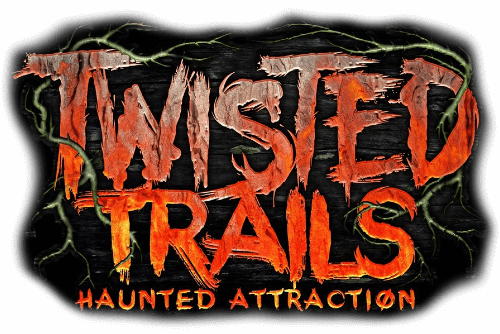 Features:

Free Parking, Restrooms/Porta Potties On-Site, Handicap Accessible, Food/Concessions, Gift Shop/Souvenirs, "Hi-Tech" Attraction, Uncovered Outdoor Waiting Line, Indoor/Outdoor Attraction

Most Recent Video from The Scare Factor:
(Scroll for Scores and Written Review)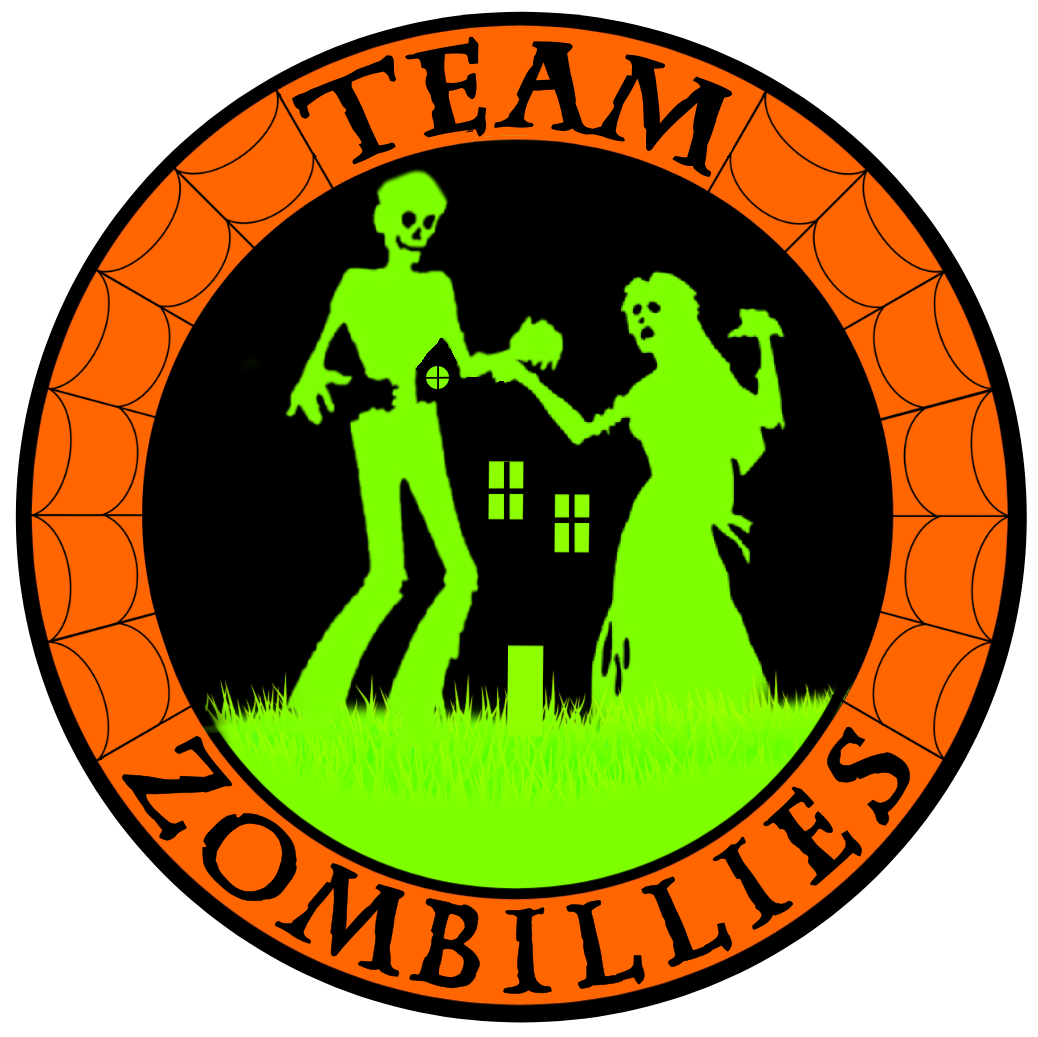 This attraction was reviewed on September 16, 2023 by Team Zombillies.
---
About Our Reviews and Rating System
---
Final Score: 7.74
Final Scores – By Category

Final Scores – By Attraction

Summary:
At the witching hour, when the moon is full and the wind is still, cursed creatures descend upon the shadows of Kirkwood Camp & Adventure Park. The hour has struck on this cool September night, and the cursed souls cry. It's time for billionaire Mr. Muck to pay the price.
When the sun goes down, Twisted Trails inhabits these grounds, consisting of an indoor haunted attraction, Muck Manor, and two outdoor trail sections dubbed the Upper and Lower haunted trails. This would be the first time our team visited this haunt. As we screamed and squirmed through the strange paths, we questioned why we agreed to visit. Not because we weren't enjoying ourselves, but because unspeakable things in those woods were trying to kill us, eat us, stalk us, you name it!
Just when you think witches are a thing of the past in many haunted houses, you best be thinkin' again. These spellbinders will stick you in their simmering broiler faster than you can say, 'Toto, we're not in Kansas anymore!'
---
Cast Score: 7.38
Cast Scores – By Question

Cast Scores – By Attraction

Cast Review:
Our journey began in Muck Manor, where The Bellhop welcomed (and warned) us. She had a creepy calmness about her; we couldn't quite put our finger on it, but she was one of the most believable encounters of the night. The superb acting continued with the caretaker Castor Lock (or was it Castalot?) expressing his disdain for Sir Muck as he angrily shook his arm and scowled at us.
From here, the acting changed. The characters no longer spoke; they mostly only jumped out and awkwardly stared at us as we passed. There also weren't many of them. Additional physical energy by the cast members as they learn to move about their scenes quickly would increase believability, add more scares, and help cover the attraction better.
Along the Upper Trail, the cast showcased the strongest performances. Following an interactive iteration of the tale we heard back in the swamps, lively inhabitants began to seep out of the woodwork! By far, some of the most wicked were, of course, the witches. They were snappy, sassy, and sinister in their deliveries. They fed off each others' dialogue, often following up with cackling laughter. One warned a group member that they had "more meat on their bones, so [they] would make a good meal!" Time to skedaddle!
We wouldn't make it far before some sneaky scarecrows spotted us trudging through their corn. Just when we thought our tip-toeing couldn't be heard, they attacked! They must have thought we were crows or something. As one lanked closely behind us, they demanded our skin to "make them feel better." Uh, no, sir-crow, we're using that! Shortly after, a pumpkin man joyfully jumped along the path ahead and quickly disappeared into the dark. Uhm, where did it go?
From here, there wasn't much dialogue other than some noises. However, some of the crawling critters interactively lunged at us, and it worked. Although the scareactors were spread throughout this attraction better than in the others, there was still some dead space. The house trailer stood out to us as oddly quiet, and although someone was in there, we nearly missed them.
The variety of characters we faced within the Lower Trail was quite a collection. In line with the others, we received a dynamic preface from the Crypt Keeper. If there was ever a time to turn around, this was it, but we weren't aware of the werewolves ahead, so we kept going. Werewolves, you say? Yes, big uns!
Pacing onward into the forest, we met a funny ghost named Elizabeth, who verbally interacted with us. The clowns were also playful and energetic. One quick-on-its-feet clown messed with us as we stumbled through the maze. At one point, we yelled "Marco" out to him, and after a few seconds, he came popping out of nowhere with a loud "Polo" as he ran off. This left us screaming and laughing! They always say, "If you can't scare them, entertain them," but why not both?
Additional monsters emerged from the darkness as we continued to get further and further away from where we once began. It was becoming quite clear that it was just us and them. Considering the size of the werewolf we watched attack an innocent victim; we knew there was no hope for us.
A few more interactions were found, but on the night of our visit, there were times when we felt like we walked for quite some time without seeing anyone.
Note: We visited this haunt on their media night. We were informed that not all cast members were present and that some were working more than one haunt on the night of our visit (which is not normal), so you will likely have a different experience.
---
Costuming Score: 7.82
Costuming Scores – By Question

Costuming Scores – By Attraction

Costuming Review:
Per the note above, cast members quickly changed costumes due to covering more than one attraction on the night of our visit. However, they did a good job of this.
Muck Manor mostly had masks (or fabric covering the faces) versus makeup. An electrical mishap worker about shocked their eyes out of their head, but it was evident they were wearing a mask. If that could be tucked in next time, great!
The costumes matched the areas we found them in, sometimes too well. Several ghillie-style suits were harder to spot in the swamp, and some morph suits were at play. The Bellhop had pale skin with darkened eyes and mouth. She also wore gloves and colored contacts. She had a hat plopped atop her crazy hairdo, which gave her quite a demented look. Maybe that's why we didn't trust her. The caretaker had matching pale skin on his face, hands, and wrists. He also had a bellhop-style hat but wore denim bibs, which seemed odd at the time.
A big hairy imp was by far a standout here. Seeing those big ears and long fingers in the shadows of the swamp was quite a sight!
Many of the costumes along the Upper Trail featured more details and layering. We noticed a lot of tattered and torn pieces, full-length dresses, accessories, jewelry, additional colored contacts, and even veins in the makeup. Each character's appearance worked well with their scenes, and we had fun guessing what the next inhabitant would look like.
A more extensive blend of masks and makeup adorned these characters. Although not super detailed, the makeup helped highlight their faces against the darkened backgrounds. One blacked-out crawler in the spider area turned to face us, and when they did, we noticed their entire face had been painted like a spider, extra eyes, fangs, and all. Yuk! The masks were fitting choices. Not only did they fit the characters well, but they also matched the scenes. The burlap clown scarecrows were a nice touch, along with the burlap pumpkin.
Along the Lower Trail, the costumes remained mostly complete. Masks were prevalent here, with a few makeup designs sprinkled in that matched that of the other attractions. A larger concoction of latex masks were found, mainly on the clowns, but they were unique choices. We would like to note that the mask for the doll costume was not entirely on when we rounded the corner, which broke the illusion of this costume.
Some of the standouts here included the Crypt Keeper, who had clacky gloves, many tatters and layers, and colors even in his hair. The clown with the white suit, large teeth, and weapon in hand also made a lasting impression, along with the werewolf, who looked very real.
---
Customer Service Score: 9.54
Customer Service Scores – By Question

Customer Service Scores – By Attraction

Customer Service Review:
Finding Twisted Trails was easy peasy. Once we punched their address in, we were golden. As we approached, multiple large signs by the entrance made it hard to miss. Additional signs guided us at reassuring intervals all the way to their large, free parking lot.
The site was easy to navigate. This is a park during the day, so the paths are clear and easy to traverse, even along the haunts themselves. The only thing we noticed was that we needed to be aware of our footing stepping in and out of some of the buildings. Keep proper footwear in mind; these attractions are mostly outdoors. Portable restrooms were located near the entrance of the haunts for customer convenience before getting in line.
All staff members we came across were delighted to speak with us; they all thanked us for visiting, and they made delicious donuts! Seriously though, get the donuts; you won't regret it! They were also happy to answer our questions and offered to take our group photo for us!
Before we visited, we checked their website for pertinent information for visiting. A lot of information is easy to find. They have a detailed FAQ page we recommend reading before visiting. We did have a hard time finding any information about the themeing or storyline online.
---
Immersion Score: 7.53
Immersion Scores – By Question

Immersion Scores – By Attraction

Immersion Review:
Fog rolling through the sky with hues of purple and red beckoned us to follow. Two towering props guarding the gate, one a skeleton, the other a scarecrow, welcomed us in true spooky fashion. A goopy fence, pumpkins, and additional fall decor helped set the tone for a night of mystery. We were met with a dimly lit yet intimate mini Halloween town when we stepped inside.
The midway, dubbed "The Boulevard," was filled with various spooky decor. A greenhouse flocked with animated surprises that helped build anticipation to enter, and the lantern-lined walkway helped maintain a spooky vibe.
The entrance to Muck Manor was the most elaborate. Complete with a cabin-like facade and red-illuminated sign. The fog rolling out into the waiting area made it all the eerier. For the trails, the entrances and first theme signs were visible to those getting ready to enter. But other than that, there wasn't much going on once we left the midway.
Regarding the storyline, we were given a brief intro in the first scene of each attraction. We truly appreciated that this theme continued to build as we carried on. This was reiterated by several characters inside the haunts and those giving the story. When one estranged woman carrying a lantern knew we had just escaped Muck Manor, it helped solidify the storyline. At this point, we felt like we had become a part of their story versus just watching it unfold.
The Bellhop gave us the main jist. It seems that Muck Manor is the historic home of billionaire Mr. Muck. He had worked very hard for years, gathering creatures from around the world. Along his travels, he got into some trouble, and some of those creatures have gone awry. She warned us to "beware of the witch" and noted they're forever eternally cursed! After making our way through his home, the Upper Trail took us through the Witching Way, Scarecrow's Decay, and Bad Seed. The Lower Trail took us through The Lost Crypt, Howling Way, and Clown Paradise.
When it comes to the immersion inside the attractions, we noticed some things that didn't quite seem to belong. We could hear the voices of cast members from other scenes in portions of the second trail due to little to no sound effects to mask them. We also noticed a few things that stood out during the lightning strikes in the cemetery. Furthermore, a large case of water bottles was on the steps to the clown van. Maybe these Juggalos were just thirsty, but they seemed out of place to us. There were also some plain walls, black fabric, transitions in and out of buildings in the manor, and caution tape that took us out of the immersion.
---
Special FX Score: 7.24
Special FX Scores – By Question

Special FX Scores – By Attraction

Special FX Review:
The special effects among all three sections varied: ominous hues of floodlights, lots of fog in appropriate areas, well-decorated scenes, large and small props, and animatronics. We honestly weren't quite sure what to expect out there and were quite impressed!
When it comes to the sounds, they were intermittent throughout. Most of them came from the props or animations themselves, but some ambient tracks were also being played. Some sounds were skin-crawling, some were loud, and others were very soft. Although the crickets helped keep things from being silent, there were moments, such as inside the trailer, where sound could help distract from the movement of "potentially" hidden characters.
It was hauntingly beautiful to see the colorful hues of lights wading through the natural trees of the forest. The floodlights used to illuminate areas and scenes, along with the lasers, worked very well. However, there were times when we had difficulty seeing some of our surroundings, such as the boat in the swamp and the long-armed giant witch (?) that came charging at us.
In Muck Manor, a CGI wall of motion pictures stared at us upon walking into a cobweb-covered parlor. Clearly, the maid was eaten off by some creature a long time ago. An eerily illuminated hallway guided us to an old freight elevator unlike any we'd seen before.
We would never guess what was ahead when stepping out of that elevator. What began as a trip in a dusty ol' manor spiraled into a series of areas. These included a 2D room (black and white), a bright radioactive ramble, electrical mishaps, and a rat infestation. Eventually, we found ourselves in the largest laser swamp we've ever seen. The lasers weren't all at the same level, and sometimes, they were above or next to us, which was a unique touch. Although the swamp felt eerie, additional decor, strategic lighting, and ambient sound would help bring it to life.
The Upper Trail sent us through wooden huts and corn stalks, over a bottomless pit, and through the insides of a giant pumpkin. We also came across lots of jack-o-lanterns, decayed scarecrows, corn-covered paths, a very fast-moving witch animatronic, a towering, talking scarecrow, and various-sized spiders that came to life. Did we mention they had spiders? There were spiders; BIG ones, too!
The Lower Trail featured wooden caskets, shots of lightning, a twisty maze, circus sounds, an animated ticket booth (in the middle of the woods – creepy!), and several giant werewolves! In the cemetery, an Angel of Death animated reaper charged at us, and shortly after, a very large talking reaper rose from its slumber as we stared up into the sky at it. One thing we noticed near the entrance was glowing pebbles on the ground; these were really neat!
---
Scare Factor Score: 7.21
Scare Factor Scores – By Question

Scare Factor Scores – By Attraction

Scare Factor Review:
Was it scary? Well, all three haunts certainly threw varying surprises at us, and they succeeded! Scare types ranged from creepy encounters and well-blended costumes to loud noises, common fears, and giant monster attacks.
In the manor, loud knocking caught us off-guard right off the bat. Just when we didn't think that the elevator would move much, we were suddenly in hot pursuit of our destination! These things don't usually scare us, but we weren't expecting that thing to move quite like that! Hold on! One aggressor came up behind us, dragging a shovel, which was rather chilling. A skeletal surprise got a scream out of us; we were suddenly sprayed with water, and we just never knew what (or when) something would emerge from the thick of the swamp. Don't trust the bushmen!
There was no final scene after the last scare actor was revealed in the swamp. Adding a more effective finale would undoubtedly make the walkout more impactful. As it is, the conclusion left us wondering, "Was that it?"
The Upper Trail got the most reactions out of us. It was hard to spot all of those denizens in the dark, and some of them were fast! The witches were threatening with their dialogue, and those screwy scarecrows wanted us out of there. Additional beating on walls, stalkers, and a very good double tap in the spider area kept us on our toes. A sudden falling scarecrow got a jump out of all of us, and a tight tunnel led to an encounter with a horrendous, giant spider creature that gave us nightmares! Just the noises it made were enough to make our skin crawl.
Although we won't spoil any details, the finale of this attraction was a bit odd. There was some time between the last scene of action and the finale. It wasn't as effective compared to some of what we received on the trail.
We hope you're not afraid of the dark! Additional large creatures charged out at us from dark places in the Lower Trail, and each one had good timing. A dual-attacking clown wall had us in a pickle at one point, and the maze left us in a daze of disorientation; we thought those clowns would never let us leave. When a giant, furry wolf came walking towards us, and the only way we could go was forward, we about peed ourselves. There are additional scares and startles here, but just know, when you think you're safe, you're probably not, and there's more than one werewolf on the prowl.
Although still not quite a crescendo from everything that went on inside the trail, the finale here was more effective. It's the double-C. IYKYK
---
Entertainment & Value Score: 8.28
E&V Scores – By Question

E&V Scores – By Attraction

E&V Review:
Traversing all three haunts on the night of our visit took us 35 minutes. This is the time spent inside the attractions only. Online pricing is $23 for general admission or $33 for a Fast Pass.
At the general admission price, we received 1.52 minutes of entertainment per dollar spent (MPD). So far, this is a decent number for a multi-haunted attraction venue. But this is where it gets even better. Not only does your ticket grant you access to the three haunts, but you also get the Ghastly Greens: Glow-in-the-Dark Mini Golf and the Bayou Blasters Glow-in-the-Dark Gel Soft, too! Now that's a steal! Also, don't forget your free hugs and puppies from the clowns. Although, we're not sure if we'd take them up on those or not. There weren't any waiting line performers entertaining the line or those in the midway; we're sure they have some on busy nights to help pass the wait.
They have a newly revamped midway this year and a gift shop to purchase various swag, such as shirts, hoodies, patches, and more! Don't forget to check out their photo ops and everything up and down the midway!
This was a fun haunt that took us to the backwoods of Ohio so we could get eaten by werewolves. What more could you ask for? It was a good mixture of interactive and spooky. The location was lovely, the staff were great, and the haunts were unique. If you're looking for a haunt experience that won't break the bank with various scares and scenes, add them to your list this season! And don't forget to try the donuts! Ah! Hah! Hah! Hah! Hah!
---
View Full Score Sheet
---
Pics We Took From Our Visit:
---
---
Guest ReviewsGuest Average: 9.25 out of 10
Kelly Brown – 10/10 – October 9, 2021This is an 10/10 expierience the actors and staff were very into there characters and got some …show more really great scares. The clown in the clown area was especially AWESOME he really did a great job at scaring the guests.
Sharon – 10/10 – October 12, 2019Awesome!! Had a great scare!! Would highly recommend!!
Shanon – 9/10 – October 12, 2019Great haunt!! Lots of scares!! The actors and staff were very friendly!! It's one of the best …show more haunts I've been to. The trail is mostly a flat surface with one little steep hill but overall not too bad. I would highly recommend this haunt.