UNdead In The Water – Full Review
UNdead In The Water is a Haunted Attraction located in Tampa, FL.
615 Channelside Drive, Tampa, FL 33602View All Details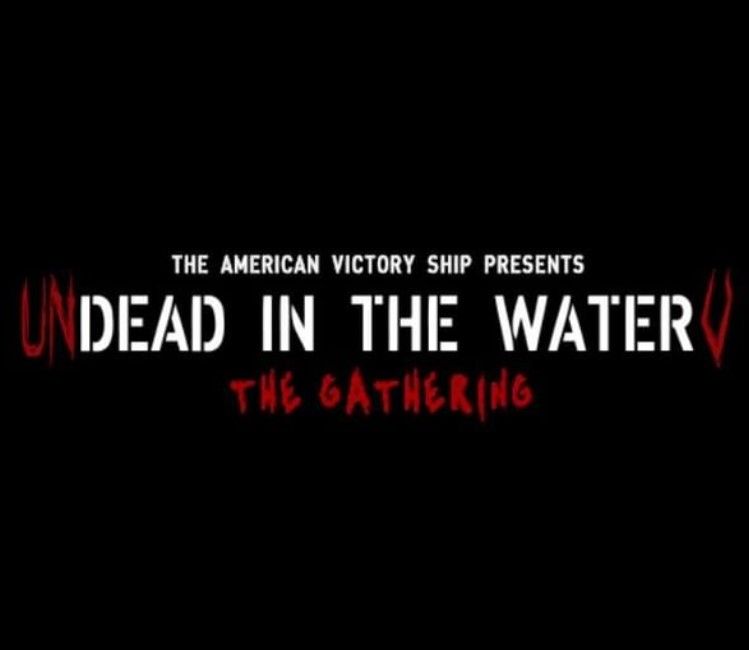 Features:

Paid Parking, Restrooms/Porta Potties On-Site, "Old-School" (Low Tech), You will NOT be touched, Original Characters, Uncovered Outdoor Waiting Line

This attraction was reviewed on October 13, 2018 by Team Giraffic Shark.
How Do We Get These Scores?

Final Score:

8.14
How Did We Get This Score?

Summary:
UNDEAD IN THE WATER makes their first appearance in 2018 aboard the WWII 1945 American Victory ship in Tampa Bay. While home to haunted attractions previously, there is a new team involved for 2018 bringing UNDEAD to life. The creative team has done a lot of work to bring their vision to life, and hopes to continue expanding and developing it as the season and years continue. They have laid a good foundation to begin building upon and polishing into a great haunt. Board the ship in order to survive the zombie outbreak of Tampa Bay, however, it seems it may be too late, as some zombies have rumored to find their way onboard already.
---
Cast: 7.78
How Did We Get This Score?

Cast for UNDEAD IN THE WATER supports a broad demographic, including many young actors and a few more advanced performers (including the Captain and his zombification, and a young man on the open deck featuring neat airbrushed makeup on his face and bare torso, providing aggressive scares with strong follow through). Since a lot of the performers were local volunteers with minimal haunt experience, more advanced scare tactics are still being developed and directed. A few performer bags and personal items were visible while walking through the attraction, and could be hidden or covered better to maintain the illusion of the story and themes. Frequently scares would lack follow through, and character would be dropped after the initial jump scare was attempted, and the performers would reset before Guests had exited the room. There are of course instances where performers did have strong follow through and aggressive performance, providing good scares, including the first few rooms with strong performers behind large nets providing dynamic scares. The young lady in the first room welcoming Guests aboard does a great job of providing story, realization, and panic, though needs to continue until Guests have completely moved to the next room and are involved with the next actor(s). The team at UNDEAD IN THE WATER indicated that performer count was low on the night Team Giraffic Shark visited, so it seems as though there would be less dead spots when all performers are present.
---
Costuming: 7.82
How Did We Get This Score?

UNDEAD IN THE WATER had some nautical costumes to match their theme, but there were plenty of generic costumes as well, and some pieces that stuck out, including a pristine white 'Under Armour' branded shirt, and other items breaking the illusion of character. Makeup was well done, featuring airbrushed detail with UV effects, including some neat transformative makeup applications, which react differently under the ambient light vs the UV flashlights.
---
Customer Service: 8.94
How Did We Get This Score?

Customer Service was high quality at UNDEAD. Between the security staff, ticket staff, and everyone else, the entire team was informative, friendly and helpful. A portion of the creative team was stationed at the exit thanking Guests for attending, and gathering feedback, initial thoughts, and gauging scares upon exit in order to continue improving their attraction.
Any raised thresholds, stairs, and other potential trip hazards have been adequately lit, painted, and marked to keep Guests safe aboard the ship. Parking is paid, and not designated for the haunt only. Most reasonable parking seems to be at the Florida Aquarium lot, at $6, but other garages, street parking, and other options exist, though they can be hard to come by, especially on nights with other nearby events. Note that the ship is docked behind the aquarium, as it can be difficult to locate, though some signs have been placed around the area, labeled 'Zombie Escape Ship.' Portable restrooms and paid concessions are available on location as well.
---
Atmosphere: 8.15
How Did We Get This Score?

UNDEAD has the perfect setting, as it takes place on an actual ship, fully visible before boarding, with screams and sounds echoing onto the dock before you enter. In the future, more lighting could be added (including more on the side of the ship) along with a more robust soundtrack to provide a spooky setting on the dock to increase anticipation prior to boarding the ship.
---
Special Effects:

7.86
How Did We Get This Score?

UNDEAD, besides its visually exciting finale scene, relies on simple effects and scenes to add to the architecture of the ship in aiding the theme. UV reactive paint has been added all over the ship creating fun things to illuminate with the UV flashlights, including threatening messages along with messages of distress, and splatters, smears, and other painted effects. Some physical scenic pieces have been added on the deck of the ship, though this could increase to give performers more places to hide and work with when scaring.
The kitchen featured a cool concept with a translucent plastic tarp wall splattered with UV plant, undulating in the breeze, however the recycled snack jars with UV liquid could be amplified with other props to develop a story or theme, though fun to look at as they glow bright in the center of the room. After discussing with some of the creative team, it seems as though they have big ideas for adding to the concept and execution for next year, including more effects, details, and scenic pieces to add to the experience.
---
Theme:

8.95
How Did We Get This Score?

UNDEAD establishes their theme very well with well-produced videos placed throughout the queue, though upon entering the attraction, the story doesn't seamlessly continue through the entire attraction. These videos do provide good story as well as something to enjoy while waiting in the queue on the dock and once boarding the ship. Cast could be provided with more detailed, and story-based scripting to help continue the theme, including details outlined in the queue videos to create a more cohesive experience.
---
Scare Factor:

7.95
How Did We Get This Score?

UNDEAD has several good scare moments, taking advantage of the effects they have added to the ship along with the natural layout and features to provide scares. As Cast continues to develop, scares will improve, and with more performers added, actors can be placed in more corners, rooms, nooks and crannies to add to the intensity of the walk through, adding to the feeling that there may be something in any of the rooms and around every corner, as far too many were vacant to create the anticipation needed. More automated sound effects could also have this same effect, and perhaps more fog and disorienting special effects to make up for amount of performers available, should staffing challenges continue.
As it currently stands, UNDEAD IN THE WATER is a great attraction for families with older brave kids, providing some good scares, while being a fun walk through with tense moments and anticipation for all.
---
Entertainment & Value:

8.45
How Did We Get This Score?

UNDEAD IN THE WATER boasts a competitive $13 ticket. Compared to other local independent haunts, and offering a fair price especially for the first year as a new attraction, we feel this is well worth the ticket price. It took us 11 minutes to navigate the attraction, bringing their MPD (minutes of entertainment per dollar spent) to 0.85.
So gather up your spare change and head on down to the American Victory and see what's happening onboard this Halloween season.
---
How Did We Get These Scores

---
Guest ReviewsGuest Average: 5.43 out of 10
Aurelia – 10/10 – October 26, 2018Amazing great set up great experience they really do a good job to make you feel part of it. …show more Definitely worth going to. Not only are you part of an interactive escape/haunt but you see the inside of the boat along with an amazing view of the port of Tampa well planned out hope they do it again next year
Kelsey King – 8.7/10 – October 17, 2020It was my first year hearing about this attraction, and I'm so glad I knew someone who worked in it! …show more I'm they type of person to react in a happy way when it comes to being startled. It's hard for me to get scared, however, the setting and the atmosphere was really well thought out and placed. Before we entered and there's the 'doctor' that gives you the cleaning solution (hand sanitizer). That person left a WONDERFUL impression, because after describing the 'color changing means your infected' situation, she stopped on my hands a little bit longer due to food coloring that stained my hands earlier that day. Inside the ship, The spacers were really into it when you come across the first set of stairs (we were in around 8:20). I felt bad for some of these people that kept rambling about 'getting them off the ship' and I just wanted to take them with me. Also the person at the outside who peeked around the corner, immediately fled, and then when you got to the other side they rattled the door a bit and leaned on the chain divider. Please emphasize to your actors that they need to care for their bodies every night. These people had such great movement and were making so much noise. I had a really fun time and would absolutely go again!
Ricky D Hayes – 2/10 – October 14, 2023I was expecting a wow factor for $35 per ticket. It was a 12 minute walk through a musky ship with …show more very few scares, most of the actors/actresses were pointing you where to walk and telling you to watch your step through the ship. This would be scary for ages 5-15 yet not worth $35. Neighborhood haunts are better.
---
Past Awards
---
2018 Awards
Best location for a Haunt (Given by: Team Giraffic Shark)
Actor Shout Out - Shirtless Zombie on open deck (Also Makeup Artist) - Dedication to aggressive and dynamic scares (Given by: Team Giraffic Shark)
Actor Shout Out - Transforming Captain – Dedication to storytelling and selling transformation effect (Given by: Team Giraffic Shark)
---