UNdead In The Water – Full Review
UNdead In The Water is a Haunted Attraction located in Tampa, FL.
615 Channelside Drive, Tampa, FL 33602View All Details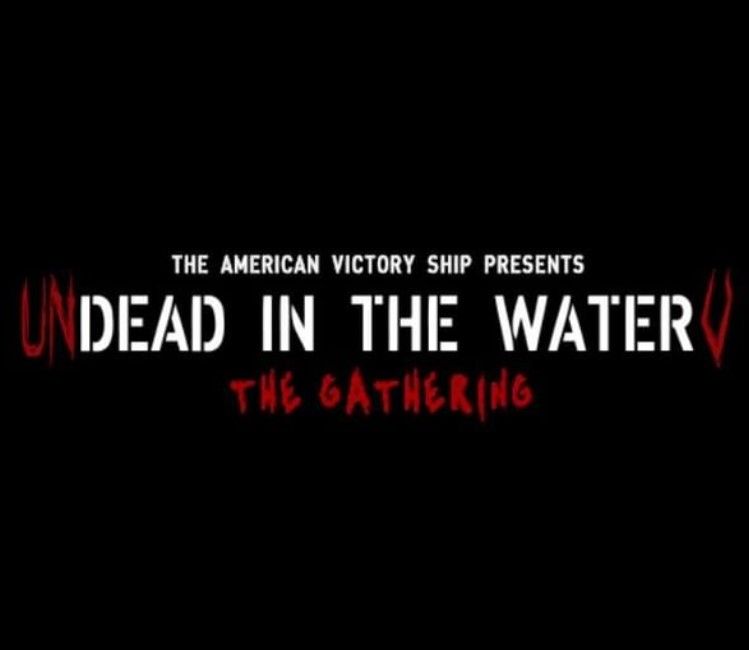 Features:

Paid Parking, Restrooms/Porta Potties On-Site, "Old-School" (Low Tech), You will NOT be touched, Original Characters, Uncovered Outdoor Waiting Line

This attraction was reviewed on October 4, 2019 by Team Giraffic Shark.
How Do We Get These Scores?

Final Score:

8.22
How Did We Get This Score?

Summary:
UNDEAD IN THE WATER returns for their second year aboard the WWII 1945 American Victory ship in Tampa, FL. They have returned bigger and better for their second year, improving on the great groundwork they established in 2018. This will be a great attraction to watch grow over the years as they learn more about their unique operation aboard a historical ship, operating as a museum by day.
Board the ship in order to survive the zombie outbreak of Tampa Bay. However, it seems it may be too late, as some zombies have been rumored to find their way onboard already.
---
Cast: 7.93
How Did We Get This Score?

For their second year, UNDEAD returns with a larger cast, and a healthy mix of experienced and beginner scare actors. Scares range from the creepy to the aggressive, and are well-placed throughout the ship based on scenes. UNDEAD has fine tuned their performer placement in order to build suspense in narrow hallways with performers lurking in the dark rooms, catching Guests off guard as they wander down the narrow dark hallways. This could stand to be amped up even further in future years, with more randomized and scattered performer placements, building the intensity of these locations.
Performers are well scripted and ad lib dialogue within the story parameters, without relying on generic banter too much. As the team learns more about what is most effective in their unique layout, they will continue to improve even more, as has been seen in their improvements just this past year. Actor placement has been fine tuned to create more effective scares, including some great team scares, and can continue to be developed and intensified. The military themed performers were very effective in creating panic and urgency, however, sometimes it was hard to hear specific dialogue over the noisy atmosphere. If desired, the team could slightly amplify voices with a simple belt pack microphone system in order to create a presence over the rest of the cacophony of the attraction, and emphasize the importance of their drill sergeant-esque lines.
UNDEAD has also added more presence on the dock with a variety of different types of characters interacting with Guests waiting in line for tickets and to gain access to the attraction. This is a huge improvement over last year's minimal atmosphere on the dock, preparing Guests for what to expect onboard the ship, and bringing the story ashore.
---
Costuming: 8.4
How Did We Get This Score?

UNDEAD has further developed their costuming this year, including more complete costumes, and furthering the distressing and themed details. Including an increased Cast size, the creative team has taken an effort to increase the immersive theming and suspension of disbelief in these elements. Our review team did notice a (barely discernible due to the distressing) Tampa themed shirt on a zombie which fit into the story of the Tampa Bay takeover, and could possibly be explored further with some transitioning victims (perhaps some opportunities for slightly comedic roles?) of local sports fans/tourists stuck on the dock or ship, warning Guests of the danger ahead, but either way this shirt was a fun easter egg or happy accident. Continuing on the same theme, further variety in character and costume types could be explored to give more depth and surprises to the types of characters found aboard the ship.
---
Customer Service: 8.48
How Did We Get This Score?

As always, the operations team at UNDEAD has great Customer Service, with friendly interactions found all around, and the team is very active in retrieving real time feedback from Guests, thanking them for attending and asking what they thought.
The ship itself naturally has some unique paths and obstacles, including steep stairwells and raised thresholds, and equipment and structures of the ship in the path of travel. However, the team does a great job of highlighting the obstructions with UV paint (visible with the UV flashlights each Guest receives for the walk through). There is one moment where Guests must duck under a set of metal stairs in order to continue. The Actors do a great job of ensuring Guests are not under the stairs when scaring in order to not scare Guests into bumping their heads. Similarly, scares around safety elements (Stairs, trip hazards, etc.) are carefully managed to keep Guests safe as well.
There is a thorough Security checkpoint in order to access the dock, allowing peace of mind for Guests visiting this attraction. Parking is available around the area, with some limited street parking, as well as paid garages and lots. Guests should allow extra time to find parking, especially when events are occurring at the local event centers (including the nearby Amalie Arena). Signage is labeled 'Zombie Escape Ship' directing Guests to UNDEAD IN THE WATER, behind the Florida Aquarium.
---
Atmosphere: 8.7
How Did We Get This Score?

Not many haunted attractions can boast the impressive location as that of UNDEAD IN THE WATER, as a massive historic ship is the location of this haunt, and eerie lighting adds to the ominous and foreboding nature of this large ship. On the night of our visit, one of the main speakers facing the dock was not operational. However, we were told there was more themed music playing for those on the dock to hear, though screams, banging, and other sounds were clearly heard from the ground prior to boarding, enhancing the atmosphere and building anticipation and suspense prior to boarding. We look forward to seeing how UNDEAD will continue to increase their presence prior to boarding, including more themed audio (ship creaking sounds etc. mixed among the music elements).
---
Special Effects:

7.85
How Did We Get This Score?

UNDEAD has added a good number of special effects for their second season. Because this ship is used as a museum during the day, the team has a very limited time to install ALL of their props and effects each night, as none can be visible during the day to tour Guests. This creates a unique operational challenge for the haunt design, and certainly has limitations on what the team is able to accomplish as far as special effects. The creative team took direct feedback from our 2018 review and has made some improvements to their special effects and creative setup, including an impressive build up towards their finale involving some claustrophobic maze elements using nautical equipment (nets, life jackets, hoses, etc.) to create obstacles and portions of the maze. As a next step, the team should continue to develop the finale moment, as the step into the bright museum room (formerly the queue for the haunt in 2018) was a bit jarring after a dark walk through without a big climactic moment following the intensity of the maze (maybe a military style quarantine with a brief confinement and then air gun/strobe blast prior to being released?).
In 2018, there were more UV paint details to be uncovered with Guests' UV flashlights, and these were fun to explore as they added more to the story and 'history' of the ship's happenings. Perhaps in the future, there could be a hidden story among the markings, and maybe even some incentive to find a hidden code or symbols (maybe for a free second trip through the haunt, half price return ticket, or takeaway item?). Those Guests distracted by looking for clues and story details are further engaged and easier to scare.
UNDEAD has made some effort to enhance the intensity of the narrow hallways on the ship, and seems to be on the right path to continue through the season and years to come, including adding distractions toward the end of the hallway, distracting Guests from what may pop out of the many windows and doors along the hallways. The addition of low tech special effects (action triggered audio effects, fog, lighting, etc.) could help to disguise scares and further disorient Guests in these areas.
---
Theme:

9.15
How Did We Get This Score?

UNDEAD IN THE WATER uses the location of the haunt to tell their story and be the center of their theme, allowing the ship to take a central role in the story, according to the Creative Team. They did a great job at follow this although this concept can be further developed in the future to give the ship a more active participation in the story (creaking sounds, water dripping/rushing sounds, more themed lighting additions, etc.)
---
Scare Factor:

7.63
How Did We Get This Score?

UNDEAD IN THE WATER strives to bring a scary, yet not too intense experience onboard the ship, according to one member of their creative team. This is what makes this a great family attraction (for those with older, brave kids), or for those not ready for too intense or extreme haunts. This is not to say that UNDEAD doesn't have some intense and scary moments. The walk through has nice pacing to it, breaking up intense moments with picturesque views and walks between scenes allowing Guests to catch their breath before the next intense passage through this historic ship.
Occasionally, Actors would reveal spoilers of upcoming scenes (example: one Actor said 'Go see the Captain on the bridge and see what's going on', versus 'Head to the bridge and see if there's anything we can do', not alluding to what may be happening to the Captain).
---
Entertainment & Value:

8.48
How Did We Get This Score?

UNDEAD once again boasts a very competitive price at $15 per person. While there is only one walk through on-site (approximately a 12 minute walk through), and if the line is short, there won't be much time spent onsite, it is still a very reasonable price for what is offered. If Guests are looking to make an evening out of it, they are encouraged to research other area businesses to round out the evening, especially if traveling any distance to the attraction.
The improvements made since year one are definitely evident, and there's certainly plenty of room to continue to grow, as the creative team acknowledges, and with their forward momentum and excitement, it seems like they have no desire to stop improving and growing each year. With the very reasonable ticket price, there is no reason to NOT visit UNDEAD IN THE WATER every year and see what they have changed and added. Get to Tampa and hop onboard the American Victory before it sets sail for the year!
---
How Did We Get These Scores

---
Guest ReviewsGuest Average: 6.57 out of 10
Aurelia – 10/10 – October 26, 2018Amazing great set up great experience they really do a good job to make you feel part of it. …show more Definitely worth going to. Not only are you part of an interactive escape/haunt but you see the inside of the boat along with an amazing view of the port of Tampa well planned out hope they do it again next year
Kelsey King – 8.7/10 – October 17, 2020It was my first year hearing about this attraction, and I'm so glad I knew someone who worked in it! …show more I'm they type of person to react in a happy way when it comes to being startled. It's hard for me to get scared, however, the setting and the atmosphere was really well thought out and placed. Before we entered and there's the 'doctor' that gives you the cleaning solution (hand sanitizer). That person left a WONDERFUL impression, because after describing the 'color changing means your infected' situation, she stopped on my hands a little bit longer due to food coloring that stained my hands earlier that day. Inside the ship, The spacers were really into it when you come across the first set of stairs (we were in around 8:20). I felt bad for some of these people that kept rambling about 'getting them off the ship' and I just wanted to take them with me. Also the person at the outside who peeked around the corner, immediately fled, and then when you got to the other side they rattled the door a bit and leaned on the chain divider. Please emphasize to your actors that they need to care for their bodies every night. These people had such great movement and were making so much noise. I had a really fun time and would absolutely go again!
Brett – 1/10 – October 25, 2018I was excited to go from the custume pictures from 2017 and how spooky it looked. There might have …show more been 10 people in costume throughout the whole ship and it was really a disappointment because it could have been awesome…don't go waste your money or time!!!!!
---
Past Awards
---
2018 Awards
Best location for a Haunt (Given by: Team Giraffic Shark)
Actor Shout Out - Shirtless Zombie on open deck (Also Makeup Artist) - Dedication to aggressive and dynamic scares (Given by: Team Giraffic Shark)
Actor Shout Out - Transforming Captain – Dedication to storytelling and selling transformation effect (Given by: Team Giraffic Shark)
---