Unreal Nightmares – Full Review
Unreal Nightmares is a Haunted Attraction located in Jasonville, IN.
117 South Meridian Street, Jasonville, IN 47438View All Details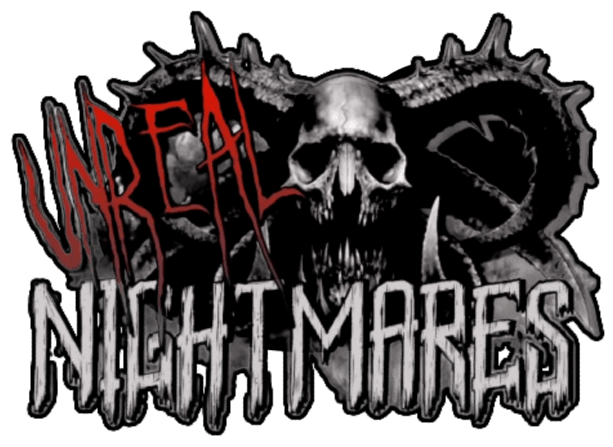 Features:

Free Parking, Restrooms/Porta Potties On-Site, Gift Shop/Souvenirs, Special Events, "Extreme" Attraction, You may be touched, You will NOT be touched, Original Characters, Indoor Waiting Line, Uncovered Outdoor Waiting Line, Indoor/Outdoor Waiting Line, All-Indoor Attraction, Family Friendly

Most Recent Video from The Scare Factor:
(Scroll for Scores and Written Review)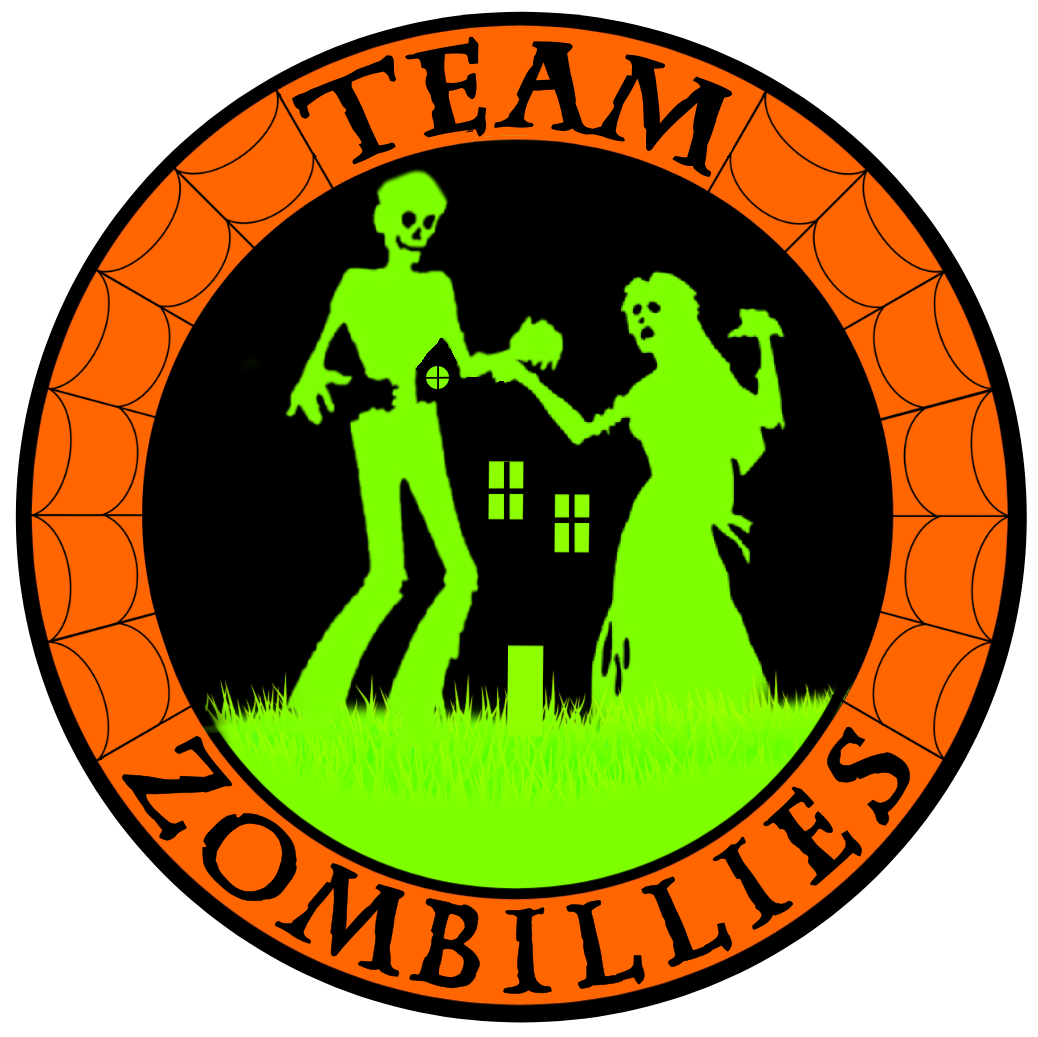 This attraction was reviewed on October 29, 2022 by Team Zombillies.
---
About Our Reviews and Rating System
---
Final Score: 8.14
Final Scores – By Category

Final Scores – By Attraction

Summary:
With each visit to Unreal Nightmares, we've noticed the lines get longer and longer. Now entering its 5th season, this hybrid haunted house/escape room puts guests to the test. Inside, you must try to make it out of a suspenseful series of clues and hidden passages, all while intimidating inhabitants hunt you down!
The SDA, Supernatural Detection Agency, needs the public's assistance. Something is taking over the building from inside the walls, and it's up to you to find the security breach. Are you ready to go on a supernatural investigation?
You'd be hard-pressed to find another haunted attraction like Unreal Nightmares. Not only is it one of the most unique out there, but it also remains one of the hardest haunts to escape alive.
New this year, Unreal is offering an optional touch option. We chose the touch route, so this review will reflect the full-contact experience.
---
Cast Score: 7.91
Cast Scores – By Question

Cast Scores – By Attraction

Cast Review:
This year, the invasion has spread, resulting in more interactions with the many inhabitants inside.
The crew was quite energetic; they filled many areas well and surprised us from different places. The dialogue contained a mixture of common phrases; some included "hey" and some "rawrs," but some also utilized strong verbal interactions.
Agent Lynn introduced us to our task in the first room, giving us a rundown of what was happening inside. She then handed us over to Agent May, our guide for most of the haunt. Agent May's job was to assist us with finding codes and opening doors. However, she only warded off one monster, so just because you have a tour guide doesn't mean you're safe from the beings within.
Some denizens yelled and screamed at us, while others threw things and broke them. Seriously, as we walked into a girl's room, a wooden chair flew across the room and landed on the floor, breaking into pieces. Others also threw things from a pan in the kitchen to large metal objects. The butcher brothers are a mean duo – don't make them mad. Just imagine trying to get to the next scene while they're doing this stuff!
At one point, we came across a madman that offered us flowers, and upon not taking them, he cut an arm off his victim and tried giving that to us instead. We also met a chaotic clown that didn't like to share. For the most part, the characters near locked doors did a great job distracting us, making it harder to stay focused. However, they may sometimes want to give a few better clues to keep customers moving through (or maybe that's just us wanting to get away from them quicker).
When we got to the doctor's quarters, it was evident that he and the patients had gone terribly mad. Four different characters were in this scene doing something different to harass us. They made it challenging to find the numbers to proceed, that's for sure. While a patient kept petting one of us while saying her name, another was speaking to herself and not making any sense. Nevertheless, the patients surrounded us and interacted nearly to the attraction's finale.
---
Costuming Score: 8.56
Costuming Scores – By Question

Costuming Scores – By Attraction

Costuming Review:
We noted some disturbing costume designs and masks during our inquest. Mostly, they were complete and fit the scenes we found them in well. However, there were a few less detailed pieces, such as a zip-up hoodie and typical clothes with lots of blood and distressing. It would be awesome to see more custom creations.
This season, the agents looked more like, well, agents. We noticed that their faces had been infected or something had partially torn off their skin. Agent Lynn's red-colored contacts helped take her appearance over the edge. By looking at these ladies, it was clear they had gotten into something inside, and it would only be moments before we'd experience the "something" ourselves.
While many characters wore distinctive masks, we noticed additional makeup on the dolls, patients, and victims. There was also darkened makeup around the eyes and exposed skin of those wearing masks. We noticed that a hanged man wearing bibs was wearing someone else's face, and his brother was wearing a wicked mask with an apron made of human faces!
Other standout looks included the giant doll creature walking on all fours, the lifelike clown mask with the hazmat suit, the deranged doctor, and a few patients. The doctor had a mask on with tubes all over it, giving him a genuinely sinister look. While one patient with a full bandage of sorts on her head tried offering us her liquid "medicine" via syringe, she was taking it herself and making quite a mess of it. Another patient was using arm crutches with a weird thing wrapped around her head, too; she was something of nightmares, alright!
At the end of the haunt, we were surrounded by several realistic costumes. One had a complete silicone application unlike any we've seen before. This monster had a large claw for a hand and a giant, gaping-open mouth. When you see this, it will make you scream. Another in the same area was a four-legged stilt creature that appeared to be a custom demon, and when this thing stood on just two legs, it was still super tall.
---
Customer Service Score: 8.54
Customer Service Scores – By Question

Customer Service Scores – By Attraction

Customer Service Review:
Our Google Map app took us right to Unreal Nightmares. We were able to find a free parking spot in the lot directly across the street. A namesake banner and red lighting on the building confirmed we were at the right place.
There are a few things to note before visiting this haunt. 1. They are cash only, and 2. We didn't notice any restrooms on-site. However, there is a 24-hour gas station just down the street.
As we neared the front door, there was an extensive line to get inside, which is also where the ticket booth was. Although two doors lead into the building, one for the waiting line and one for tickets (with a yellow arrow), when the queue takes up the whole sidewalk, it can be hard to notice this. Before you get in line, though, you need to purchase tickets inside on the left.
We did find several staff members stationed inside the gift shop that were super friendly and happy to answer any questions we had. So if you have any questions or concerns, be sure to check the gift shop. Inside, the flooring was even, but be prepared to crawl.
Unreal Nightmares (currently) does not have a website, and ticket sales are only on-site. However, they have essential details to visit the haunt featured at the top of their Facebook page. If they could add more information about the attraction and what to expect inside in their "About" section, it may help new customers have a better idea of what to expect.
---
Immersion Score: 7.48
Immersion Scores – By Question

Immersion Scores – By Attraction

Immersion Review:
Outside, a large banner accompanied by two large, gored-out skulls and red lights decorated the front of the brick building. The vibe became much more disgusting once we stepped inside a decorated waiting area with benches and gory details on the walls. The main waiting room was appropriately distressed, giving guests an idea of what to expect inside. However, you should totally try out their custom arcade game; folks were screaming to play it.
As the haunt began, we were given a task by Agent Lynn, who provided some background information on what awaited us inside. As the public, we needed to help the field agents find the security breach and make it to the other end. She warned us that they knew something large was taking over from within the walls in the very back. She also warned that some of her staff had gone inside and never returned.
All of this intro became clear to us inside. We even found an agent trapped within the wall. However, the more minor details of the story did get lost. Seeing a few more apparent agents trapped inside and other reiterations as we made our way through would help bring this to life. It's also unclear what type of building we were in, but it took us through a kitchen, a cafeteria, a doll hallway, a girls' room, a doctor's office, and other indescribable areas.
When it comes to the immersion inside the attraction, we sometimes felt totally entrapped in what was happening around us. However, some transition areas and less-detailed spots took us out of the haunt a bit. Although we understand they're necessary, hearing the staff talking about other groups on the tour guide's walkie-talkie was a bit sidetracking. Sometimes, we felt like the clues were drawn out a bit too long, which was also our fault for not paying attention.
After the attraction, we exited to a nearby street as several creatures followed us outside. Other than that, though, there wasn't anything going on outside. They have a wonderful gift shop, but you will need to go back inside the front door to get to it. We would love to see more at the exit to entice visitors to stick around for a bit, but with their current layout, that may be rather difficult.
---
Special FX Score: 7.98
Special FX Scores – By Question

Special FX Scores – By Attraction

Special FX Review:
Many of the effects experienced in Unreal were created in-house, were authentic, or were used unusually.
They said something was taking over, evident by giant spots of a gross substance spreading along the walls. There were also some well-detailed areas, such as the toy hallway, the kitchen, the cafeteria, and the doctor's rooms. While some areas didn't have many added details, the haunt takes place in an industrial warehouse.
Every year we mention how good the sound effects are inside Unreal Nightmares. This year was no different; the sounds were genuinely terrifying. Before starting our journey, they announced a speaker system to alert those inside that the next public group was going in. From there, our ears were blasted with creepy singing, a girl calling for her mommy, crying, a weird instrumental sound, and many whispers. We could hear the sound effects in every area we entered.
The combination of lighting and fog in areas made for quite a disorienting walk. There were a few hallways where the distressing and lack of vision created an uneasy appearance. It's hard to build suspense in haunts, but a few of these areas did just that. In addition, some of the rooms don't have standard doorways. At times, we looked on the floors for doors, and the doors were totally disguised. On the other hand, there are tons of regular doors that you will need to push your way through. Some of them look very similar, making it hard to know where you've already been.
While Unreal is mostly an actor-driven, old-school attraction, there were a few effective animatronics inside. Someone in your group will need to get close to one of them as it flails about, hanging from the ceiling. When we were in the girls' room, a wooden object flew across the floor by itself, which was an unexpected sight to see. Take note: nothing was as it seemed here.
As we navigated through, stopping to find clues and retrieving objects from a vintage vending machine, we passed a large pot of body parts, through a freezer, into a torture room, through a throat into some sort of stomach, and we watched a lady prop rip her face off. There was also practical use of UV light, but you must visit them to find out what that is.
---
Scare Factor Score: 8.35
Scare Factor Scores – By Question

Scare Factor Scores – By Attraction

Scare Factor Review:
The question that we get asked most often is, was it scary? Unreal Nightmares was creepy, suspenseful, and scary enough that it's among their highest scores in this review.
The denizens within were good at hiding. When we least expected it, they literally came through the walls, climbed out of a window, and came at us from down low and across the floor. Some things are haunted, and random furniture and objects are launched across the scenes (sometimes seemingly all by themselves). We never knew when something was going to go flying through the air.
At one point, an actor's deceiving location led to an unexpected follow-up, and we witnessed another taking out his aggression on his victim. Some characters' looks were scary-looking on their own, and they didn't need to do much to keep us walking along quickly. Oh yea, if you fear dolls, we will pray for you.
The rush we got as we tried to fumble around, punching in numbers the correct way to proceed through the door while monsters hunted us, was a feeling unlike others in haunts. Because we chose the optional touch option, they were touching us, petting us, and holding onto us as we tried to leave their areas. The clown followed one of us into an air duct, and she couldn't crawl fast enough to get away from him as he tugged on her legs, keeping her from crawling out of the tunnel as quickly.
So yes, it's scary. We were stalked and watched at all times, there were sudden loud noises, pitch black and disorienting areas, and you simply couldn't just walk through a door to escape the aggressors. We thought we would need to send for help in the doctor's area as the patients didn't want to let us go.
You won't find any chainsaw chases at Unreal Nightmares. Instead, their finale consists of something very different. In the end, we were eaten by something with unimaginable creatures within it that also didn't want to let us leave.
---
Entertainment & Value Score: 8.25
E&V Scores – By Question

E&V Scores – By Attraction

E&V Review:
Admission prices to test your luck escaping remain the same as last season: $12 for those 12 and older and $10 for those 11 and younger. If you bring the littles, ages three and younger, they get in for free. They accept cash only, but they informed us there's an ATM at a local bank. So be prepared before you go, and bring cash.
Your group's tour time will vary based on how much your guide helps you, how many people are looking for clues, how much you interact, and how fast you find them to proceed to the next section. There mainly was only one person in our group looking for clues, so it took us 34 minutes to find our way out. This length and price ratio brings them to 2.83 MPD (minutes of entertainment received per dollar spent), significantly higher than most haunts reviewed in 2022. This is nearly three times the national average of 1 MPD that we see most often and one of the lowest ticket prices in the state.
As mentioned above, they have a great gift shop with various horror-related items for purchase that we recommend checking out and some clothing. On select nights, they have a food vendor on-site and when they do, be sure to visit them too, as they have some of the most delicious food and beverages out of all haunt food vendors out there.
Because of the design of Unreal Nightmares, only so many groups can be inside the attraction at once. Due to this, their waiting line can get rather long, so be prepared for this. In addition, aside from the arcade game in the gift shop, we didn't note any queue actors or any additional forms of line entertainment. However, in the past, the indoor queue area has been known to hold a few tricks up its sleeves. Currently, they don't offer a fast pass or VIP option for those who want to enter faster.
Unreal Nightmares remains one of the most unique haunts we've had the pleasure of visiting. So, if you like a good challenge and being put to the test, opt for the touch option and try your luck at finding your way out. Good luck, you're gonna need it.
---
View Full Score Sheet
---
Pics We Took From Our Visit:
---
Promo Images:
Click to Enlarge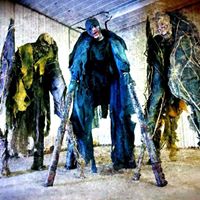 ---
Guest ReviewsGuest Average: 9.97 out of 10
xander richardson – 10/10 – October 21, 2022This is the best haunt I've been to . I think I will be back next year
Gabe Harrison – 10/10 – October 16, 2020This was crazy good. I'm 16 and went with a group of friends. Great incorporation with an escape …show more room and a haunted house. Fantastic animatronics and noises, music, costumes, scenes, etc. FOR $10!!! Will visit this over the big tourist haunted houses that charge $50 a ticket any day. Will be back next year, if not this year.
Chelsea – 10/10 – October 26, 2019Loved this place! Gave the group I went with a good scare. Bunch of teenagers and a few adults. I …show more personally didn't go through because of the strobe lights due to a medical issue. My husband knows how much of a horror fanatic I am. So when the few actors came out chasing our group and did pictures, he asked if they could send another actor out so I could see her. He explained the situation on why and they allowed me to walk in (because where she was, there were no strobes) and see her and take pictures. They're genuinely nice, great people! They told us they wish they would have known before hand, and they would have shut the stobe lights off, so I could have experienced it myself. If you're looking for a good time, with a great scare….this is the place to go!
---
Past Awards
---
2022 Awards
Craziest Patients (Given by: Team Zombillies)
Most Unnerving Sound Effects (Given by: Team Zombillies)
Hardest Haunt to Escape Alive (Given by: Team Zombillies)
Xander the Clown - Xander Richardson (Given by: Team Zombillies)
---
2020 Awards
Scariest Actress - The Crawling Nurse (Given by: Team Zombillies)
Hardest Haunt To Escape Alive (Given by: Team Zombillies)
Most Unnerving Sound Effects (Given by: Team Zombillies)
---
2019 Awards
Best Homemade Masks (Given by: Team Zombillies)
Most Unnerving Sound Effects (Given by: Team Zombillies)
---
---
Past Awards
---
2022 Awards
Craziest Patients (Given by: Team Zombillies)
Most Unnerving Sound Effects (Given by: Team Zombillies)
Hardest Haunt to Escape Alive (Given by: Team Zombillies)
Xander the Clown - Xander Richardson (Given by: Team Zombillies)
---
2020 Awards
Scariest Actress - The Crawling Nurse (Given by: Team Zombillies)
Hardest Haunt To Escape Alive (Given by: Team Zombillies)
Most Unnerving Sound Effects (Given by: Team Zombillies)
---
2019 Awards
Best Homemade Masks (Given by: Team Zombillies)
Most Unnerving Sound Effects (Given by: Team Zombillies)
---
Join ourspookyadventures!
We visit Halloween haunted attractions year-round! Follow us for haunted house walkthrough videos, behind the scenes footage, and more!