Review of Valentine Haunt Sacramento Haunted Attraction
Review of Valentine Haunt Sacramento Haunted Attraction
Review of Valentine Haunt Sacramento Haunted Attraction
Valentine Haunt Sacramento
Valentine Haunt Sacramento is a Haunted Attraction located in , .
4909 Auburn Blvd, Sacramento, CA 95841View All Details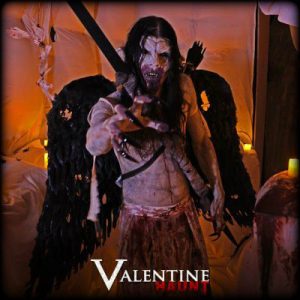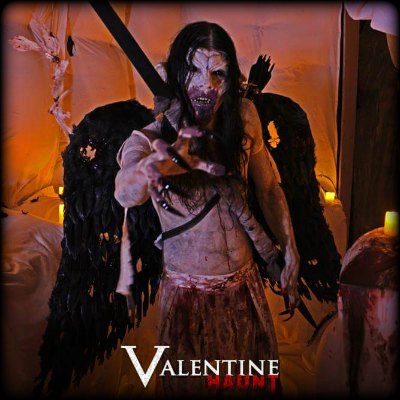 Features:
Free Parking, Handicap Accessible, "Old-School" (Low Tech), You will NOT be touched, Original Characters, All-Indoor Attraction
Team In-Corpse-A-Rated reviewed this attraction on February 11, 2017.
Final Score:

8.14
Summary:
For several years, we've attended Fear Overload Scream Park in San Leandro, CA but we've never gotten a chance to see their sister haunt, Ultimate Terror Scream Park in Sacramento. For the Valentine season, Ultimate Terror has rebranded themselves as "Valentine Haunt Sacramento" while Fear Overload is rebranded as "Valentine Haunt San Francisco"(San Leandro is less than 20 miles away from S.F.). Valentine Haunt Sacramento has similar music and scenery as Fear Overload, featuring loud and intense music, realistic yet grimy and bloody walls, actors startling us from all directions, and mutilated bodies throughout. Whether you live in the Bay Area or Sacramento, you will get a similar show, which is not bad.
---
Cast:

8.25
The cast of Valentine Haunt Sacramento was very "gung-ho" about their performances, with the majority of them being either vampires or zombies. I only caught one actor who broke character and started giggling after startling us; but, overall, the actors were very intense. None of them engaged us in conversation, but several did walk up into our personal space to intimidate us. One actor made bizarre grunting and snorting sounds as he walked up close and personal. The actors hid behind scenery pieces and corners right before they lunged at us. A few actors also remained stationary, as they fed on the corpses of those who'd gone before us.
---
Costuming:

8.25
The costumes in the haunt seemed intentionally designed for Valentine's Day. In particular, many actors were dressed in traditional Dracula costumes. This did conflict with the scenery, however, which was very modern in terms of bathrooms, showers, operating rooms, and private residences… most of which can be attributed to this being an off-season event. Having said that, the costumes were put together very nicely. Another common costume used for several of the actors was scrubs. The makeup for the actors was professionally done. There were several actors whose makeup had personal touches, like blood markings on their foreheads or metal implants in their mouths. A few even had occult markings, like pentagrams. It's worth mentioning that there was one really unusual costume: a teddy bear suit. We assume it was a reference to the "Five Nights at Freddy's" video game.
---
Customer Service:

9.25
Valentine Haunt Sacramento is a safe haunt to walk through. It's located in a one-story building (which makes it wheelchair accessible) and there were plenty of clearly-marked exit signs. There were no billboards or any directional signs to the haunt, but once you get there, it is easy to spot from the large banner above the front door lit by different colored theatrical lights. Parking is readily available and the ticket booth is inside the front door. There were no restrooms, gift shops or concessions, so be mindful of that when planning your trip. The only queue entertainment during our visit was the heavy metal music playing outside and inside. The staff were very professional, helpful and willing to answer any questions we asked. Security was clearly visible at the front door because they checked us with metal detector wands before we entered.
---
Atmosphere:

7.5
The main source of atmosphere outside of the haunt was the music. They were cranking heavy metal from artists whom have creepy personas, like Marilyn Manson and Rob Zombie. The loud and intense songs foreshadowed the intensity inside. The music and banner were the two main focal points that called attention to bystanders that this was a haunted house. Other than that, the building appeared to be a former D.D. Discount building. I must say that the run-down look of the building did tie in with the run-down look of the décor that we found inside.
---
Special Effects:

8.4
First thing to say about Valentine Haunt Sacramento is that there is no awkward silence; heavy music is cranking throughout the haunt. The scenery is very similar to their sister haunt, having a very modern look, but with "unkempt" details. The walls have dust, grime, and blood splatter everywhere. Simply put, this haunt looks gross. You do not want to touch anything in here. Since we were automatically repulsed by the décor, we were more open to startles from the various actors. There are several realistic, bloodied and mutilated corpses scattered throughout the haunt and lighting was used very sparingly. By "sparingly," I mean the only source of light was a flashlight issued to each group of attendees by the ticket booth staff. Otherwise, the haunt is almost pitch black inside. The darkness worked very well in the actors' favor as we traversed through because we couldn't see where they were coming from.
---
Theme:

7.5
This event was Ultimate Terror Scream Park's Valentine's Day-themed attraction; although, it was difficult to see how the Valentine's Day theme played here. Having actors in traditional Dracula costumes was an odd mix with the modern décor. During October, Ultimate Terror has three haunts. For Valentine's Day, they combined them into one large haunt, but it was still obvious to see the three themed zones: The Bath House (a homage to rundown restrooms, showers, and basement plumbing), The Tooth Fairy (a psychotic dentist's office) and The Seven Deadly Sins (a private residence with a deadly sin theme in each room).
---
Fright Effect:

8
Valentine Haunt Sacramento had some very good scares. The actors utilized the dim lighting to their advantage, as they shot startles at us from the front, middle, and rear of our group. Most of the scares came from the actors lunging out at us from behind corners; however, some of them did bang walls and props. There was one actor behind a drop wall panel that startled us as well.
---
Value:

8
It took about 18 minutes to walk through Valentine Haunt Sacramento. At a $25 admission fee, this haunt comes in at 0.79 minutes of entertainment per dollar spent, which we feel makes it a bit high-priced. The haunt had plenty of room for waiting in line, but there was one area behind the ticket booth that could have been utilized for additional entertainment. For $7, they offered a glow-in-the-dark rosary to ward off the vampire actors. It's a nice idea for that member of the group who's too much of a chicken, but for the hardcore enthusiasts like ourselves, what's the fun in that!? There was also a flashlight upgrade being offered from the original small flashlight for $7 as well.
---
Have you visited this attraction?