Warehouse 31 – Full Review
Warehouse 31 is a Haunted Attraction located in Pelham, AL.
3150 Lee Street, Pelham, AL 35124View All Details

Features:

Free Parking, Restrooms/Porta Potties On-Site, Food/Concessions, Gift Shop/Souvenirs, Optional Games/Midway, Original Characters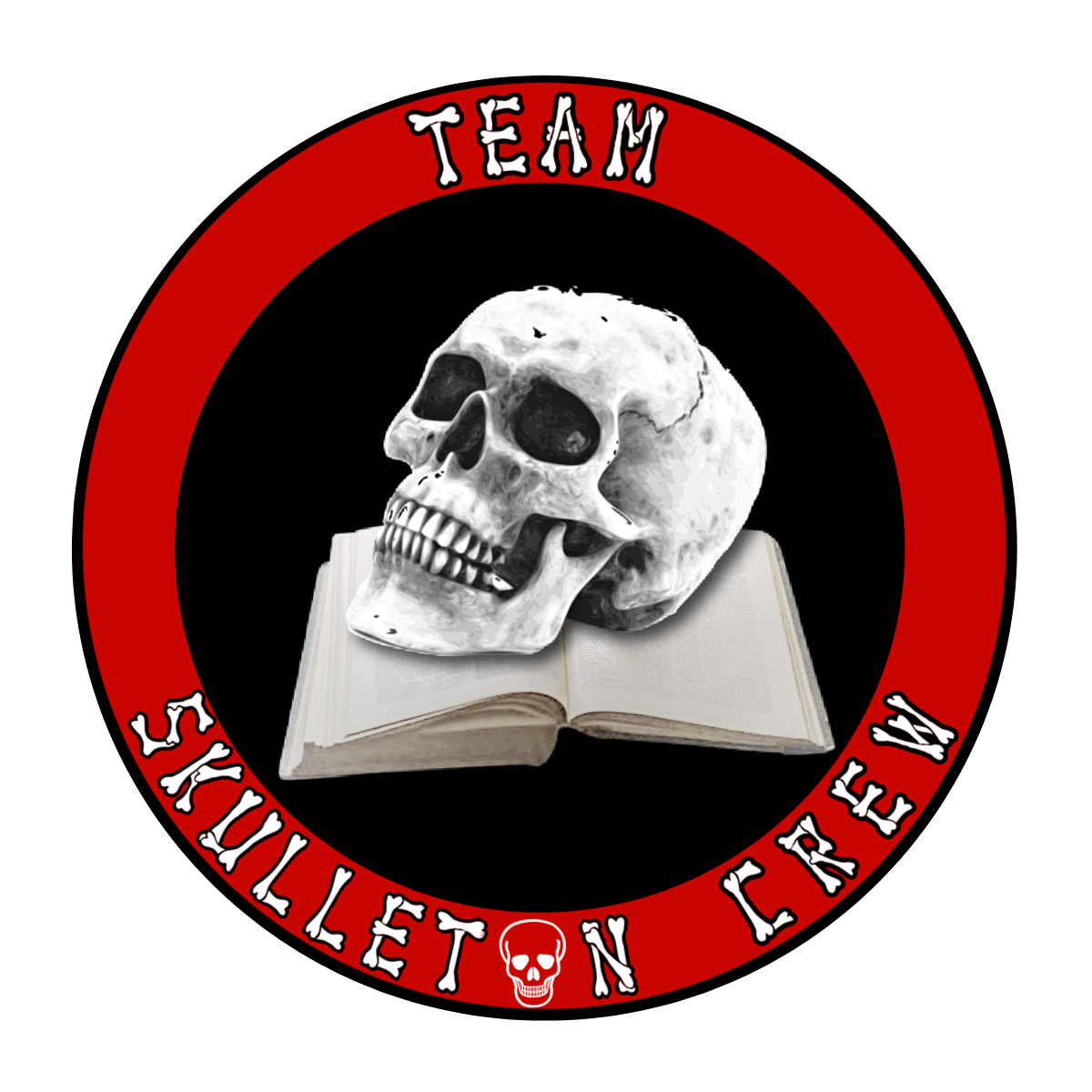 This attraction was reviewed on September 29, 2023 by Team Skulleton Crew.
---
About Our Reviews and Rating System
---
Final Score: 8.52
Final Scores – By Category

Final Scores – By Attraction

Summary:
Warehouse 31 is aptly named as it is located in a seemingly normal warehouse in Pelham, Alabama, but appearances can be deceiving! Behind the walls of this warehouse are two haunted attractions: The 3D Experience and Rigamortis. They also run a 10-minute escape room.
During the season, Warehouse 31 offers several special 'lights out' events. The haunt also partners with fraternities and sororities of the nearby University of Montevallo to contribute to a variety of philanthropies.
During our visit, we explored the two haunts: The 3D Experience and Rigamortis. We were told that Warehouse 31 prides itself on attention to detail in their sets, and based upon our walkthrough, we would tend to agree!
---
Cast Score: 8.56
Cast Scores – By Question

Cast Scores – By Attraction

Cast Review:
The many clowns of the 3D Experience appeared to have genuine fun in their interactions with us. Blood Gulch clown, or as we nicknamed him: 'blood bath' clown, gave us a greeting in his best western creepy clown accent: 'Welcome to Blood Gulch. You might not get clean, but you'll never have to wash again!' Another clown simply did a very unnatural head twitch that made him disturbing without uttering a sound. Clowns leaped from boxes, crouched, and walked in odd ways, and really conveyed the distorted sense of this warped 3D world through their actions.
The cast for Rigamortis was active and energetic. Actors were vocal and eerie with their physical movements. Some cast members lurked in the shadows or darted across rooms; some were silently creepy, and others were loud and imposing. The actors inhabited the themes of the rooms and used the space to their advantage. By the way, there should be an award for the clown (yes, they spilled over into Rigamortis, too) that found 3 scare opportunities for our group!
---
Costuming Score: 8.62
Costuming Scores – By Question

Costuming Scores – By Attraction

Costuming Review:
It should come as no surprise that every character we encountered in the 3D Experience was decked out in clown attire, sometimes grungy, sometimes bloody… as would be appropriate for their scenes. Most of the clowns were in appropriate makeup and colorful wigs… some a little more blood-spattered than others. A few characters used masks when makeup just wouldn't be enough to produce that extremely wide grin with enormous teeth.
Early into Rigamortis, we passed through a maze of white sheets. Actors in this area were wearing costumes similar to the white sheets, which made them sometimes challenging to see and within the maze. It was a great design choice for a unique costume. As Rigamortis rapidly switched themes, the character costuming was ideally matched to each room. Costumes appeared to be original, shredded, and/or distressed when appropriate. We didn't note any 'off the rack' costumes.
---
Customer Service Score: 9.8
Customer Service Scores – By Question

Customer Service Scores – By Attraction

Customer Service Review:
Warehouse 31's website provides days and hours of operation and provides good descriptions of each attraction. Ticket pricing is outlined with combo tickets, fast pass tickets, and VIP ticket options. Tickets can be purchased online or at the ticket booth. We would recommend researching ticket prices and options online so that you know what you want to purchase at the ticket booth. A price list is posted on an 8×11 page at the ticket booth window.
If you purchase your tickets online, you will need to visit the ticket booth, where you will be issued lettered tickets for the attractions. You are free to roam, relax, and explore until your group's letter is called. Warehouse 31 also has current ticket groups posted on a monitor in the Skaraoke seating area. When your letter is called, your group proceeds to line up for your haunt experience. It's a great system ensuring that you'll never spend more than 10 minutes in line!
Your GPS will deliver you to an unassuming warehouse location. The roadside view of the building has a sign at the entrance labeled 'Venue 31'. Look for the deep purple hearse with the black roof parked out front to reassure that you have arrived at the right spot. Parking is free, and once you are parked, walk down the right-hand side of the building, where you will see signage, the ticket booth, food trucks, and roaming creatures. Porta Potties a-plenty are located on the back side of the building near the merch booth.
---
Immersion Score: 8.1
Immersion Scores – By Question

Immersion Scores – By Attraction

Immersion Review:
The 3D Experience introduces you into a realm of fluorescent color and maniacal clowns. Everywhere you look, there are color patterns that play with your depth perception. All the while, clowns startle, taunt, and invite you to play or stay with them. In the background, you'll hear twisted carnival-style music appropriate to each of the progressive scenes. As the clowns interact with you and try to draw you into their world, at one point, we were really enticed to sample the ice cream…except the topping of worms (not the gummy kind) made it less appetizing.
Rigamortis gave us a short intro in a collected oddities room. The host spoke about the Riffmaster and his desire to collect souls. From this point, Rigamortis becomes a very eclectic haunt. It is as though they imagined a wide range of fears and phobias and fit them all into one haunt experience. We estimate somewhere in the neighborhood of 30 different settings or scenes. You will see quite an array: spider room, hillbilly cabin, hospital, asylum, mine shaft, wine cellar, garage/auto shop. Stepping from one setting into another seemingly unrelated setting could be disorienting, but maybe that is the Riffmaster's goal. Nevertheless, with all of these experiences to choose from, Rigamortis is bound to have something that will press your panic button.
---
Special FX Score: 8.64
Special FX Scores – By Question

Special FX Scores – By Attraction

Special FX Review:
The 3D Experience provides you with 3D glasses as you enter. We experienced some great illusions of depth in the painted walls and floors. And as if vortex tunnels weren't disorienting enough, the 3D Experience gives you a tunnel complete with 3D effects! All of this greatly enhances your experience, throws you off balance, and makes your encounters with the cast of clowns even more surreal.
Rigamortis was the more high-tech of the two haunts. It uses some of the same technology and special effects that we've seen in other haunts, but has found some unique ways to adapt some of those effects. We experienced 2, if not 3, different applications of laser swamp tech (with the sound of strumming banjo music in the room simulating a swamp.). If you have a roach phobia, you might find the need to close your eyes during part of your walk through. Rigamortis also engaged our sense of smell for that extra zing to a few rooms. We detected some unique, if not putrid, smells, serving to fully engage the senses and add to our sense of immersion.
---
Scare Factor Score: 8.22
Scare Factor Scores – By Question

Scare Factor Scores – By Attraction

Scare Factor Review:
The cast of the 3D Experience produces quite a few pop out scares. These feel more intensified by the fact that your sense of sight is distracted by the 3D painting effects. Some scares are achieved by close proximity and/or intimidation statements by the imposing clowns. Other scares play on your sense of gross-out. Even with the built-in scares, the 3D Experience is the more light-hearted of the two haunts.
Rigamortis provides scares in a variety of ways. Guests are challenged to face their fears and phobias of things like spiders, cockroaches, and certainly the dark. The sheet maze characters played a game of hide and seek with us. They darted into the maze, leaving us wondering where they were hiding. You can expect a few predictable jump scares, but we also saw actors coming from unexpected places, so stay alert! You can expect some intimidating interactions with a few characters along the way. Passing through the kitchen, the hillbilly guy really wanted us to join in on a less than appetizing dinner as he yelled, 'EAT IT!!! EAT IT!!!'. We declined that invitation.
---
Entertainment & Value Score: 8.13
E&V Scores – By Question

E&V Scores – By Attraction

E&V Review:
A combo ticket for both attractions at Warehouse 31 was $29.95. Our walkthrough times were: 5 minutes for the 3D Experience and 15 minutes for Rigamortis, giving us a total of 20 minutes. This results in a value of .67 MPD (minutes per dollar).
Since you are issued a lettered ticket, you don't have to stand in a long queue line. While you wait you can enjoy (or participate in) free Skaraoke. If you like to perform you can practice up on one of your favorite tunes. Just be sure you're comfortable singing next to a skeleton! (Just don't expect him to participate in a duet. He doesn't have the lungs for it!) We heard a few patrons belt out some country hits while we waited.
There are also monitors streaming some of your favorite scary movies and light-hearted Halloween-themed shows as well as free cornhole games.
Food trucks are also in this midway area if you feel the need for a snack. Regarding food, we saw some upscale offerings of catfish, chicken wings and burgers. There was also a coffee and blended drink truck with a variety of coffee-house style drinks. Although not scored, we just like to mention these things.
Warehouse 31 also sells bottled beers, hard lemonade and soft drinks near the merch booth.
---
View Full Score Sheet
---
Pics We Took From Our Visit:
---
Promo Images:
Click to Enlarge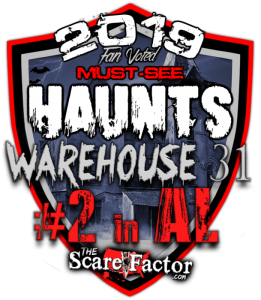 ---
Guest ReviewsGuest Average: 10 out of 10
Corey Morgan – 10/10 – October 4, 2019Staff/actors really good, the scenes, props are great, feels like you're walking through a horror …show more movie