Wells Township Haunted House – Full Review
Wells Township Haunted House is a Haunted Attraction located in Brilliant, OH.
101 Market Street, Brilliant, OH 43913View All Details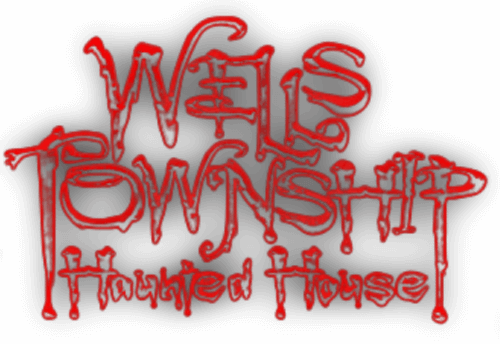 Features:

Free Parking, Restrooms/Porta Potties On-Site, Food/Concessions, Gift Shop/Souvenirs, "Old-School" (Low Tech), "Hi-Tech" Attraction, "Extreme" Attraction, You may be touched, Original Characters, Uncovered Outdoor Waiting Line, All-Indoor Attraction

Team Mysterious Misery reviewed this attraction on October 7, 2017.
Final Score:

8.97
Summary:
The masterminds behind Wells Township Haunted House have learned they can become their own worst enemies. When they noticed that light, Mr. Norman and his crew ripped everything apart like they do every year and started rebuilding… starting with what works. No pulling legs here… well, maybe, since it works.
This year, you may see some traditional items, but if you are like me you will enjoy those few moments of the classics. The guided tour keeps you on track and prevents you from seeing what happens in other scenes until it is your turn. The haunts are consistent and stay in your face.
This year, Wells has introduced the escape room in the beginning, as well as an alternate ending at the finale. This way, no matter how many times you want to visit, your outcome could be different each time. The value of this haunt is amazing and always worth the drive!
---
Cast:

8.77
The cast at Wells includes some legendary characters like Cowboy and Aunt B. These characters are drops in the bucket of the talent that Wells holds when it comes to their cast. From the young at heart to the veterans ready for play, they all come each night volunteering their time because this haunt is what the community is compassionate about. We have not witnessed anyone break character, even when I have left the scenes and came back. The veterans with their ability to use dialogue in character for long periods of time is astonishing and another reason why this haunt does a spectacular job with their cast.
---
Costuming:

8.43
As mentioned above, Wells has legendary characters and part of what makes them so special is their costuming and how night after night they stay consistent. You will find unique costumes at Wells that you will not see at other haunts due to the scenes being unique and they blend well with their scenes. You will find a limited number of masks at this haunt, but when you do see them, you may second guess if its an actual mask. No costume is out of place. Some costumes you will have to look for because they blend in so well (hint: its black and white).
---
Customer Service:

9.12
Your GPS should take you right to Wells where the only problem is their FREE parking area but it is being handled and getting better. The haunt is easy to find and once you are close you will definitely know. The team is always accessible and ready to help with any question or concerns. The night we attended, a lady had lost her teenage son. The staff were prepared and quickly found him in minutes so all was well. They have plans in place and codes have been met. Being well prepared for situations gives them the time to get dressed up and mingle in the queue area, providing additional entertainment beside the fire pits, bands, shopping and much more that they offer.
---
Atmosphere:

9.13
The atmosphere that surrounds Wells is one of a kind. When you reach the building, you will quickly realize that you have reached your destination for a night of entertainment. The brick building from 1836 is very prominent and, even in the distance, you see the lights and hear the screams from inside. The live band or DJ helps your drown your thoughts of fear. While you are waiting on your group number to be called, you can mingle with the creatures that have escaped from inside while eating a walking taco. There are many fire pits to keep your blood warm so you'll die of terror and not hypothermia. When your group number flashes, panic will start to set in as the screams become louder and you see the smoke coming from under the doors.
---
Special Effects:

9.09
Special effects is a category that, year after year, Wells succeeds in. The volunteers do an amazing job at utilizing everything and anything to make it into something effective to extract screams. This year, their take on Bloody Mary will have you second guessing this childhood game. Wells utilizes alternate endings and, if you get motion sickness easily, be prepared because they aren't going to take it easy. At Wells, basic doors become effects that will drive you all mad. Lighting will drive home a traditional movie screen that will either make you excited to see its comeback or have you screaming for the nearest exit.
---
Theme:

N/A
Wells Township Haunted House does not utilize a theme. They like the flexibility of stripping it down each year to create a variety of new nightmares.
---
Fright Effect:

8.98
Wells is always your one stop shop for frights. They provide scares as well as entertainment for everyone in your group. They do this by providing unpredictable scares with unprecedented distractions. The cast helps create the scenes and that makes them more bloodthirsty to get the screams in their areas. Wells is the only haunt we have come across that provides alternate endings, which we think is amazing. Both endings will either have you crying in a corner or running people over in the gift shop.
---
Value:

9.3
General admission is $14.00 and it took our group about 30 minutes to escape their walls! That puts Wells Township at providing you with approximately 2.14 minutes of entertainment for every dollar you spend, making it one of the best values we've seen. Wells did not raise their prices to compete with other haunts this season. They also offer an escape room at the very beginning of their haunt, which is included with general admission. Most other haunts are charging an additional price for these. With that ticket price, you will also get the attraction where fear screams in every corner and the Zombie challenge. This price is simply a steal for this haunt and we highly recommend that everyone pay them a visit!
Lights On Tour: Select Nights – $3
Lights Out Tour: Special Event: Nov 3rd and 4th – $14
General Admission – $14
Online Tickets – $20
You MUST PRINT OUT YOUR TICKET. Bring your ticket to the Internet Ticket Reception Window located at the attraction. Purchasing an Internet Ticket provides you with a separate ticket line dedicated for VIP and Internet Ticket holders ONLY. Pre-assigned group numbers await you at this window that are separate from General Admission. Internet Ticket groups will be assigned on a first come, first served basis.
VIP Tickets – $25
Pre-Assigned entry times have been set aside for those wishing to upgrade to VIP status. Once you purchase a VIP, you pick a time you want to enter the haunt, based on availability. This guarantees your entry time in the attraction. General Admission and Internet tickets can be upgraded to VIP if you pay the difference.
The ZOMBIE CHALLENGE is included with all admission prices.
---
Promo Images:
Click to Enlarge
---
Guest ReviewsGuest Average: 7.88 out of 10
Kara Werner – 10/10 – October 17, 2020This is one of the best haunted houses I've been too I go alot and it always gets better. The actors …show more do a good job keeping the entertainment great. The zombie mazes are fun it's just overall a great experience
Yvonne Ewing – 10/10 – October 19, 2019every year my friends and I go on a hunt for the best scare. We came a crossed This attraction and …show more booked the VIP tour. I have been doing this hunt for 5 years now and we have been all over the place, this is a top 3 for me!!! After the Staff removed two intoxicated individuals we had a great time. The first two rooms where ruined due to the two that were removed but was not a disappointment going forward. The Actors were great and the scenes where top notch. for a group that is hard to scare we got our fill of heart pounding moments! we will definitely be back next year!
Sam Welder – 10/10 – March 15, 2019Always the best when we visit. The lights out is so terrifying. I was chased in the yard by a nun. …show more The adrenaline this place gives me makes me come back year after year. Can't wait to see what this fall has in store.
---
Past Awards
---
2022 Awards
Most Creative Set - Fright Box (Given by: Team Houdini)
Highest Rated Haunt (Given by: Team Houdini)
Highest Rated Entertainment & Value (Given by: Team Houdini)
Goo - Taylor Norman (Given by: Team Houdini)
---
2020 Awards
Most Unique Scene - Donkey Kong (Given by: Team Houdini)
Most Original Character - Gameshow Host (Given by: Team Houdini)
Best Entertainment and Value (Given by: Team Houdini)
---
2017 Awards
Scariest Haunt in Ohio (Given by: Team Mysterious Misery)
---