Wiards Night Terrors Haunted Thrill Park – Full Review
Wiards Night Terrors Haunted Thrill Park is a Haunted Attraction located in Ypsilanti, MI.
5565 Merritt Road, Ypsilanti, MI 48197View All Details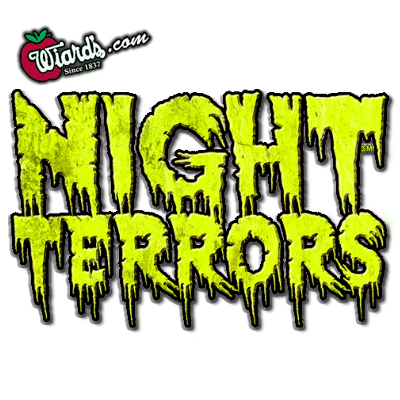 Features:

Free Parking, Handicap Accessible, Food/Concessions, Gift Shop/Souvenirs, You will NOT be touched, Original Characters, Indoor/Outdoor Waiting Line, Indoor/Outdoor Attraction, Family Friendly

reviewed this attraction on October 6, 2017.
Final Score:

7.42
Summary:
Located about 30 minutes from the greater Detroit area and less than 20 minutes from the college town of Ann Arbor, Wiard's Night Terrors feels like a world apart from the urban sprawl of the city. Now in its 33rd year, Wiard's offers 6 different frighting attractions at one location. There are the "Big Four," as they are referred to, which includes; The Ultimate Haunted Barn, The Asylum, Hayride of the Lost and The Mined Shaft. There are also two side attractions; Alien Caged Clowns and Splattertown Paintball. One of the appeals of Wiard's is that it can be enjoyed by the entire family, as there is something here for everyone.
---
Cast:

6.93
We came across some pretty convincing characters in the Asylum, Mineshaft, and the Haunted Barn. These actors spoke their lines convincingly while using entertaining dialects. There were also a few cast members who ad-libbed well when we interacted with them. Unfortunately, we felt the majority of the cast in the other three attractions were a little sub par, lacking enthusiasm and conviction in their roles.The dialogue as a whole was rather uninspired and we believe the cast could have benefited with a better script. We would have liked to see more energy from a good portion of the cast in all of the attractions as even some of the better performances lacked punch. We couldn't help but feel that the 'startle' actors would have greatly benefited from some better hiding spots and improved timing, as their effectiveness was often marred by the predictability of the scare.
---
Costuming:

7.08
The costumes were made to match their respective attractions and the majority of them seemed to fit their characters well. Our favorite costume of the night was that of a creature roaming between the attractions, who had a highly original 'otherworldly' look. While we would have liked to see a little more creativity and detail, we found none of the characters to be out of place. We noticed colored contacts and some effective prosthetics on several actors. The makeup was a little bit basic when compared to some of the other haunts we have toured in the past, but still quite appropriate for their respective characters. While the costuming was solid overall, there just wasn't anything that really stood out or wowed us.
---
Customer Service:

9.25
Wiard's was easy enough to find with GPS. However, we didn't notice any signage up until we arrived at the entrance to the park. There is free parking available in a huge grassy parking lot complete with attendants. The ticket booth was well lit and easy to spot coming from the parking area. The entire grounds were laid out really well and everything was clearly marked. Freshly made doughnuts and cider were available free of charge after the hayride. We found the entire staff to be quite helpful and quite knowledgeable about their attraction.
---
Atmosphere:

9.3
Wiards is located on a large apple orchard in rural Southeast Michigan which gives it an authentic, autumn feel to it. The entire grounds have an amusement park type family friendly vibe. We heard spooky music, noticed numerous Halloween props/decorations and enjoyed the photo opps with the roaming actors. The facades of the different attractions were all well done, especially that of the Asylum and Barn which really helped get us excited for our journey that lay ahead.
---
Special Effects:

8
Many of the scenes were nicely detailed and often times quite authentic, especially in the Asylum and Barn. There was an impressive number of animatronics throughout the different attractions. They varied from everything to high-tech bloodthirsty creatures to older creations that weren't nearly as effective. Our favorite part of all the effects was the authentic look and feel of the Asylum, Barn, and Mineshaft. The Asylum had what appeared to be real medical instruments, charts, and furnishings. The Barn had lots of farm equipment, tools, and beams that you would find in an old barn. The mine shaft had authentic mining equipment and realistic set pieces. We heard some realistic sound effects during our time inside, most notably in the mine shaft. The sound played a big part in us believing we were actually underground. There were times that we felt that having a creepy or aggressive sounding soundtrack would have added greatly to the effectiveness of the scene. We felt the lighting could use some improvement as several sets were either too light to properly set the mood or too dark to see all of the details well. The transitions from set to set could have benefited from having a little more going on, as often times they just felt like empty, dark passageways.
---
Theme:

N/A
While each attraction felt authentic for its namesake, we didn't notice any particular backstory that was consistent throughout each attraction. Therefore, we are not scoring this category.
---
Fright Effect:

6
We noticed a number of different fright techniques that were utilized during our tour. 'Pop' and distraction based scares were the most numerous techniques we noticed. We also came across menacing stares, misdirection, actor interaction and ample screaming and yelling in the Asylum, Barn, and Mine shaft. The actors did a good job of targeting both members of our group equally throughout the different attractions. Our time spent in Alien Caged Clowns was devoid of any real fright attempts and the hayride provided only predictable scares that we feel would frighten only the timidest customer. We found the scare attempts as a whole to be rather predictable throughout most of our tour time, all too often we could see the scare coming before it happened. We would like to have seen smaller rooms and passageways as we felt that most of the sets were just too spacious to allow for any real sense of fear, as you could simply walk away from the scare. Smaller rooms and passageways and/or better placement of props may help to give the illusion of a more confined space. We strongly feel the actors would benefit from upping their intensity levels as we didn't come across too many that we felt were truly menacing.
---
Value:

5.37
Wiard's has a number of different pricing options. The 4 main attractions can be purchased separately or together with the two side attractions. We did all 6 attractions, which costs $56 for general admission and $71 for a VIP Fast Pass. It took us a total of 34 minutes to complete all 6 attractions, which when divided by the general admission price, we get a MPD (minutes of entertainment received per dollar spend) score of .61. That is well below the industry average of 1.5 that we've seen most often and, unfortunately, coupled with the average quality of the attractions that we experienced here, we do not feel Wiard's provided a good value for the money they are charging.
---
---
Have you visited this attraction?
Join ourspookyadventures!
We visit Halloween haunted attractions year-round! Follow us for haunted house walkthrough videos, behind the scenes footage, and more!