Review of Wicked Woods of Terror Haunted Trail Haunted Attraction
Review of Wicked Woods of Terror Haunted Trail Haunted Attraction
Review of Wicked Woods of Terror Haunted Trail Haunted Attraction
Wicked Woods of Terror Haunted Trail
Wicked Woods of Terror Haunted Trail is a Haunted Attraction located in Caro, MI.
2912 Ross Road, Caro, MI 48723View All Details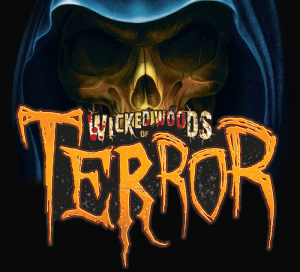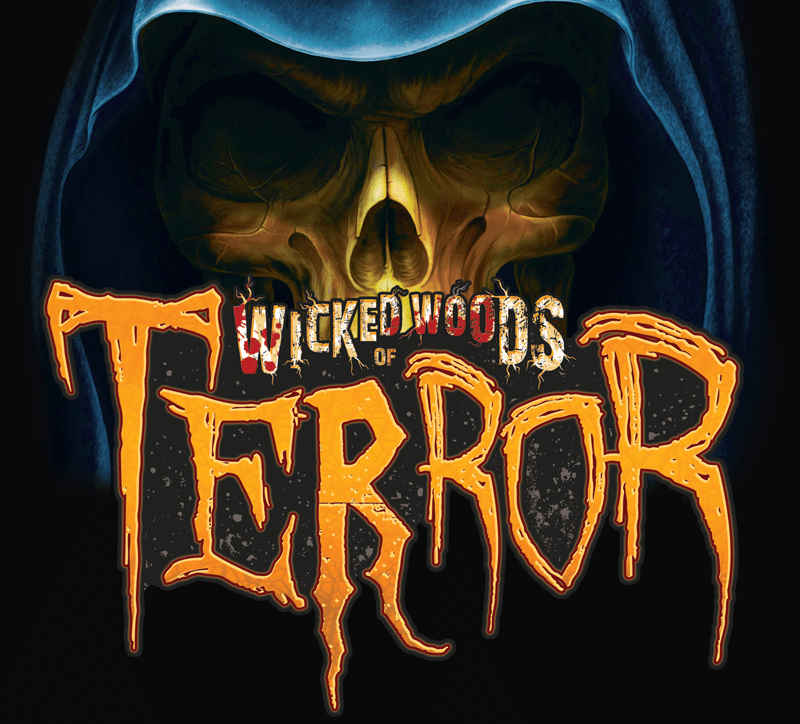 Features:
Free Parking, Food/Concessions, Gift Shop/Souvenirs, Special Events, "Old-School" (Low Tech), You will NOT be touched, Original Characters, All-Outdoor Attraction
Team Body Bag reviewed this attraction on September 16, 2017.
Final Score:

8.76
Summary:
Smack dab in the middle of the thumb area of Michigan lies an outdoor haunted attraction that seems cut off from the rest of civilization. This haunt is literally out in the middle of nowhere and is one of the eeriest locations for an attraction that we have ever seen. Wicked Woods of Terror (WWoT) has been offering its unique brand of "old-school" frights to willing victims for the past 5 years.
---
Cast:

8
WWoT had a unique cast of 25 volunteer actors when we visited, which seemed a little bit light when considering the size of the attraction. While the actors did an admirable job of covering the different scenes, we still encountered several dead spots where there were no actors at all. We thought that the cast as a whole did an excellent job and found them to be quite interactive. Most of them worked well with their props, and several actors used creative dialogue to help heighten the experience.
We especially enjoyed the Pigman who followed us around for several scenes and the character who wore a mask with glowing crosses. But the actor who stood out above all others was "Disgusto" the clown. One moment, he had our review group really creeped out and, the next, laughing hysterically at his jokes and highly-entertaining antics. Be forewarned, though, that he just may want you to "play with his big balls!"
We did encounter a few sub-par performances, especially the guy with the chainsaw who gave a half-hearted effort; in fact, he really didn't even chase us at all. He just stood there looking confused at what to do with us. There were a couple other characters that didn't seem to say or do much at all, as well. But, the less-than-stellar performances were definitely the minority and the fact that it was the opening weekend might have played a factor.
Overall we were quite pleased with the majority of the cast.
---
Costuming:

8.33
We saw many original costumes and makeup effects during our visit. The costumes looked to be completely customized for each character in an effort to make them more realistic and believable. We didn't notice street clothes or Halloween shop attire, which was much appreciated. There seemed to be an equal balance of masks and makeup effects. The masks that were used were of high-quality and the professional makeup effects were nicely detailed. Everything including the costumes, masks and makeup seemed to match the characters who wore them quite well, making them complete and more believable.
---
Customer Service:

9.5
We found WWoT easily enough with GPS. However, this attraction is located in the middle of nowhere and it's very dark, to say the least. We would have appreciated better signage to let us know that we'd found the right place. Free, on-site parking is available in their large, grassy lot. We found the staff to be very friendly, informative and willing to answer all of our questions. Because this attraction is located outside and it is so dark, be on the lookout for tree roots and make sure you wear appropriate footwear.
---
Atmosphere:

8.83
As mentioned before, WWoT is literally out in the middle of nowhere, which really helps to set the mood, as there are no streetlights or other businesses for miles. As soon as we got out of our car, we heard rock music, screams, and maniacal laughter in the distance. In addition to the soundscapes, we noticed bright colored lights, roaming actors, and the haunt's banners. All of these sights and sounds got us really excited to enter the attraction.
---
Special Effects:

8.37
While WWoT doesn't appear to have as large of a budget as some of the bigger haunts in the area, they do work very well with what they have. The set designs and effects have more of an old-school feel to them, but we found them to be creative and quite original. We really enjoyed the neon colored Clown Room that housed the infamous Disgust the Clown, the "hellelevator," and the creepy Cemetery. The room that had the "sinking ground" effect was also a highlight, as it really felt as if we were going to sink into the Earth around us. The lighting in particular was well-executed. The scenes themselves seemed to have just the perfect amount of light to see everything well and there was just enough light in between the sets to be able to see where we were going.
We did feel the sound effects were a little lacking and noticed an absence of a soundtrack with the exception of one room.
---
Theme:

N/A
WWOT doesn't use a specific theme so we are not providing a score for this category. Each scene is unique, creating a wonderful assortment of horrifying delights!
---
Fright Effect:

8.66
Some of the scare techniques used by WWoT include unnerving sounds, intimidating dialogue, entrapment and several well-timed "pop" scares. There was one great moment when we thought for sure a lady in the rocking chair was an animatronic creation. She ended up giving our review group quite the scare when we noticed she was actually real! There were a few excellent environmental scares, most notably when walking through one scene that felt like we were sinking into the ground. The characters made sure that everybody in our group got an equal dose of frights by targeting each member of our group evenly.
Another great aspect of this haunt is that when the cast noticed you were not scared, they would at least attempt to entertain you with jokes, making fun of our appearance and getting us to sing "Old MacDonald Had a Farm," among other things. They did an admirable job of making sure we were entertained during the entirety of our tour
---
Value:

9.66
The price of general admission is $15 and $25 for a VIP fast pass. During the busier parts of the season, the lines here can get very long and the wait can be upwards of several hours. For those nights, we highly recommend the VIP fast pass option.
From start to finish, it took our review group 26 minutes to complete our tour, for a MPD (minutes per dollar) score of 1.73. We feel that you get a lot of quality entertainment for your money here and that it is a great value. WWoT has an annual off-season event called "Escape The Woods," which is a unique combination of a haunted trail and interactive escape game. This event is usually held during the summer months, so make sure to keep an eye on their Facebook page for updates.
---
Promo Images:
Click to Enlarge
Guest ReviewsGuest Average: 0 out of 10
Sarah – 10/10Challenge Accepted was awesome! Me and my boyfriend were looking for escape rooms in our area, and …show more as poor college students, price was a big factor. Despite being only two small locations in the mall, they have multiple rooms, at 20, 40, and 60 minutes long, with the 20-minute rooms being only $10 each! We've been back multiple times, and loved every one! Staff is very helpful and enthusiastic about their job, and is thrilled to explain all the little secrets after you escape. Will be back every time they make a new room!
Norma – 4/10We visited this attraction on the last night of their 2018 season I believe. We did show up late …show more (about 20 minutes before they closed) and it was dead in the waiting line. Regardless, every group that was in the haunt somehow ended catching up to one another. We walked as slow as we could knowing there wasn't anyone behind us but we still couldn't stay away from the group in front of us. They had one teenage female that was petrified of everything so all the monsters kept taking advantage of it, cornering her every chance they got. They also followed her through multiple scenes that weren't theirs while our group tried to stay behind some and there were no entertainers around because they were all following her. When they would stop and turn around to go back to their base spots (if they even have them there), some of them just walked passed us without any effort towards scaring us. It was a disaster. This chic's name was Lauren and by the time we got to the exit of this thing, we were relieved that we didn't have to hear her name called out over and over and over anymore. She had to of been extremely annoyed by it herself. It took all of the fun out of it. Actors even stopped us in some of the maze portions so the other monsters could entertain their group for quite some time and they would just be staring off into outer space. The only way we knew they could talk is because they said Lauren's name already. Besides that, costuming was mostly store-bought quality. Nothing different to look at here. Scenes were the same. Some looked as if they had been built out there in the woods for years and they've sat through the seasons and no one's ever gone back to touch them up. Parts of the maze where there's a lot of plastic and wood seem to possibly be a danger. We didn't see any actors for quite some time in them bc they were following Lauren and if someone ignited one of these things, I'm afraid it would have taken us a long time to find the exit. Some spaces were very tight for us, if those were to fill with smoke where there are roofs, I don't think that would be good at all. At one point, we didn't know where to go at all so we weaved through these pipe-like things and found a hole and we started walking on this really dark path into the woods. There were props and things out there but 0 lights. Come to find out, it looked like a previously closed portion of the trail because when we got to the end of it, there was no way to get back into the maze. We had to crawl under caution tape to get back in. That right there tells you that no actors were paying any attention to our group. We paid full price for our tickets that night and we honestly should have just passed this place up. We've been here before too and it wasn't that bad. The highlights of the trip were the gentleman that introduced us to the park and gave us the rules before we went in. There was also one clown (Pickles, maybe
?) that actually put effort into scaring us but he was mostly one of the only ones. In one of the mazes there was a chainsaw assailant behind a door and we could hear the saw and see him through the crack of the door but we couldn't get in. When that door finally opened, holy shit! That was the best scare in there for sure! Also, there are places where you will need to duck down, tight corridors as mentioned above, uneven terrain, and a lot of walking (especially if you're bad at mazes) so be prepared for that.
Norma – 6/10Maybe we just went on a bad night but we weren't very impressed with this haunt. We had heard many …show more good things about it and we ended up with a free Saturday night so we gave it a shot. We showed up at probably 9:30 at night. Waited in line maybe 15-20 minutes so that wasn't bad. We really didn't have problems with spacing inside the haunt except for a few times but we were able to slow down and it helped when there wasn't anyone behind us. I will say, there were a lot of unique things in the haunt portion. One interactive set was very different and unnerving. Some of the characters were really into their roles while others were bland. One was sitting on top of a washing machine and he jumped down and we were thinking, "Oh shit" but he didn't do anything, he just jumped at us a little and said, "What?" In the outdoor portion of the haunt it was a bit too dark to see the characters, especially the Creeper. Our favorite part was the alligator! They know how to utilize this now, commonly-seen prop to the fullest for sure! If you are likely to pee your pants, you just might lose it on that one! I would give the house itself a 7 out of 10. Now we were under the impression that the corn field was haunted too. Although it was a good maze, there were three scareactors in it and they were terrible. No lights, sounds, sets, nothing but mud and corn and the dark. At first it was creepy but after we walked and walked and nothing happened, we were aggravated and ready to find our cars. The last actor that we came across could have hidden well since they were in all black but they didn't, they stood in the middle of the trail acting like they couldn't see, whispering to us as we walked asking us if we were customers. Wow. Don't upgrade to the corn if you're expecting a fright in there, it won't happen.