Wicked Workshop at Unravel Escape Rooms – Full Review
Wicked Workshop at Unravel Escape Rooms is a Escape Room located in , .
108-14 72nd Avenue, Forest Hills, NY 11375View All Details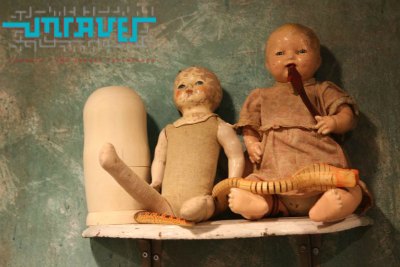 Team Scare Response Unit reviewed this attraction on August 17, 2017.
Final Score:

7.1
Summary:
Slappy from Goosebumps, Billy from Dead Silence, Lamb Chop from Lamb Chop's Play Along… creepy puppets have been a horror 'go-to' for years. Unravel Escape Rooms decided to take the idea of a crazed puppet maker and whittle away at your sanity with their room, Wicked Workshop. This room, located right off of Austin Street in Queens, NY, is one of two offered by Unravel and dares you to escape the horrible Henson wannabe's lair in less than an hour… because Geppetto this guy is not and, if you stick around for over an hour, you may find out first hand why all of his puppets look so lifelike.
---
Atmosphere:

6.25
Going from the outside, and even the lobby, it is a bit tough to know that you are visiting an escape room. It is nestled between apartments and restaurants off of a busy section of Queens, NY, so space is a bit tight and the sitting area of the lobby is a few stools and a shelf where you can do some sudokus or brain teaser puzzles. What they did have, though, is a type of blackboard where you can write your own slogans and sayings after you've completed your game, so that was cool. But, it is a bit cramped and not very comfortable to sit in for more than 10 minutes.
---
Theme:

7.75
Hey there, have you and your buddies ever wanted to make creepy puppets, only to find out that your creepy, puppet-making teacher has lured you into a trap where you use his creepy puppets to find a way out of his creepy puppet-making room? There ya go, that's the theme here. If creepy puppets didn't reel you in, I don't know what will. Let's do a headcount of the creepy puppets… hand puppet, Punch and Judy puppets, creepy dead silence puppet, decapitated puppets, and countless others all make appearances. So I'm gonna go ahead and say yeah, the theme was definitely noticeable and well-executed.
The story isn't important to gameplay, so no need to worry about the puppet maker or his reasons for entrapping you. It is a creative idea that has been done before, but not often from what I can tell.
---
Special Effects:

8.2
This room is a good example of how something simple can be both detailed and frustrating. There was a lot of stuff thrown into this room. All of it tied into the theme, with most of it being part of the clues and puzzles, but then there were also a lot of red herrings and decoys. Besides there being a lot of puppets, there are a lot of tools that are used in the puppet making process, and those are also cleverly used in the puzzles and such. The sheer number of both is enough to torture a tinkerer.
This was the first escape room I came across that used actual scares! Okay, nothing super fancy or "haunt worthy," but still… FINALLY, an escape room that intentionally makes someone jump. Again, it was something so simple, but effective.
There were a multitude of sounds tied into clues, or just meant to creep the players out. The obligatory blacklight makes its appearance, but other than that, the lighting is pretty normal. Overall, I have to say, though the special effects are nothing to write home about, they worked well together and fit the theme so well that this is one of those rare occasions where less is more. Besides, who wants their classic wooden puppets all trussed up with things like technology, demonic spirits, or origin stories that are better than the two previous movies?
---
Gameplay:

7.14
Okay, so I have to start this section off by saying that we almost broke the record for getting out of the room. BUT, one of our members may have figured out the answer to a puzzle using a secondary means, bypassing at least 2 other steps meant to precede the opening of the lock he opened. Be it a 'higher' power, or something else, but we managed to skip over a few steps and escape the room with a lock still locked behind us. Needless to say, the game master was very shocked and as befuddled as the rest of us.
The clues were mostly meant to be solved in a linear fashion, but there is some overlap which can get a bit tricky. According to some other guests that were waiting for their turn, the room we did was the harder of the two offered at that location. It was frustrating, but not overly difficult. The extra clues come in the form of walkie-talkie hints based on where you are at in the game. They say you can use it as often as you want, but not to ask for a step-by-step walkthrough, 'cuz where's the fun in that? Some of the clues were clever and unseen in any escape room I have been to so far, while others were extremely simple. Your time is kept ticking on a small timer near the door that counts down continuously, but it's small and not easily seen unless you get right up on it.
---
Customer Service:

6.75
Outside is a sign that lets you know you are in the right spot, but the sign isn't very big and, besides that, there is not much in terms of saying, 'Hey! Escape room right here!' The sign does direct you to the second floor where it is at, though, so once you're inside, it isn't exactly hard to find your way. The staff was busy, but friendly and professional. In terms of safety and hazards, as long as none of your friends decide to pick up one of the hammers and go all Maxwell Edison on you, you should be fine. Besides the exception of a splinter or small prick of wood, there is nothing really dangerous about this escape room.
---
Value:

6.5
When talking price, this escape room is a bit high, at $32 per ticket. Be on the lookout for Groupon and Livingsocial deals for this one, as it can cut your cost in half for tickets. There are two rooms total here and there is no incentive for coming back to play the second one (other than having fun of course). There are also discounts if you book a room for a private session or by booking all available spots.
---
---
Have you visited this attraction?
Join ourspookyadventures!
We visit Halloween haunted attractions year-round! Follow us for haunted house walkthrough videos, behind the scenes footage, and more!