Witchs Woods – Full Review
Witchs Woods is a Haunted Attraction located in Westford, MA.
79 Powers Road, Westford, MA 01886View All Details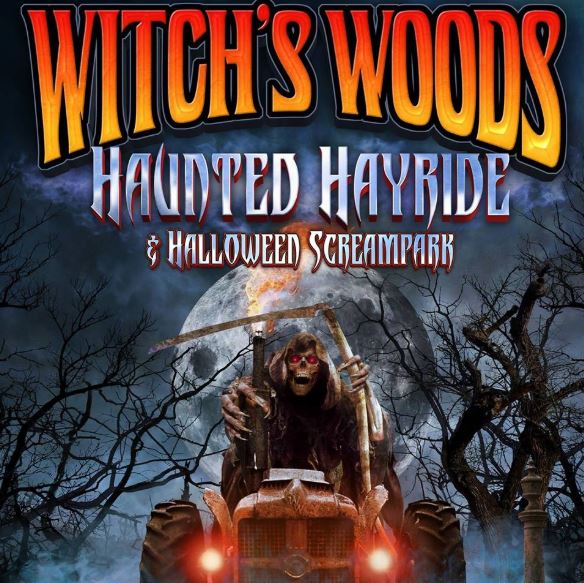 Features:

Free Parking, Handicap Accessible, Food/Concessions, Gift Shop/Souvenirs, Optional Games/Midway, "Old-School" (Low Tech), You will NOT be touched, Original Characters, Uncovered Outdoor Waiting Line, Indoor/Outdoor Attraction

Team Hallowoosh reviewed this attraction on October 5, 2017.
Final Score:

7.59
Summary:
Witch's Woods is celebrating their 17th season at Nashoba Ski Area in Westford, Massachusetts. It has been quite a few years since we've visited this attraction even though it is the closest haunt to where we live. We would say it is mainly because for the last few years it has been our mission to visit all the haunts we have never been to, but the truth is more that we were getting really tired of the repetition.
When Witch's Woods began in 2000, they had their famous hayride, a haunted house in the downstairs cafe of the ski lodge, and a wall panel maze with a vampire theme. I'm not entirely sure if it was that year or a year later when Spooky World left Berlin, MA and moved to Foxborough. A few of the directors and cast members decided to stay in the game and helped make Witch's Woods what it is today. There is no doubt about it that the Witch's Woods hayride was inspired by the famous Spooky World hayride from the 90's. A friend and I had the pleasure of acting on the hayride during its developing years. Our scene was more or less a drunk redneck chopping off the head of another drunk redneck. The way we did it though is something I really have not seen since. Over a few short years the original trope from Spooky World went their separate ways and the future of the attraction fell into the laps of Nashoba Ski Area.
Over a decade later it has become the second largest attraction in New England. Plenty of carnival rides and games and food. One indoor haunted house, two uncovered haunted mazes, one outdoor haunted trail, and an old school hayride. Whether you get scared or not you can always count on having a good time at Witch's Woods.
---
Cast:

6.39
Although the hayride changes their scenes from year to year it has never been as theatrical as it was in the beginning. Most of the scenes get completely lost in most people's memories. We knew going into the attraction on the first night of their second weekend would be a little off. One thing I have always loved and deeply appreciated is the hayride narrators. These storytellers are by far the most essential part of the cast in the whole attraction. It is hard enough to find any hayride that likes to add a bit of dialogue. We've been to hayrides with narrators before but none of them were truly in character. We've even been to hayrides with a pre-recorded narration playing during the ride but it can never compare to the characteristics a live actor can give you. We were lucky enough to have a character that was directly related to the theme of the hayride. A camp counselor who was your stereotypical happy camp counselor unless you weren't listening. I actually enjoyed her character the most because not only did she do a great job narrating the ride but when people started talking to each other during her lines she would get right over them and scream "LISTEN!" and it would shut them up. Kind of like when someone is talking in a movie theater and you wish someone would just pick them up by the neck and toss them out the emergency exit. As for the rest of the actors in the camp hayride they needed some work. For some of them it was their first night ever acting and we made the mistake of going on the very first hayride of the night. It was one of those moments where you can't tell if the actors were zombies, or mad killers, or victims, or what; even with the narrator telling us. Something that didn't make sense to me was that there was another narrator on our wagon just sort of passing back and forth. She was dressed like some biker gang member and through the whole ride I kept waiting to see if she would start to do something. Alas we made it all the way to the end without hearing a peep out of her. Before we were instructed how to get off the wagon we heard a guy shouting for her to narrate the wagon that was already full of people. So maybe she was just taking it all in before she made her first go around but it was a little distracting for us.
There is honestly not much to be said about the rest of the cast in the other four attractions. We counted about eight vampires in the whole Vampire Passage trail that seemed to just hiss as we walked by. There were a few actors in the Castle Morbid haunt that were a little more animated and didn't mind using dialogue. However, it has been years since they first brought Castle Morbid to the scream park and I still don't know what it's suppose to be. This becomes even more confusing when the few actors in there that actually want to act start talking like cannibals or house maids.
---
Costuming:

7.4
Other than the costumes we saw on the narrators at the beginning of the hayride, the first costumes we saw were a couple camp counselors in regular camp counselor clothes. No blood or dirt or anything even though they were being mean and telling us to 'Get out of here!' For the most part the only other costumes I saw on the hayride were regular clothes accented with dirt and blood. Fun thing about this style of costume is that they could choose to be a victim, a killer, a zombie, a crazy lunatic, etc.
The vampires in the Vampire Passage wore elegant and gothic-style costumes as one would expect a vampire to wear. It was a little too difficult to see the details of their make-up but I know from experience that actors are given a style of airbrush makeup according to their haunts. Vampires usually get a pale base layer with some dark purple outlines. We did manage to see some fangs and a little blood dripping down the mouths.
Actors in the Nightmare Mansion all had different style clothing in respects to their sets inside the house. The clowns of the 3D Keeper's Crypt were very basic. Simple one piece suits with a colorful pattern on them. Castle Morbid is very dark and makes me want to say everyone was in a thick cloak or old century cold weather rags but we couldn't really see them.
---
Customer Service:

8.2
There are signs posted on the roads leading to the road where Witch's Woods is. You will notice the little witch figure flying on a broomstick used as an arrow to guide you. Being a ski hill you would think it's pretty hard to miss but unfortunately the skiing side of the hill faces away from the road making it not the easiest thing to see. Fortunately, they have a very bright sign with Halloween decorations all over it that is almost impossible to miss. There were plenty of parking lot attendants to guide us into the right spots. They have two ticket booths that open promptly at 6:30. Plenty of food, rides and games. They even have a little brochure with a map on it to help you understand where to go.
They call these attractions but I will not; The Jack-O-Lantern Jamboree and the Horrorwood Chambers are more like little side displays as you make you way from the carnival atmosphere to the hayride on the other side of the property. The Jack-O-Lanterns are really just a bunch of plastic pumpkins with carved out horror icons or pop icons and things of that sort. They sit inside these little half sheds with plexiglass around them, kind of kills the mood but I can see how kids (and adults) would take or break the pumpkins every night. The Horrorwood Chambers is like a little horror wax museum displayed in those same sheds as the jack-o-lanterns. They have the Wolfman and Frankenstein, Dracula, Jason, Freddy, etc. They are usually playing a story on the speakers of a Halloween legend too. I just caught the beginning of Sleepy Hollow. There are a few animatronics and a lot of fog to make everything at least a little creepy. These displays are actually really nice for a haunted attraction to have. Not entirely sure what year they were added but it is a great way to fill in the gap between the carnival and the hayride which is about 1,000 feet.
They even have a great stage near the ticket booths where they have fire dancers and sometimes some zombies doing the Thriller.
Waiting in line at the Keeper's Crypt I was pleasantly surprised to find a projected screen playing some video clips for the line's entertainment. We were able to catch a segment from an old Mickey Mouse Halloween special. Not really the thing that put us in the mood for some crazy killer clowns but at least it was Halloween themed and something to look at. I actually prefer this method of queue line entertainment. We exited the Crypt behind the waiting line so we could see what was playing on the screen at that point. I had to walk away in shaking my head when I saw the music video for 'Everybody Talk' by Neon Tree playing on the screen.
It has been fairly common for most haunted attractions to dismiss the idea of a character ticket taker or someone who opens the door to an attraction for you. Witch's Woods I think used to be pretty good about having some characters standing at the front entrance but over the years it seems to just be getting worse. Everyone who's job it was to take our tickets were so uninterested in the attractions that they ended up ruining the attractions before we even entered them. The hayride had a few people standing around talking about what kind of trucks they want to buy. The Vampire Passage had some guy walking around getting tickets from everyone in line while this other guy in plain casual clothes just told us we could all go in whenever we wanted. I even told the guy I'd like to wait for the group in front of us to get some distance, they weren't even fully in the entrance yet. He acted like he understood and then ten seconds later he said we could go in now. At least the clown at the Keepers Crypt was actually dressed up but all she could do was talk to the group of girls about how it's not as scary as they think it is. The guy at Castle Morbid looked like we could have made him the happiest man alive if we sent him home and the guys at the front of Nightmare Mansion looked like just some regular Joes from the bar upstairs getting some fresh air. With all the free roaming actors going all over the place, I would think this could be a real easy fix.
---
Atmosphere:

7.87
The bulk of the attraction is in the main drag of a small ski hill. Over the years they have added more and more carnival rides, games and food vendors. At first glance you wouldn't think you are at a haunted attraction. At some points you might even think after coming out of the haunts you are still not at a haunted attraction. Like the haunts are just an added bonus.
Once we start making our way from the carnival atmosphere is when things start to feel right. The entrance to the hayride is across another big parking lot that stops at a tree line. In the corner of that lot there is a two hundred foot paved road that leads to the pickup and drop off point for the hayride. There is no light coming from this road so all we can see is this dark black curtain we have to walk into. Fog makes it's way out of the trail through this empty void to make things even more strange. There is a french fry vendor over to the side of the lot just for people waiting in line but they don't take away from the creepiness of this entrance.
The most detailed haunt is Nightmare Mansion. It is also the only thing in Witch's woods that hasn't changed since day one, or at least it doesn't feel like it has. Dare I say it, I think it's good they leave it alone. As far as detailed haunted houses go Nightmare Mansion is actually really good. We always start at the back exit of the cafe and make our way through this attraction that if we did not know any better might belong to some other haunted park. The first room is always detailed the most with old paintings and antique knights armor flickering wall lights. Even the wallpaper is haunting enough when we noticed it all peeling and turning brown. Making our way down the halls we come across plenty of bashed out holes in the wall where the angry residents liked to reach through.
---
Special Effects:

7.25
In my time when I haunted on the hayride I remember every single scene had some kind of effect. Whether it was an animatronic or a projection or even cutting the head off a dummy, there was something fun happening at every stop. There are no more stops on the hayride and I'm having trouble remembering anything I could call an effect. Towards the end of the ride we traveled through what they were calling a harvest festival. They had a big plywood wall with a movie projected onto it. The wall wasn't even painted so the movie was distorted by all the knots and lines in the wood. They were playing the 1960 original Little Shop of Horrors but not an exciting part for the brief time we were passing through. It looked as though they were just playing the whole movie and therefore if your wagon happens to be going through during a dull time in the film then that's too bad.
The Vampire Passage was put in last year. It almost seems like it would be a great way to pass the time waiting for the hayride since the line for each attraction is almost shared. What I loved about Vampire Passage was standing at the entrance to the woods and looking out over all the little flickering lights and blue fog. There really wasn't too much detail given to most of the trail but towards the end I found myself walking through what seemed like a hundred skeleton monks all staring at me. One of them was real, he nudged about an inch at me when I walked by. The thought of all of them coming to life is something that entered my head and I couldn't stop thinking about how creepy the whole thing was.
I can't say too much more about the remaining three attractions other than the lighting in the Mansion is usually placed nicely. Just enough light and enough color to give the ambiance of a creepy haunted house but also able to see all the nice details.
---
Theme:

8.5
Witch's Woods for the longest time has always had their hayride as the star attraction. The ride, much like any hayride, has had multiple scenes that don't always match up with each other. One scene would play with psychotic rednecks and the next was a giant spider invasion followed by a werewolf transformation and they wrap it up with a zombie attack. For many years they began the hayride with a stop at a giant witch brewing a potion in her cauldron. The story was accentually the witch opening up a portal to a dark dimension and it had contaminated the woods, so the random scenes were tied together in somewhat of a storyline.
This is the first year I've ever experienced a hayride that is completely designed around one main theme. Camp Harvest Valley is an interesting theme to begin with seeing as how it's a fairly common location in the horror genre but not so common in the haunted house business. A lot of the actors are kids that could very well be in the age group of summer camp kids, along with the teenage camp counselors. Why don't I see this theme being used more? But to see a whole hayride apply and stick to a singular theme is rare.
The story wasn't so much about anything bad that we were seeing as it was just a regular tour of a summer camp filled with killers and flesh eaters that she seemed to be oblivious to. This was to a point it felt more like the narrator was trying to sell the idea that this could be a great place for your kids to go to camp and they didn't want to talk about all the terrible things happening around us. The one thing we don't know is if the other narrators on the other wagons used the same story since they were all very different characters.
---
Fright Effect:

6.5
I've always had a strange feeling about Witch's Woods. Being from the area I hear what people have to say about it from year to year and the impression I get is usually negative. As someone who travels around to see what other attractions have to offer, I can say that whatever this extra scary feeling is that people want so bad is extremely hard to find and when we do find it, it's even more hard to really enjoy it. Is Witch's Woods even close to the scariest attraction we've seen? Unfortunately, not by a long shot. I think the bad taste people get in their mouths about Witch's Woods is due to lack of trying. More often than not we'll see actors going back to their spots too quickly. The fact that we're lined up for the hayride when a wagon full of all the actors pulls past us ruins the effect. Vampires not doing much more than hissing. Clowns that walk around a room smiling at us. All of these things are huge reasons to why anyone says anything negative about Witch's Woods, sometimes they just feel like they aren't doing it for the love of haunting.
---
Value:

8.6
No matter what night of the week, tickets are $37. Total time we spent inside the attractions was close to 30 minutes. This gives Witch's Woods a minutes per dollar value of .81 which is a bit on the low side. We like to know where we can spend at least a dollar for every minute of haunted entertainment. However, we are getting the added entertainment of the Jack-O-Lantern Jamboree and Horrorwood Chamber displays for free, along with the fire dancers and other free entertaining stage shows. Another BIG thing you are getting as well with your ticket price is a wrist band for the carnival rides. Not really my thing but if you are with your friends and family and want to ride the twirly teeth smasher machines then you don't have to pay anything extra for that. They also have more carnival rides, food and games than any stand alone haunted attraction in New England and maybe in the entire North East, excluding theme parks.
In closing I'll reiterate that we feel the bulk of the negative opinions Witch's Woods receives are mainly due to lack of passion. More importantly the feel that there was a passion and suddenly it was lost. With a haunted mansion design like they have had for almost two decades now we feel that in order to make it complete there needs to be actors bringing it to life. It's hard enough to do that even with the most passionate actors if people know there is a fun carnival on the other side of the wall, but that carnival makes up for a lot. People might have trouble putting it into words like this so they just resort to calling the place 'not scary' or 'not enough.' We believe that people can sense when the cast and crew love their jobs or treat it like another punch clock position. Unfortunately, that is how Witch's Woods has felt to me and others for quite some time.
If you come to just have a fun October night then you have chosen the right place. For what you get out of the ticket price, and even what you can get for free, Witch's Woods is still a great destination.
---
Promo Images:
Click to Enlarge
---
Have you visited this attraction?
Join ourspookyadventures!
We visit Halloween haunted attractions year-round! Follow us for haunted house walkthrough videos, behind the scenes footage, and more!