Find Reviews for a Haunt near You! Find Reviews for a Haunt near You!
Find Reviews for a Haunt near You!
A Petrified Forest
1360 E Altamonte Dr., Altamonte Springs FL, 32701
Reviewed by: on October 4, 2014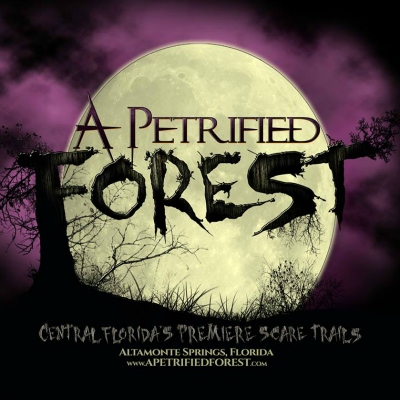 Free Parking, Food/Concessions, Gift Shop/Souvenirs, This haunt will not touch you, Original Characters, Outdoor Waiting Line, Outdoor Haunt
Being an actor-driven scare haunt this place does it very well. I left both trails grinning ear to ear. They don't have all the crazy special effects, but that's what makes it more impressive. In a city that is full of the best of the best and most high tech, they still managed to scare everyone who expects it. It's a nice break from the giant Halloween events to see a place that really just wants to scare you. The parking is also FREE!!
---
There were some that were just alright, but the ones who were good were great. Out of the 100+ actors, I only had two that just lingered around looking at me. Everyone else though had good timing and really creative scares. They worked off of each other and often times got 2-3 scares each.
---
The makeup on all of the characters was on point. Never a boring face. Some of the costumes were very impressive while some were just typical. None were bad by any means, but they could use just a little bit more. The rest, however, were all fantastic.
---
These guys are great. They sat and talked to me for a good portion of the night. Every single one of them I talked to was incredibly nice and answered all of my questions. They have a true passion for what they do and they recommended me to several other local haunts!
---
You know you're at a good haunt when you get there and there are several roaming actors while you wait.
---
Since this isn't a huge high tech haunt, they don't have all of the animatronics and fancy lighting. They do, however, work with the resources they do have very well.
---
The barn was typical for an outdoor haunt, but the flow of the scenes made sense. Even the stuff you would think, "That doesn't sound like it would fit," did because of how well they transitioned scene to scene. The factory was exactly the same. Great theming throughout the entire trail with flawless transitions scene to scene.
---
The people I went through with were scared the whole way. Even the big guys who were trying to play it off screamed.
---
You can hit both trails for $25. They also offer Mutant Laser Tag and a lot of other really cool things. I did a backstage tour between the two trails and spent around 1.5 to 2 hours doing so between the two. They also have t-shirts for $10! Who sells t-shirts that cheap anymore?
---
---
Awards