Review of Boogerwoods Haunted Attraction Haunted Attraction
Review of Boogerwoods Haunted Attraction Haunted Attraction
Review of Boogerwoods Haunted Attraction Haunted Attraction
Boogerwoods Haunted Attraction
Boogerwoods Haunted Attraction is a Haunted Attraction located in Rockwell, NC.
725 Phaniel Church Road, Rockwell, NC 28138View All Details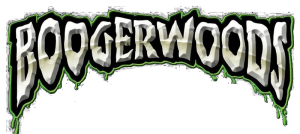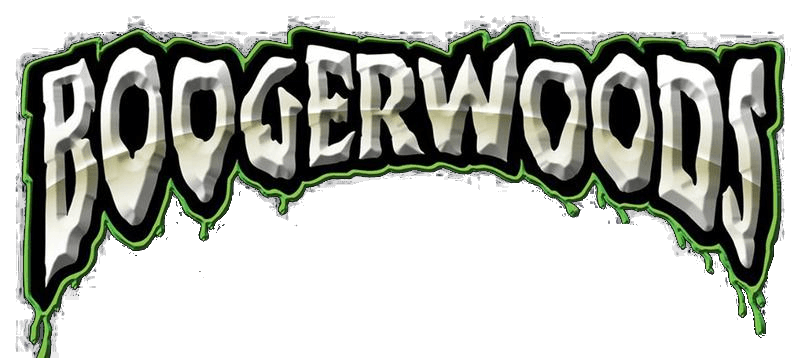 Features:
Free Parking, Restrooms/Porta Potties On-Site, Food/Concessions, Gift Shop/Souvenirs, "Old-School" (Low Tech), You will NOT be touched, Movie Characters, Original Characters, Uncovered Outdoor Waiting Line, Family Friendly
Team Jefferson Starship reviewed this attraction on October 27, 2016.
Final Score:

8.68
Summary:
Boogerwoods is a haunt in eastern North Carolina that all haunt enthusiasts should visit at least once. A charity haunt that donates its proceeds to combat cystic fibrosis, Boogerwoods is packed with a number of scenes, a ton of volunteers, and a mix of scares, humor and special effects that deserve to be seen. This isn't a high budget, professional haunt run by a business but a huge group of people who have a lot of passion for what they do and a need to show it off to everyone.
---
Cast:

9.19
Visitors are lead through Boogerwoods by a pair of guides – usually one at the front of the group and one at the back – who work in tandem to provide some running commentary, introductions, and keep the groups moving from one scene to the next. One immediate result of this is that each time you visit, you may have a slightly different experience because of different guides and their banter and dialogue. A lot of the interaction occurs between the visitors and the guides with the Boogers in each scene mainly interacting with the guides or chasing screaming guests out of their hidey-holes. There are about 100 volunteers working as haunters across a little over a dozen different scenes and locations, plus the pairs of guides who take you from place to place. Given the volume of volunteers, the dedication of each of them to remaining in character and working, sometimes very, very physically, to provide scares is a testament to how much Boogerwoods loves what they do.
---
Costuming:

8.45
Given that there are so many actors across the site, there were instances where the makeup or masks were not quite 100%. The good news is that most of the Boogers who are interacting directly with visitors are given a bit more time and care. The Booger behind the counter at the Small Engine Repair Shop for example was very well done as were the classic horror movie figures (Freddy, Jason, Michael Myers) for the amazing Flatback scene.
---
Customer Service:

7.25
We want to make sure our readers understand that the staff of Boogerwoods are great. They are friendly, helpful and willing to answer questions. One must understand that as you move from scene to scene you are traveling through Carolina woods. Dirt, uneven ground, tree roots and even loose soil are all going to be encountered. However, this is also the case inside some of the scenes as well. Entrances into and out of some scenes include steps up or down; be careful and watch your step, or ask the guides for help (they have flashlights).
You will be warned before the Haunt begins that pregnant women, those with motion sickness, people who have issues with tight spaces, or with strobe lights may want to avoid some scenes – the guides will provide a way around any given scene if these apply to you. For some scenes, you can anticipate what these hazards might be – strobe lights in the dance club or clown school, heavy motion in the tornado scene or earthquake shelter. Some of these effects are very extreme; one of our reviewers who has experienced several earthquakes attested to the realism of the scene at Boogerwoods. In short, while the staff know where to put the guests to avoid the greatest danger, there are chances where you may bump heavily into a wall or against props.
Then there are the lines. Boogerwoods has been in operation for 39 years. They deliver an amazing experience and the lines speak of this. Your choices are to get there early (ticket sales start at 2pm), buy a fast pass (scheduled and staggered every 30 min throughout the night), or wait in line. The line can easily last upwards of two hours on a crowded night. There is some queue entertainment in the form of a projected video/movie and/or music being played, but little else. We highly recommend doing what you can to avoid the line.
---
Atmosphere:

7.67
The outside of Boogerwoods seems rather underwhelming and has a jovial, campy feel to it. Don't let that dissuade you or detract from what you are about to experience inside though! There was some bleed over sounds from deep within the haunt consisting of bangs, roaring chainsaws, and screaming visitors. A lot of those screams are well deserved; the entertainment provided by the Boogers is waiting!
---
Special Effects:

9.24
Beyond the witty banter of the guides and the sheer number of Boogers haunting the site, special effects are where Boogerwoods really shines. There are the standard chainsaw wielding maniac scenes and 3-D and blacklight paint splattered rooms (with and without clowns) that you can find almost anywhere. There are some sound effects, but not a lot of background or ambient noise. However, there are some scenes that you simply must experience in person – the mineshaft/flatback, the tornado room, and the earthquake shelter for example – are astounding pieces of mechanics, set design, and interactivity that you don't see in other haunts.
---
Theme:

9.18
In the South, a booger is another word for a ghost; similar to bogey (as in the bogeyman), it is a sort of ambiguous term for unseen and indistinct monsters that induced psychosomatic fear in their victims. Boogerwoods, therefore, is a section of woods haunted by such creatures. As such, all of the various scenes at Boogerwoods have 'booger' somewhere in their name. Otherwise, many of the scenes are standard, old-school haunted house fare and Boogerwoods does its best to stick to those old-school themes that are standards in the industry. It can almost be a little game to try to piece together the 'booger' for a given scene – from the BW Gas and Grill (BW for BoogerWoods) to Uncle Booger's Clown School to the BoogerCinema.
---
Fright Effect:

9.43
Many of the rooms and scenes are built large enough that the boogers come at the entire group. Instead of just one actor jumping out at the front of a line of guests, at Boogerwoods you're going to have multiple boogers popping out to rush at the guests or you'll find yourself along a wall while a booger pops out of the middle to terrorize everyone around them. There are some creative uses of props.
Visitors go through in groups of eight to ten and for the most part this is fine because of the way that Boogerwoods is set up; the guides get the whole group involved, sometimes moving different people to the front, sometimes rearranging their own place in the group, positioning visitors in the best place for scares. However, there were some instances where fewer guests would have resulted in better scares but perhaps that's us being greedy for the amazing work the boogers do. While some parts of Boogerwoods may not be scary, there is a lot of entertainment going on. You may find yourself alternately biting back screams and letting loose howls of laughter!
---
Value:

9
Boogerwoods takes about 50 minutes from your start in the Holding Tank until your eventual exit. However, Boogerwoods only costs $15 per person ($25 for fast pass). That comes out to 3.33 minutes of scares per dollar spent which is an amazing deal (and the highest out of the 80+ haunts reviewed by The Scare Factor so far this season). While we may have wished for smaller groups with each set of guides and recommend buying a fast pass to avoid the long lines, do not fear that you will not be entertained and get a great value for your dollar at Boogerwoods. Also remember that their proceeds go to charity, so while you're laughing, screaming, ducking, and clinging to your fellow visitors, you're also helping this huge group of volunteers do some good in the world!
---
Promo Images:
Click to Enlarge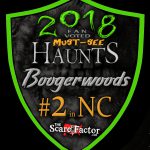 Guest ReviewsGuest Average: 0 out of 10
Sarah – 10/10Challenge Accepted was awesome! Me and my boyfriend were looking for escape rooms in our area, and …show more as poor college students, price was a big factor. Despite being only two small locations in the mall, they have multiple rooms, at 20, 40, and 60 minutes long, with the 20-minute rooms being only $10 each! We've been back multiple times, and loved every one! Staff is very helpful and enthusiastic about their job, and is thrilled to explain all the little secrets after you escape. Will be back every time they make a new room!
Norma – 4/10We visited this attraction on the last night of their 2018 season I believe. We did show up late …show more (about 20 minutes before they closed) and it was dead in the waiting line. Regardless, every group that was in the haunt somehow ended catching up to one another. We walked as slow as we could knowing there wasn't anyone behind us but we still couldn't stay away from the group in front of us. They had one teenage female that was petrified of everything so all the monsters kept taking advantage of it, cornering her every chance they got. They also followed her through multiple scenes that weren't theirs while our group tried to stay behind some and there were no entertainers around because they were all following her. When they would stop and turn around to go back to their base spots (if they even have them there), some of them just walked passed us without any effort towards scaring us. It was a disaster. This chic's name was Lauren and by the time we got to the exit of this thing, we were relieved that we didn't have to hear her name called out over and over and over anymore. She had to of been extremely annoyed by it herself. It took all of the fun out of it. Actors even stopped us in some of the maze portions so the other monsters could entertain their group for quite some time and they would just be staring off into outer space. The only way we knew they could talk is because they said Lauren's name already. Besides that, costuming was mostly store-bought quality. Nothing different to look at here. Scenes were the same. Some looked as if they had been built out there in the woods for years and they've sat through the seasons and no one's ever gone back to touch them up. Parts of the maze where there's a lot of plastic and wood seem to possibly be a danger. We didn't see any actors for quite some time in them bc they were following Lauren and if someone ignited one of these things, I'm afraid it would have taken us a long time to find the exit. Some spaces were very tight for us, if those were to fill with smoke where there are roofs, I don't think that would be good at all. At one point, we didn't know where to go at all so we weaved through these pipe-like things and found a hole and we started walking on this really dark path into the woods. There were props and things out there but 0 lights. Come to find out, it looked like a previously closed portion of the trail because when we got to the end of it, there was no way to get back into the maze. We had to crawl under caution tape to get back in. That right there tells you that no actors were paying any attention to our group. We paid full price for our tickets that night and we honestly should have just passed this place up. We've been here before too and it wasn't that bad. The highlights of the trip were the gentleman that introduced us to the park and gave us the rules before we went in. There was also one clown (Pickles, maybe
?) that actually put effort into scaring us but he was mostly one of the only ones. In one of the mazes there was a chainsaw assailant behind a door and we could hear the saw and see him through the crack of the door but we couldn't get in. When that door finally opened, holy shit! That was the best scare in there for sure! Also, there are places where you will need to duck down, tight corridors as mentioned above, uneven terrain, and a lot of walking (especially if you're bad at mazes) so be prepared for that.
Norma – 6/10Maybe we just went on a bad night but we weren't very impressed with this haunt. We had heard many …show more good things about it and we ended up with a free Saturday night so we gave it a shot. We showed up at probably 9:30 at night. Waited in line maybe 15-20 minutes so that wasn't bad. We really didn't have problems with spacing inside the haunt except for a few times but we were able to slow down and it helped when there wasn't anyone behind us. I will say, there were a lot of unique things in the haunt portion. One interactive set was very different and unnerving. Some of the characters were really into their roles while others were bland. One was sitting on top of a washing machine and he jumped down and we were thinking, "Oh shit" but he didn't do anything, he just jumped at us a little and said, "What?" In the outdoor portion of the haunt it was a bit too dark to see the characters, especially the Creeper. Our favorite part was the alligator! They know how to utilize this now, commonly-seen prop to the fullest for sure! If you are likely to pee your pants, you just might lose it on that one! I would give the house itself a 7 out of 10. Now we were under the impression that the corn field was haunted too. Although it was a good maze, there were three scareactors in it and they were terrible. No lights, sounds, sets, nothing but mud and corn and the dark. At first it was creepy but after we walked and walked and nothing happened, we were aggravated and ready to find our cars. The last actor that we came across could have hidden well since they were in all black but they didn't, they stood in the middle of the trail acting like they couldn't see, whispering to us as we walked asking us if we were customers. Wow. Don't upgrade to the corn if you're expecting a fright in there, it won't happen.