Review of Containment Haunted House Haunted Attraction
Review of Containment Haunted House Haunted Attraction
Review of Containment Haunted House Haunted Attraction
Containment Haunted House
Containment Haunted House is a Haunted Attraction located in Lithia Springs, GA.
1320 Blairs Bridge Road, Lithia Springs, GA 30122View All Details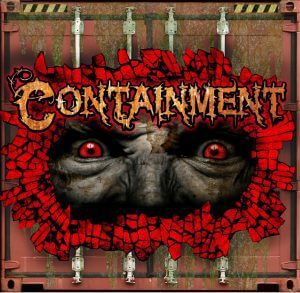 Features:
Free Parking, "Old-School" (Low Tech), You will NOT be touched, Movie Characters, Original Characters, Uncovered Outdoor Waiting Line
Team Jefferson Starship reviewed this attraction on September 24, 2016.
Final Score:

8.23
Summary:
Containment Haunted House is a relative new-comer to the north-west Georgia area, however nearly all of the staff have a strong background in haunted attractions and that prior experience shows. If you need to get locked in to a haunt this year, be sure to visit Containment for an interactive experience.
We were able to get in on an early, private opening for friends, family and the press, so the crowds on the night that we went were not as heavy as on a normal season evening.
---
Cast:

9.29
The cast of Containment are perhaps the first and most important reason you should be visiting this haunt. From the line-keeper who lets you in, to the deep voiced creep in the first room, to the escaped psycho "Ethan," to the night-club bouncer, to the room full of interactive dolls – as a whole, the cast was good at engaging visitors with dialogue and banter.
---
Costuming:

8.92
There are a few masks in Containment, but costumes tended to be believable and appropriate for each of the various scenes involved. Makeup was slightly inconsistent across the attraction in that some actors had very good, believable makeup but others had makeup that looked rushed and was distracting.
---
Customer Service:

7.25
Containment is built out of, around, and through a series of large cargo containers. Because of this, there are several small ramps that lead into and out of some scenes. We felt that some of these ramps could have been better lit or labeled as they caused a few small stumbles during our visit.
While the signage for the Haunt itself is noticeable, the location can be a bit hard to find – it's in the lot adjacent to a paintball arena. Because of this, parking was a little confusing… but manageable. Be alert and aware while driving into the site.
Queue entertainment was provided by Choo-choo the Clown; basically your usual creepy clown, Choo-choo was good with eerie stares and witty banter. He was entertaining, but didn't entirely fit the feel for the haunt.
The waiting area for the line added to a claustrophobic feel; on a busy night, it would be a rough wait.
Staff is friendly and responsive, even answering phones on a night such as the one we visited, unlike many other haunts.
---
Atmosphere:

7
From the outside, you get a good view of the container vessels that the haunt is built from and it seems as if the haunt is going to have a zombie outbreak theme. This preconception is one of the reasons that Choo-Choo the clown was such a distraction.
Since the main entrance to the parking lot points at a paintball attraction, nothing really screamed haunt. While waiting in line, however, you could occasionally hear bits of sound effects, including resounding bangs, panicked screams, and startled shouts.
---
Special Effects:

8.06
Some of the sounds effects and music in Containment were louder than they needed to be, but all of them were realistic and appropriate. Detailing was well done and we appreciated the inclusion of scents and temperature control into the repertoire of effects.
Like the sounds, the lighting was inconsistent. Placement of lights could have been done better; moving a strobe behind the path visitors walk on instead of shining directly into their faces, for example.
There were a number of props that were good, and some effects that we have not seen before that were very well done – a fridge full of body parts and an articulated mannequin in particular stood out as highlights.
---
Theme:

N/A
As stated previously, given the appearance of the site, the zombie response team vehicle out front, and the name of the attraction, we initially (and mistakenly) believed that the haunt was going to be have a zombie outbreak premise. However, Containment has no particular theme, instead leading visitors through a variety of different locations, scenes, and small contained themes more akin to a traditional, old school haunt.
Each singularly-contained scene was well done, however.
---
Fright Effect:

8.42
Containment featured a lot of personal interaction which, of course, means that actors are best able to play upon the fears and unease of specific visitors – this is a skill and draw that cannot be ignored. There were also a lot of static props and scares that triggered at different points giving everyone in the group an opportunity to experience a variety of things. Scares were fairly predictable across the haunt. We went through in a small group of four, but we think that groups as large as six went through before us. Given the size and lay-out of some of the 'rooms' in the haunt, we're not certain that larger groups are going to be as scared given the space available to accommodate both visitors and actors.
---
Value:

8.67
We were able to get through Containment in about 30-45 minutes. Given the nature of the haunt, this seems to be about average. General admission tickets are $25 and fast pass is $35. On a busy night, it is not uncommon to face an hour-long wait to enter the haunt. But, with the personal attention from actors and the time taken to traverse certain scenes, that kind of wait is to be expected, although some visitors may balk at such a length of time.
---
Promo Images:
Click to Enlarge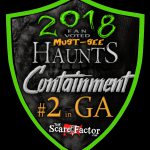 Guest ReviewsGuest Average: 0 out of 10
Sarah – 10/10Challenge Accepted was awesome! Me and my boyfriend were looking for escape rooms in our area, and …show more as poor college students, price was a big factor. Despite being only two small locations in the mall, they have multiple rooms, at 20, 40, and 60 minutes long, with the 20-minute rooms being only $10 each! We've been back multiple times, and loved every one! Staff is very helpful and enthusiastic about their job, and is thrilled to explain all the little secrets after you escape. Will be back every time they make a new room!
Norma – 4/10We visited this attraction on the last night of their 2018 season I believe. We did show up late …show more (about 20 minutes before they closed) and it was dead in the waiting line. Regardless, every group that was in the haunt somehow ended catching up to one another. We walked as slow as we could knowing there wasn't anyone behind us but we still couldn't stay away from the group in front of us. They had one teenage female that was petrified of everything so all the monsters kept taking advantage of it, cornering her every chance they got. They also followed her through multiple scenes that weren't theirs while our group tried to stay behind some and there were no entertainers around because they were all following her. When they would stop and turn around to go back to their base spots (if they even have them there), some of them just walked passed us without any effort towards scaring us. It was a disaster. This chic's name was Lauren and by the time we got to the exit of this thing, we were relieved that we didn't have to hear her name called out over and over and over anymore. She had to of been extremely annoyed by it herself. It took all of the fun out of it. Actors even stopped us in some of the maze portions so the other monsters could entertain their group for quite some time and they would just be staring off into outer space. The only way we knew they could talk is because they said Lauren's name already. Besides that, costuming was mostly store-bought quality. Nothing different to look at here. Scenes were the same. Some looked as if they had been built out there in the woods for years and they've sat through the seasons and no one's ever gone back to touch them up. Parts of the maze where there's a lot of plastic and wood seem to possibly be a danger. We didn't see any actors for quite some time in them bc they were following Lauren and if someone ignited one of these things, I'm afraid it would have taken us a long time to find the exit. Some spaces were very tight for us, if those were to fill with smoke where there are roofs, I don't think that would be good at all. At one point, we didn't know where to go at all so we weaved through these pipe-like things and found a hole and we started walking on this really dark path into the woods. There were props and things out there but 0 lights. Come to find out, it looked like a previously closed portion of the trail because when we got to the end of it, there was no way to get back into the maze. We had to crawl under caution tape to get back in. That right there tells you that no actors were paying any attention to our group. We paid full price for our tickets that night and we honestly should have just passed this place up. We've been here before too and it wasn't that bad. The highlights of the trip were the gentleman that introduced us to the park and gave us the rules before we went in. There was also one clown (Pickles, maybe
?) that actually put effort into scaring us but he was mostly one of the only ones. In one of the mazes there was a chainsaw assailant behind a door and we could hear the saw and see him through the crack of the door but we couldn't get in. When that door finally opened, holy shit! That was the best scare in there for sure! Also, there are places where you will need to duck down, tight corridors as mentioned above, uneven terrain, and a lot of walking (especially if you're bad at mazes) so be prepared for that.
Norma – 6/10Maybe we just went on a bad night but we weren't very impressed with this haunt. We had heard many …show more good things about it and we ended up with a free Saturday night so we gave it a shot. We showed up at probably 9:30 at night. Waited in line maybe 15-20 minutes so that wasn't bad. We really didn't have problems with spacing inside the haunt except for a few times but we were able to slow down and it helped when there wasn't anyone behind us. I will say, there were a lot of unique things in the haunt portion. One interactive set was very different and unnerving. Some of the characters were really into their roles while others were bland. One was sitting on top of a washing machine and he jumped down and we were thinking, "Oh shit" but he didn't do anything, he just jumped at us a little and said, "What?" In the outdoor portion of the haunt it was a bit too dark to see the characters, especially the Creeper. Our favorite part was the alligator! They know how to utilize this now, commonly-seen prop to the fullest for sure! If you are likely to pee your pants, you just might lose it on that one! I would give the house itself a 7 out of 10. Now we were under the impression that the corn field was haunted too. Although it was a good maze, there were three scareactors in it and they were terrible. No lights, sounds, sets, nothing but mud and corn and the dark. At first it was creepy but after we walked and walked and nothing happened, we were aggravated and ready to find our cars. The last actor that we came across could have hidden well since they were in all black but they didn't, they stood in the middle of the trail acting like they couldn't see, whispering to us as we walked asking us if we were customers. Wow. Don't upgrade to the corn if you're expecting a fright in there, it won't happen.
---
2017 Awards
Scariest Creature - Mannequins (Given by: Team Jefferson Starship)
Most Intense Characters (Given by: Team Jefferson Starship)
Best Theme Introduction (Given by: Team Jefferson Starship)
Best Use of Space (Given by: Team Jefferson Starship)
Actor Shout Out Award - Ned and Ed (Given by: Team Jefferson Starship)
---