Review of Haunted Hills Hospital Haunted Attraction
Review of Haunted Hills Hospital Haunted Attraction
Review of Haunted Hills Hospital Haunted Attraction
Haunted Hills Hospital
Haunted Hills Hospital is a Haunted Attraction located in Lake Station, IN.
4700 Central Avenue, Lake Station, IN 46405View All Details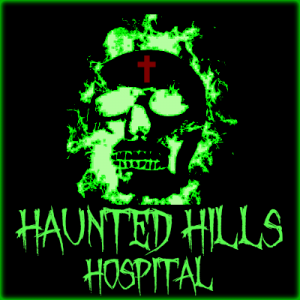 Features:
Free Parking, Paid Parking, Food/Concessions, Gift Shop/Souvenirs, Special Events, You will NOT be touched, Original Characters, All-Indoor Attraction
Team Zombillies reviewed this attraction on October 22, 2016.
Final Score:

8.14
Summary:
For the 2016 haunting season, Haunted Hills Hospital is being held in a different location. Although this building is perfect for hosting a haunted house, HHH led us to believe that they may not be staying here and will likely have a more permanent home next season. During our visit, we went through two different areas. The first was the hospital, which has been overrun by the maddened patients who were sentenced to rot here. The second half, which can come off as a bit confusing (if you don't familiarize yourself with the attraction's story), appears to wind you through the town of Hills Hollow, a place that's been damned by the plague and full of some beings that made us question if they were crazier than those we faced in the hospital! Just standing in the waiting line will give you a taste of some of the interactive characters you will face inside. As you make your way through, remember; don't make eye contact with the crazy, definitely keep your hands to yourself and be prepared to see anything because you never know what they may be up to!
---
Cast:

8.49
Although the haunt itself seemed to be a lot larger this year, the crew within did a pretty good job at covering the many hallways, nooks and crannies (there are 160 on their roster total). At one point, we walked through one room that had AT LEAST 10 irate characters. Some were behind restraint walls and some were loose, but they actually weren't all just screaming in our ears; some of them actually verbally interacted with us! However, many of the other crew members didn't say much and just appeared for short periods of time. They would provide quick pop scares from behind doors and corners and, sometimes, they came crawling towards us on the ground and then would quickly disappear. Some of the more believable and sinister characters include Dr. Cropsey, who yanked a girl's spine right out of her back in front of us, the Psychiatrist, Dr. Faust, with his "Hannibal-Lecter-like" creepiness, the pharmacist, the teacher near the middle of the attraction (who had great interaction with the groups as they exited the first segment) and the guard in the beginning who made us line up single-file, while we waited in the last section of the queue line to enter. One last thing… the chainsaw attacker was the most energetic of the entire bunch during our visit. We repeatedly watched him chase terrified victims all the way out to the parking lot over and over again. Boy, do we sure wish we had his energy!
---
Costuming:

8.63
The costuming at HHH consisted of a variety of pieces, including tattered medical clothing, hospital gowns, scrubs, gothic items and other pieces. Although the makeup was mostly minimal, except for some well-blended appliances, some very high-quality masks were noticed on characters such as the doctor, Jax, Reaper, the rabbit and some of the other patients. We must say, the Psychiatrist's costume combined well with his evil demeanor to help create quite a scary character, as well as the rabbit's seamless, custom pants that were perfect for the stilts. We also made note that some of the costumes were a bit more grotesque and intimidating than others, but each of them seemed to "belong" in their respective scenes, for the most part.
---
Customer Service:

9.13
If you venture out to visit them this season, be forewarned that you must follow the signs they have placed along the road and not… we repeat, NOT… your GPS once you get off the highway. Had we done so, it certainly would have lead us astray. Don't worry, it'll get you close, but once you start seeing their signs, let them lead you the rest of the way. No, not right now! Hey! Come Back!!!
There you are… shew! Anyway, free parking is available in a well-lit, paved lot. If you are hungry or would like to purchase a gift or haunt memorabilia, just look for a tent with lights on the top. The ticket booth can be found out in front of the building on the left-hand side and friendly staff members were also available to answer any questions we had. Additional haunt personnel could be found at the entrance of the Hospital as well. There were two waiting lines that were clearly marked and navigating the inside portion of the building was rather easy. A photo op takes place in the line of the attraction and your printed photos can be picked up later for an additional fee if you like. Multiple, very talented queue entertainers were working their magic on the crowd during our wait, which included one very tall (and angry) rabbit!
---
Atmosphere:

8.25
A large sign with distressed lettering was hanging on the front of their home for this season, which helped let us know we'd made it to the right place, as did the multiple crowd interactors and loud rock music. Although the exterior of the building didn't have a lot of added haunt decor, the actors who were mingling with the crowd and the terrified victims of the chainsaw chaser that went flying out to the parking lot (much to the delight of the queue line) helped prepare us for the frights we were fixin' to face inside.
---
Special Effects:

7.84
Keeping in mind that this is HHH's first (and probably last) year in this current building, it's no surprise that most of the props and scenery are pretty temporary-looking. Now, when we also consider how they'd just upgraded from their home-haunt location to this full-sized building, we'd say the move went fairly well over the summer! Admittedly, it was a bit odd at times to see painted, two-tone, plywood, "hospital" walls next to the permanent, like-colored block walls that belong to the building; but nevertheless, it was made clear that a valiant effort had been made to blend their pre-existing haunt into this new (yet temporary) home. Speaking of walls, many of them had been grungily distressed and fitted with chained doors, insect nests, patient cells, blood splatters and hanging branches from the ceiling (in the "outdoor" scenes). We also witnessed flickering lights, a claustrophobic tunnel, a large clown vehicle and a loud horn that increased the intensity of those respective areas. HHH is more of an "old-school" haunt, meaning they don't really have very many pneumatic props or elaborate electrical effects. Instead, they rely on their actors to work with what's readily accessible to them, which usually turns out to be much more realistic, personal and, thus, effective anyway. Different types of music could be heard along our route, including tunes that ranged from hard rock tracks to the old-fashioned stuff that just flat out gives you the heebie-jeebies!
---
Theme:

8.26
HHH is based around a facility that has become known as "one of the Nation's dirty little secrets." This was a place where those who were said to be "too dangerous" or "unhelpable" were sent to, bluntly, "rot and die." The crazed medical staff there ran the place and… well, let's just say they had their own way of doing things. They would use their patients as experiments, claiming they were trying to find ways to help them, but instead of actually helping, they were making things worse… "driving the patients further into madness." Eventually, the patients got tired of it and turned against the staff… taking over the hospital that, if you're brave enough, you can visit now. Not only did they take control of the building, though, they took over the nearby woods and medical staff housing as well. It's said that, following the Hospital's closing, the town of HIlls Hollow fell under a spell of dark magic that corrupted the remaining townsfolk. Now, the entire town is plagued! Don't touch anything; you don't want to aggravate it anymore than it already is.Our journey began in the Hospital itself, where psychotic patients and several devious doctors could be found running around the halls and rooms. Eventually, we were led to a separation in the attractions and proceeded past many different scenes including a carnival-type area, a wilderness scene with a caged, "hooded" character, a teacher, several undead corpses and more. We did appreciate the multiple references made about Dr. Cropsey. That type of build-up is almost always a sure-fire way to increase anticipation and anxiety in haunt goers… but little did we know that the bad Dr. was actually a patient himself!
---
Fright Effect:

7.33
As mentioned above, most of the frights were delivered by the actors themselves, rather than by any specific props or gadgets. It seemed that most of the latter were used to set the tone or "mood" for their respective scenes and give the actors a good foundation to base their scares on. Let's use the spine-removal scare, for example. Sure, it's pretty freaky to see a still-awake patient on a table with their back ripped open… but then seeing their spine get cut out and totally removed as they both scream at the top of their lungs, whether it be from euphoria or agony, it just takes things to a whole new level. Throughout the rest of the haunt, scares ranged from belittling stabs at your personal intelligence and Lecter-like language that'll give you goosebumps to a room filled with wailing wackos and a highly-intense, chainsaw-slinger finale! We were also surprised by several drop panels and a few cleverly-executed distractions.
---
Value:

7.22
General admission tickets are only $10.00 per person, which is among the lowest of prices that we've come across this season! If you're in a hurry and want to get the "Emergency" fast pass to skip the regular wait in line, you can do so for $15.00 per patient. They also offer an "Insanity" pass for those who really want to go all out, which allows you to skip the general admission line and receive a t-shirt and additional merchandise for $25.00. Not including the waiting areas before each segment of the attraction, our total tour time came to around 11 minutes. Although that is a rather short duration compared to many of the attractions we go to, it's still a pretty darn low ticket price and we sure felt like we were trapped inside for much longer than that. Checking in at 1.1 minutes of entertainment per dollar spent (slightly below the average of 1.5 that we calculated from all of the haunts we attended last year). We are really looking forward to seeing where HHH ends up next season!
---
Promo Images:
Click to Enlarge
Guest ReviewsGuest Average: 0 out of 10
Sarah – 10/10Challenge Accepted was awesome! Me and my boyfriend were looking for escape rooms in our area, and …show more as poor college students, price was a big factor. Despite being only two small locations in the mall, they have multiple rooms, at 20, 40, and 60 minutes long, with the 20-minute rooms being only $10 each! We've been back multiple times, and loved every one! Staff is very helpful and enthusiastic about their job, and is thrilled to explain all the little secrets after you escape. Will be back every time they make a new room!
Norma – 4/10We visited this attraction on the last night of their 2018 season I believe. We did show up late …show more (about 20 minutes before they closed) and it was dead in the waiting line. Regardless, every group that was in the haunt somehow ended catching up to one another. We walked as slow as we could knowing there wasn't anyone behind us but we still couldn't stay away from the group in front of us. They had one teenage female that was petrified of everything so all the monsters kept taking advantage of it, cornering her every chance they got. They also followed her through multiple scenes that weren't theirs while our group tried to stay behind some and there were no entertainers around because they were all following her. When they would stop and turn around to go back to their base spots (if they even have them there), some of them just walked passed us without any effort towards scaring us. It was a disaster. This chic's name was Lauren and by the time we got to the exit of this thing, we were relieved that we didn't have to hear her name called out over and over and over anymore. She had to of been extremely annoyed by it herself. It took all of the fun out of it. Actors even stopped us in some of the maze portions so the other monsters could entertain their group for quite some time and they would just be staring off into outer space. The only way we knew they could talk is because they said Lauren's name already. Besides that, costuming was mostly store-bought quality. Nothing different to look at here. Scenes were the same. Some looked as if they had been built out there in the woods for years and they've sat through the seasons and no one's ever gone back to touch them up. Parts of the maze where there's a lot of plastic and wood seem to possibly be a danger. We didn't see any actors for quite some time in them bc they were following Lauren and if someone ignited one of these things, I'm afraid it would have taken us a long time to find the exit. Some spaces were very tight for us, if those were to fill with smoke where there are roofs, I don't think that would be good at all. At one point, we didn't know where to go at all so we weaved through these pipe-like things and found a hole and we started walking on this really dark path into the woods. There were props and things out there but 0 lights. Come to find out, it looked like a previously closed portion of the trail because when we got to the end of it, there was no way to get back into the maze. We had to crawl under caution tape to get back in. That right there tells you that no actors were paying any attention to our group. We paid full price for our tickets that night and we honestly should have just passed this place up. We've been here before too and it wasn't that bad. The highlights of the trip were the gentleman that introduced us to the park and gave us the rules before we went in. There was also one clown (Pickles, maybe
?) that actually put effort into scaring us but he was mostly one of the only ones. In one of the mazes there was a chainsaw assailant behind a door and we could hear the saw and see him through the crack of the door but we couldn't get in. When that door finally opened, holy shit! That was the best scare in there for sure! Also, there are places where you will need to duck down, tight corridors as mentioned above, uneven terrain, and a lot of walking (especially if you're bad at mazes) so be prepared for that.
Norma – 6/10Maybe we just went on a bad night but we weren't very impressed with this haunt. We had heard many …show more good things about it and we ended up with a free Saturday night so we gave it a shot. We showed up at probably 9:30 at night. Waited in line maybe 15-20 minutes so that wasn't bad. We really didn't have problems with spacing inside the haunt except for a few times but we were able to slow down and it helped when there wasn't anyone behind us. I will say, there were a lot of unique things in the haunt portion. One interactive set was very different and unnerving. Some of the characters were really into their roles while others were bland. One was sitting on top of a washing machine and he jumped down and we were thinking, "Oh shit" but he didn't do anything, he just jumped at us a little and said, "What?" In the outdoor portion of the haunt it was a bit too dark to see the characters, especially the Creeper. Our favorite part was the alligator! They know how to utilize this now, commonly-seen prop to the fullest for sure! If you are likely to pee your pants, you just might lose it on that one! I would give the house itself a 7 out of 10. Now we were under the impression that the corn field was haunted too. Although it was a good maze, there were three scareactors in it and they were terrible. No lights, sounds, sets, nothing but mud and corn and the dark. At first it was creepy but after we walked and walked and nothing happened, we were aggravated and ready to find our cars. The last actor that we came across could have hidden well since they were in all black but they didn't, they stood in the middle of the trail acting like they couldn't see, whispering to us as we walked asking us if we were customers. Wow. Don't upgrade to the corn if you're expecting a fright in there, it won't happen.
---
2016 Awards
Actor Shout Out Award - Dr. Cropsey (Given by: Team Zombillies)
Actor Shout Out Award - Dr. Faust (Given by: Team Zombillies)
Actor Shout Out Award - Rabbit (Given by: Team Zombillies)
---
2015 Awards
Most Improved Attraction (Given by: Team Zombillies)
Actor Shout Out Award - Dr. Cropsey (Given by: Team Zombillies)
Actor Shout Out Award - Jinx (Given by: Team Zombillies)
---
2014 Awards
Memorable Moment (Given by: Team Zombillies)
Actor Shout Out Award - Doctor Cropsey (Given by: Team Zombillies)
---