Review of Over the Edge Fear Factory Haunted Attraction
Review of Over the Edge Fear Factory Haunted Attraction
Review of Over the Edge Fear Factory Haunted Attraction
Over the Edge Fear Factory
Over the Edge Fear Factory is a Haunted Attraction located in Bowling Green, KY.
830 N Campbell Road, Bowling Green, KY 42101View All Details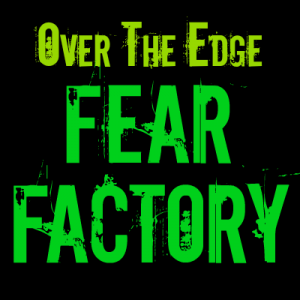 Features:
Free Parking, Gift Shop/Souvenirs, "Old-School" (Low Tech), You will NOT be touched, Original Characters, Indoor/Outdoor Waiting Line, All-Indoor Attraction
Team Zombillies reviewed this attraction on October 8, 2016.
Final Score:

6.39
Summary:
2016 marks Over the Edge Fear Factory's 2nd season in operation. This attraction is located in a very large building and spans across 21,000 square feet! The building used to be an old sewing factory, so it really does have plenty of space for a haunted house! Several years ago, we used to review Over the Edge at a totally different location and we are glad to see them return! Rather than sticking to a single theme, OTEFF offers a plethora of scenes and creatures from dolls, doctors, workers and screamers to victims pleading for help, many unexplainable beings and clowns that seemed to be around every corner in the last quarter of the attraction. These clowns also tried to lure us into the woods at the end of the attraction, telling us they had free wifi out there! So, if you are going to follow some clowns into the woods this season, might as well be these guys!
---
Cast:

6.61
Around 35 actors can be found in the house each night to work at scaring innocent customers as they pass through. Because this building is so big, quite a few of these actors were seen multiple times throughout the house. Some of them did this very well, such as the worker with the metal hook on a chain, but many of these cast members were younger and relied on only screaming at us at the top of their lungs, telling us to get out or asking us to play with them… repeatedly. At multiple times, the dialogue consisted of: "Get out! Get out! Get out! Get out!" literally over and over again. Customers have paid to get in, so they usually don't want to hear "get out." None of that worked to be scary at all and, when we tried to interact with what they were saying to us, most of them just continued to scream at us. Towards the end of the attraction, there were a few characters who were playing "Marco Polo" with us that served to be somewhat entertaining as we made our way through the maze. A few of the actors did attempt to interact with us, but most of that consisted of mediocre puns about their props or scenery. One clown towards the end that was dressed in white and black had some of the most diverse dialogue out of all of the characters we came across.
---
Costuming:

6.83
The costuming in the factory area of this attraction started off well enough with authentic work uniforms and coveralls that had been distressed to show the dirt and grime that you'd typically see in a grungy work setting. Makeup throughout the attraction was minimal, but helped add an extra touch to the characters' looks. As the haunt progressed, we started seeing more random characters, like a butcher, clowns of all shapes and sizes, "Momma," and more. A few latex masks were seen here and there, along with a painted morph suit, a black cloak, light-up tennis shoes, a live doll and more.
---
Customer Service:

7.13
We were a bit iffy when we pulled onto a narrow road out in the middle of nowhere that eventually led to a rural subdivision. Luckily, the multi-colored lights that were illuminating the building let us know we were probably at the right place. A sign hanging on the front of the building confirmed this for us as a parking attendant pointed us in the direction of their free parking area… which didn't look very large. We're assuming that, when it's full, you will probably park along the street as best you can. We saw some folks standing in line, but upon arrival, we weren't sure if this was the line to get in or just the ticket line. Come to find out, there is a single queue line and, when you make it inside the building, that is where you purchase your tickets and the haunt begins shortly thereafter. During our visit, this line moved very slowly. We believe this is due to a shortage of cast members inside who were doing their best to work multiple roles. However, in turn, they weren't allowing groups in very closely together at all. When we came out of the attraction, the two people who were standing in line behind us were still standing in line. Mind you, it took us 19 minutes to make it though, so this may turn into a very long wait if there are very many people in line at all. It was rather easy to navigate the inside of the attraction, but watch your step on the stairs to enter the building and be wary of a few ramps that are located inside the haunt. T-shirts were available for purchase at the ticket booth, which is also where we found one of the owners of the attraction; she was very friendly and willing to answer any questions we had for her. A stray actor may be seen running around the queue area; we witnessed a clown come from around the back of the building and follow someone to their car!
---
Atmosphere:

4
The pale-colored, pole barn-style building was illuminated with multi-colored lighting and the sign hanging on the front helped confirm that we were at a haunted house. Other than that, nothing else was going on outside during our visit until one clown briefly interacted with a group. Once we stepped inside the ticket room doorway to get our tickets, many different sounds were barely heard escaping from inside that helped in preparing us to enter. Various printed signs and bright, hand-painted warnings, prices and other info adorned the black walls of the blacklight-lit queue room. Right before the group in front of us was sent in, a chainsaw maniac attacked the entrance door from the other side, letting us all know that whatever was on the other side was ready to play!
---
Special Effects:

6.61
A variety of special effects can be found in this Fear-manufacturing Factory! Many of the actual factory's walls were splattered with blood and decorated with various tools, malfunctioning electrical boxes, safety signs (after all, you can't be too safe), lively barrels, rusty pipes, power tools and rotating lights. As we progressed deeper into the structure, we started encountering other things, like a roasted corpse, a morgue, a strobe reflecting off shiny walls, bubbles, laser effects and a large, maze divided with huge pieces of plastic. In the beginning of the house the only sounds that were heard was a lot of banging and other sounds made by the cast. As we approached the end, creepy clown music was encountered with other eerie sounds that aided in bringing the scenes we could hear them in to life.
---
Theme:

N/A
Over the Edge Fear Factory does not stick to a single storyline or theme. They offer a large variety of scenes and themed areas, so you never know what you might stumble upon… or what might stumble upon you! The attraction started off in a factory setting that resonated with the name of their haunt, but then it took a turn and threw dolls, strange symbols, clowns, childrens' rooms and all kinds of other things at us!
---
Fright Effect:

6.7
Multiple types of frights were used to try and catch our group off-guard as we traversed this large attraction. The factory worker in the beginning probably succeeded at startling us the most, as he was very good at hiding and sneaking up on us! An overhead hiding spot was also very effective and left our group watching in ALL directions as we continued through. Other types that we came across include a drop panel and other unexpected wall surprises, constant banging, random screams, a table and light combination and seemingly dead or fake people that suddenly sprung to life. This is more of an old-school haunt so you never know what they may be using to try to scare you which makes some things harder to predict. The finale consisted of a swarm of clowns and a ghillie-suited creature that tried to lure us into the woods for some free wifi. We were going to follow them but then we thought, now wait a minute…how good would this wifi be in the woods anyway?
---
Value:

6.85
General admission to enter the Factory is $15.00 per person. Signs recommended that children under 12 years of age not enter, but younger ones may enter at their parent's discretion. Scream Passes can be purchased for $50.00 and… we know, you're probably thinking, "what's a Scream Pass?" Well, it is a season pass that includes VIP admission each time you visit and a t-shirt! So if you love coming here or live close by, it may save you money to buy one of these instead of paying the $15.00 every time. As stated above, it took us about 19 minutes to make it out of this mad house. That puts the "minutes of entertainment per dollar spent" at 1.27, which is a bit below the average of 1.5 from all of the haunts we were able to attend last season. The large building that houses this attraction definitely has some great potential and we can't wait to see what all they do with it next! They did a good job at entertaining us during our visit and we are glad we made the trip to check out this new attraction.
---
Guest ReviewsGuest Average: 0 out of 10
Sarah – 10/10Challenge Accepted was awesome! Me and my boyfriend were looking for escape rooms in our area, and …show more as poor college students, price was a big factor. Despite being only two small locations in the mall, they have multiple rooms, at 20, 40, and 60 minutes long, with the 20-minute rooms being only $10 each! We've been back multiple times, and loved every one! Staff is very helpful and enthusiastic about their job, and is thrilled to explain all the little secrets after you escape. Will be back every time they make a new room!
Norma – 4/10We visited this attraction on the last night of their 2018 season I believe. We did show up late …show more (about 20 minutes before they closed) and it was dead in the waiting line. Regardless, every group that was in the haunt somehow ended catching up to one another. We walked as slow as we could knowing there wasn't anyone behind us but we still couldn't stay away from the group in front of us. They had one teenage female that was petrified of everything so all the monsters kept taking advantage of it, cornering her every chance they got. They also followed her through multiple scenes that weren't theirs while our group tried to stay behind some and there were no entertainers around because they were all following her. When they would stop and turn around to go back to their base spots (if they even have them there), some of them just walked passed us without any effort towards scaring us. It was a disaster. This chic's name was Lauren and by the time we got to the exit of this thing, we were relieved that we didn't have to hear her name called out over and over and over anymore. She had to of been extremely annoyed by it herself. It took all of the fun out of it. Actors even stopped us in some of the maze portions so the other monsters could entertain their group for quite some time and they would just be staring off into outer space. The only way we knew they could talk is because they said Lauren's name already. Besides that, costuming was mostly store-bought quality. Nothing different to look at here. Scenes were the same. Some looked as if they had been built out there in the woods for years and they've sat through the seasons and no one's ever gone back to touch them up. Parts of the maze where there's a lot of plastic and wood seem to possibly be a danger. We didn't see any actors for quite some time in them bc they were following Lauren and if someone ignited one of these things, I'm afraid it would have taken us a long time to find the exit. Some spaces were very tight for us, if those were to fill with smoke where there are roofs, I don't think that would be good at all. At one point, we didn't know where to go at all so we weaved through these pipe-like things and found a hole and we started walking on this really dark path into the woods. There were props and things out there but 0 lights. Come to find out, it looked like a previously closed portion of the trail because when we got to the end of it, there was no way to get back into the maze. We had to crawl under caution tape to get back in. That right there tells you that no actors were paying any attention to our group. We paid full price for our tickets that night and we honestly should have just passed this place up. We've been here before too and it wasn't that bad. The highlights of the trip were the gentleman that introduced us to the park and gave us the rules before we went in. There was also one clown (Pickles, maybe
?) that actually put effort into scaring us but he was mostly one of the only ones. In one of the mazes there was a chainsaw assailant behind a door and we could hear the saw and see him through the crack of the door but we couldn't get in. When that door finally opened, holy shit! That was the best scare in there for sure! Also, there are places where you will need to duck down, tight corridors as mentioned above, uneven terrain, and a lot of walking (especially if you're bad at mazes) so be prepared for that.
Norma – 6/10Maybe we just went on a bad night but we weren't very impressed with this haunt. We had heard many …show more good things about it and we ended up with a free Saturday night so we gave it a shot. We showed up at probably 9:30 at night. Waited in line maybe 15-20 minutes so that wasn't bad. We really didn't have problems with spacing inside the haunt except for a few times but we were able to slow down and it helped when there wasn't anyone behind us. I will say, there were a lot of unique things in the haunt portion. One interactive set was very different and unnerving. Some of the characters were really into their roles while others were bland. One was sitting on top of a washing machine and he jumped down and we were thinking, "Oh shit" but he didn't do anything, he just jumped at us a little and said, "What?" In the outdoor portion of the haunt it was a bit too dark to see the characters, especially the Creeper. Our favorite part was the alligator! They know how to utilize this now, commonly-seen prop to the fullest for sure! If you are likely to pee your pants, you just might lose it on that one! I would give the house itself a 7 out of 10. Now we were under the impression that the corn field was haunted too. Although it was a good maze, there were three scareactors in it and they were terrible. No lights, sounds, sets, nothing but mud and corn and the dark. At first it was creepy but after we walked and walked and nothing happened, we were aggravated and ready to find our cars. The last actor that we came across could have hidden well since they were in all black but they didn't, they stood in the middle of the trail acting like they couldn't see, whispering to us as we walked asking us if we were customers. Wow. Don't upgrade to the corn if you're expecting a fright in there, it won't happen.
---
2016 Awards
Actor Shout Out Award - Factory Worker (Given by: Team Zombillies)
---
2012 Awards
Actor Shout Out Award - Granny (Given by: Team Zombillies)
Actor Shout Out Award - Military Paintball Guy (Given by: Team Zombillies)
---