Review of The Final Resting Place Haunted Junkyard Haunted Attraction
Review of The Final Resting Place Haunted Junkyard Haunted Attraction
Review of The Final Resting Place Haunted Junkyard Haunted Attraction
The Final Resting Place Haunted Junkyard
The Final Resting Place Haunted Junkyard is a Haunted Attraction located in Sabina, OH.
988 Polk Road, Sabina, OH 45169View All Details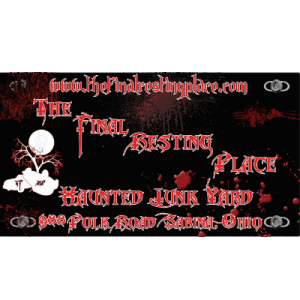 Features:
Free Parking, "Old-School" (Low Tech), You will NOT be touched, Original Characters, Uncovered Outdoor Waiting Line, Indoor/Outdoor Attraction
Team Zombillies reviewed this attraction on October 29, 2016.
Final Score:

7.13
Summary:
About half-way between Cincinnati and Columbus, Ohio, there's an automobile junkyard near the town of Sabina. But this is not your normal pull-a-part place… no. What once served as one of the most unique cemeteries in the area (see "Theme"), these disposal grounds for scrap steel are now regarded as an area that's condemned to the public. A place the authorities say you should not go. Why? The people and spirits that lurk within have demonstrated their wrath by way of inconceivable fashion! Do you dare to see what's REALLY going on in this dilapidated disposal area? Keep reading… but be warned; The Final Resting place specializes in ALL of your burial needs!
---
Cast:

7.75
FRP's cast of volunteer actors and actresses are spread out enough that you don't go for very long without running into someone… or someTHING. The first hillbilly that we ran into ("Jed") made for a good distraction-type scare with his miniature partner in crime ("Otto"). However, it seemed that a good chunk of the rest of the cast were a little inexperienced compared to most of the attractions we visit. For example: The clowns were verbally interactive with our group, but they mainly just kept repeating their names instead of adding any sort of "meat" to their performances. But, it should not go without mention that the handful of actors towards the end of the haunt were much more vicious, energetic and intimidating! "Buffalo" and "Patient 5150" were Hell-bent on making our group's lives miserable as we scrambled through their areas and made sure we knew just exactly how we were all going to meet our imminent demise! "Godzilla" was stationed at the end of the tour and made sure he got the last swipe (with his chainsaw, that is)!
---
Costuming:

6.39
Most of the facial looks consisted of blood and minimal makeup. Masks seemed to be the weapon of choice for many of the characters, but most of them seemed to be your regular ol' masks that can be picked up at just about any Halloween store. A couple of exceptions to this were Patient 5150, Tricky Ricky and the clown with the peeling jaw skin. An alarming number of them were wearing street clothes, but the theme suggests that most of the inhabitants here are stray wanderers, homeless people and the angry spirits of those who were (or weren't, rather) buried with their vehicles. With that said, each of them seemed to match their theme, but the quality level just wasn't quite up to what we usually see at other attractions.
---
Customer Service:

8.38
A small light illuminating the "Parking" sign at the entrance was the first thing we saw as we approached FRP, closely followed by the haunt's box truck that was sitting out by the road. Seeing their logo covering the whole side of the truck definitely let us know we had arrived at the right place. Parking is designated on either side of the driveway and the ticket booth is located in the big barn sitting close by. Our ticket booth attendant was a lady of few words, but the woman who escorted us to the queue area was very friendly and pleasant to speak with before we got in line. Tricky Ricky (FRP's queue entertainer during our visit) made sure we were all entertained during our wait and the occasional, miniature leg chopper-offer kept us on our toes from time to time! We should mention that there were only about 15 people in front of our group when we arrived and we spent about 40 minutes in line before we were able to start going through the haunt. If you're in a hurry and there's much of a line at all, don't be surprised to spend some time here… and there is no VIP ticketing that allows you to skip the wait. But, we do have to give credit to the queue entertainers once again for keeping everyone's eyes off their watches. Once you get started, the path twists and turns through piled up cars and carved-out busses, so be on the lookout for steep ramps, stairs and uneven flooring.
---
Atmosphere:

5.67
Upon arrival, we are pretty sure we had just pulled into some sort of real junkyard or impound lot and, after checking the place out on Google Maps, it really IS (or "was," at least)! Once we got parked, we could hear the occasional chainsaw and a few customers that were coming back to their cars, talking about how great the place was, but no music or sounds were to be found, otherwise. If that's not enough to get you excited about a haunted junkyard, then maybe all of the old, wrecked vehicles lining the driveway is! A few poseable spiders and generic Halloween decorations adorned the ticket booth barn and a couple of green and red laser machines were casting their captivating beams into the trees near the queue line. As we waited, we could see long string lights and a sign that were reminiscent of a carnival-style show, which seemed a bit odd when the first scene was of the hillbilly variety. Other than passing by the old cars in the parking area, the haunts sign on the box truck by the road and being able to see a swaying car up above one of the scenes beyond the entrance, there wasn't much around us that really let us know we were getting ready to enter a haunted junkyard.
---
Special Effects:

6.5
Most of the effects at FRP are the personal creations of the Junkyard's crew… aside from the cars themselves, of course. However, each of them have been strategically placed along with walls and sheets to guide you along the designated route. With flaming engine bays, flapping hoods, trunk lids and flashing lights, it's clear that these vehicles have a mind of their own! As the theme suggests, you may come across a few shacks and shanties that various people have built over the years since the abandonment of the complex. Their minimalistic construction coincides with the theme rather nicely, as do the multiple bodies and corpses that are scattered among the wreckage. We would call FRP an "old-school" haunt, meaning that you won't find a lot of high-dollar, electrical, eye-candy, monsters and explosions-type of stuff. But everything you WILL see has been carefully made with haunt-genuity to create a uniquely-horrific experience. Blood sprays, guts and gore, flashing strobes, claustrophobic passageways, stinky smells, loud horns and chainsaws are just a few of the things you can expect to come across.
---
Theme:

8
FRP's theme is pretty thoroughly described on their website, but here's the nuts and bolts of it (yes, shameless pun intended): It all started when two guys wanted to turn their cemetery into a place where people who loved their cars could be buried… WITH their cars! The concept was a hit and its popularity skyrocketed. That is, until the disappearance of the men who ran the operation. Authorities discovered that the two had been improperly disposing of the bodies by simply leaving them in their cars and piling them up (cars and all) instead of actually burying them! The unresting souls have apparently had their revenge… or HAVE they? The lingering evil has attracted all sorts of sinister souls into the complex and now, during this special time of year, you can witness the horrors for yourself! During our review visit, this theme wasn't explained to us, so a few of the things that we saw didn't really make much sense at the time. If you're particular about getting the full grasp of the show, be sure to visit their website and take a few minutes to get yourself up to speed.
---
Fright Effect:

6.78
You never know what might come to life in the junkyard, but when it does, it's likely gonna getcha at least once! From a simple skeleton startle to a frenzied zombie who frantically revealed himself from behind a car, you just never know what may jump out at you next. Just some of their terrible smells were enough to nearly scare us away! Sudden loud noises caught members in our group off-guard on several occasions and, although we didn't know 3 people in our group, it was very entertaining to walk through with them. Watch out for what they call the "box" at the end… especially if you aren't a fan of chainsaws!
---
Value:

7.55
Admission to enter the car cemetery will cost you $10.00 per person and this is a cash only venue. There is no ATM on location, nor did we see any as we got close to the haunt, so come prepared! As we mentioned in "Customer Service" above, there were only about 15 people in line ahead of us when we arrived and our wait was about 40 minutes, so keep this in mind when visiting… especially if you're in a hurry or on the busier nights closer to Halloween. It took our group approximately 16 minutes to navigate the junkyard, which puts their value at 1.6 minutes of entertainment received per dollar spent, which is right above the "average" of 1.5 MPD from all the haunts we were able to visit last season. If you think you'll enjoy some good ol' old-school effects trapped inside a realistic, haunted junkyard, then The Final Resting Place Haunted Junkyard should be on your "haunts to visit" list!
---
Promo Images:
Click to Enlarge
Guest ReviewsGuest Average: 0 out of 10
Sarah – 10/10Challenge Accepted was awesome! Me and my boyfriend were looking for escape rooms in our area, and …show more as poor college students, price was a big factor. Despite being only two small locations in the mall, they have multiple rooms, at 20, 40, and 60 minutes long, with the 20-minute rooms being only $10 each! We've been back multiple times, and loved every one! Staff is very helpful and enthusiastic about their job, and is thrilled to explain all the little secrets after you escape. Will be back every time they make a new room!
Norma – 4/10We visited this attraction on the last night of their 2018 season I believe. We did show up late …show more (about 20 minutes before they closed) and it was dead in the waiting line. Regardless, every group that was in the haunt somehow ended catching up to one another. We walked as slow as we could knowing there wasn't anyone behind us but we still couldn't stay away from the group in front of us. They had one teenage female that was petrified of everything so all the monsters kept taking advantage of it, cornering her every chance they got. They also followed her through multiple scenes that weren't theirs while our group tried to stay behind some and there were no entertainers around because they were all following her. When they would stop and turn around to go back to their base spots (if they even have them there), some of them just walked passed us without any effort towards scaring us. It was a disaster. This chic's name was Lauren and by the time we got to the exit of this thing, we were relieved that we didn't have to hear her name called out over and over and over anymore. She had to of been extremely annoyed by it herself. It took all of the fun out of it. Actors even stopped us in some of the maze portions so the other monsters could entertain their group for quite some time and they would just be staring off into outer space. The only way we knew they could talk is because they said Lauren's name already. Besides that, costuming was mostly store-bought quality. Nothing different to look at here. Scenes were the same. Some looked as if they had been built out there in the woods for years and they've sat through the seasons and no one's ever gone back to touch them up. Parts of the maze where there's a lot of plastic and wood seem to possibly be a danger. We didn't see any actors for quite some time in them bc they were following Lauren and if someone ignited one of these things, I'm afraid it would have taken us a long time to find the exit. Some spaces were very tight for us, if those were to fill with smoke where there are roofs, I don't think that would be good at all. At one point, we didn't know where to go at all so we weaved through these pipe-like things and found a hole and we started walking on this really dark path into the woods. There were props and things out there but 0 lights. Come to find out, it looked like a previously closed portion of the trail because when we got to the end of it, there was no way to get back into the maze. We had to crawl under caution tape to get back in. That right there tells you that no actors were paying any attention to our group. We paid full price for our tickets that night and we honestly should have just passed this place up. We've been here before too and it wasn't that bad. The highlights of the trip were the gentleman that introduced us to the park and gave us the rules before we went in. There was also one clown (Pickles, maybe
?) that actually put effort into scaring us but he was mostly one of the only ones. In one of the mazes there was a chainsaw assailant behind a door and we could hear the saw and see him through the crack of the door but we couldn't get in. When that door finally opened, holy shit! That was the best scare in there for sure! Also, there are places where you will need to duck down, tight corridors as mentioned above, uneven terrain, and a lot of walking (especially if you're bad at mazes) so be prepared for that.
Norma – 6/10Maybe we just went on a bad night but we weren't very impressed with this haunt. We had heard many …show more good things about it and we ended up with a free Saturday night so we gave it a shot. We showed up at probably 9:30 at night. Waited in line maybe 15-20 minutes so that wasn't bad. We really didn't have problems with spacing inside the haunt except for a few times but we were able to slow down and it helped when there wasn't anyone behind us. I will say, there were a lot of unique things in the haunt portion. One interactive set was very different and unnerving. Some of the characters were really into their roles while others were bland. One was sitting on top of a washing machine and he jumped down and we were thinking, "Oh shit" but he didn't do anything, he just jumped at us a little and said, "What?" In the outdoor portion of the haunt it was a bit too dark to see the characters, especially the Creeper. Our favorite part was the alligator! They know how to utilize this now, commonly-seen prop to the fullest for sure! If you are likely to pee your pants, you just might lose it on that one! I would give the house itself a 7 out of 10. Now we were under the impression that the corn field was haunted too. Although it was a good maze, there were three scareactors in it and they were terrible. No lights, sounds, sets, nothing but mud and corn and the dark. At first it was creepy but after we walked and walked and nothing happened, we were aggravated and ready to find our cars. The last actor that we came across could have hidden well since they were in all black but they didn't, they stood in the middle of the trail acting like they couldn't see, whispering to us as we walked asking us if we were customers. Wow. Don't upgrade to the corn if you're expecting a fright in there, it won't happen.
---
2017 Awards
Scariest Duo - The Terror Twins (Given by: Team Zombillies)
---
2016 Awards
Actor Shout Out Award - Buffalo (Given by: Team Zombillies)
Actor Shout Out Award - Otto (Given by: Team Zombillies)
Actor Shout Out Award - Patient 5150 (Given by: Team Zombillies)
---
2015 Awards
Most Realistic Costume - "Tricky Ricky" (Given by: Team Mysterious Misery)
Actor Shout Out Award - Richard "Rooster" Miller, A.K.A. "Sick Boy" (Given by: Team Mysterious Misery)
---