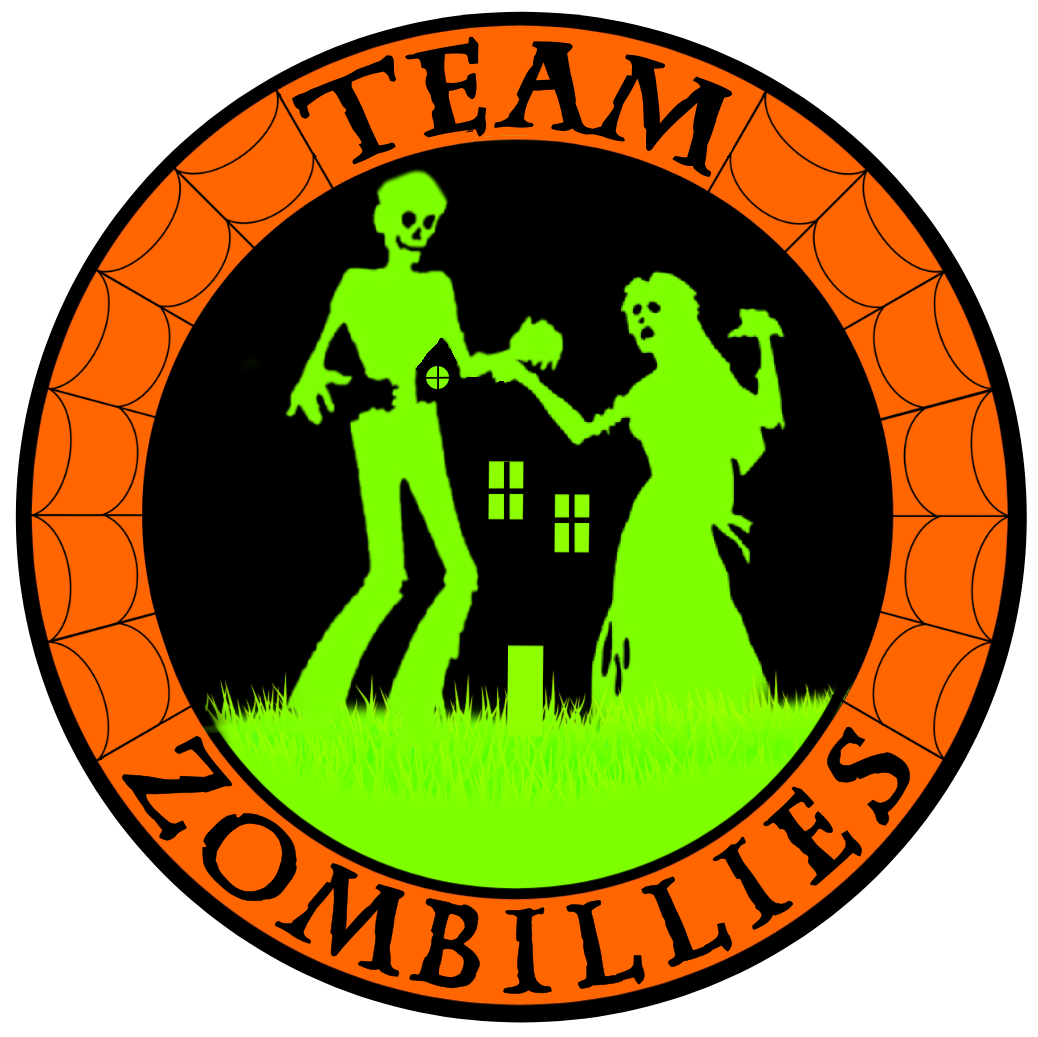 This attraction was reviewed on October 18, 2019 by Team Zombillies.
How Do We Get These Scores?

Final Score:

8.39
How Did We Get This Score?

Summary:
Asylum Haunted Scream Park is a multi-attraction haunt complex on the southern edge of Louisville, Kentucky, located at Paintball Asylum. With two distinct outdoor trails, a large indoor mutant hunting (laser tag) experience, a zombie paintball bus ride, and the Carnivale of Lost Souls – an entire midway full of vendors, photo ops, food and even an escape room trailer by Get a Clue Escape Rooms – Asylum HSP is definitely a place where you can spend an entire evening in 2019 with your fellow scare seekers!
They are also one of the few multi-attraction haunts that ACTUALLY have more than a single walk-through! With a true midway setup, guests are free to roam from haunt to haunt and choose which ones to go through, and also which ones to skip (if so desired' but who wants to skip anything, right!?). With the two primary haunts being Darkness Falls and Zombie City, those will be the two attractions that we cover with this review.
'Where will YOU be' when the Darkness Falls?' This trail got a complete redesign this year! While the walking path is now a bit shorter, it is also more condensed. That means many of the scenes that you may remember from previous years – as well as a few new ones – have been moved closer together to make a more action-packed experience with fewer dead spots.
Zombie City also returns with an updated storyline to 'Blackwood City' and the Pandora Virus outbreak. This year, you'll have a mission to complete, but be careful of who you choose to trust as you make your way through this post-apocalyptic wasteland. SCUZ is set on taking over the world, one way or another, and one continent at a time!
Darkness Falls: 8.04
Zombie City: 8.77
---
Cast: 8.63
How Did We Get This Score?

Darkness Falls:
Again, because the path within Darkness Falls has been moved and re-routed, we felt it provided a more confined and condensed experience this year. It definitely seemed easier for the monsters to prey on us, as they quickly scurried about from scene to scene and in between. Just when we thought we had parted ways with them, some would suddenly reappear in a different place! This also helped cover all the scenes with minimal down time in between character confrontations. Overall, the staff on the trail gave a variety of performances.
While a lot of the dialogue resulted in more typical or follow up (often funnier) engagements, some had unexpected and interesting things to say. A few were also great ad libbers. The guy who had recently killed a nun and was proudly sporting her face was among the most verbally interactive. He went from warning us of things ahead (to get under our skin) to threatening to take out our eyeballs' like he pointed out on the nun's face he was wearing! Rig A. Mortis also gave an engrossing introduction to the haunt, thus ingraining into our minds how important it was NOT to get left behind on the trail.
A good number of the characters were physically interactive. We had to wait to pass through one scene until an intimidating character moved a table out of our way. We thought the chainsaw attacker was literally going to saw our heads off, which made this review team a bit uncomfortable around something we see at nearly every haunt.
Those near the kitchen area – oh, they were good! First, Mama stopped us dead in our tracks and demanded that one of us get inside her nearby freezer. We don't recommend arguing with her. Once inside, her daughter went berserk, as he clearly wasn't her brother (yikes!). Eventually, she kicked him out of the freezer and the real brother was forced inside instead. For us, this meant that we instead had to do his chores, including washing their very nasty and crusty dishes. This interaction continued and eventually ended with the siblings chasing each other down the trail with a weapon.
Other believable stand outs include Pogo the Clown, Lillian Vanderdark (one of our favorite stalkers – she was literally everywhere!), and the tapeworm tyrant, as her performance was… jarring… to say the least!
Zombie City:
The cast members within Zombie City were the most interactive and believable bunch of the night. They were also one of the best groups of cast members we've seen so far this season! Even though their lines are generally scripted, they were very good at adapting to whatever our group said, did, or asked them. Not only did they interact with us in every scene, making us a true part of their story, but they also interacted with one another flawlessly! They threatened one another, one was startled by others, and another sent a list of exorbitant tasks with us to give to another character down the line. Once the list was received, the reaction was 'mind blowing!'
It's important to note here that Zombie City is also a guided experience. Now, before you assume you'll simply be following some random haunt worker around like a dog on a leash, that is definitely not the case here. Your guide is actually a key element of the experience, and having someone along to help the group make decisions and interact with the scenes properly makes them an invaluable part of the show.
Now, let's dig into some of the characters. First, the city has been overrun by 'zambies' (ZC's brand of zombies) for years. The intensity of these zambies is trending higher with each visit we make back to Blackwood City. You'd think we'd learn to stop returning by now' but, NEVER! One male zambie had playing the role down to a 'T' (or shall we say, 'Z') by relentlessly attacking us. We thought for sure he was going to take down several doors to the buildings we were seeking shelter within. His deep, guttural growls sounded as if he'd been pulled right out of a zombie horror movie! Kudos, zambie, for giving this review team a legit workout!
Aside from the zambies, the guy that had the food of the earth (or from 'beneath' the earth, rather), effectively helped us ward off some zambies as he convinced us to eat something abnormal. Whatever you say, crazy man; we're not about to lose our lives if we can help it! Dr. Ryker was another notable character that injected some' well' we'll let you find that out for yourselves. But! You'll definitely know who he is when you find him.
Meanwhile, back in the midway area of Asylum, we'd also like to give another shoutout to Lillian Vanderdark, who must have telepathic abilities here. Not only did her creepy presence grace the trail throughout our tour, she also targeted the whole queue area! Or' maybe she's a ghost!? Dr. Marionette, Patches, and a conniving crazy withholding a shocking surprise were all doing a good job of providing entertainment in the waiting areas. Dr. Marionette's recruiting efforts in his feud with the Vanderdarks was a great way of getting folks to interact with multiple queue actors.
Darkness Falls: 7.86
Zombie City: 9.4
---
Costuming: 7.8
How Did We Get This Score?

Darkness Falls:
In Darkness Falls, quite a variety of attire, masks, and makeup were utilized within the treacherous timbers. We didn't notice any two characters that looked the same. However, there were some costumes that didn't coincide with their surroundings as evidently as others. The level of detail also varied; from simpler hoods and common-looking clothes to obviously lived-in pieces that were distressed, realistic masks, and appealing airbrush additions. Some were even complete with colored contacts!
Some of the standout costumed characters included Lillian, who reasonably looked as if she had been bashed in the head by' something, or someone. Pogo was decked out from head to toe in clown costumery, complete with a realistic and well-fitted, silicone mask. Mama and the female aggressor in Shanty town (with the tapeworm) both stood out as having diverse costumes with more-evident makeup designs, and the nun mask and vintage devil were also nice additions. Although the devil mask didn't seem to fit in with all the scenes we saw him in, the mask possibly aided with his super creepy vocals!
Zombie City:
If you were out roaming a city trying to survive a zombie apocalypse, what do you think you'd look like? You'd probably be stinky and filthy, right? Well, most of the characters that we met did look as if they'd been in the city for quite some time. Though, on others, the length of their tour of duty wasn't quite as obvious by appearance alone. This was especially the case with our tour guide who, while still decked-out well with tactical zambie-fighting attire, had clothing that appeared relatively new, rather than worn and tattered (as we'd expect from someone who'd been in the city since she was a little girl).
The first SCUZ crewman that we crossed paths with looked as if they'd been in the wilderness for a while (and they acted like it too). We also came across some full military camo, realistic wounds and decaying on the zambies, veiny skin details, brown cloaks, upside-down crosses on foreheads, and some other costumes that blended in well with their scenes and nearby props.
All of the queue roamers that we saw were in full, believable costumes. They must be seen in lighter conditions and will likely be in many photos so it was great to see them pull off such detailed costuming.
Darkness Falls: 7.16
Zombie City: 8.71
---
Customer Service: 9.53
How Did We Get This Score?

Asylum Haunted Scream Park is located at the Paintball Asylum: Asylum Extreme, and our trusty GPS took us to just the right spot. The giant white tent that houses Xterminate is pretty easy to spot from the freeway, as well as a variety of multi-colored lighting and a spot light shining high in the sky.
If you haven't been here before, slow down and be on the lookout for signs as you get near Pond Station Road. While decent sized, they can be kindof hard to spot from a distance, as there's no lighting on them and they are set off the road just a bit due to a nearby railroad crossing. The main parking lot for Asylum is free, paved, striped and decently well lit. On busy nights, flaggers are often in place and overflow parking extends down onto Pond Station Road, neither of which were needed on the night of our visit.
Navigating the Scream Park itself is also pretty straightforward. Signs were added this year to direct visitors to the ticket booth, and additional signs were found noting each attraction's theme and ticket pricing. The ticket booth was clearly marked and prices were also displayed on a TV screen. The queue lines were also roped off, making it easy to distinguish them from the general midway area.
While navigating the trails, we did come across some uneven plywood flooring and a tad bit of uneven ground. But, for a haunted trail, as long as you watch where you're going and you don't run (when told not to), you should be fine. Both trails are still cut very well and we never ran into situations where we didn't know where to go. We also didn't have any tree limbs or weeds whopping us in the face. Of course, you WILL be walking through the outdoors when visiting Asylum, so prepare for the weather and wear comfortable closed-toe shoes. The monsters don't care how fancy you look when you're getting scared!
Finding pertinent information about the attractions and ticketing before arriving was also easy. They have multiple social media accounts and their website has relevant ticketing and event information. Although, some of the attractions' features and story / theme info is a bit outdated. It would be awesome to see some updates on Zombie City's story, since it looks like the most recent update was from 2015.
---
Atmosphere: 9.15
How Did We Get This Score?

Asylum Haunted Scream Park is located at the rural edge of an industrial complex on the outskirts of Louisville, Kentucky. Driving back their long, lonely road makes for a creepy transition away from the city lights and into the wilderness of the Scream Park.
The first thing we noticed was that, except for the Paintball Asylum's presence, we were mostly surrounded by woods. Once we entered the midway area, the Carnivale of Lost Souls (which is free to enter), we were greeted by a spooky, yet family-friendly atmosphere. Xterminate's massive white tent served as the backdrop for the decorated ticket booth, signs, and Halloween music coming from inside, all of which let us know we had arrived at a complex of haunted house awesomeness. However, the real creepiness started once we got to each of the trails' actual queue areas'
The entrance for each attraction was decorated to appropriately suit them, but the entrance to Darkness Falls alone is impressive for an outdoor haunted trail, and it most certainly sets the mood to enter. It features a large, concrete column archway facade with a grotesque figure overlooking the crowd and a fence washed with theatrical lighting. Zombie City's entrance is distinctly quarantined with chain-link fencing and camouflage netting. Each attraction's actual entrance is then further adorned with yet another facade and custom signs that indicate which haunt you're about to enter.
The outside decor served well at giving us a small hint of what we could expect inside each attraction. Fire performers were twirling fire in a variety of ways on a stage the whole time we were there, and multiple queue entertainers kept the crowd buzzing.
---
Special Effects:

7.58
How Did We Get This Score?

Darkness Falls:
Darkness Falls begins with a few indoor scenes that transition into an outdoor haunted woods walk with a few intermittent shacks and shanties to walk through. While the first few areas remain largely untouched from previous seasons, and the latter 2/3rds utilize some of Asylum's formerly-used scenes and decor, the new layout and placements effectively make this an almost entirely-new attraction for 2019! From hospital rooms and a resident cemetery to dilapidated block structures, a junkyard and a small village of hillbillies called 'Shanty Town,' there's a little bit of everything in Asylum's longest-running attraction!
Colored lighting illuminates most of the scenes and trail for a dramatic effect. Some areas have full-sized buildings to house the horrors within, while others consisted of various props and decor placed alongside the trail to allude to the type of area being portrayed. We noticed a huge variety of decorations, such as coffins, real concrete above-ground tombs, a variety of vehicles, rusty tools, old appliances, a cross made of corpses, stained-glass windows, bones, a spinning medical table, a claustrophobic hallway, sliding floors and even a full-sized bus flipped on its side' just to name a few! We also heard a few background sounds that served as an ominous backdrop to the journey, as well as a couple of 'cutting' tools, but most areas were very quiet or absent of sound altogether.
Zombie City:
Our tour of Blackwood City was similar to that of Darkness Falls, in that there's a nice mixture of indoor and outdoor scenes to make the 'post-apocalyptic city' feel more evident. Massive building facades, a fleet of busses and semi trailers, other walk-through buildings, an ACTUAL swamp, a 'fiery' effect, and a sloping sewer system were clear assets for this very unique and immersive experience.
In addition to the static scenes, Zombie City also has an array of effects that actors and guests use to interact with each other and their surroundings. Airsoft pistols, food (sort of), electrical control boards and a very unnerving needle surprise got some hair-raising reactions from our group! Perhaps the most 'impactful' effect, however, came from a confrontation between our guide and a well-rounded radio man with the SCUZ organization (more on what 'SCUZ' is in Theme, below). Let's just say that scene was 'booming' with surprises! Ok, that was a cheap pun' We'll see ourselves out.
Darkness Falls: 7.13
Zombie City: 8.04
---
Theme:

8.75
How Did We Get This Score?

Darkness Falls:
As interesting as it may sound for a haunted trail, Darkness Falls on Asylum is the name of the game. At one time (as the story goes), there used to be a working asylum on the property. It has since been burned down, but portions of the asylum remain in the woods to this day. Anything that inhabits the woods now is an evil spirit of, or perhaps and actual, leftover patient from the asylum. Whatever you do, don't smoke or drop any cigarette butts in the woods; Rig A. Mortis has been trying to get the crazies to kick this nasty habit for decades!
Before entering, we were given a bit of information about Darkness Falls, cleverly alluded to in the regular rule-giving process. Before we entered the first scene, we descended down a tight, pitch black hallway that made us feel as if we were being transported from the real world into the darkness of the trail! We also came across scenes that were obviously related to the Asylum, such as a large cemetery, the remains of a church, and a medical area.
There's also a nearby hillbilly homeland known as Shanty Town that we stumbled upon. We've gotta say, those hillbillies are good at holding hostages! Every year we come through, they've got one tied up or caged with a torturous captor!
Zombie City:
Zombie City has a storyline that's ever-growing and -changing with each season. ZC newbies, fear not, as you can still thoroughly enjoy the attraction even if you've never been through! This season, we felt that the theme was easier to understand and that it was reiterated very well throughout the duration of our trek. In the first room, it was made known that we had 3 main objectives as we made our way through Blackwood City. As we sought out completing these demands, we ran across some obstacles, were fully immersed in the story and, at one point, we were thrown for a major curveball! The saga of Blackwood City, the Paragon Research Facility and SCUZ (Society for Cutting Up Zambies) continues, and we were very pleased with this iteration of the classic 'post-apocalyptic zombie outbreak' theme.
Darkness Falls: 7.9
Zombie City: 9.6
---
Scare Factor:

7.96
How Did We Get This Score?

Darkness Falls:
Overall, we felt like the more confined and condensed version of the Darkness Falls trail provided a lot more hiding spots. Actors were literally coming out of the 'woodswork!' You know, because of the trees and stuff!
(Prepares for more bad pun lashings)
Still, it was fairly difficult to forecast our aggressor's attacks. The majority of the scares came in the form of varied startles such as loud bangs and those clever aforementioned hiding spots. It was evident that these demented denizens were familiar with every leaf and twig on the trail. Many were able to sneak up on us without us hearing them coming! Our group was small, initially consisting of 2 and finally 3 (we have no idea where the third member came from), but the scares were spread out pretty evenly amongst us the whole way.
We were also bombarded with some common phobias at times including 8-legged creatures, clowns, tight spaces, and washing the dishes; because no one likes washing the dishes, right!? If we're being honest here, we high-tailed it outta there too!
We highlighted this in Cast a bit (see above), but that chainsaw guy… man he was aggressive! He flailed that saw around like it weighed 2 pounds! He also hit some nearby metal objects so hard that it sent sparks flying through the air! Watch out for that one' he means business, and so does the woman with the reciprocating saw! (Gold stars to whoever knows what that is without Googling it.) As she chased us with it, she eagerly demanded that we hand over our (apparently peanut-flavored) toenail clippings! Although we're pretty sure we can live without them, we elected to keep ours.
Zombie City:
Zombie City is more of an immersive attraction than a blatantly scary one. The goal here is to brings you into the scenes and the scariness of the haunt in a more theatrical way. However, there are some sneaky shocks waiting for you within Blackwood City.
First and foremost, we had to protect ourselves from getting bit by the zambies, and you'd better believe there are some feisty ones out there! At one point, we were forced to walk past one that was chained up just tightly enough for us to eek by' all while it was grabbing and growling at us' literally inches from our bodies! We were also hungrily chased by them, forcing us to run on multiple occasions (it's okay to run at times in this one)!
Aside from the human-eaters, there are other frights within the city as well, but we won't dare ruin them. However, we will reiterate some great advice: watch who you trust!
While the finale for Darkness Falls was an uneventful stalking of characters back to the queue area, the finale for Zombie City left us running, we mean running, out the exit! We witnessed a rotting pile of corpses reanimate back to life right before our eyes' and without the protection of our guide, we wasted no time getting out of the city.
Darkness Falls: 7.8
Zombie City: 8.11
---
Entertainment & Value:

8.57
How Did We Get This Score?

Asylum Haunted Scream Park has multiple attractions with multiple ticketing options. If you only want to visit either Darkness Falls, Zombie City, Xterminate, or Zombie Hunting, you can do so for $25.00 each. If you want to partake in just the two haunted attractions and Xterminate, combo tickets are available for $35.00. An All Access Pass for all attractions is priced at $45.00 and we feel this is the way to go to get the best value (essentially $11.25 per attraction). They also offer VIP passes and any unused tickets can be redeemed on any other night of operation.
Traversing Darkness Falls took us about 15 minutes, and we were trapped within Blackwood City for about another 25. This combines to about 40 minutes total (your tour time may vary). That brings their MPD (minutes/per dollar spent) to 0.89 when purchasing the All Access Passes. However, that's JUST for the two haunts so that's not including the time spent taking down zombies in Zombie Hunting and mutant clowns in Xterminate!
Aside from the 2 haunts and the other 2 interactive, first-person shooting sprees, we also experienced some very entertaining queue line roamers (at least 5 of them) and a fierce fire-fondling show while we waited that's included with the ticket price.
Don't forget to get your group's photo taken in their green screen booth! Perhaps most importantly, you can come hungry as well and get some good eats on-site from Smofried barbecue. The Get A Clue escape room trailer offered a 5-minute 'Stabbin' Cabbin' room for $5 (we made it out with little time to spare) and it was fun! Their other room is set up for a full-length, hour-long experience, but we are unsure if that room is normally in operation during the haunts.
We spent a large chunk of our evening at Asylum Haunted Scream Park. We got plenty of chills and thrills when taking advantage of their All Access Pass. If an immersive, theatrical haunted house, slaying zombies with paintballs and clowns in laser tag, and a daunting hike through the woods 'when Darkness Falls' sounds like something that's right up your alley, then be sure to pay them a visit this Halloween season! Tell 'em Team Zombillies sent you 😉
---
How Did We Get These Scores