Basement of the Dead – Full Review
Basement of the Dead is a Haunted Attraction located in Aurora, IL.
42 West New York Street, Aurora, IL 60506View All Details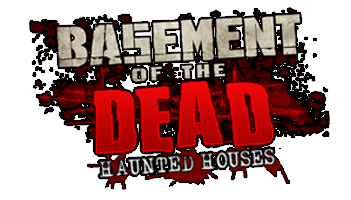 Features:

Free Parking, Paid Parking, Food/Concessions, Gift Shop/Souvenirs, Special Events, You will NOT be touched, Original Characters, Covered Outdoor Waiting Line, All-Indoor Attraction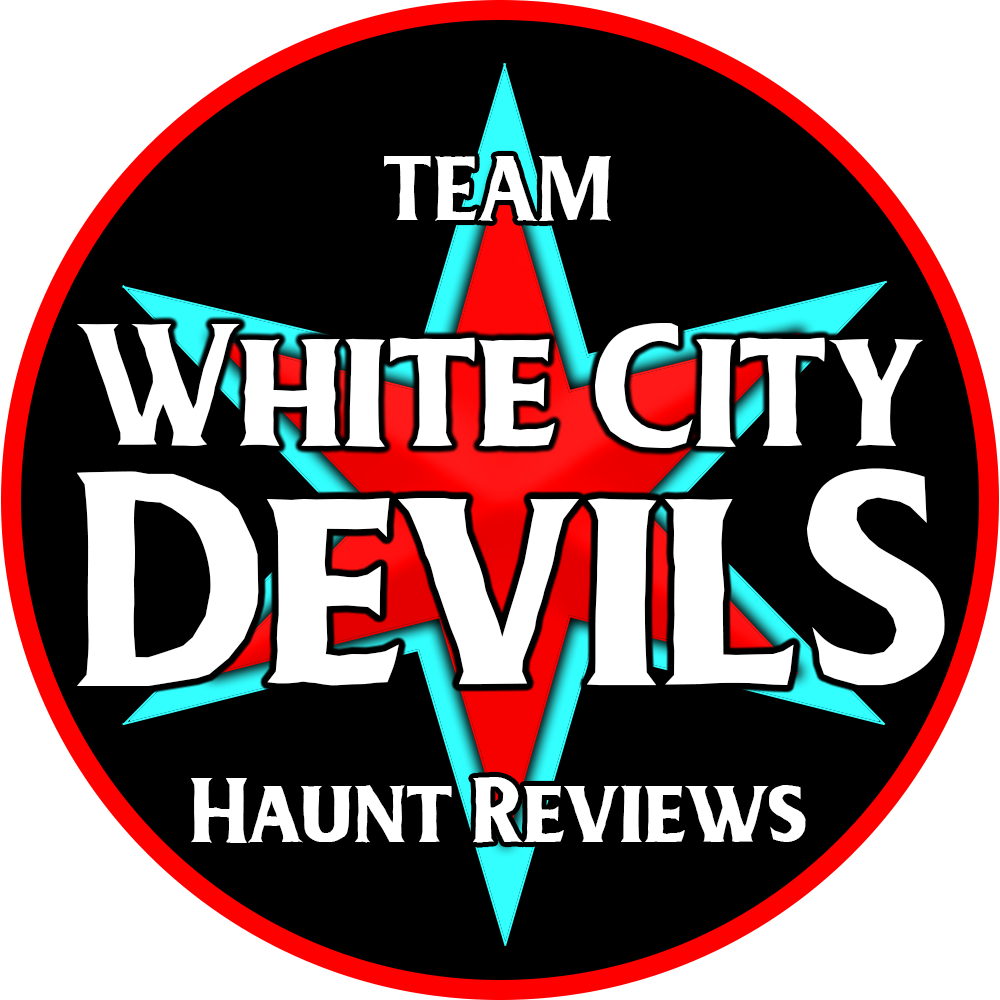 This attraction was reviewed on October 12, 2018 by Team White City Devils.
How Do We Get These Scores?

Final Score:

9.24
How Did We Get This Score?

Summary:
The current owners of Basement of the Dead (BotD) started out by producing a yard haunt at their home in Joliet, Illinois. With the city having issues with 100s if not 1000s of people at their doorstep every Halloween season, they believed the need to provide a professional haunt setting was in the future. That's when they stumbled upon an opportunity to become professional haunted house owners. George Carpenter, who founded BotD in 2000, had to put the haunt up for sale due to an illness. In 2010, the family became official owners and were able to attract even larger crowds with the concrete foundation that Carpenter left behind mixed along with their marketing tactics.
In 2012, the attraction Shattered 3D (a black-lit 3D clown themed portion) was added to the main haunt. Combined with a DJ, roaming characters and a crowd-pleasing atmosphere, the good times and fright can be felt both inside and outside the building.
This year, we had the pleasure of experiencing their new addition 'Zombie Carnival.' With the already-one-of-a-kind shows for the queue lines, and now adding the new forms of entertainment, BotD continues to be a staple in Aurora, Illinois that will remain for quite some time.
---
Cast: 9.05
How Did We Get This Score?

There are anywhere from 75 to 100 actors that take over Basement of the Dead every night. Their amazing acting made us forget the party we were just having in the queue line outside. Since there isn't a set theme, we were able to experience different settings and actors.
One part that stood out for us the most was the morgue room. With an actor unnervingly telling us which refrigeration unit stored Maria and Billy's body parts, it made us wonder if he was the one who put them there. Another actor that stood out right away was the Priest in the church cult scene. He was very unsettling by walking around asking when the last time our confession was. Then, he proceeded to tell us, 'Its okay, your souls are doomed anyway.' He finished by giving us a blessing and then ripping pages out of his book to throw at us.
Overall, we would have liked to have seen more dialogue, but that doesn't take away from the outstanding job the actors put in to make their respective roles so convincing. The cast had a way of making us feel like our nightmares were coming to life.
---
Costuming: 9.34
How Did We Get This Score?

The costuming played a great role in achieving the actor's complete effectiveness. As stated above, there wasn't an official theme, so when it came to either a hospital or church scene, the costuming made us feel like we were in that setting. The Priest that was blessing us had a full cassock outfit that made us feel like true sinners.
In Shattered 3D, the costuming could make anyone hate clowns if they already didn't due to their highly-detailed costumes. Along with proper prosthetics and masks, the paint used for makeup also had been used for the details of the walls, adding an additional 3D effect and making the experience all the more frightening.
Not all of the costuming and details remained in the haunt; the outside had an experience of its own and some very fun and well-detailed costuming and makeup. One of the more dedicated and detailed costumes we can recall was of Simbu, The ancient serpent of voodoo. He had on a fully-scaled reptile look paired with well thought-out clothing to give him a voodoo priest look. We held conversations with him at the Zombie Carnival just off the grounds of the haunt, and, even with a full-head mask, we had no trouble understanding any rules of any of the games played.
All the masks inside the haunt were of high quality and detailed. They gave us a moment of disbelief wondering if we were looking at skin or Hollywood-quality masks. Costuming did help produce a higher overall score for our review, and with good reason!
---
Customer Service: 9.45
How Did We Get This Score?

The website for Basement of the Dead had all the information we needed as far as ticket prices, hours, location and parking. As stated on the website, there was a bank with an open lot catty-cornered to BotD that provided more than enough parking spots. There is also some public street parking nearby if needed.
Before heading into the plaza, there is a sign pointing towards a bus parked on the side street, which is the ticket booth. We met up with one of the owners to get a little tour before we entered. Every question we had was answered in the most professional manner. We found out this is a family-run haunted house and we could see it by the way they kept communicating between the other staff members. Apart from being very professional, they were also very informative and helpful. Security and safety are top notch, leaving all worries aside so everyone can enjoy all the terrors BotD has to offer.
---
Atmosphere: 9.7
How Did We Get This Score?

As we approached the plaza, we noticed some giant tents that weren't there from previous years. Our curiosity got the best of us, and we were pulled in by Simbu. He was the actor who ran the 'Zombie Carnival,' a new addition to BotD that includes a few carnival games like axe throwing and zombie shooting. We couldn't think of a better way to leave a haunted house than with a prized zombie balloon!
As we headed to our respective queue line, we ran into many roaming actors and couldn't help but notice the DJ playing some classic heavy music for entertainment. The vibe outside does shift for an even better experience; every top of the hour, the actors and DJ pump up the crowd with dance music and throw free merch into the crowd. It is the only time we wish our line wait time was a little bit longer, as everyone was entertained and having a great time. It's safe to say that BotD has a vibe about it that cannot be found anywhere else in Chicagoland. It may not be the scariest queue line, but it's the most interactive and entertaining we have yet to see.
---
Special Effects:

9.22
How Did We Get This Score?

As soon as the doors were opened, we heard the unsettling screams and sounds of Basement of the Dead. The room that stood out the most was the mirrored carousel room. All we want to say about that room is to watch your step! We did have some time to appreciate the detail that was put in to this iconic room.
Throughout the haunt, we stepped on enough pressure pads to make some of our group scream in frustration for being scared again and again. We mostly saw high-quality animatronics placed in transition zones, which helped to set up the next scenes in the upcoming rooms. Wall decor and even the walls themselves moved depending on where we stepped. It made us feel as though nothing could be trusted, keeping us alerted at all times.
One room that was detailed as a ward with patients was very tricky to maneuver through with the well-thought-out effects. It was mostly an open area, but caged, and the entire room had a strobe light going the entire time. With the well-placed actors reaching from the other side of the cages, it was enough to disorient and freak us the Hell out! We wished we could've moved faster to leave the room, but as simple and wide as it was, it was also difficult entirely.
The special effects were overall well-thought-out by the team of BofD and were effective and creative.
---
Theme:

N/A
How Did We Get This Score?

BotD Did not follow a particular theme throughout; therefore, we did not score on this section.
---
Scare Factor:

8.99
How Did We Get This Score?

Basement of the Dead is an intense haunt that targets your group visually and auditorily. It's almost as if they knew our personal fears and targeted them at one point or another. If they detected that anyone in our group was NOT uneasy at any given point, they made sure to change that real quick.
The actors had different approaches like growls, screams and in-the-face encounters. Everyone in our group was a target, no matter our position. I believe everyone in our group was genuinely scared at multiple points throughout.
The main haunt is where the more-believable scares were provided, and most weren't predictable with the help of well blended vantage points that the actors had. The Shattered 3D room had a different way to tour it this year, as we were provided with small flashlights that were our only source of light throughout that particular section.
Shattered did have us at a disadvantage; we were easy targets being as we needed the flashlights to see, also making us that much easier to spot. These scares were plentiful due to the situation. They were mostly of the 'jump out and scream' variety. Some dialogue was used here, but mostly to let us know they were stalking us… giving us an even more-effective feel of being surrounded by clowns.
BotD remains a great complex haunt and continues to show a great chemistry for the 2018 season.
---
Entertainment & Value:

9.17
How Did We Get This Score?

The general admission price is $28 and VIP is $45 (on-site). One of the more unique features that Basement of the Dead offers is email and text alerts. We were able to sign up for coupons and have them sent directly to our phones (I even received one in the middle of writing this review!). It is a great way to keep in the loop with anything and everything BotD has to offer. They are one of the few haunt to be open Thursday-Sunday early in the season, which makes it a great schedule to take advantage of.
Basing off the on-site GA price of $28, our MPD value is admittedly one of the lower values around. Our walkthrough time for both attractions (one ticket price) was 20.35 leaving our MPD at 0.73.
The team at BotD is aware of this fact, and counters it with one of the most entertaining queue lines EVER. It is such a fun line, we really forgot it was a line. I feel this is part of the BotD experience and just makes the whole event into a great party that everyone is invited to. BotD also offers (as of this year), of course, the 'Zombie Carnival,' as well as a unique short escape room. They also include a souvenir table right alongside a refreshment table with drinks and food.
Overall, our general impression for BotD is very well worth the price of admission, and it's one of the more entertaining haunts we have experienced. With such a friendly professional staff that clearly loves what they do, BotD is always a stop on our list of Chicago haunts and for lots of very good reasons!
---
How Did We Get These Scores

Promo Images:
Click to Enlarge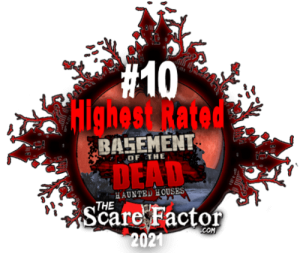 ---
Have you visited this attraction?
Join ourspookyadventures!
We visit Halloween haunted attractions year-round! Follow us for haunted house walkthrough videos, behind the scenes footage, and more!