Basement of the Dead – Full Review
Basement of the Dead is a Haunted Attraction located in Aurora, IL.
42 West New York Street, Aurora, IL 60506View All Details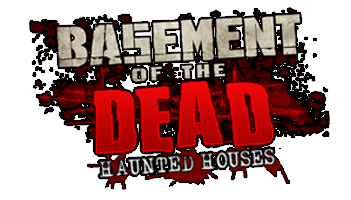 Features:

Free Parking, Paid Parking, Food/Concessions, Gift Shop/Souvenirs, Special Events, You will NOT be touched, Original Characters, Covered Outdoor Waiting Line, All-Indoor Attraction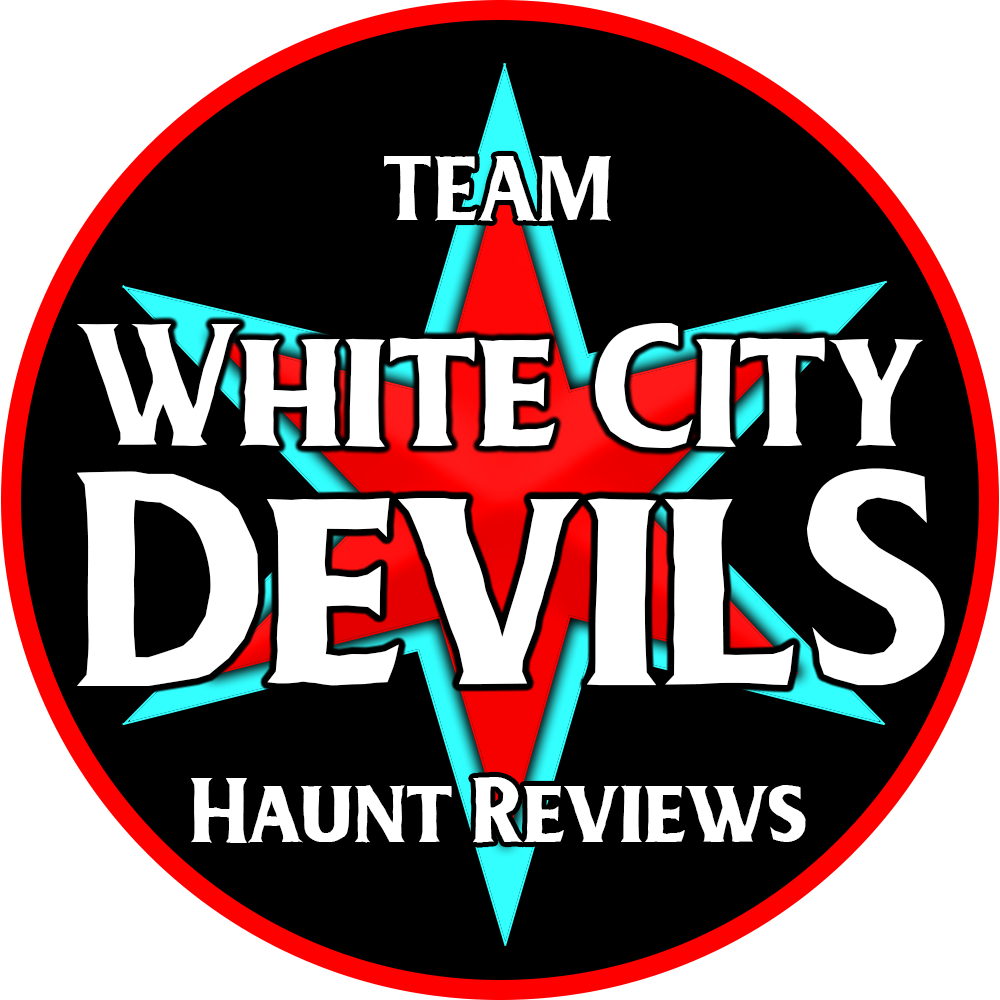 This attraction was reviewed on October 5, 2019 by Team White City Devils.
How Do We Get These Scores?

Final Score:

9.02
How Did We Get This Score?

Summary:
We had the pleasure of re-visiting Basement of the Dead (BotD) for the second time professionally. It is always amazing to see the extent their team goes through to put on scares each year. We had the privilege of meeting up with some friends of ours to get a 'first time' reaction on most of the sets and scares. We were not disappointed in the results. With a high-energy actor base, impressive scenes, and a queue line that literally does not quit, BotD is always a treat packed with many tricks hidden below'
---
Cast: 8.87
How Did We Get This Score?

The cast at BotD has always been one that loves to put on a memorable show. There are plenty of queue line actors to make a decent wait time feel little to none. When we walked up from the ticket booth, Zoey was riding her tricycle sporting all sorts of skulls and lights. We were visited by our favorite serpent, Simbu, who had a completely new costume (more on that later). Down the line we seen Bubbles was all over the place riding his awesome tiny car that I would love to buy off of him (I am just not sure if it has a clean title). We also could not get enough of Sugar daddy and all of his crazy antics!
The weekend we attended, BotD had a special guest actor, The Amazing Phoenix. He is a fire breather that was not afraid to put on an incredible show. He actually gave me a flame to try and swallow, but I was a bit afraid of setting my face on fire, so I failed to eat any fire that day. So far, at least with the past two weekends, BotD has offered a special guest actor over and it creates quite a buzz.
Once inside the attraction, the fun we had outside quickly turned to fear. Actors were regularly screaming all sorts of things at us, and it worried one of our 'first time' visitors quickly. It was almost as if everyone smelled the fear our group was giving and just ate it up. Actors had very convincing roles inside the haunt and a majority were great at interactions.
I did want to give a shout out to an actor in Shattered 3D. I had lost 3 times in a row to our game of 'paper-scissor-rock'. After each loss, she pointed at me and said, 'You die'. That was simple and a lot of fun.
There were about 70 actors total on this evening, which is their average amount per night. There is really no dead space of actors in BotD so 70 will leave a walk through with about two to four actors crossing rooms at a time! Having this many actors really makes for a lot of great exchanges throughout.
---
Costuming: 9.08
How Did We Get This Score?

BotD is unique for having their signature characters, who would be just regular characters without their outstanding, signature looks! There is no lack of clowns throughout BotD, even outside of the shattered 3D attraction, and there are a few well known for costumes. Zoey looks like some sort of happy nightmare, Bubbles looks like he is straight from 'Killer Clowns from Outer Space', and Sugar Daddy is covered in all sorts of sweets! Each is very identifiable and have very well put together costumes that are really great to look at. But not for too long, as they will notice and mess with you.
There were also many changes throughout that were noticeable in only positive ways. The serpent, Simbu, had all-new attire that was very impressive. His outfit was a very nice robe jacket pieced with white symbols and very great cuffs. He was also carrying a new staff that was complete with real animal bones as well as some realistic, not-so-real bones (there was a fetal skull somewhere on his staff, and I know those cost a few grand to obtain). Simbu looked really amazing overall, and we would have to give praise to whoever created his outfit and staff. The actor really commits to the role as he is in a fully scaled lizard body suit and then dresses it up with other clothes, so we would also have to applaud that level of commitment.
Inside the haunt, the characters were dressed appropriately for scenes. When we came across a sort of torture scene, the actor getting his innards ripped apart by a giant table saw not only played the part of dying well, but his makeup had splattered blood all over and his stomach area was pretty wide open which made the effect all the more convincing.
The most memorable would be those in the Shattered 3D attraction as there were plenty of clowns around. Pair them with the 3D glasses and black lights and it creates a really freaky time!
Masks were plentiful yet all done with great care. I cannot recall a time going through where the mouth was 'set' or made it difficult to understand someone which is always a big plus. Overall, all costuming and makeup was applied with careful thought and it shows!
---
Customer Service: 9.2
How Did We Get This Score?

BotD is located at the end of the street from Hollywood Casino in Aurora. It is not difficult to find as there is an awesome 81′-83′ Cadillac Hearse (I like cars) parked on the corner and also plenty of actors roaming the grounds. There is a multi-level parking spot next to the haunt, as well as a free lot we generally get luck with that is kitty corner from the haunt. From there, we just had to follow the sounds of screams and music to get to the haunt!
Safety doesn't seem to be an issue and something the staff takes seriously. There are plenty of non-character staff around that can answer any and all questions.
BotD does offer some refreshments and even hot dogs for purchase. This booth is set along side with their merch table which also has really cool shirts and some extras are usually thrown in such as stickers, etc.!
---
Atmosphere: 9.26
How Did We Get This Score?

This category for BofD is kind of difficult to write about because I feel I can go on forever! They really have a great location (actually in a basement keep in mind) and a really fantastic outdoor area. When we were officially around the main attraction and the queue line, it was a great reminder of just how amazing the attraction really is!
BotD sits right along the Fox River making for a cool scene. I feel the best way to describe the overall vibe of the queue line is literally a house party. They have a DJ not just playing great rock/metal tunes but also a variety of all sorts of popular dance music. On the top of every hour, Zoey and Sugar Daddy have a free giveaway of candy (FULL SIZE CANDIES!) shot glasses and t-shirts. Every time we have seen this, the crowd goes absolutely wild. I believe guests hang out after they walk through the haunt because of all the tunes and vibes BotD offers (I know we stayed a bit longer).
The party outside really is opposite from what lurks inside which is a great curve ball to add to the overall experience. Overall, the queue line actors are very engaging, active, and easy to approach for pictures to show off all the good fun we had!
---
Special Effects:

8.92
How Did We Get This Score?

The sounds and music for BotD provided enough to really creep out our group going in. There were noticeable adjustments since our last visit during MHC (Midwest Haunters Convention) and these adjustments would have blown away anyone touring back in June. One of the first rooms they purposely made difficult to leave had a very terrifying demon in the middle surrounded by bodies. For reasons we won't give away, we had to walk around him multiple times no matter how hard we tried not to'
The strobe lights and fog machines can make it difficult to see the complexity of smaller details at times, but it also adds to the overall scary experience, so I felt okay knowing the effect was there for a reason. The sets we were able to see, however, felt very realistic. There is an asylum room that has a real hospital feel to it, so much so that the walls seemed to have really closed in on us (hint hint). One of my favorite moments to praise special effects was at the church scene. One of our 'first time' guests on our tour literally said out loud 'oh, this is a really bad idea guys.' Thinking back on that, it was really hilarious, but also served as a great observation on just how scary scenes were from a fresh perspective.
The details throughout the haunt were amazing. The sets and props really transported us into believing what we saw and BotD did a great job at keeping it scary.
---
Theme:

N/A
How Did We Get This Score?

BotD doesn't have a solid running theme throughout their main attraction. Shattered 3D, however, does give off fun house circus vibes that play throughout that particular portion of the whole attraction.
---
Scare Factor:

8.95
How Did We Get This Score?

As veterans and fans of all things haunt related it can become difficult at times to try and have a clean state of mind and become scared. Luckily, we had our 'first time' guests along to help with that! One of our guests was very frightened and even at times refused to look at certain parts. I would say that's success in terms of the scare factor for BotD.
Everyone in our group of 4 was targeted (instead of just the middle or the front or back) more than once. Just an FYI, no where in line is safe. BotD offered a variety of scares from jumps, pop ups, loud noises, props, more loud noises, and if we didn't mention it, loud noises. It is very startling as we have little to no time to adjust to the next scenes which makes for a very effective and well put together attraction!
The Finale of the main attraction is like something right out of the "Saw' franchise. Its such an amazing room with amazing props and actors who sell it well. Shattered 3D is more of the fun house attraction and has an amazing vortex tunnel toward the end! Paired with 3D painted tunnel and black lights make it even more difficult to walk out of!
---
Entertainment & Value:

8.97
How Did We Get This Score?

Tickets are listed on their website at $30 GA and $45 VIP. Our walkthrough time was at 25 minutes (15 for the main attractions and 10 for Shattered 3D). Ticket prices do, in fact, include both attractions. Given all the numbers we listed out, the MPD (minute of entertainment/dollar) value is at an 0.83 based on attractions alone, a bit lower than most in our area.
However, take that with a grain of salt, because this does not include all of the value of entertainment throughout the grounds as a whole. Again, BotD is literally a house party and I can say has a queue line like no other in our area! They seem to have a working formula on how to effectively use all of the space they occupy, and make guests never want to leave! This haunt is equal parts entertaining inside and out and is a stand-alone in that factor!
They list extra activities at discounted prices such as axe throwing (wasn't up during our visit due to rain) and also a small escape room. We were able to try the escape room though! The story is that we were in a cabin in the middle of the woods and needed to contact the local authorities regarding a killer on the loose who was trying to break in. We were literally two seconds shy of winning which is too bad because dying kind of sucks.
Overall, it is worth every cent and I would recommend the VIP tickets as it cuts waiting time down by 1/3, but then that's also 1/3 less time having a great party in line! It's a tough call honestly, as i would not want to miss that party!
---
How Did We Get These Scores

Promo Images:
Click to Enlarge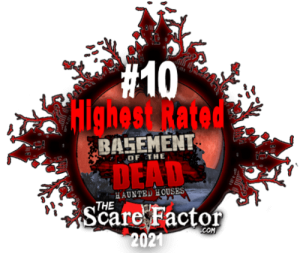 ---
Have you visited this attraction?
Join ourspookyadventures!
We visit Halloween haunted attractions year-round! Follow us for haunted house walkthrough videos, behind the scenes footage, and more!