Blackout at The Final Door – Full Review
Blackout at The Final Door is a Escape Room located in , .
930 Knox Abbot Drive, Cayce, SC 29033View All Details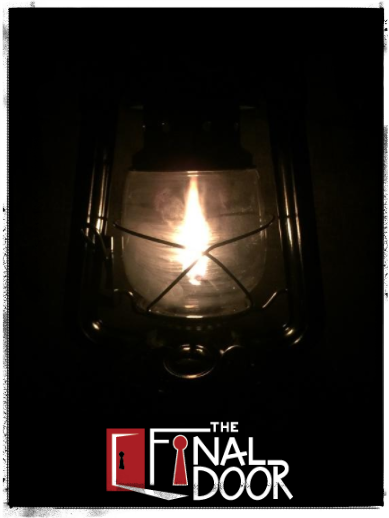 Team Jefferson Starship reviewed this attraction on May 23, 2017.
Final Score:

9.48
Summary:
The Final Door is a recent addition to the nightlife of Columbia, SC. Open for the past year, the Final Door is entirely a local enterprise, with sets and descriptions tied to the local community. We tried out the 'Blackout' room recently and are happy to say that we managed to escape the rooms of the diabolical serial killer who stalks the streets of Soda City. Will you be able to navigate the puzzles, locks and multitude of rooms to do the same? That's much harder to see'
---
Atmosphere:

9.33
The outside of The Final Door resembles any number of urban retail blocks. Inside the lobby, however, you'll find some comfortable bar seats, tables, and a number of puzzles to whet your mental appetite. If you need a bit of liquid courage, The Final Door also offers beer, wine, soda and water. They also provide some sample locks so that you know what kinds of things you might be facing. Before you head back for your briefing, there are lockers to store your belongings in ' no cell phones or cameras are allowed in back. It's a Blackout in more ways that one! But, that actually helps with your immersion and sense of entrapment.
---
Theme:

8.87
As mentioned, Blackout is themed around a puzzle-minded serial killer who kidnaps his victims ' and now you're among their number. This is actually pretty standard escape room fare, but let us say that The Final Door does a great deal to help with engagement, getting you involved early on and throughout the rooms.
Things plug into this theme pretty well as long as you accept that you're in a SAW + Sherlock Holmes mash-up. There are a couple of important things that follow you from room to room; but, by and large, you only have to use each clue and lock once. This leads to a fairly linear and straight-forward series of steps that take you from clue to clue, lock to lock, puzzle to puzzle. There are a couple of places where you might seem to skip ahead, but such endeavors are doomed to be stymied as you almost have to have things in the proper sequence in order to proceed.
---
Special Effects:

9.52
The Final Door assemble all of their own clues. Inside you'll encounter traditional lock and key, combination locks, numerical keypads, and puzzles, puzzles, puzzles. We won't give away exactly what those puzzles consist of, but there were a few things in Blackout that we've never seen or heard of before in any escape room.
Sound effects weren't too loud or overly repetitive. The flickering lights were on a seemingly asymmetrical pattern, varying from bright to guttering to dim to extinguished. There were additional personal lights to help out, but sometimes they were too much. The experience is called Blackout for a reason!
---
Gameplay:

9.73
Blackout boasts a 35% survival rate ' and we survived! Now, the Final Door marks a 'survival' as getting through the entire experience (possibly multiple rooms) in 60 minutes or under only using three or fewer hints from the staff. This is pretty standard across many escape rooms and we can definitely see where people would get caught up in some of the myriad puzzles in Blackout. Blackout at the Final Door features a great method to get hints that helps keep you a part of the action. Some of the puzzles are very interactive ' don't plan on getting out of Blackout clean and unscathed. You'll be getting your hands as dirty as the murderer himself if you want to get out. The staff of the Final Door, like our guide Danny, are enthusiastic and involved. That kind of rapport and energy is a great boon to the game and adds to the storytelling. Look to be a part of the set and its puzzles if you attempt this escape room.
It should also be noted that, for a slight extra charge, the staff will also 'hide' some drinks in amongst the puzzles ' yes, even the alcoholic ones served up front. While this is a fun addition, and something unique in the area for escape rooms, we were so busy dealing with clues, handling locks, and moving things around that it was hard to even find time to take a sip from a drink.
---
Customer Service:

9.87
The staff of the Final Door are great folks and clearly excited about what they do. Reservations are required for the rooms at the Final Door, but the staff are helpful and willing to work to accommodate groups for the rooms they have.
There's nothing that stands out as being hazardous; though, unfortunately, the escape rooms are not wheelchair friendly. However, nothing is too high. There is some crawling involved (for at least one member of your group) and the staff advise against wearing heels.
In addition to the night of fun, we also walked out with some mock-up police reports and the photos that were taken of us by the murderer.
---
Value:

9.55
Room prices for events at the Final Door are actually cheaper during the week and rise on weekends (Friday through Sunday). Blackout prices are $28 and $33 while the Sacrifice is $25 and $28. However, you're getting an hour of an immersive and unique experience. Even at the highest cost ($33), that's 1.82 minutes of terror per dollar spent.
In addition to Blackout, there is a second room called 'The Sacrifice' that we're dying to try. Too, they're adding two more rooms before the end of the year and a fifth (hopefully) soon thereafter. That means that there's always another reason to come back for another visit and attempt to test your skills against the diabolical puzzles of the Final Door.
---
---
Have you visited this attraction?