Blood Moon Haunted Scream Park – Full Review
Blood Moon Haunted Scream Park is a Haunted Attraction located in Tamaroa, IL.
4540 Valier Carpet Road, Tamaroa, IL 62888View All Details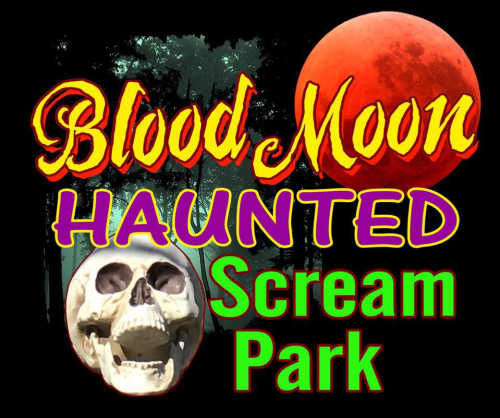 Features:

Free Parking, Restrooms/Porta Potties On-Site, Gift Shop/Souvenirs, "Old-School" (Low Tech), You will NOT be touched, Covered Outdoor Waiting Line, Indoor/Outdoor Attraction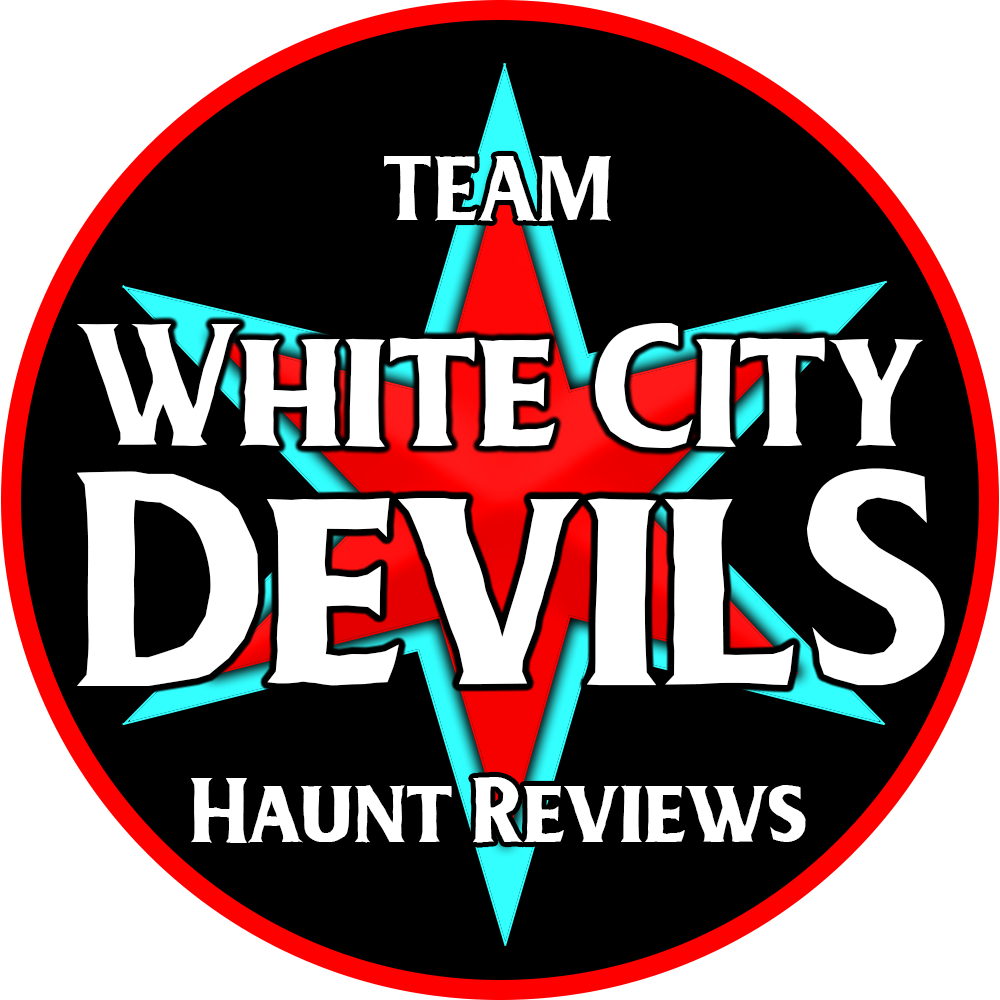 This attraction was reviewed on October 11, 2019 by Team White City Devils.
How Do We Get These Scores?

Final Score:

7.46
How Did We Get This Score?

Summary:
We decided to venture into the middle of nowhere (Tamaroa, Illinois, to be more specific) to check out Blood Moon Haunted Scream Park (BMHSP) for their third season. We have heard buzz around the inter-webs about this haunt, its old school/low-tech style, and how effective they were at scares and scenes. With an insane amount of property (10 acres!), there was nothing short or small about the scenes and settings. As a new haunt in the area, BMHSP shows nothing but great potential that I am sure it will hit within the next few seasons!
---
Cast: 7.59
How Did We Get This Score?

Our second weekend of reviews pretty much started the same as the first, RAIN. The only addition was a crazy cold snap (Mother Nature is the true haunter around here). The reason why this is worth mentioning is because many of the volunteers assumed the haunt would be closed (Blood Moon is about 85% outdoors). During our visit, they had around 27 actors wandering throughout the haunt. The owner mentioned on fully staffed nights, they usually hit around 35-40, so it wasn't too noticeable regarding being short staffed by much.
We could tell going through that most interactions we forced actors into took a moment for a witty snapback at us and sometimes they didn't have one at all. I think with a bit more training from some of the more senior actors, it would help develop new talent and add much improvement in terms of interaction.
The interaction we did receive, however, was great! Most memorable was the local butcher who simply goes by the name Meats. Meats actually had popped up a few times to steer us away from his drum of meats (body parts) and even to warn us about touching the laundry in the next scene. He overall set some moods for part of the haunt and was a great example of being immersed into a character.
Some actors did work their scenes properly and gave off pretty good creepy vibes. One of the first scenes we walked into had a green lit house and the actor was waiting for anyone to pass by. We happened to be the lucky ones. He came off as creepy as possible when he invited us to dinner because 'it just arrived' ' I didn't see any pizza boxes or take out around, so I was fairly confused (playing along of course). Turns out he wanted to eat us!
We also encountered a witch on the trail. She had plenty of dialogue and acted great in her scene. She listed out a bunch of items she needed for her potion, including our eyes! Just a bit further down another actor warned us to run because the witch would come and get us!
Everyone we encountered was clearly trying their best for scares and the group was having fun in what they were doing. I always appreciate actors venturing out in questionable weather and giving a great show!
---
Costuming: 6.66
How Did We Get This Score?

It is worth mentioning the weather (again) during our visit, as this does take away from the overall costuming points. Most of the costuming from actors were covered in hoodies and regular clothes because it was a very chilly evening. We totally understand, as it was cold, and it can be a health issue so it's not the end of the world by any means. Most of the masks we saw were of store quality and average for the most part.
The details in the makeup applied, however, were really good! Meats had a very worn and bloody look to him that added to a demented character overall. The witch we saw had a classic witch look to her: pointed nose and some warts. The victim warning us to run from the witch also had her eyes gouged out and the makeup made it look really freaky. The wolfman had some really great makeup, and came off with a real Lon Chaney look!
Overall, the makeup really was the high point regarding costuming during our visit. I'm sure that during less chilly weather, actors would have a more complete look.
---
Customer Service: 7.75
How Did We Get This Score?

Blood Moon lists all their hours and days on their Facebook page. Tickets can be purchased on-site only. There is plenty of onsite parking available. The staff is fairly limited, but some of the nicest people we have ever met. They really take the time to talk to every guest that walked up during our visit, and really showed appreciation on coming out. Being that genuine is something one can't learn, so it is always great to see that level of gratitude, especially in knowing how far people come from all over to visit!
Considering a few actors didn't show up because of weather, it sounds like this is definitely a weather permitting haunt, so it would be best to check their Facebook page for updates.
---
Atmosphere: 7.3
How Did We Get This Score?

BMHSP is really in the middle of southern, Illinois. The overall appearance is a bit barn-ish. The ticket booth is a giant aluminum shack that gives off a very barn feel to it. The queue line didn't have much going on when we arrived and would benefit from some music and queue actors. We did have a well-lit area and a really awesome gate to enter through that did peak our interest.
One of the most unique features we experienced when it was our turn to walk into the haunt was a loud siren that echoed across the entire property, and warned everyone of a new group entering. We have never experienced anything like that before which actually set a pretty great tone for the haunt!
---
Special Effects:

7.66
How Did We Get This Score?

BMHSP prides itself in home-made effects and scenes, and uses very little purchased props. This is where they shine the most. Considering the size of the property, there is plenty to look at which impressed us plenty.
One of the more memorable scenes I can recall was the cemetery. The crew at Blood Moon actually build mausoleum/ memorial-sized tombs. With the dark outdoor setting, proper lighting, and plenty of open space, it seemed as if there was an actual cemetery on the property!
When encountering the witch, we happened to grab a glance inside her hut; there was no lack of jarred specimens and hands on her shelves for her potions. It was a smaller detail, but worked wonders when noticed. Meats' butcher shop looked like some kind of horror shop from the 40's. The freezer was full of body parts and all sorts of gory goods which all looked fairly rotten.
Walking through the trail, we happened to come across an area with abandoned cars. It's one thing to put a car in neutral and place it where you want in terms of scenes, but at BMHSP there is a flipped over truck, big wheels and all!
I was very excited to see the many hand-built and low-tech effects that this haunt has to offer. They were made more effective by the darkness of the property and the trail we walked.
---
Theme:

N/A
How Did We Get This Score?

Blood Moon Haunted Scream Park didn't follow an overarching theme so this category hasn't been scored.
---
Scare Factor:

7.27
How Did We Get This Score?

Blood Moon, like many haunts we attend, had a great amount of jump scares throughout. What I can say in regard to being different is that there were plenty of creepy quiet actors as well.
Some of the jump scares I can recall getting freaked out by included an actor who was hiding inside one of the buildings. He was actually inside a coffin, which can be creepy enough as is, but as we proceeded, we didn't realize he had gotten out to follow us for a while. Inside another building, an actor got a great jump scare while hiding around some oil drums. He had popped out and screamed, 'What are you scared for?' with a menacing laugh.
Talking in terms of the 'creepy' actors we mentioned there was plenty of them. A part of the haunt consists of an outdoor maze. Being our first time in, we had no idea which way was which. While trying to figure our way out, we had to also watch out around every corner because there was always someone around! They stayed very quiet which made it all the more difficult.
There is no lack of scares at BMHSP. When talking with the owner, he mentioned they are developing two other scenes before season's end, and we are very sorry to miss them! They both sound like they will provide an excellent amount of additional frights.
---
Entertainment & Value:

7.96
How Did We Get This Score?

Our walk-through time was a very impressive 28 minutes! With tickets at a very reasonable $20 for general admission and $25 for VIP, the MPD value is 1.4! Because this is a new area for us, we aren't sure how average this is (more reviews for our second weekend to come) but 1.4 is a very reasonable MPD overall.
We really didn't know what to expect, but I have to say it was well worth a trip. Considering Blood Moon Haunted Scream Park is only in its 3rd season, we can easily see plenty of potential and quality coming from this haunt. Simple adjustments will go a long way, and we really cannot wait to see their progress in the up-coming years! With such a great and passionate staff, Blood Moon Haunted Scream Park will definitely flourish!
---
How Did We Get These Scores

---
Guest ReviewsGuest Average: 9.5 out of 10
Mavis Alecci – 10/10 – October 30, 2022Fantastic Haunt/Scream Park!!! Great Gift Shop. Highly Recommend! Going most weekends this year.
J. T. Bullock – 9/10 – October 9, 2021Very friendly reception on arrival. The workers did a great job. Especially the blood butcher. Chain …show more saw was the weakest part, fire that thing up and make it scream. Or buy a new saw! The exit was cool as hell!