Boogerwoods Haunted Attraction – Full Review
Boogerwoods Haunted Attraction is a Haunted Attraction located in Rockwell, NC.
725 Phaniel Church Road, Rockwell, NC 28138View All Details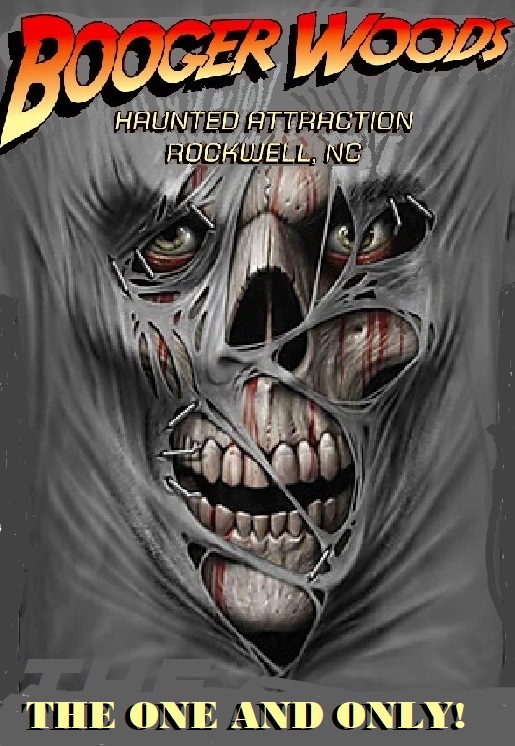 Features:

Free Parking, Restrooms/Porta Potties On-Site, Food/Concessions, Gift Shop/Souvenirs, "Old-School" (Low Tech), You will NOT be touched, Movie Characters, Original Characters, Uncovered Outdoor Waiting Line, Family Friendly

Team Jefferson Starship reviewed this attraction on October 28, 2017.
Final Score:

9.04
Summary:
Boogerwoods is a haunt in eastern North Carolina that all haunt enthusiasts should visit at least once. They are a charity haunt that donates its proceeds to combat cystic fibrosis. Boogerwoods has a good number of scenes, a ton of volunteers, and pleasantly mixes scares, humor, and special effects. This is a huge group of passionate people who enjoy what they do and love to show it off.
When it's time to go through the haunt, you'll be waiting for one of 7 pairs of guides to retrieve you from the tank. Each set of guides have different personalities and interact a bit differently with both the guests and the scenes.
---
Cast:

9.3
The cast at Boogerwoods is delightful. From the guides to the boogers, everyone works hard to stay in character to make sure your experience is immersive. Most everyone you meet will interact with you in some way, and most of the 'boogers' are very witty if they're verbal. Each scene has its own theme and the scenes are brought to life by the characters and guides.
---
Costuming:

9
The costuming at Boogerwoods is a testament to how long they've been in business. This is their 40th year, and they've had time to develop and flesh out their costumes so that no one is lacking the proper attire. The guides (Floyd and Flo) were amazingly detailed, and while there are a few masks outside of the standard horror movie masks, they're used well. The makeup is over the top and brings lots of life ' or death ' to the people wearing them.
---
Customer Service:

9.08
This is a trail style haunt through the woods of North Carolina. There will be dirt paths between the scenes, as well as in some of the scenes. Also, there are steps up and steps down, so you'll want to watch where you're putting your feet. Thankfully, the guides both have flashlights and are there to help. Since some of the scenes have special effects that can cause problems (strobes, tight spaces, spinning) if you think you won't be able to handle it, just tell your guides and they'll make sure to get you around the problem scene safely.
The other staff members at the haunt are delightful, easy to find, and very helpful. From the ladies in the ticket booth, to the merch booth at the end where you vote for your favorite scene and browse the shirts, you'll always find that people are happy and willing to help you out.
Ticket sales start at 2pm the day of, and they usually sell out, so be prepared to be waiting in a long line. Thankfully they usually have fun music with music videos or a movie playing to keep boredom at bay. There are fast-pass tickets available, but they only sell ten for each 30 min slot the haunt is open (7, 7:30, 8, etc). If you're on a tight time frame, buy a fast pass for a scheduled time before hand.
---
Atmosphere:

8.73
When you approach Boogerwoods, you know you're at an attraction because there are long lines and fenced off areas. The music and lights, as well as the nice little scene around the waiting line is festive. They even have a 'Blonde Corn Maze' for you to enjoy.
---
Special Effects:

9.06
While not a very high budget, high-tech haunt, Boogerwoods sports some fun and unique things that are pretty sophisticated. There are a lot of impressive original creations in this haunt and they're good at providing you an entertaining time. Their set design is solid, but sometimes it can be a bit sparse.
It's always a good idea to pay close attention to what your guides are telling you and follow their instructions. It's important not just for having fun, but staying safe.
A tip for all those reading, when you're put in the cage (aka the flatback) keep your fingers out of the cage wall in front of you!
---
Theme:

N/A
N/A
While Boogerwoods doesn't have an overall theme, they do a good job of presenting very obvious themes in each of their scenes which they stick to quite well.
---
Fright Effect:

8.82
The cast at Boogerwoods works hard at spreading the scare throughout the group, but there are times that those at the back can miss some things. We went through in an overly large group (13 people) but their normal group size is between 8 and 10. Pretty much every scene had someone in our group either extremely frightened or at least fairly uncomfortable, and they do a good job at offering up different types of scares to get to everyone in the group.
---
Value:

9.32
From the point when we were put in the waiting tank, until we were walking out of the last scene, we were in the haunt for 45 minutes. While there is a bit of down time, you're really moving from scene to scene and interacting in and with the scenes almost the entire time. No waiting in lines once you've entered the haunt. The guides work very hard at making sure that things are spread out well enough that no one encroaches on other guests.
The tickets go on sale at 2 pm that day and are only $15 each. A fast pass is $25 and you're assigned a time slot. If you don't make it to your time slot within 10 minutes you lose your spot and will be sent to the back of the normal line.
At the general admission price, that brings their MPD value (minutes of entertainment received per dollar spent) to 3 minutes per dollar! That is among the highest we've seen all season and higher than most of the attractions reviewed on the website this year!
---
Promo Images:
Click to Enlarge
---
Guest ReviewsGuest Average: 9.33 out of 10
John Adams – 10/10 – October 20, 2018Best I have been to in NC
Nikki Barnes – 10/10 – October 22, 2016We do haunts all over the country, and Boogerwoods is our all time favorite. It is scary, funny, and …show more all proceeds go to charity. Everyone works so hard, and you can tell they love what they do! The sets are detailed and the guides are witty and so enjoyable! We will never miss this haunt because it is unlike anything else out there! We love it!
Anthony – 8/10 – October 15, 2021Great place to go! The only problem I had was 12 people total in group 14 with guides!Not enough …show more space in scenes very uncomfortable