Camp Blood – Full Review
Camp Blood is a Haunted Attraction located in Carrollton, GA.
2277 Whooping Creek Road, Carrollton, GA 30116View All Details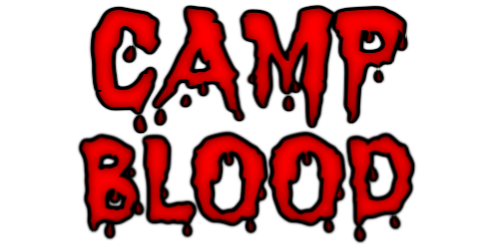 Features:

Paid Parking, Restrooms/Porta Potties On-Site, Food/Concessions, Gift Shop/Souvenirs, Optional Games/Midway, You will NOT be touched, Movie Characters, Original Characters, Celebrity Appearances, Uncovered Outdoor Waiting Line, Indoor/Outdoor Waiting Line, Family Friendly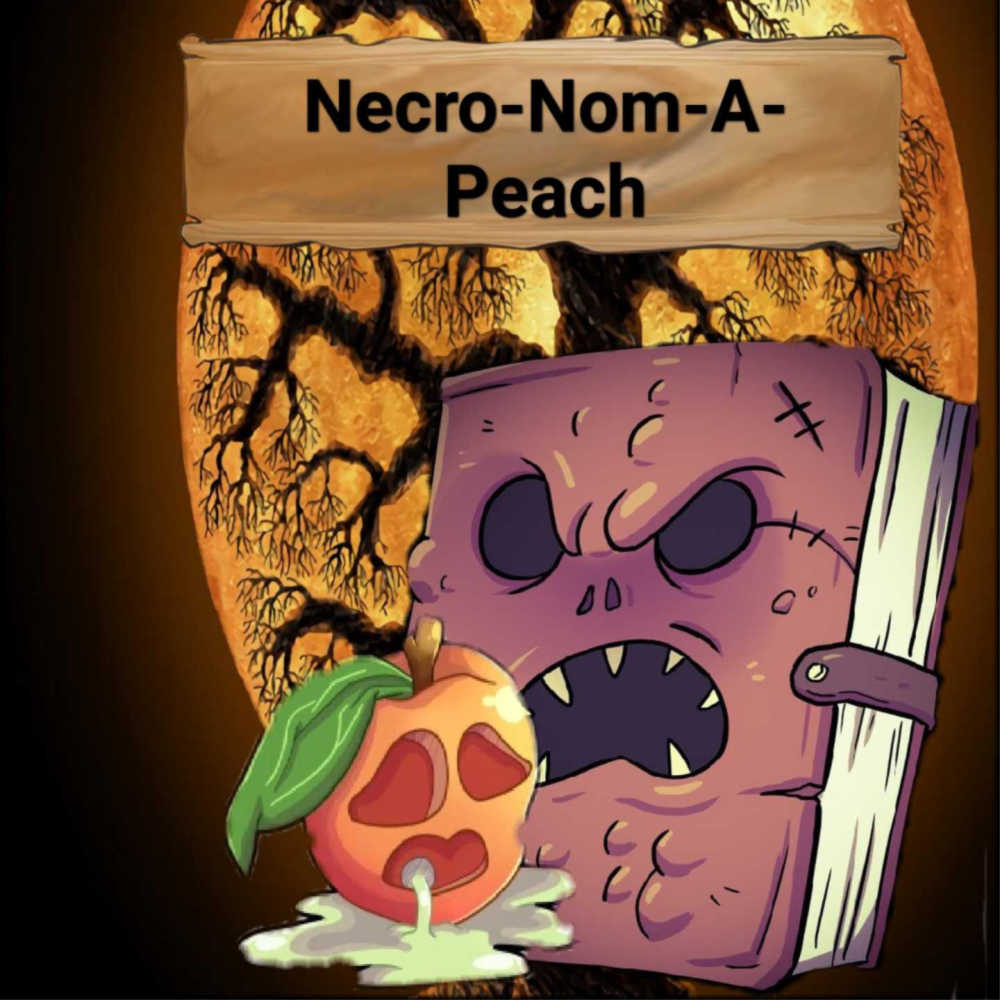 This attraction was reviewed on October 5, 2019 by Team NecronomaPeach.
How Do We Get These Scores?

Final Score:

7.7
How Did We Get This Score?

Summary:
Hillbillies and rednecks are waiting in the woods of Camp Blood in Carrollton, Georgia. This haunted trail is a petrifying half-mile wooded trek chock full of creepy props, startling actors, and mind-bending sets. The area also offers 'redneck' movie theatre, games, concessions, and palm readings.
Camp Blood is a not-for-profit haunted attraction that donates all proceeds to buying Christmas presents for Children's Healthcare of Atlanta. The haunt has been scaring people for almost thirty years. This is a family-friendly haunted trail and is for people physically able to walk for half a mile. Our team was very impressed by Camp Blood and we will definitely be returning.
---
Cast: 8.15
How Did We Get This Score?

Camp Blood has a cast of actors who are clearly passionate about what they are doing. The characters were developed and interactive, each one having his or her own personality and story. This was apparent as the actors interacted with us in very character-specific ways. Because this is a volunteer ran haunt, they were lacking in the number of actors, however, every actor in the haunt was excellent.
Camp Blood had a wide variety of characters from swamp folk to zombies, Michael Myers to clowns, and, of course, hillbillies and rednecks. We especially enjoyed the clown girl, who worked with our suggestion to play hide and seek. We heard her counting even in the next area. We also admired the swamp woman who was able to appear from one area to another, and the diner waitress who had a great conversation with us. Honestly, there were so many great characters that it's not practical to list them all. The cast was a gem in this treasure trove of a haunt.
---
Costuming: 7.8
How Did We Get This Score?

Camp Blood embraced head to toe costuming. The strategic uses of makeup effects and masks mixed with the costumes generated believable characters who matched their settings immaculately. Michael Myers was one of our favorites because he was so well done it looked like we had entered the Halloween movie set. The ingenious ways that the haunt chose some character types that didn't need much makeup and costuming so they could focus on the aesthetics of the other character types is proof that the haunt has been running for a long time. Camp Blood has its costuming as smooth as a well-oiled machine.
---
Customer Service: 8.25
How Did We Get This Score?

Camp Blood is located off the grid some, but our GPS was able to find it without issue. In addition, they had very clear signs to guide customers once close enough. Parking was in a field a fair distance from the haunt.
Once at the haunt, the staff was friendly, personable, and eager to help any way possible. The staff was also quite funny, especially the owner who did our welcome and safety talk before entering the haunt. The haunt was as safe as a half-mile wooded trail can be, including a first aid area at the end of the trail. As stated on their website, people are urged to wear appropriate shoes and be prepared for a wooded walk. The trail is very safely cleared, and we appreciate the obvious work put in to keep nature as ambiance but not as tripping hazards.
Finding their website is simple and suggested since the ticket booth can only process cash payments. Plus, on their website, people can purchase some wicked t-shirts. Camp Blood puts its customers first and that is very evident from their website to all their actions once at the haunt.
---
Atmosphere: 8
How Did We Get This Score?

Camp Blood has a wonderful, family-friendly atmosphere. Once past the ticket booth, guests are in the midway which has kitschy games like zombie head ring toss, a palm reader, 'hillbilly' movie theater, and guest pop up escape rooms. Of course the proceeds from the midway attractions also go to the charity. The characters roaming added that touch of scariness to get the guests warmed up for the haunt itself. If people are watching around, there are also a scattering of cute and creative haunt displays and signs. Our team really appreciated the Aspirin tab scale. In the concession area is a really fascinating display for horror movies, including props, posters, and signed memorabilia. Camp Blood was a great time from the moment we passed the front gate until the time we left.
---
Special Effects:

8.15
How Did We Get This Score?

Camp Blood did things with special effects that our team had never seen before that were clever and really sold the sets. We really appreciated the effects that changed the ground or the walls around us. The leaning wall tunnel and the swamp ground effect that was springy were surprising and extremely effective. The sound effects were also great at setting the mood; whether we were in a swamp, a carnival, or a dentist office, there was a sound, sight, smell, and texture to reaffirm the set. The real water effects for the swamp and the eerie lighting choices made each set real, increasing our suspension of disbelief. Our group's all-time favorite effect was the white hallway that changed on us. We were so surprised to come out in a different place!
The amount and quality of the special effects and the sheer perfection of their implementation was what set Camp Blood apart for our group. After going through the haunt, the owner started apologizing for the equipment and effects not running, but our group never even noticed the effects missing because everything else was so well done!
---
Theme:

N/A
How Did We Get This Score?

While Camp Blood doesn't have an overarching theme, the individual areas of the haunt were clearly themed and were very excellently portrayed as having a clear identity. The fact that the haunt is a wooded trail sets the atmosphere for a creepy haunt. Then each area was so well made up with effects and characters that we were all having an excellent time. We really appreciated the transitions to the various sets and the overarching pacing of the whole haunt.
---
Scare Factor:

7.7
How Did We Get This Score?

Camp Blood is a family-friendly haunt so the scares were kept at a creepy, jump scare level and didn't go to the pure nightmare fuel of some haunts. However, the scares they did have in the haunt were very well executed and varied in technique, timing, and location. There were moments that were so well done that our group never saw the scare coming because the haunt was using misdirection. The ending was a great example of that. There were zombies drawing our attention, so we never noticed their secret weapon until it was up in our backs. We interviewed a group that got so scared that one of their members left the others and one fell. It made sense that the first aid station was where it was so that when the ending scared people so bad that they fell, they had immediate medical attention. Above all, Camp Blood was SO. MUCH. FUN!
---
Entertainment & Value:

8.45
How Did We Get This Score?

Camp Blood was a great experience at a great price for a great cause. With the tickets being $27.00 for general admission or $47.00 for the faster access and the trail being over 30 minutes, people definitely get their money's worth. Additionally, Camp Blood partners with 13 Stories where if the ticket from 13 Stories is shown at Camp Blood, the ticket is $22.00. Camp Blood is worth more than that both with the entertainment in the midway and the actual haunt.
Our group had an amazingly good time at Camp Blood and adored the atmosphere and friendly, haunt and horror-loving nature of everyone there. We definitely recommend people going to Camp Blood and help them put smiles on kid's faces over Christmas and smiles on customers' faces right now!
---
How Did We Get These Scores

Promo Images:
Click to Enlarge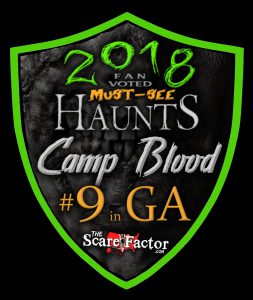 ---
Guest ReviewsGuest Average: 9.85 out of 10
Wayne – 10/10 – October 13, 2018This place is out in the STICKS!!! You have to walk down a dark road (once you park in a field) to …show more the actual haunted house. The ambiance is INCREDIBLE! It's like going to summer camp like in the movies and being prepared to meet the killer in the woods. They have a campfire to keep warm by and plenty of things to do while you wait your turn to enter the attraction. My girlfriend kept jumping on my back everytime a scare came and after carrying her nearly a half mile I was wore out. We both had an awesome time. No wonder these guys have been in business for almost 30 years! They've got their act together! Thanks for the scares!
Nicholas – 10/10 – October 21, 2017Lots of fun and wonderful rural ambiance, which the staff play up to grizzly, backwoods perfection! …show more Behind the scenes, these folks are kind and genuine. Southern, horror hospitality at its very finest!
Tiffany – 9.9/10 – October 11, 2019I thought this was one of the best Halloween haunts I've ever been to. We drove about an hour and a …show more half but it was well worth the drive. The atmosphere was INCREDIBLE and unlike any other haunts I've ever visited before. The actors were on que and very well made up. The sets were very detailed and made you feel like you were in a real life horror movie. The staff were very friendly and made you feel like you were at summer camp….. that is until you enter the haunt itself, then the terror started! The only complaint I have is that I wore the wrong footwear for the 1/2 mile hike we wound up taking. It's very hard to run in flip flops and I had to keep stopping to put them back on!!! Make sure you wear TENNIS SHOES OR HIKING BOOTS!!
---
Past Awards
---
2019 Awards
Most Innovative Chainsaw Chase (Given by: Team NecronomaPeach)
---