Canfield Scaregrounds – Full Review
Canfield Scaregrounds is a Haunted Attraction located in Canfield, OH.
7353 Fairground Blvd, Canfield, OH 44406View All Details

Features:

Free Parking, Restrooms/Porta Potties On-Site, Food/Concessions, Gift Shop/Souvenirs, Optional Games/Midway, Indoor/Outdoor Waiting Line, Indoor/Outdoor Attraction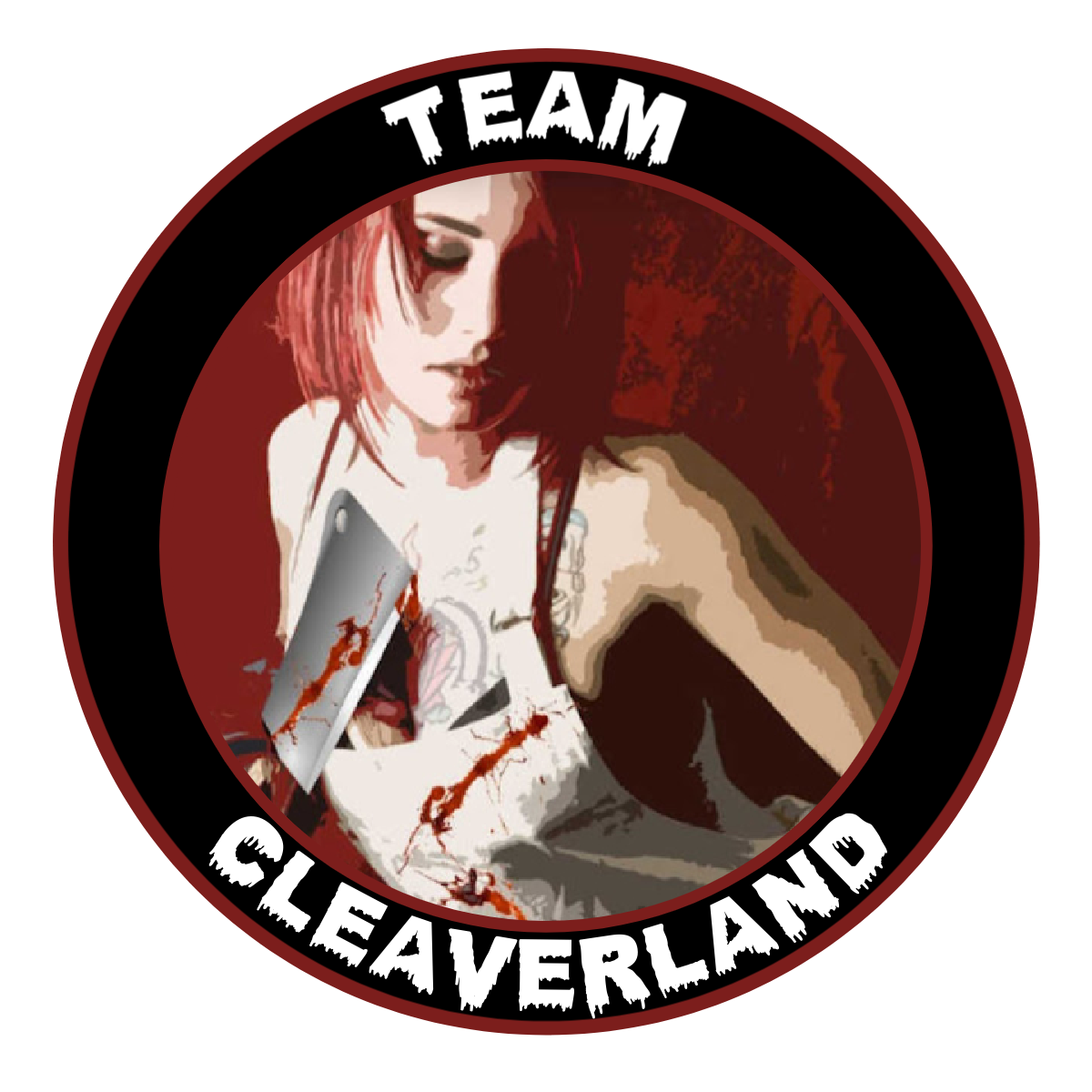 This attraction was reviewed on October 17, 2021 by Team Cleaverland.
How Do We Get These Scores?

Final Score:

7.95
How Did We Get This Score?

Summary:
Nightmare at the Canfield Scaregrounds takes its fairgrounds location and runs with it. Its best feature is the enormous midway filled with things to do, games, food, and more.
The Scaregrounds plays host to four attractions. Try to escape killer clowns in the Haunted Circus, explore the Barn of Evil, tour the bloody Slaughterhouse, and get through a gauntlet of crazed inmates in the Gore Reformatory.
The hayride from seasons past has been put aside for now due to COVID concerns. This was our first visit to the Scaregrounds, but we'd love to take the hayride when it comes back!
Haunted Circus: 8.24
Barn of Evil: 8.14
Slaughterhouse: 7.63
Gore Reformatory: 7.77
---
Cast: 7.7
How Did We Get This Score?

There was no shortage of cast members here on a Sunday night. In fact, this place had the largest number of actors we've seen all year when we counted in the mass of midway actors, with more than 90 in total!
As might be imagined, there was a broad variety of experiences with such a large cast. Most actors offered a fairly high level of interactivity, whether that took the form of screaming, lunging, evil laughing, talking, or following behind us.
Some of our favorites included: Krampus sitting at a piano and then jumping off his seat and swooping toward us; the reformatory resident who wanted us to pet his cat, Fred (Fred didn't look so good, poor kitty); the theatrical top-hatted gent giving off Jack the Ripper vibes in the reformatory; the chatty slaughterhouse dude who inquired after our muscle tone; and the piggy guy at the end of the slaughterhouse who was really going to town feasting out of a corpse on the table.
Haunted Circus: 7.76
Barn of Evil: 7.96
Slaughterhouse: 7.25
Gore Reformatory: 7.83
---
Costuming: 7.53
How Did We Get This Score?

As with many of the other attractions we've seen this month, we observed a wide array of costuming efforts — from simple (including street clothes) to the great-looking, elaborate head-to-toe outfits of the midway monsters.
Looking at each attraction, the Haunted Circus came out best with its array of diverse evil clown masks and bright outfits. The Barn of Evil presented a mixed bag of mostly well-done movie characters and some basic grubby faces.
The slaughterhouse naturally mixed in a lot of blood with butcher aprons, piggy masks, and such. Inmate looks prevailed in the reformatory, with some more stylish appearances such as the well-dressed serial killer flashing a nasty knife.
Haunted Circus: 8.29
Barn of Evil: 7.45
Slaughterhouse: 7.08
Gore Reformatory: 7.29
---
Customer Service: 9.53
How Did We Get This Score?

Nightmare at the Canfield Scaregrounds is located at the Canfield Fairgrounds in Canfield, Ohio (very close to Youngstown).
It's anything but a nightmare to find, as GPS easily led us to the gates with illuminated signage. Attendants were on hand to direct us to the free parking on grass.
Hallelujah, the fairgrounds provided large, real bathrooms. Such a relief! We've been lucky to get actual plumbing at many locales this season.
The website is well maintained and informative, plus this attraction posts to Facebook and Instagram.
We encountered very few obstacles to safe walking. The entrance to the fairgrounds and the midway grounds were well kept, and the attractions offered little resistance to secure pathfinding in our boots.
All attractions share the same score.
---
Atmosphere: 8.42
How Did We Get This Score?

A hearse welcomed us at the entryway. After exiting our vehicle, a pathway of purple and orange lights ushered us through to the ticketing area.
We soon met up with Mr. Mange (see photos), the friendly midway monster… actually the only friendly midway monster! He took time to regale us with some stories about the attraction over the years. We watched him interacting with people all night, giving directions, pointing out food options, and so forth.
We heard that Nightmare has the biggest/longest midway in the state and we aren't going to argue with that. It seemed to go on forever and it was filled with props throughout, including multiple vehicles and giant figures of skeletons and other spooks.
It also featured multiple merch kiosks, carnival games, and food stands. We saw at least six foodie shacks, plus several more that are probably staffed on the busier nights.
We lost count of the midway monsters at about 15. There was a zombie, a chainsawer, a pumpkin king, a scarecrow, a vampire, a skeleton, seemingly a whole army of creeps! They all looked great and canvassed the whole midway, putting in appearances all over, chasing after patrons, and posing for pics. Visitors were really enjoying themselves.
The circus entrance looked appropriately carnival-like. The barn had an indoor queue with black lighting and a gymnastic actor doing twists and turns over our heads. The slaughterhouse featured some menacing pig-person props. Skull-filled walls lined the entrance to the reformatory.
Keep an eye out for additional entertainment throughout the season, for example, the weekend following when we were there, the scaregrounds hosted a troupe of zombie dancers. Overall, Nightmare exhibited an excellent atmosphere that compared favorably to the best we've seen this year, like at Rotten Manor.
All attractions share the same score.
---
Special Effects:

7.48
How Did We Get This Score?

Nightmare at Canfield Scaregrounds had a good handle on their effects. They boasted a great collection of animatronics and grody mannequins throughout all the attractions.
They also had a good number of actormatronics that to our dismay went mostly unused. Maybe even with nearly a hundred actors, they were still a little short on a less busy Sunday night? It's been happening at lots of haunts this year.
As with costuming, some scenes looked great and some appeared relatively simple. Several vortex tunnels made an appearance. The attractions showed off a solid grasp of lighting techniques.
Nightmare employed bizarre soundtracks, horns, and a plethora of loud slamming and banging noises to keep us sonically engaged.
The Haunted Circus created a carnival environment with game booths and the like. The Barn of Evil set up many different scenes and sets unrelated to each other, from Jason's lair to a garden of sinister pumpkinheads. The Slaughterhouse mixed together a pallet path with butchery scenes, and the Gore Reformatory featured prison sets and other institutional looks.
Haunted Circus: 7.88
Barn of Evil: 7.99
Slaughterhouse: 6.9
Gore Reformatory: 7.16
---
Theme:

8.48
How Did We Get This Score?

Three of the four attractions built on a theme, and hit those themes hard and successfully as discussed in other sections. The Barn of Evil offered up a random collection of scenes and effects.
Haunted Circus: 9.44
Barn of Evil: N/A
Slaughterhouse: 8.81
Gore Reformatory: 7.2
---
Scare Factor:

7.43
How Did We Get This Score?

Somewhat on the lighter side of scariness, Nightmare at the Canfield Scaregrounds still served up plenty of stiff jolts.
Their best weapon consisted of the many double whammy's that happened when we got attacked from two sides, either by two actors or an actor and an animatronic. Enabled by nifty bits of misdirection or distraction, these frightening forays proved very effective.
Actors in the circus and barn were especially energetic compared to the other two attractions. The clowns in particular came across as threatening.
Throughout, animatronics and other effects successfully disoriented and frightened.
Haunted Circus: 7.88
Barn of Evil: 8.08
Slaughterhouse: 6.68
Gore Reformatory: 7.08
---
Entertainment & Value:

8.04
How Did We Get This Score?

We got through these nightmare-scapes in a total of 24 minutes:
Haunted Circus – 4 minutes
Barn of Evil – 12 minutes
Slaughterhouse – 3 minutes
Gore Reformatory – 5 minutes
Given the $25 general admission combo price to experience all four attractions, the MPD or Minutes Per Dollar spent (inside the attractions) totaled out to 0.96. This ratio came very close to hitting the staple goal of 1 that we like to see achieved anywhere we go.
The attractions themselves were not too bad, they had lots of effects and actors and a good amount of scares. Factoring in the awesome midway where you could spend a lot of time… pretty much a whole Sunday evening, actually, like we did… walking around people watching, playing with monsters, scoping out merch and food, etc., we thought it made for a pretty good value.
Fast pass is available for $35. Group rates start at 25 people. A $5 midway admission gives you access to the whole midway and Monster Mania (also comes with general admission and fast pass).
Monster Mania comprises two tents full of fantastic scenes for kids, made by local K-12 schools. Some are generic Halloween-type sets, while others riff on pop culture icons like the Addams Family. A zombie paintball shooting gallery costs an extra $10. There definitely was a whole lot to do here!
Culinary notes: the fries, pizza, and kettle corn were all delicious. Pretty much everything looked and smelled good. Skip dinner, come hungry, and get some great fair food.
Looking at our experience overall, we had a good time with the best feature of Nightmare at the Canfield Scaregrounds being its massive and happening midway.
---
How Did We Get These Scores

---
Guest ReviewsGuest Average: 7.63 out of 10
Julie – 10/10 – October 24, 2020Lots of fun monsters were really neat!! The Barn of Evil was awesome my favorite
Janet Jackson – 10/10 – October 24, 2020Was awesome. Great place for kids!!
Gary – 10/10 – October 24, 2020Soooo scary