Review of Cheeseman Fright Farm Haunted Attraction
Review of Cheeseman Fright Farm Haunted Attraction
Review of Cheeseman Fright Farm Haunted Attraction
Cheeseman Fright Farm
Cheeseman Fright Farm is a Haunted Attraction located in Portersville, PA.
147 Kennedy Rd, Portersville, PA 16051View All Details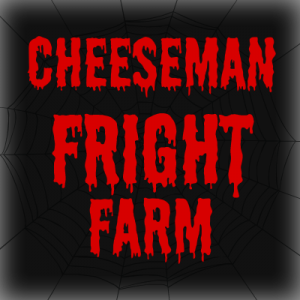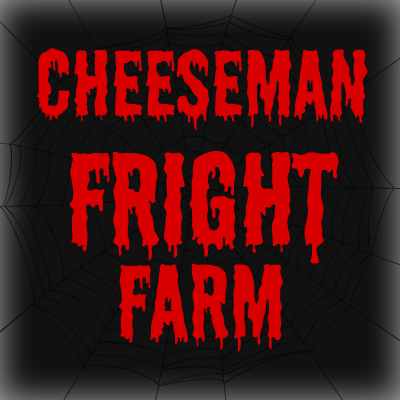 Features:
Free Parking, Restrooms/Porta Potties On-Site, Food/Concessions, Gift Shop/Souvenirs, "Old-School" (Low Tech), Movie Characters, Original Characters, Uncovered Outdoor Waiting Line, Indoor/Outdoor Attraction
Team Houdini reviewed this Haunted Attraction on October 18, 2020.
How Do We Get These Scores?

Final Score:

7.84
How Did We Get This Score?

Summary:
Nestled on a picturesque 650 acres, Cheeseman's Farm offers a unique venue for parties, gatherings, and weddings. They offer a petting zoo, hay maze, and plenty of family fun. However, every year for over 20 years, during the autumn season, the farm is taken over by a wide variety of horrifying tenants. Welcome to Cheeseman's Fright Farm!
---
Cast:

7.67
How Did We Get This Score?

CFF focused this season on causing as many jump scares as possible and it worked. Throughout the 40 plus actors, we only caught two lines of dialogue "did you see me" and "welcome to hell." The remaining provided enthusiastic attempts at traditional jump scares.
During the hayride, we encountered a few gangs of lunatics. They brashly climbed onto the wagon and bullied the passengers by getting in our faces and brandishing some intimidating weapons. One character who looked like he belonged in Slipknot carried, "Lucille", (Any Walking Dead fans?) a baseball bat wrapped in barbed wire. He banged it off of the wooden wagon making patrons shudder from the sound. He never spoke a word. Unlike most other haunts CFF did not save their chainsaw-ers for last. Nope, they put them at the beginning to set the tone of the haunt, panic. Two maniacs wielded colorful chainsaws, putting them inches from our faces, along with our bodies, and stabbing them into the hay bales that we sat on. They used their physicality to provide unsettling interactions.
Inside the haunt, every other actor focused solely on loud unexpected noises to startle those who pass by. Actors utilized shrieks, shouts, snarls, and smacks to startle many people as they walked by. They were good at hiding throughout the area which provided good reactions from customers. We definitely would have liked to have had some interaction and dialogue with the cast. However this presented a snappier, intense, feel to the haunt.
The performer who stood out the most this evening never said a word, never growled, or snarled. It was Michael Myers. As we were heading back on the hayride he was silently staring at everyone but as the ride started he jumped off. He started chasing the wagon and then grabbed on with one hand. For over two minutes he single-handedly hung on to the wagon, letting his legs drag on the dirt road. It looked very painful as the tractor had to be going 20-25 mph. We were unsure if he needed help or not. Then he pulled himself up onto the tractor with incredible strength. It was very impressive.
---
Costuming:

7.27
How Did We Get This Score?

Costumes were not an important factor at CFF. We noticed the majority of workers wearing dark clothes. Considering the speed the actors are popping in and out of the area and the darkness in some areas, it was difficult to even see what they were wearing. We saw some interesting masks that including the Slipknot guy, a glittery, joker-ish mask, several disfigured dark wrinkled skin masks, lots of clowns, including Pennywise himself, scarecrows, a giant bird, Michael Myers, several undead individuals, two bloody nurses, and a man with a fire mask (which we had seen this season) but it's still a cool mask.
No individual character stood out to us. The masks looked like decent quality but not more than the general public's Halloween masks. The same goes for makeup. As I said, CFF wasn't going for prolonged interaction and character development. Just scare and go. Some individuals were not even seen only heard so their attire was not of importance to the public which makes things for reviewers difficult.
---
Customer Service:

9.6
How Did We Get This Score?

I have frequented Cheeseman's several times in the past 15 years. It is not difficult to find even though it is highly secluded. Google Maps will pull it up quite easily and lead you right there.
Before embarking on the hayride (yes there is hay in this one) you are provided a pep talk from staff and a quick safety lesson. Keep your arms and legs in the ride. If you lose a limb CFF is now the owner of your limb and will use it in their displays. During loading and unloading, they have steps and lights to make sure people get on and off easily.
During the walk, we did not notice anything outside of the norm for a haunt. Dark areas, tight spaces, and uneven terrain will be found throughout. A good deal of the haunt is outside so be careful and don't run. Steps and hilly areas had extra lighting but yet it was colored to add a cool effect on the walking trail.
Regarding COVID, Cheeseman's is observing social distancing, face coverings for staff, actors, crew, and guests, temperature checks for staff, enhanced cleaning and sterilization, cameras and sensors to help flow, removal of high contact areas, contact-less costume distribution, and no sharing of costumes. With these precautions in place, we felt comfortable attending this haunt.
---
Atmosphere:

6
How Did We Get This Score?

CFF does not offer much in the way of Atmosphere. Outside of the natural beauty of the topography, there is not much to see. It is a very pretty farm but all of the haunts are hidden over a hill and deep in the woods. There was a small fire and pop/country music playing. We did not find much to get us in the mood for a haunt.
A few little changes around the ticket booth, deck, and concession area would boost the haunted curb appeal. Props, décor, lighting, and or spooky music would do wonders as well.
---
Special Effects:

7.77
How Did We Get This Score?

We were happy to see several wagons running this evening and they had hay bales. So, we can officially call this one a hayride. Unlike previous years, we were not jam-packed, shoulder to shoulder, onto the ride. They placed fewer groups on the ride and kept us distanced pretty well.
As we journeyed up the small hill to the haunt we were sandwiched between woods and corn. As the lights faded from the loading dock we encountered the area that held the terrorizing team of weaponized weirdos. The show started in the dark but suddenly a burst from a strobe black light and loud metal music began. The scene appeared to be a crazy carnival (although we were so focused on the actors we didn't get a good look at the scene) with lots of pop from the color. As the black light struck the splashes of colored paint a nice glow appeared. Even the chainsaw had this nice luminosity effect. Toward the end of our torture, the music changed to a commercial for Cottonelle toilet tissue. Fitting, as I would say at least one group needed it.
Again, this season, we saw the return of the road rage tractor driver. I swear each year he comes out of someplace new. This year he was behind us and boy was it intense, he was millimeters from hitting the wagon and of course, I was sitting in the back. This is why you keep your arms inside. If my arm was hanging over he would have crushed it. He was so close we could feel the heat coming off of the fire emanating from the top of the tractor. It was a cool effect reminding me of a fire breathing dragon. We encountered a few other jump scares before arriving at the trail portion.
The trail is roughly 15 minutes in length it offers a few more sights than the hayride but the design and setup are not intended to provide movie-quality set pieces. It is an old farm area, with old structures, equipment, corn, hay, and some woods. It is meant to feel dark, brooding, and real.
After exiting the tractor, we were instructed to head to the decontamination area for coronavirus. This large tent is dark with plenty of fog and a strobe light. The corn maze area is also very dark with areas that have eruptions of light. We noticed that a good amount of the lighting present is not to accent a scene or to show off a set-piece, it is there to disorient the guests. Constantly forcing your eyes to readjust and never fully acclimated to the dark. There was a cool laser fog swamp effect that was overhead. It gave the appearance of green clouds overhead, a unique display for this overused prop.
On the hayride, the only sounds we encountered occurred at the first scene and then the eerily quietness of the empty wooded area; two very contrasting sounds. Inside of the trail, there was an upbeat track playing but it felt dreadful and fitting. Once again keeping the exciting feel. As we made our way around the property, we could look out into the woods to see ghosts floating around. It was a simple but effective use of strobe lights, black lights, and chicken wire. Tiki torches illuminated the graveyard providing plenty of light to see the real coffins and gravestones. We found one large animatronic that was quite unexpected, and some "LCD" windows with video scenes playing of zombies.
CFF provides the feeling of being pursued through an old farm when all hell breaks loose. Odd creatures stalking and waiting around every corner. Dark areas, distracting lighting, tight spaces, dense fog, and a forceful musical track perpetuate the dreadfulness.
---
Theme:

N/A
How Did We Get This Score?

Cheeseman's is a farm and it has frights. A Fright Farm. In the past, there have been some loose themes with more barnyard characters, but this season just seems to be intensity. Non-stop, in-your-face shocks.
---
Scare Factor:

8.33
How Did We Get This Score?

As mentioned CFF is not holding back. From the initial roar of the chainsaws to Michael Myers being dragged by the wagon, they are giving it their all this season. We enjoyed the intensity and the attacks from every angle. The actors could materialize and dematerialize from nowhere. Pennywise appeared and then disappeared through a wall of hedges, very reminiscent of the Homer Simpson GIF.
The dark area helped conceal the onslaught of actors from customer's fields of view adding to the surprise effect. That being said, having over 35 people scream, growl, laugh, and hit objects toward you is a little redundant. We would have liked to have experienced more fleshed out characters to interact with and a wider variety of scares. But we appreciated the enthusiasm.
---
Entertainment & Value:

8.15
How Did We Get This Score?

General admission is $20. We figured the actual haunt time at about 25 minutes (excluding getting on and off the wagon and the three minutes to ride back into the darkness etc.) That places it at 1.25 minutes per dollar which is a little lower than average. However, it is a hell of a show. If you want to skip the line that will cost you $50 for VIP.
There was no additional entertainment except for some music. They do offer plenty of culinary delights. They have a kitchen downstairs with snacks and then across from the ticket booth is a pizza shop. Let me tell you this is some good pizza. The pizza alone warrants the trip.
Cheeseman's Fright Farm is a fun time offering a mix of adventures. High-intensity actors, befuddling trails, and a realistic setting offer a unique environment. If you're looking for quick thrills, terrorizing scares, and increased angst, Cheeseman's is a fun fright!
---
How Did We Get These Scores

Photos from Review Trip:
Click to Enlarge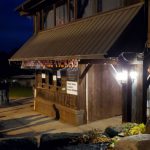 Guest ReviewsGuest Average: 9 out of 10
Sierra – 10/10 – October 2, 2021Great place! Favorite one I've been to so far!
Tom Greene – 9/10 – October 6, 2018I thought it was better then last year. We went early last year and seemed like everything wasn't up …show more and running well yet. So this year there was more haunters and it was just terrific. We had fun and look forward to next year. That was a good one where you begin in the maze 1 the skeleton was set up in a perfect position and got us good along with the zombie inside the canister/storage which was new this year and the rest of it was great.
Jess – 8/10 – October 15, 2018I havent been here in a few years but tonight I returned and the hayride is a complete dud with two …show more scenes one way to long chainsaw stop and the other you exit the wagon, but the walkthrough is def well worth it and the clowns are also a dud. The employees seem to not understand manners at this place and the clowns without masks on had attitudes. The ones with masks on were creepy they just need to interact more then just stand there. I would def recommend this place for the walkthrough alone because they had tons of masks and many actors!! not cause of the hayride or the clowns or the employees that are rude. We had a decent time!