Crawford School of Terror – Full Review
Crawford School of Terror is a Haunted Attraction located in Connellsville, PA.
125 N 7th Street, Connellsville, PA 15425View All Details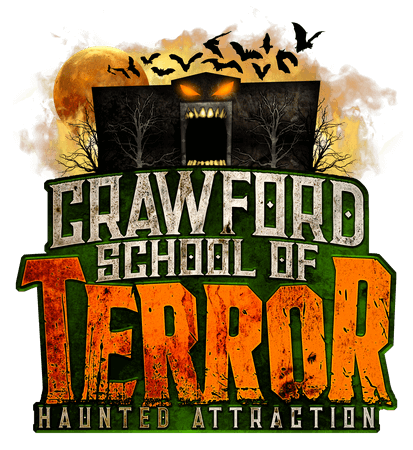 Features:

Free Parking, Restrooms/Porta Potties On-Site, Food/Concessions, "Old-School" (Low Tech), You will NOT be touched, Original Characters, Uncovered Outdoor Waiting Line, All-Indoor Attraction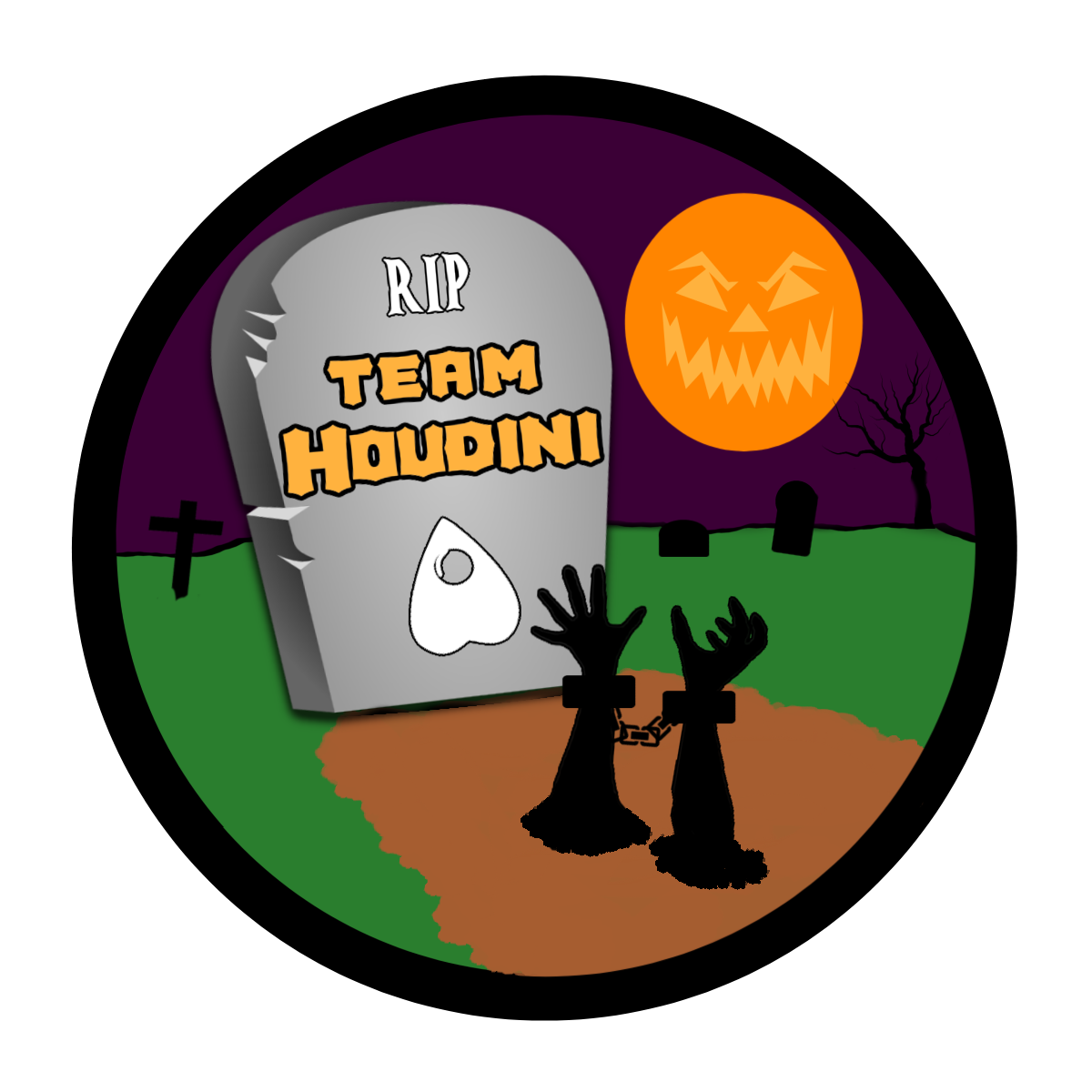 This attraction was reviewed on October 19, 2019 by Team Houdini.
How Do We Get These Scores?

Final Score:

7.81
How Did We Get This Score?

Summary:
The old Crawford School in Connellsville holds a dark secret. A secret formed by a forbidden love, jealousy, and murder. In 1947 a new teacher, Mr. Thompson, started teaching at the Crawford School. He caught the attention of a young girl named Margaret and she instantly became infatuated with him. After he started dating another teacher, Miss Mcgill, Margaret became heartbroken and infuriated. She murdered Miss Mcgill gruesomely and blamed it on Mr. Thompson. Margaret disappeared and Mr. Thompson's life took a downward spiral. Slowly, he started losing his mind. This eventually lead to him hanging himself in the school. Now their spirits and the spirits of others roam these abandoned halls.
Now in its fourth year, the Crawford School of Terror offers 3 floors of fright. The first floor is the Playground of Fears adventure, a 3D clown experience. The second floor is the Classic Crawford School of Terror following Margaret's story. The 3rd floor is the Basement: Kidnapped, a blindfold sensory deprivation experience.
They also offer a 60-minute escape room that we were able to experience this summer, which you can view in our 2019 escape room review and a 10-minute escape room. Both are offered at additional prices.
---
Cast: 7.73
How Did We Get This Score?

As we made our way through the first two floors, we encountered roughly 25 different characters. In the basement, as we were blindfolded it was hard to tell how many actors were terrorizing us, our guess was 5-10. We would have liked to have seen some additional actors in the two main floors as we felt there were some dead areas, no pun intended. These areas could have benefited from an actor or two more. As I have mentioned in other reviews, I do not feel you can have too many actors.
These artists did a good job staying in character. In the 3D area, the four to six clowns acted like creepy clowns, asking us, 'Do you like to play hide and seek?' They were quick-witted with their responses to our comments providing a realistic conversation. They also laughed maniacally, and told us, 'How much fun we would have.'
The second floor held the most villains. It appears Margaret has been busy gathering new friends. Once again, the interactive dialogue was fresh and pulled us into the haunt. We did not feel as if we were just being screamed at as we walked by, although that did happen too but we were part of the act. Actors demanded we talk with them. They asked questions and expected a response. Some had dialogue with themselves. One girl in the bathroom area was singing 'Tiptoe through the Tulips.'
The clown area held a collection of different-looking clowns, each with their own personalities. The classic school haunt provided a mix of ghosts and spirits. Each one looking unique and providing their own flavor to the show.
As we were blindfolded in the basement it was hard to tell what was going on. The actors did have conversations as we walked through the area. Loud boo scares also manifested around us. Finally, the actors would touch us with different types of props adding to the shock of walking around without our sense of sight.
---
Costuming: 7.84
How Did We Get This Score?

Costuming was well done. One of the first costumes we came across was outside of the haunt. It was a large tree-like monster roamed the waiting area. He was a green creature on stilts. It was a very unique costume.
Inside the haunt, the costumes were also smoothly done and fitting to the scenes. They were nothing super creative or unique that we have not seen before but still solid designs. The clowns had bright clown costumes on, some had clown masks, and some had makeup. All of them looked realistic and effective.
On the second floor, we encountered actors mainly in makeup. Black and white faces provided a ghostly look to the actors. Others had a more bloody look to them. Their dark clothing added to their depressed stature. A professor was walking around in an old-looking suit, a crazy lunch lady was sporting a large derriere covered by a dress and apron, and from a dark corner a female in all black appeared with white and black makeup that reminded me of the woman in Insidious. There was an odd creature crawling in a corner we could not see but the sounds he made were very unnerving.
---
Customer Service: 9.2
How Did We Get This Score?

Escape Crawford was easy to find using Google maps and GPS. A large sign sits in front of the building advertising the Crawford School of Terror. They provide an outdoor waiting area that is covered by tents and the haunt is all indoors. Parking is available across the street from the building.
No major issues were apparent as we made our way through the haunt. There are stairs that you need to go up and down. The steps are kept lit well enough to see without making them too bright and pulling away from the realism of the attraction. In the basement area, if you are not careful you could walk into a wall while blindfolded. If you go slow and follow the rope you should be fine.
The staff we dealt with were all very nice and pleasant. The owners, ticket takers, staff, security and the individual providing directions from the main haunt to the basement were all very nice and professional. My only suggestion would be to add some costumes for these employees. It would add more to the realism.
Information can be found on their website and Facebook page. It provides links to tickets sales as well as the story of Margaret.
---
Atmosphere: 8
How Did We Get This Score?

As we arrived the intimidating, brick schoolhouse towered above us illuminated in a ghostly, pale blue light. The location is a genuine school house and provides a unique and uneasy feeling. Outside of the school, there was scary music playing, a projector showing a group of people going through the haunt, a food tent, and the ticket booth all out in front of the school.
Line actors were roaming the area scaring people, providing comic relief and taking pictures. Combined with the music and video playing, it definitely had us excited for what awaited ahead.
The schoolhouse provides a unique location that fits the theme and story of Margaret found on the second floor. The first floor feels slightly disjointed with the 3D and clowns. It is named 'Playground of Fears' so I get what they were going for. The same can be said for the basement. However, all haunts provided an enjoyable evening.
---
Special Effects:

7.9
How Did We Get This Score?

Sound effects could be found scattered throughout all three levels of the haunt. Not every scene had its own music. It was a good arrangement and provided increased tension. The clown area had nerve-racking carnival music playing. Throughout the second floor, there were several ominous scores playing. Even the basement provided music.
Nothing was groundbreaking with the sound effects or music. They were effective and well-used, adding to the theatrics of the haunt.
The set designs were excellent. The 3D painting, although more basic then others we have seen, had a nice design and pop to it. Walking through the 2nd floor we felt as if we were in a real school, which we were, but the different room designs were well done. We enjoyed the way the scenes flowed. Having to walk through a bathroom stall to get to another room or moving from the cafeteria to the freezer offered a unique way to travel. Also, a unique design we came across was certain rooms would completely shut you in and you did not know which way to go. Sometimes we had to do something before the monsters let us out and sometimes we just had to wait. It provided a slowdown between groups to avoid the dreaded conga line found in most haunts. Also, it felt claustrophobic and disorienting.
Inside, we traversed through classrooms with old desks strewn about, a cafeteria, bloody bathrooms, a locker area, a black light room with glowing words on the wall, and so much more.
---
Theme:

7.36
How Did We Get This Score?

There is no mistaking this is an authentic school. Being inside (especially the 2nd floor) feels like a haunted school. As noted before, the clown area and the basement seemed off from the main story and there is nothing wrong with adding to a haunt with different themes. A few rooms in the main haunt threw me off such as the cemetery area which I liked a lot but it didn't seem to fit the main theme.
---
Scare Factor:

7.36
How Did We Get This Score?

Although this wasn't the scariest haunt we have experienced, we still received some unexpected frights. The feeling of the school itself lends to the eeriness as we walked through. The actors paid attention to the groups and were able to efficiently scare all members of our group without being predictable. They provided a mix of scares ranging from boo scares, to animatronics, and good dialogue. I am happy to see an ending scare to the main haunt. We may have seen it before but it was better than the worn-out chainsaw.
The basement provided scares and laughs. I personally, get more freaked out in blackout haunts and blindfolded areas than regular haunts. Once I lose my sense of sight I feel extremely vulnerable and anxious.
---
Entertainment & Value:

7.25
How Did We Get This Score?

We had an amusing experience at The Crawford School of Terror. We would like to have seen some additional actors, some costuming for the crew, and some additional sound effects. With that being said, they provide outstanding actors, impressive set designs, creative characters, and costumes. All of these mixed with a one-of-a-kind location and creative back story make an engrossing experience that we recommend.
Also available is the 10-minute escape room and the 60-minute escape room.
The haunt itself is $20 and will get you into all three floors. Between the three haunts, it took us a total of 25 minutes, so the MPD is 1.25, which is consistent with other haunts and a bit above average.
The Crawford School may have been deserted years ago but it is not forgotten. Considering this is only there 4th year, we were very impressed with what a young haunt accomplished. It's not quite as developed as some other well-known haunts but Crawford School of Terror has a lot of potential, ingenuity, and great ideas behind it and is a valid contender to go against those big-budget haunts. We can't wait to see what they do next season!
---
How Did We Get These Scores

Promo Images:
Click to Enlarge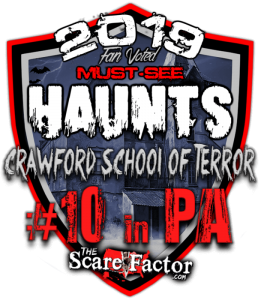 ---
Have you visited this attraction?
---
Past Awards
---
2022 Awards
Scariest Cast (Given by: Team Houdini)
Highest Rated Costuming - TIE - with Hundred Acres Manor (Given by: Team Houdini)
Highest Rated Immersion (Given by: Team Houdini)
Highest Rated Scare Factor (Given by: Team Houdini)
Nurse Enid Bittner - Amy Johnson (Given by: Team Houdini)
Prom Queen - Max Grimm (Given by: Team Houdini)
---
2020 Awards
"Most gravity-defying scene" - Margaret's Room (Given by: Team Houdini)
Scariest Actress - Swamp Girl (Given by: Team Houdini)
Scariest Haunt (Given by: Team Houdini)
---
Join ourspookyadventures!
We visit Halloween haunted attractions year-round! Follow us for haunted house walkthrough videos, behind the scenes footage, and more!