Crawford School of Terror – Full Review
Crawford School of Terror is a Haunted Attraction located in Connellsville, PA.
125 N 7th Street, Connellsville, PA 15425View All Details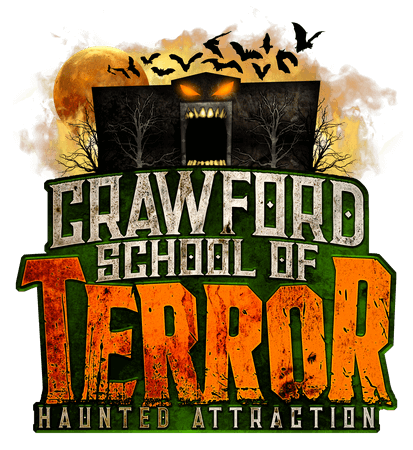 Features:

Free Parking, Restrooms/Porta Potties On-Site, Food/Concessions, "Old-School" (Low Tech), You will NOT be touched, Original Characters, Uncovered Outdoor Waiting Line, All-Indoor Attraction

Most Recent Video from The Scare Factor:
(Scroll for Scores and Written Review)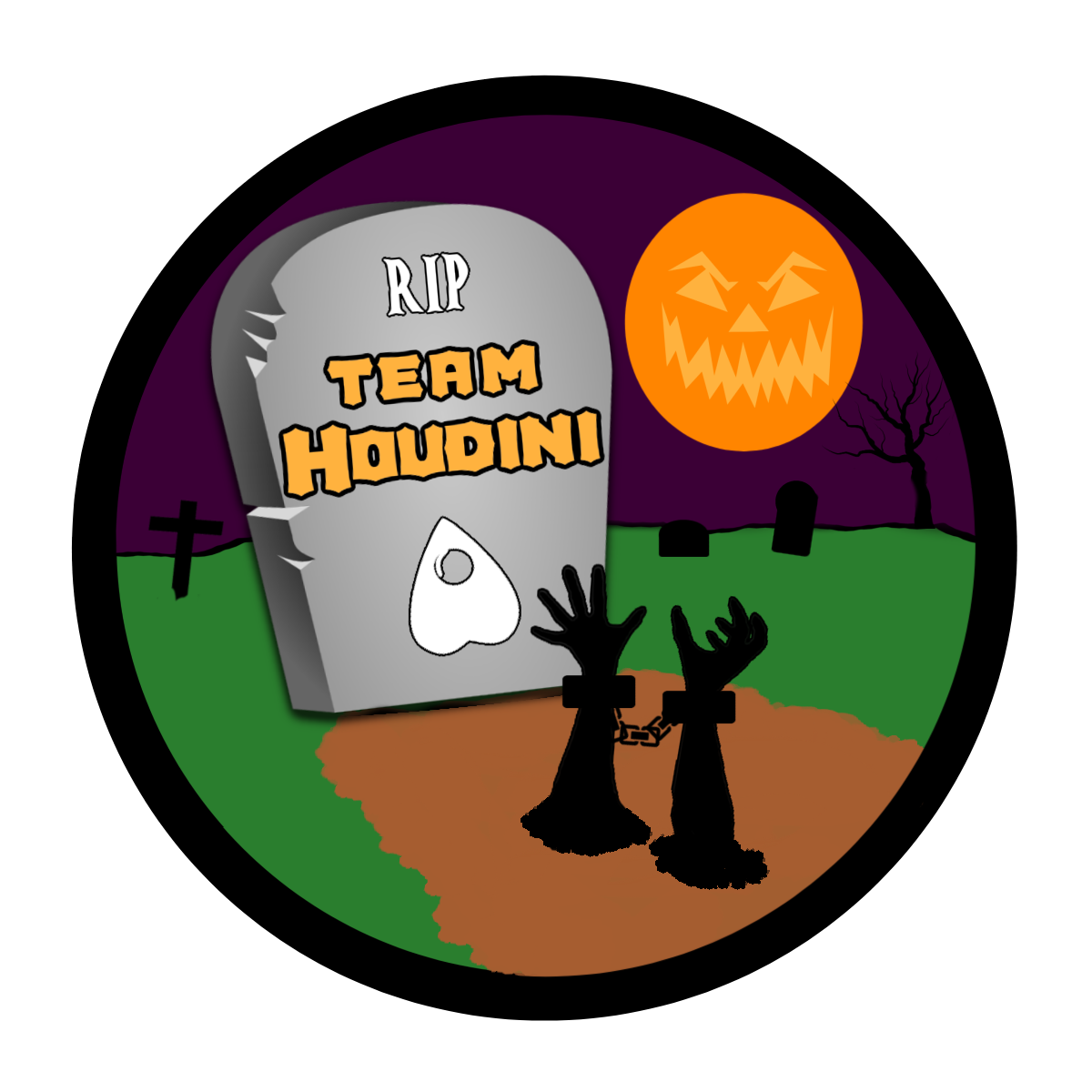 This attraction was reviewed on October 1, 2022 by Team Houdini.
---
About Our Reviews and Rating System
---
Final Score: 8.85
Final Scores – By Category

Final Scores – By Attraction

Summary:
Lots of pencils, tons of books, horrible teachers' dirty looks; Out for summer, back for fall, you might not make it out at all. Crawford School of terror has returned for another semester of intense education in fear, where they focus on teaching students the three "S's": screaming, sobbing, and sh!tting their pants. Margaret is waiting for you.
---
Cast Score: 9.37
Cast Scores – By Question

Cast Scores – By Attraction

Cast Review:
We encountered more actors this season than we ever have in our prior visits to CSOT, which was noticeable. Thirty-seven various characters harassed us as we made our way through the claustrophobic classrooms, just like when I was in high school. Maybe that is why CSOT seems so horrifying, which we'll get into in a bit.
The cast has always stood out at Crawford; high energy, engaging, and entertaining. The student body and faculty have always provided a great show, and they topped themselves again this year. Not only do they focus on jump scares, which they do exceptionally well, but interaction and dialogue as well, as almost every character had lines fitting to their scene and persona while interacting with banter and physicality. Some of these pupils were found climbing, hanging, reaching, jumping on and over objects, and bending over backward to get to us, especially the two individuals in the cafeteria, the actor tethered on stage, and the contortionist cheerleader.
We encountered several teachers; the first was the most abusive, as she slammed her hands against the desk and berated us, saying, "You're late, you inconsiderate, ungrateful failures." She must be a good judge of character because she was completely correct in her assumption of us. A student quickly jumped out to remind us, "Margaret is here," and [she] would "cut us up into tiny pieces, just like her," and how the cafeteria worker was going to "slice us up in different ways."
The prom queen provided an unnerving experience as they bounced their emotions and voice from creepy, to mad, to happy while following us around the locker room. Further, we had good banter with the scientist in the lab who tried to get us to drink cyanide. The secretary said "[she] never saw our faces before" as she frantically typed on multiple typewriters, and the exterminator told us not to touch "the sack" (spider sack, that is), while the nurse provided a sinister performance as she tried to convince me to get an injection. I mean, Covid shots are so 2020. And this is only the first area of the haunt. In addition, we met with some naughty nannies in the nursery, one who repeatedly banged a baby's head against the wall because we woke it (childcare is tough), and a cannibalistic tribe in the "Dead End" area asked, "what did you eat? You smell like Barbeque."
The actors did such a great job. I feel bad leaving anyone out. If I could write a paragraph about what we liked about every character, I would.
---
Costuming Score: 9
Costuming Scores – By Question

Costuming Scores – By Attraction

Costuming Review:
Crawford does a good job creating realistic costumes that stick to the theme of the haunt and the themes of each room. For example, female teachers, the librarian, and the secretary wore traditional dresses with glasses giving the classic "schoolteacher" look, a male teacher wore a suit, and one young lady was in her band outfit as she played the flute in the band room. The cheerleader wore a traditional outfit, the janitor wore a jumpsuit while cleaning the bathroom, the nurse wore a more "old-school" outfit with a bonnet and vibrating needle, and the lab techs had on white lab coats in the science labs.
Makeup and masks were well done, with most makeup being a variation of a ghostly appearance. Black and white or greenish tones gave a deathly appearance. It looked professionally applied, not slopped on as your mom did for your 3rd grade Halloween party. The student that informed us Margaret would cut us to pieces had blood, cuts, and stitches on her face, the exterminator had green and orangish glowing skin (I think he needs to lay off the chemicals), and the cannibals had on horrific masks reminiscent of leather face.
Due to the heavy rain this evening, the outdoor areas were not patrolled by queue actors, which we missed since we had so much fun with them last season. "EGG!" The indoor waiting area is a little small for actors, anyway. We feel it would be a good addition to see the lady providing the rules dressed as a teacher, principal, etc., to enhance the immersion.
---
Customer Service Score: 9.7
Customer Service Scores – By Question

Customer Service Scores – By Attraction

Customer Service Review:
Crawford School of Terror is found in Connellsville, PA. Even after a few trips to the immoral institution, we still followed Google maps to the destination, arriving with no issues. Free parking is across the street from the school.
The setup is straightforward. After exiting your vehicle, the ticket booth is to the left of the attraction. After purchasing tickets (cash only on-site, or they can be pre-purchased online), you can head to the school's front entrance. There is now an indoor waiting area which was great for this evening.
We did not see anything out of the ordinary safety-wise for a haunt. The steps were well-lit, and there were some dark areas throughout. Unfortunately, there were heavy rains that night, and the ticket line was muddy, but management placed a mat in the area to help with footing.
Staff and security were friendly and helpful as we made our way around, as always.
Their website is user-friendly and falls within our 3-click rule, meaning can we find all the essential information in 3 clicks or less from the home page. The main page lists links to all major attractions: the haunt, axe throwing, escape room, and coffee shop; the latter allow you to visit the school during the rest of the year. There is also a classic menu drop-down in the top right corner, which offers the same info and a FAQ page. Clicking on the individual attraction opens another menu offering tickets, FAQs, the lore, and a Facebook Link.
---
Immersion Score: 9.03
Immersion Scores – By Question

Immersion Scores – By Attraction

Immersion Review:
The old school building is a cool sight to see, as it is an old, abandoned schoolhouse. This year, we noticed some appearance improvements that enhanced the experience. Some interior lights were on in the front windows, which took away from the spooky aesthetics of the school; now, we feel it appears more menacing and mysterious. Two giant skeletons stand guard at the front door, purple lights illuminate the structure, fog bellows around the front steps, and intense music drums into our ears providing a cool ambiance, all of which got us excited and nervous to enter. If I had to nitpick, the new coffee shop in front of the building pulled us out of the immersion a tad, but this is not uncommon for haunts to have setups like this. The drinks were so amazing (the best hot chocolate I ever had), so it was easy to forgive.
If you visit the website, you can read the full story of Margaret, the main spirit who roams the halls of this schoolhouse. It is an interesting story of love, loss, and murder.
The great thing about Crawford is that it was formerly a real school, so everything feels authentic and not a set piece. The classrooms feel authentic and original, each one looking unique from the other and covering many different classes and rooms found in an actual school: classrooms, science lab, wood shop, hallways, locker rooms, cafeteria, band room, art class, theater room, principal's office, bathroom, nurse office; it's all here. The nursery is slightly more varied with a doll area, ball pit, blackout area, and ice cream shop. Finally, in "Dead End," we traveled through backwoods, swamps, cemeteries, and catacombs inhabited by cannibals.
---
Special FX Score: 8.36
Special FX Scores – By Question

Special FX Scores – By Attraction

Special FX Review:
Sound is noticeable immediately inside the haunt with intense music that varies throughout, building up and intensifying in specific areas, providing a cinematic quality.
Details are also abundant throughout the school; music notes are written along the walls in the music area, art supplies and paintings are hanging from the walls in the art room, the band room is full of instruments, and classrooms are filled with real desks, chairs, and chalkboards. Inside the bathroom was a shrine to Margaret, the library was filled with books and writings on the wall from Margaret, and the lab was filled with glowing chemicals. Everything felt organic for the setting and theme.
The lighting was well done, enhancing the scenes and providing a realistic and eerie feeling by utilizing colored lights, black lights, and strobe lights, all while keeping things dimmed down enough to give a grim feeling.
Thought-out set designs with sound, lighting and realistic props provided solid immersion and several scare opportunities.
---
Scare Factor Score: 8.69
Scare Factor Scores – By Question

Scare Factor Scores – By Attraction

Scare Factor Review:
CSOT is always one of our top picks for scares, and this year was no different. We found ourselves startled and scared numerous times. The cast provides most of the scares, and they do a fantastic job with timing to catch us "new students" off guard.
As mentioned, it's not all "boo" scares. Each character seemed to have a scare, script, and demeanor to sell the scare and their character. The crazy characters ran the gamut of frights, varying startle scares, dialogue, banter, intimidation, lurking, stalking, "Jack-and-Jill" scares, and gross-out scares. The sets and props also added the gross-out and phobia scares. The finale this evening ended with the cannibals following and harassing us as we exited. Usually, there is a large prop scare at the end as the actual finale, but it was not working this evening.
---
Entertainment & Value Score: 8.07
E&V Scores – By Question

E&V Scores – By Attraction

E&V Review:
It took us approximately 20 minutes to get through the house. General admission is $25, up 5 dollars this year, which places the minutes per dollar at 0.8. This was about the same as last season but a little lower than last year's average of 1.3. However, this is one of the best overall shows we have seen, and we were satisfied with this price point.
Outside of the haunt, no additional attractions are included in the ticket price. However, there are plenty of things to do for an extra cost, such as an hour-long escape room, axe throwing, and a new coffee shop. There is also a smaller escape room and low-impact paintball that was unavailable this evening due to the weather.
I say it every season, but it's true Crawford School of Terror keeps improving. A few minor changes to the sets and a reworking of the flow made the haunt feel fresh for the season. Crawford offers a great mix of theme, theatrical immersion, and an unbelievable group of thespians dedicated to their art.
---
View Full Score Sheet
---
Pics We Took From Our Visit:
---
Promo Images:
Click to Enlarge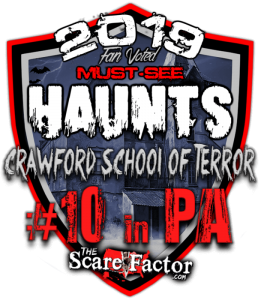 ---
Join ourspookyadventures!
We visit Halloween haunted attractions year-round! Follow us for haunted house walkthrough videos, behind the scenes footage, and more!