DarkSyde Acres Haunted House – Full Review
DarkSyde Acres Haunted House is a Haunted Attraction located in Jonesville, MI.
11375 Rowe Road, Jonesville, MI 49250View All Details

Features:

Free Parking, Food/Concessions, Gift Shop/Souvenirs, Indoor Waiting Line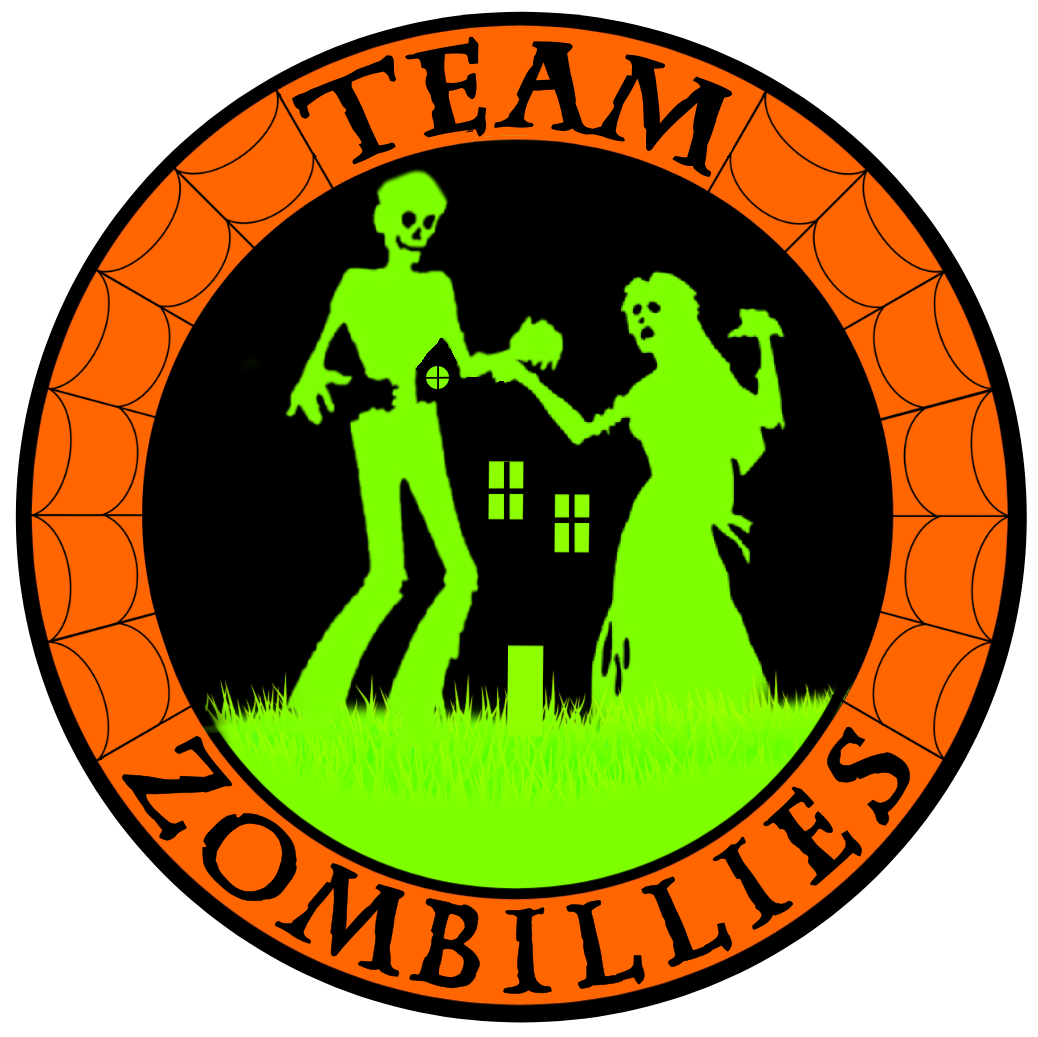 This attraction was reviewed on October 15, 2021 by Team Zombillies.
How Do We Get These Scores?

Final Score:

7.93
How Did We Get This Score?

Summary:
Advertised as one of the biggest haunted houses in the world at over 70,000 square feet, DarkSyde Acres is bringing the thrills in 2021 for their 11th season! This is a family-owned and -operated establishment that also serves as a fundraiser for K9 and GSD Rescue Rehabilitation Ranch.
DarkSyde advertises 5 different haunted attractions: The Catacombs Haunt, The Labyrinth Chainsaw Maze, Klownetowne, Rusthole, and The Dark Abyss. Although the name is the game for a few of these, the Rusthole and Dark Abyss may leave you wondering what's inside their walls? Rusthole takes guests through an OSHA heart-attack and the Dark Abyss winds customers through a pirate-infested ship where they're not lookin' for gold' they're looking for bloody bones and body bits – they don't waste anything!
This is more of an old-school, actor-driven show with some unique tricks up their sleeves. If you're looking for fancy props and animatronics, this may not be the show for you. That's not to say that they don't have any, but visitors can expect to see more custom sets that the crew has constructed themselves.
The Acres family prides themselves on offering sets and sights that cater to 'all ages and fear of all kinds.' Are you brave enough to visit the DarkSyde?
---
Cast: 7.73
How Did We Get This Score?

There was a very wide variety of cast members hiding within the dark corridors and in between on the night of our visit. Towards the early sections of the show, it was pretty quiet… save for a crazy lady that appeared to have breached her confinement within a straight jacket. She was energetic and followed us through multiple scenes, helping to cover other actorless spots. There were some other larger periods of time where we didn't encounter anyone.
For the most part, many stared or screamed at us with very little if any follow-up' until about the time we got to the clowns. They were verbally interactive and truly had us searching our pockets for some ranch dipping sauce' for our own heads! Sorry Noodles, you're gonna have to eat them plain! A creepy rendition of 'ring around the rosie' was sung to us, and we just never knew where someone would jump out from this section forward.
We're pretty sure we caught a small group on break just inside Rusthole as we witnessed them enter a door and disperse into different directions. At least one of the ones passing by us screamed. There was an actor in this section that stood out to us for working his scene well. It seemed as if he had control of a light that aids in a deceiving distraction' which we thought was very creative and effective!
The further we advanced, the more agitated they became. A wooden maze resulted in multiple chainsaw attacks and resilient beasts. However, the most believable crew we encountered were, by far, those we encountered between the decks of the pirate ship. These characters changed their voices, accents and dialogue to the theme and played their roles very well.
The first female pirate we encountered waved around a shiny dagger, warning us that they use every part of the human body to make their pies. This was when we quickly realized that these were no ordinary pirates after gold and goods; they were after our innards (hence, the dagger). We also met Chop Chop, a towering and intimidating fellow. If that's not his name, it should be because he clearly likes to chop his victims up. A ghostly lady was very familiar with utilizing a mirror hallway and the doll had us convinced that she really was a doll! Although it wasn't quite clear why she was on the pirate ship, the doll followed us for a bit, showing us her doll and sinisterly saying how she needed our souls to make her new doll. The doll she was holding didn't have a head'
---
Costuming: 7.88
How Did We Get This Score?

The costuming selections at DarkSyde seemed to increase in quality later in the show (similar to the actors). Towards the beginning, we noticed one particular clown that looked passable from the waist up, but was also wearing gym shorts and sneakers, which took away from their realism quite a bit. As we progressed, we still noticed quite a few pairs of sneakers, but the bulk of their wardrobes were at least more complete and acceptable for the characters they were portraying.
We also noticed more layers the further we made it along. From a top hat and weapons to colored contacts, a loose straight jacket, and fledged out and realistic makeup.
Some characters were donning prosthetics and some clowns had fluorescent paint on their facial hair and head hair! The clown with the bright mohawk and beard really had it going on! One clown has some sort of abscess on her eye that resulted in a few head twists out of us.
We noticed realistic masks in the outdoor section, we're pretty sure at least one was a jack-o-lantern. The doll had a very realistic mask. We're honestly not sure if it was a mask at all, but we noticed when she talked, her mouth moved and this did not look like a silicone, all-over mask. That was so cool!
In addition, the skull pirate at the entrance of The Dark Abyss, Chop Chop, the doll, and the lady of the mirrors had complete and very believable costuming for their characters.
---
Customer Service: 8.89
How Did We Get This Score?

As we will mention below as well, DarkSyde Acres is located way out in the boonies of Michigan! The closer we got to the haunt, the darker it got. Google Maps did get us there and some signs and lights guided us into the parking lot. From there, parking was free in their large, grassy lot. It was raining at the time of our visit and had been raining, but they put what appeared to be sand down and it was helping with the mud tremendously!
Three very nice staff members were hanging out under a tent in the parking lot. They were happy to help us with any questions we had and confirmed we just needed to 'follow the lights.' Literally, we followed a string of lights across the property and right to the midway area where multiple skeletons pointed us right to the ticket booth. Navigating this whole area proved to be rather easy.
The lady in the ticket booth was also very friendly as well as the lady we spoke with at the exit of the attraction and those in the gift shop. It was obvious that they all loved their jobs and being there.
Once inside, we came across a LOT of uneven ground. The property used to be an old pig farm so, throughout the building, there is grating covering drain trenches. Some of it moves when stepped on and there are slopes and ramps over dividers that are made into the floor. They aren't very tall and often difficult to notice, so watch your step and be mindful of potential trip points. It was very muddy in The Labyrinth so the same applies. Be sure you dress for the weather! No open-toed shoes here!
Before we visited, we did some research about the attraction. They have a lot of information on their website and they're active on social media.
---
Atmosphere: 8
How Did We Get This Score?

First of all, this may not bother any of you, but DarkSyde is located in the middle of BFE! The roads to get there are very dark and gravel once you get close. You know, it's out so far where they don't utilize any sort of street lights, if that tells you anything. So before we even got there, we were like, 'Where in the heck are we going!?'
Similar to the inside of the haunt, the midway and waiting areas give guests quite a bit to look at and take in before they even step foot inside!
Sounds played throughout, multi-colored lights illuminated our surroundings, and a plot of skeletons were noticed holding signs, some of which were 12-foot-tall! If it wasn't already clear that we were at a haunted house, the pirate food shack, hearse near the ticket booth, additional decor, and multiple haunt signs confirmed that we weren't out in the middle of nowhere for anything other than a haunted attraction.
This is all before we even got to the inside atmosphere, folks. After purchasing our tickets, we walked past several building vents, each illuminated with a unique color and bellowing music. Once inside, we noticed a roaming creature with a weapon that enhanced the feeling of being at a haunted house along with LOADS of rustic and authentic decor.
Trust us, once you get out of your car and realize no one will hear you scream, you begin to ponder your life choices.
---
Special Effects:

7.71
How Did We Get This Score?

DarkSyde Acres used a combination of animated effects and homemade features with an emphasis on the latter. One of the more impressive effects to us was actually the sound. We heard creepy noises, an eerie girl talking (recorded), loud horns, a biohazard alert warning, bubbling, an ominous soundtrack, clown laughs and horns, disorienting music, gun shots, and the sounds of a wooden, creaking ship!
We must say, we do see mazes a lot, especially of the wooden or pallet variety, but the one here was especially tall and felt a lot more confined. We did unexpectedly get hot in the maze too, which was totally unexpected! Other stand out effects included grungy walls, a cemetery, rock walls, coffins, fluorescent balls that were seemingly floating in the air, carnival games, giant blocks, a hall of mirrors, and a giant sea creature swimming by.
There were so many different things to look at, experience, and navigate around. However, we must harp on the pirate ship again. Not only was it fledged out in rough cut lumber walls at times, the nautical decor, Jolly Roger flag, and great use of a laser vortex left us wanting to go through a second time! If we didn't have more stops that night, we totally would have! Although we didn't see the figure for very long, a ghastly pirate mirror left both of us standing in the middle of the haunt, pointing at [seemingly] just an old ordinary mirror. We're telling you, there was something in that mirror! We saw it!
---
Theme:

N/A
How Did We Get This Score?

The attractions are basically rolled into one long walkthrough and there didn't seem to be a blanketing theme for them. However, each section follows a different theme. Information for each can be found on the haunt's website.
As we made our way through, a few signs welcomed us to their respective theme changes.
---
Scare Factor:

7.6
How Did We Get This Score?

DarkSyde Acres uses a plethora of common fears both in props and characters to target their visitors. If the clowns, dolls, and thieves mentioned above won't get beneath your skin, we're sure the giant spider, dark corridors, tight spaces, multiple chainsaws, or alarming sounds will.
We were caught off-guard the most by great hiding spots and some deceiving encounters. Our minds really played tricks on us a few times in this one! There were a few very good hiding spots including one from down below. Some characters were armed with realistic-sounding weapons so these encounters had us high-stepping it to the next areas.
We encountered quite an impressive scare outside. At one point, a fire blast suddenly lit up the sky. Not only did this startle us, but it illuminated our surroundings for just long enough to reveal that there were at least 3+ intimidating brutes closing in on us!
Although the doll was quite creepy and she stalked us out the exit, we expected at least one more startle for the finale, but we did not encounter one during this visit.
---
Entertainment & Value:

8.01
How Did We Get This Score?

Tickets to experience the dark side are priced at $22.00 per soul, cash only. We timed our adventure at 24 minutes. This brings the combined MPD (minutes of entertainment received per dollar spent) to 1.09 and, although this is below the average of 1.5 that our team has seen the most often, this is not considering all of the sights and sounds experienced before going inside.
Before we entered, we felt as if we encountered parts of a haunt in their winding, indoor waiting area. There were lots of things to take pictures of and stare at. There were also some screens to watch. Outside in the midway was additional decor. We did find one interactive roaming entertainer during our visit to help pass the wait in line. However, there weren't any groups in front of us so we were led right on in.
Don't forget to top at the Grub 'n Grog and gift shop located at the exit of the haunt as well as their signature electric chair photo op! They post these pictures for free on their Facebook page for all groups to save!
DarkSyde Acres Haunted House is an Annual Fundraiser for DarkSyde Acres K9 and GSD Rescue Rehabilitation Ranch. Military discounts and group discount information can be found on their site.
This was our first visit back since 2011, and boy we were glad we made the trip back up. If you're looking for some outside-the-box fun and fright, be sure to pay DarkSyde Acres Haunted House a visit and support a good cause while you're screaming!
---
How Did We Get These Scores

Promo Images:
Click to Enlarge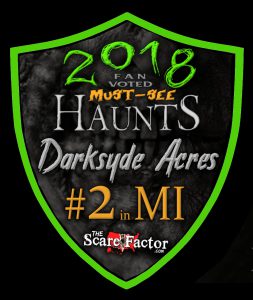 ---
Guest ReviewsGuest Average: 9.5 out of 10
Haunter333 – 10/10 – October 22, 2016I go to many haunted houses every year and me and my buddies cannot get enough of this place. We go …show more 2 to 3 times each year and everytime we go we have a amazingly fun and scary time.
Will Norton – 9/10 – October 12, 20172017 this was the first haunted house i had been to since i was 8 yo currently 32yo as i believed …show more i didt like them. After my first visit here i feel in love with haunted houses visited 10 last year .darksyde is still my hands down favorite